| | | |
| --- | --- | --- |
| Helmet Vaccine Newsletter March 2013 | | |
Dear friends and supporters,
This month the World Health Organization released its Global status report on road safety 2013. The report found that "half of the world's road traffic deaths occur among motorcyclists (23%), pedestrians (22%), and cyclists (5%) – i.e. 'vulnerable road users.'"
This finding comes in the same month that we launch our pedestrian safety campaign in Vietnam, implement the first Helmets for Families project in Cambodia, further our commitment to a helmet assembly plant in Tanzania, and advocate for the inclusion of road safety in the post-2015 development agenda.
Read on for more about our work to improve the world's roads for its most vulnerable road users. And learn more about the WHO's report here.

Kind regards,
Mirjam Sidik
Chief Executive Officer
Asia Injury Prevention Foundation
News Update
Life and death on the world's most dangerous roads – interactive – More than 1.2 million people are killed on the roads every year and three-quarters of all road deaths are among young men. Where are the worst places for road deaths and injuries? What is being done to improve the highways for pedestrians, cyclists and drivers? Explore data from the WHO's latest report on road safety, and experience a ride on one of the world's most dangerous roads.
Source: Guardian 14.03.2013
WHO hosts the 17th UN Road Safety Collaboration meeting
14-15 March – Geneva, Switzerland
AIP Foundation President Greig Craft attended the 17th UN Road Safety Collaboration meeting at the World Health Organization (WHO) Headquarters in Geneva, Switzerland from March 14 to 15. Attendees included over 100 world leaders in traffic safety, who to discuss progress on the Decade of Action for Road Safety 2011 – 2020. Mr. Craft addressed the gathered audience on key AIP Foundation and Global Helmet Vaccine Initiative achievements of the past year and attended the launch of the Global status report on road safety 2013, produced by WHO and sponsored by Bloomberg Philanthropies. The report provides comprehensive road safety data to guide road safety policies and actions worldwide.
According to the report, "the total number of road traffic deaths remains unacceptably high at 1.24 million per year," with traffic deaths still accounting for the leading cause of death among young people aged 15 to 29 and with motorcyclists making up 23 percent of all road traffic deaths worldwide. Visit the WHO website and download a full copy of the report.

Make Roads Safe and AIP Foundation urge UN to include road safety in post-2015 development agenda
23-25 March – Bali, Indonesia
AIP Foundation Vietnam National Program Manager Nguyen Dieu Nuong to advocate for the inclusion of safe and sustainable transport in the post-2015 development agenda, on behalf of the Make Roads Safe campaign, at the final consultative session with the UN High Level Panel on March 25. Among the 250 civil society groups from around the world who gathered in Bali, Indonesia, Nuong was only one of two representatives focusing on road safety.
'Safe and Sustainable Roads', a report by Brookings Senior Fellow Dr. Kevin Watkins, formed the basis of Nuong's argument for the issue's inclusion. The report, published in collaboration with the Make Roads Safe campaign, urges the United Nations to adopt a target of reducing road fatalities by 50 percent by 2030.
Road safety was successfully included in the civil society communique issued to the High Level Panel, which reads, "The vision and priorites of the post-2015 framework must include… a commitment to equitable access and governance of natural resources, building climate-resiliant livelihoods through low carbon development pathways, including safe and sustainable transport and infrastructure." The statement issued by the 'Vision and Priorities' roundtable with the High Level Panel also includes "safe and sustainable transport."
Nuong spoke directly to High Level Panel members, including John Podesta, former White House Chief of Staff, and Michael Anderson, the United Kingdom Prime Minister's Special Envoy to the UN Development Group, to raise awareness of road safety as a development issue.
"The aim was to get the message across that road injury must be understood as a development challenge. We are experiencing the impact of road injury first hand in my region: the young people that are being killed and injured; the economic hardship suffered by families who have lost loved ones; and the strain on our health services," said Nuong. "So much of this is preventable, but in order to tackle this crisis, and save lives, road safety must be included in the post-2015 agenda."

Safe Kids Vietnam launches pedestrian safety photography contest
1 March – Ho Chi Minh City
In February 2013, Safe Kids Vietnam launched a photo contest to increase pedestrian safety awareness among students and the community in Ho Chi Minh City, in support of the pedestrian safety-themed Global Road Safety Week in May 2013.
In partnership with the Ho Chi Minh City Department of Education and Training and Traffic Safety Committee, the contest will engage secondary school students from all 24 districts in Ho Chi Minh City. Participants learn about pedestrian safety, complete a quiz, take photos of their traffic environments, and submit the photos through the website. Photo submissions will be accepted through April 20.
Through Facebook and the contest website, the public will vote for the top 100 submissions. A panel of judges from FedEx Express and other partners will select the final winners, who will be awarded prizes, including an iPad, cameras, and iPods.
Safe Kids Vietnam will conduct a pre- and post-test through the campaign website to identify changes in pedestrian safety awareness among photo contest participants.


Trade your used helmet for a standard quality helmet at Protec
1 March to 30 June – Vietnam
To encourage motorcyclists and bicyclists to buy helmets that meet Vietnam's national standards, Protec, a non-profit helmet manufacturer belonging to AIP Foundation, has launched a special incentive promotion to discount up to 45,000 VND for consumers who exchange used helmets to buy new Protec helmets between now and the end of June.
Read the press release in English and Vietnamese.

Johnson and Johnson expands Helmets for Kids to 13 new schools
14-20 March – Ha Tinh, Quang Binh, Dong Nai
Over the third week of March, AIP Foundation visited 17 schools in Ha Tinh, Quang Binh, and Dong Nai provinces, and selected 13 to participate in Helmets for Kids for this school year. 6,210 students and 439 teachers will receive helmets and road safety education through the support of AIP Foundation's corporate sponsor, Johnson and Johnson.
Representatives of five of the newly selected schools, including 40 principals, teachers, parents, volunteers, local authorities, and journalists attended orientation workshops held by AIP Foundation in Ha Tinh and Quang Binh on March 16 and 20, respectively. The workshop covered information about Helmets for Kids, the activities plan, and timeframe.
Australian road safety expert travels to Hai Duong for helmet donation at Ai Quoc Primary School
15 March – Hai Duong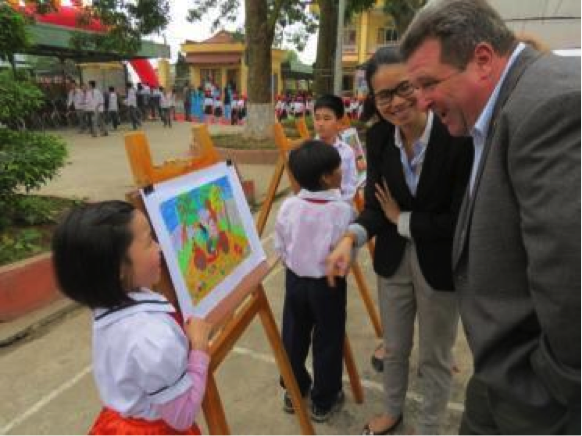 Road safety expert Paul Hillier and AIP Foundation Deputy Executive Director Hoang Thi Na Huong ask an Ai Quoc student about her road safety artwork.
ARRB Group, one of Australia's most trusted advisors regarding road safety technical input, launched Helmets for Kids at Ai Quoc Primary School on March 15. 630 students and 38 teachers received helmets in a ceremony attended by road safety expert Paul Hillier, a National Technical Leader at ARRB.
Ai Quoc Primary School is located in Hai Duong City, along National Road 5 and near the railroad. Proximity to this road, low helmet use rates, and weak traffic infrastructure create a dangerous environment for the students, among whom 90 percent travel to and from school by motorcycle or bicycle.
700 people, including local authorities and partners, attended the handover ceremony. ARRB Group's sponsorship also includes communication with students' parents to reinforce their understanding of helmet use and encourage them to put helmets on their children. Mr. Hillier also participated in a half-day workshop at the Ministry of Transport in Hanoi with Le Minh Chau, Deputy Director of the Traffic Safety Department.
Read the press release in English and Vietnamese. Check out the photos!


Child helmet campaign expands with enhanced enforcement and grants for local ideas
16 and 21 March – Hanoi, Ho Chi Minh City, and Danang

A coalition of road safety stakeholders announced the next stage of the national campaign "Children also need a helmet" with local workshops on March 16 in Hanoi and on March 21 in Ho Chi Minh City. The workshops introduced new activities, including enhanced police enforcement and a call for grant proposals, to local partners in both cities.
This is the second phase of a three-year campaign in Hanoi, Danang, and Ho Chi Minh City to increase motorcycle helmet wearing among Vietnamese children, as part of a partnership between the National Traffic Safety Committee, the National Traffic Police, the Ministry of Education and Training, the World Health Organization, and AIP Foundation.
Following the first phase of campaign activities, helmet use among child motorcycle passengers in Ho Chi Minh City increased significantly, from 22 to 50 percent, as observed around primary schools. However, despite a national traffic law mandating helmet use for drivers and passengers, including children over six, as few as eight percent primary school students wear helmets when travelling by motorcycle on Hanoi's roads.
AIP Foundation introduced the latest campaign activities at the workshop, including a call for innovative proposals from local partners. This initiative will award grants of $3,000 to two submissions from each city, totaling $18,000. Proposals should outline creative activities to increase child helmet use. Awards will be announced at a family event, promoting the National Road Safety Week, in Hanoi on May 4.
Enhanced enforcement operations in all three cities will be supported and supplemented by leveraging mass media and social marketing to spread the campaign message through TV, social media, outdoor advertisements, and community events. The campaign TV commercial will continue airing nationwide, 100 billboards will be installed at primary schools, in public space, and on buses in Hanoi, and a documentary of the stories of victim's families will be aired.
Local partners will organize information sessions, where parents can pledge their commitment to put a helmet on their child every day. Through Facebook and email, the campaign has already collected more than 8,500 pledges.
Read the press release in English and Vietnamese.

Popular Vietnamese artists show how much they 'love helmets'
24 March – Ho Chi Minh City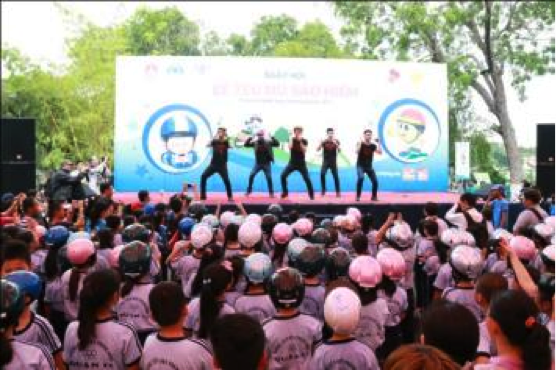 365 Boy Band plays for more than 8,000 attendees at the 'Kids love helmets' family day on March 24

.
On March 24, Vietnam's biggest stars called on parents to insist their children wear helmets. Miss. Vietnam Mai Phuong Thuy, singers Thanh Bui and Phuong Vy, actor Phan Anh, MC Nguyen Khang, and 365 band joined AIP Foundation, as well as the Ho Chi Minh City Traffic Safety Committee, Traffic Police, and Department of Education and Training at Dam Sen Park for a family-friendly event entitled, "Kids love helmets," in District 11, Ho Chi Minh City.
The event supports the national campaign "Children also need a helmet" to increase motorcycle helmet wearing among Vietnamese children, by engaging 8,000 parents, children, and road safety stakeholders in traffic safety games and activities.
Children and parents learned about the importance of helmets, how to wear helmets correctly, and other traffic safety topics through interactive games and by hearing directly from celebrities. The Soul Dance Academy led a flash mob dance, choreographed with helmets. Local authorities awarded organizations and individuals, who have contributed to protect children's safety on the road.
Read the press release and check out the photos and video!


News Update
Deadly crashes claim seven lives – A grisly double-accident near Sihanoukville on Thursday night killed seven – among them the children of two popular comedians – first when a swerving container truck toppled onto a passenger vehicle, then later when an Angkor Beer truck smashed into police and first responders as they cleared the road, police said.
Source: Phnom Penh Post 11.01.2013

Manulife launches Helmets for Families, donates 424 helmets to Sampov Meas Primary School
23 March – Phnom Penh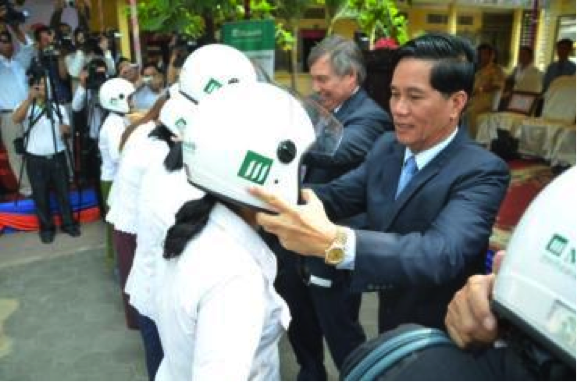 His Excellency Khuong Sreng, Deputy Governor of Phnom Penh and Manulife hand over helmets to mothers.
The Canada-based life insurance company, Manulife (Cambodia) PLC launched Helmets for Families in collaboration with AIP Foundation on March 23. Approximately 600 people including government officials, private sector partners, students, teachers, and parents attended the kick-off ceremony at Sampov Meas Primary school to increase the awareness of road safety in Cambodia.
The school is located in a high-density traffic area along a main road in Phnom Penh. 80 percent of its students commute by motorcycle or bicycle, but very few wear helmets. Helmets for Families is providing helmets to 304 students, 20 teachers, and 100 mothers, as well as training sessions for teachers and parents to reinforce their understanding of helmet use and encourage them to put helmets on children.
Through their commitment to Corporate Social Responsibility, Manulife Cambodia and its employees have supported the program by donating helmets, painting road safety murals at the school, teaching students the correct way for wearing their helmets, and assisting with the road safety training workshops for mothers and students, conducted by AIP Foundation.
Read the Vietnamese press release and check out the photos!

US Embassy Health Fair promotes helmet use
29 March – Phnom Penh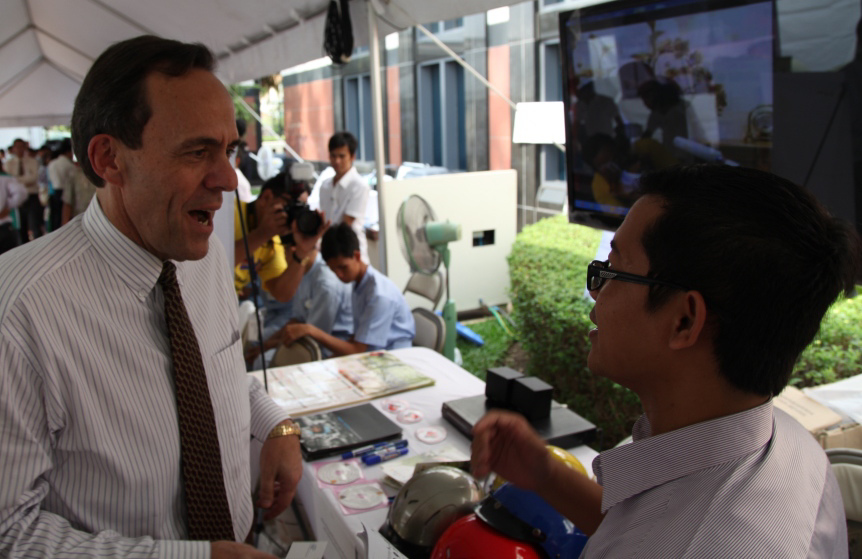 Ambassador William E. Todd meets with Mr. Nhem Sareth, AIP Foundation Program Manager, at the U.S. Embassy Health Fair.
The United States Embassy in Cambodia organized their Annual Health Fair this March. The United States Centers for Disease Control and Prevention (CDC) Cambodian branch nominated AIP Foundation to promote helmet use at the fair for the second year. The booth displayed promotional materials about the importance of helmets, the inclusion of passengers in the draft law amendment, and road safety generally.

Phnom Penh observes its second annual bike week
30-31 March – Phnom Penh
On March 30 and 31, the Cambodian Biker Club organized the second annual Phnom Penh Bike Week. The event communicated to the public a better understanding of safe motorcycle driving, particularly by urging riders to wear proper gear and helmets.
The event featured a stunt show, competitions, a concert, and more. In addition, Cambodia Biker Club partnered with Go4 Bunker, MayBank, Maersk Line, Damco, MCC Transport, and Mike Burger House to organize an event at Sunway Hotel on March 31. The sponsors donated 150 helmets to Prey Sandaek Primary School students from Takeo and 100 children from the People Improvement Organization (PIO) through AIP Foundation.
AIP Foundation also contributed to the event by installing educational banners around Diamond Island and Sunday Hotel to educate the public that all motorcycle users must wear helmets, particularly passengers, including children. A team of students performed a skit to demonstrate how to wear helmet correctly, and representatives of Department of Public Order and the Phnom Penh Municipal Police presented information about road safety and the traffic law. 300 participants pledged to always wear a helmet as a passenger.
News Update
Working to protect little heads on bikes – How Ratanawadee H. Winther, Thailand Country Director for AIP Foundation, hopes to get kids wearing crash helmets through a series of school-based programs.
Source: Big Chilli 7.03.2013
Improving road traffic safety for foreign tourists in Thailand
28 February – Bangkok
Ms. Ratanawadee H. Winther, Thailand Country Director, participated in a press conference to outline research findings and recommendations on road traffic accidents of foreign tourists in Thailand, chaired by Sombat Kurupan, Vice Minister of Tourism and Sports. The study is funded by National Research Council of Thailand.
The number of deaths of foreign tourists (48 per 100,000) in Thailand is two and a half times higher than that of Thai nationals (18 per 100,000). Some of the main policy level recommendations include a plan for clarification of terminology for tourist road safety, the establishment of a fund to help tourist accident victims, and information about road safety to be provided to tourists on arrival. In the immediate term, stricter regulations for vehicles rentals for tourists are recommended.
Rotary donates helmets to pre-school students in Bung Rama 9
4 March – Bangkok
On March 4, 2013, the Rotary Club of Bangkok South, part of Rotary International (RI), donated motorcycle helmets to 175 students at two pre-school child development centers in the Rama IX Aeration Pond Community, or Bung Rama 9. With this donation, Rotary Club of Bangkok South launches their Helmets for Kids partnership with AIP Foundation to increase helmet use and reduce road traffic injuries among child motorcycle passengers in Bangkok.
Bung Rama 9 is a poor community in Bangkok that has received support from Rotary Club of Bangkok South for many years. AIP Foundation identified Rama 9 Child Development Center Pattana and Bung Rama 9 Child Development Center Bor 3 as crucial schools in the community to raise road safety awareness and promote helmet use as a simple safety precaution. Both schools are located close to busy highway roads that carry heavy traffic during rush hour, presenting a particular risk to these children.
Read the press release and check out the photos!
Thai kids parade to improve road safety
15 March – Bangkok
A parade on March 15 entitled, "Thai Kids Care to Wear Helmets," marked the release of the release of the results from a national helmet use survey. AIP Foundation and other road safety stakeholders attended the press conference and other activities, organized by the Thai Roads Foundation and supported by the Thai Health Promotion Foundation.
77 children from each province of Thailand walked through the Siam Paragon Shopping Center. Certificates were presented to representatives of the provinces for supporting the road safety campaign. A panel discussion provided an opportunity to share experiences from the different provinces and organizations.
Participants urged that action must be taken to raise awareness and to have road safety be considered a serious issue. Thailand was recently ranked as the sixth among the world's unsafe places. And in 2012, the helmet wearing rate dropped down from 46 to 43 percent compared to the previous year.



Walk Wise trains 1,000 parents on traffic safety
27-28 March – Kai County
1,000 parents and students at Qili and Gaoqiao primary schools in Kai County, China committed to improving traffic safety during training workshops held by AIP Foundation on March 27 and 28. AIP Foundation introduced Walk Wise, the Chevron-sponsored pedestrian education program for primary students currently piloted at the two schools, and delivered educational materials to the parents. Han Haihong, who trains Chevron's drivers, presented on safe driving, particularly in mountainous areas. The Kai County police also spoke, providing information on traffic laws and safe road behaviors for pedestrians and motorists.

Kai County Traffic Police and Education Committee commit to supporting Walk Wise
29 March – Kai County

AIP Foundation signed Memorandums of Understanding with both the police and educational departments of Kai County, China as part of Walk Wise. The MoUs outline the roles and responsibilities of each party, such as the supervision of teachers implementing the curriculum, participation in local stakeholder meetings, and legislative advocacy priorities. The agreement, which will be in place until June 2014, further solidifies AIP Foundation's and local stakeholders' commitment to road safety within the region.

Boda accidents cost government Shs2b annually– Mulago hospital officials say treatment of boda injuries takes up 15 per cent of their budget.
Source: Daily Monitor 21.03.2013

Ugandan Parliament signs MoU with Global Helmet Vaccine Initiative
24-28 February – Kai County
Hon. Alice Alaso, Chair of the Parliamentary Road Safety Forum and Lotte Brondum, AIP Foundation International Development Director sign MoU
Lotte Brondum, AIP Foundation International Development Director, travelled with partners from the U.S. Centers for Disease Control and Prevention (CDC) to Kampala, Uganda in late February 2013.
Ms. Brondum and Africa Regional Manager Barbara Mwanje, with support from CDC partners, presented the Uganda Helmet Vaccine Initiative (UHVI) to over 30 members of the Ugandan Parliament's Road Safety Forum. The dynamic session offered parliament representatives the opportunity to thoroughly discuss the safety habits and driving culture of Uganda's boda boda operators, as well as potential solutions to improve the situation.
Following this session, the Global Helmet Vaccine Initiative entered into a Memorandum of Understanding with the Ugandan Parliament, which binds the groups in their collective efforts to implement a national road safety action plan with the overall goal of reducing traffic fatalities throughout Uganda.


UHVI kicks-off campaign's second phase, "Life is your wealth"
14-15, 19 March – Kampala

The second phase of the UHVI boda boda campaign named Ubulamu Bugaga - Life is your wealth - was kicked off by a train the trainers workshop from March 14 to 15 and the first of nine upcoming boda boda workshops.
20 boda boda operators from different divisions in Kampala were selected to train their fellow boda boda operators in the importance of correct helmet use. The training equipped selected trainers with theory and knowledge on motorcycle safety and Ugandan traffic laws, as well as developed their skills on delivering messages through practical exercise.
The first of boda boda training workshops took place in the Lubaga Division of Kampala on March 19. 100 boda boda operators participated and received a helmet. Over the next months, nine more workshops will be held to inform boda boda operators about importance of correct helmet use and the consequences of not wearing a helmet.
Messages from the workshops will be reinforced through a public awareness campaign, beginning in April, including radio spots, billboards, and posters at boda boda stations.



AIP Foundation deepens its commitment to Helmet Vaccine Initiative – Tanzania
1 March – Dar es Saalam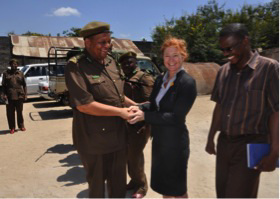 General John C. Minga, Tanzania Commissioner General of Prisons, John Musunga, representing Tanzania Prison Services, and Lotte Brondum meet in Dar es Saalam.
International Development Director Lotte Brondum followed her trip to Uganda with a March 1st visit to the Tanzania Prisons Service's planned helmet assembly factory in Tanzania. Ms. Brondum toured the factory site and met with project representatives, including General John C. Minja, Tanzania Commissioner General of Prisons, to receive updates on the action plan.
The visit deepened the relationship between AIP Foundation and the Helmet Vaccine Initiative – Tanzania (HVI-T) with the signing of a Memorandum of Understanding to collaborate on a comprehensive traffic safety program, to increase helmet use among motorcyclists, and to reduce road crash casualties. HVI-T will also facilitate AIP Foundation's working relationship with TPS during helmet factory's establishment and implementation period.