If you are interested in endorsing my accounting books, please contact me at accountingtools@gmail.com. The process is that I will contact you when a new book is ready (the next will be in about two months), and send out a PDF version of the book in exchange for a two-sentence endorsement that goes on the back of the book. You also get a free copy of the book when it is published. This is only available for those with a CPA certification or a manager title.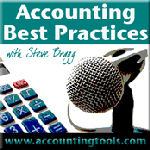 Episode:

#125





Refinancing Debt.

When should you refinance debt, and what are the ramifications? More...

Have an idea for a podcast episode? Send it to me at accountingtools@gmail.com.
Here is a selection of new pages added to the accountingtools.com website during the month (these are longer articles than the Q&A items noted above):

New Payroll Management Book

Payroll Management: 2011 Edition covers time tracking, payroll processing, and paying employees, as well as United States payroll regulations and reporting requirements related to compensation, benefits, payroll taxes, and tax remittances. There are chapters addressing payroll procedures and controls.
It even includes a Q&A section after every chapter, and yet it

still

only costs $19.95 as a PDF download. Available on Amazon for $34.95.

More...