M. Roy Wilson/View from the Chair

Dr. Carlisle for President

After searching months for a new president, we found one, and I believe he is the right one. David Carlisle, M.D. was the Board of Trustee's pick for a number of reasons. If you attended yesterday's forum, you saw a poised, experienced leader. Based on the positive reaction to his candidacy, Dr. Carlisle was offered a contract to be our president, and it is expected to be finalized within the week. He is the right choice for many reasons.

He's a faculty member. He's directed a large state agency. He's well-known in local and state circles. He's a physician, who has volunteered at a local clinic for more than a quarter century. He has a deep understanding of how the university fits into national health care policy. He's committed to the mission.

Narrowing our presidential candidates to a sole finalist took a lot of work, especially for the presidential search committee. I know that each committee member was actively engaged in the process. They all put forth a strong effort. I again want to thank them for doing a great job.

I'd also like to say a few words about Cornelius Hopper, M.D., who headed the search committee. Dr. Hopper demonstrated his leadership by allowing other committee members to express their opinions openly. He cared about what others felt, which is critical for making others feel valued.
From the unsolicited comments I've received, the process was extraordinarily well-run. This resulted from Dr. Hopper's unwavering commitment to the university and to his own personal values, reflected through his leadership style.
The results of this search, and the methods that led us to this point, make me feel proud. Proud of what we are achieving. One thing we can count on in the months ahead, and it's something I believe with every with every fiber of my being: the university's best days are still ahead of us.
M. Roy Wilson, M.D., M.S., is chairman, Board of Trustees.

A Forum With Dr. Carlisle

Dr. David Carlisle, who was the lone finalist for president at Charles Drew University, answered questions from staff, students and faculty yesterday at a forum held in Keck Lecture Hall.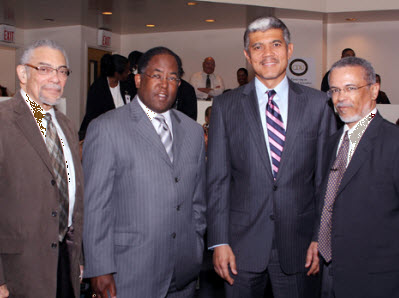 A group of university leaders gathered before Monday's forum began. From left to right: Cornelius Hopper, M.D., vice-chair, Board of Trustees; Mark Ridley-Thomas, Ph.D., chair of the university's Board of Councilors and Los Angeles County, Second District Supervisor; M. Roy Wilson, M.D., chairman, Board of Trustees; and David Carlisle, M.D., sole finalist for CDU president.

Dr. Carlisle, who was raised in the Baldwin Hills area of Los Angeles, answered questions and described his vision for the university to those attending the forum. He has visited the university many times, and has lectured previously on-campus.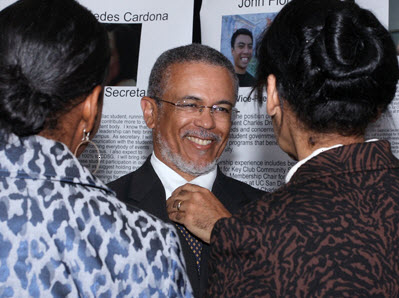 Dr. Carlise chatted after the forum ended with those who gathered for light refreshments in the Keck Building.
Library Receives Two Funding Awards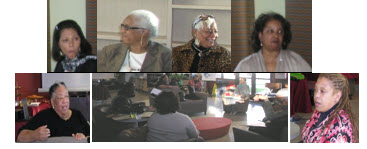 The Charles Drew University Health Sciences Library recently received two awards. The first came from the National Network of Libraries of Medicine, Pacific Southwest Region at the UCLA Louise M. Darling Biomedical Library to promote the awareness of the National Library of Medicine's resources to community faculty. The medicine library provided a six-week program on how to use specific resources to help develop manuscripts.

The program has just completed its fourth week. The participants included: Eve Allen, Edna Ferdinand, Janette Robinson Flint, Constance Gillette, Kupaji Jaliwa, Andrea Jones, Felecia Jones, Loretta Jones, Charlene Meeks, De'Ann Morris, Plusedia Williams, Anna Lucas-Wright and Darlene Parker-Kelly. This project was funded by the National Library of Medicine, Contract No. N01-LM-6-3507, with UCLA's biomedical library.

The second award came through the Information Resource Grants to Reduce Health Disparities from the National Library of Medicine (G08). It's titled Drew UCLA Connect Community Partnered Resources to Improve Depression Outcomes. This represents a partnership with UCLA/Harbor, Healthy African American Families, Queens Care Health and Faith Partnership and the CDU Health Sciences Library. The principal investigators are: Bowen Chung, M.D., Marcia L. Meldrum, Ph.D. and Darlene Parker-Kelly, MSLS. The project is supported by the National Library of Medicine award number G09LM011058.
News in Brief
Spring Into Action
Spring Into Action, a health and fitness festival, will be held this month in South Los Angeles, featuring as the opening speaker Richard S. Baker, the university's provost and dean, College of Medicine.
The free event features a range of activities, including an egg hunt; a 5-k Run; an Earth Day Celebration; a Youth Spring Zone; an obstacle course, and entertainment.
In addition, free screenings for diabetes, cholesterol, anemia, blood pressure, HIV, as well as as dental, will be offered.

Sponsored, in part, by Charles Drew University, the event has several other supporters: the Foundation for Second Chances; the Department of Recreation & Parks-Martin Luther King Jr. Recreation Center, the North Area Neighborhood Development Council and Bring Back Gym.
Scheduled for Sat., Apr. 23, the festival will be held at the King Recreation Center, 3916 S. Western Ave., Los Angeles. It runs from 10 a.m. to 2 p.m. ReadMore
Library Hours
The Health Sciences Library will offer extended hours until May 6. Open hours will be Mondays through Thursdays from 8 a.m. to 9 p.m.; Fridays from 8 a.m. to 6 p.m. Extended hours for Saturdays and Sundays will be posted.
Good News Radio
"Good News Radio Magazine," a weekly broadcast, inspires people across Southern California. Co-hosted by Nell Forge, Ph.D. and Charles McWells through the university's Division of Community Engagement, their program can be heard on KTYM-AM 1460 or www.ktym.com from 1 p.m. to 2 p.m. on Wednesdays. For more information, call
323-249-5702.
Become a Mission Maker Today
The Mission Maker campaign has raised just over half of its $50,000 goal. If you would like to donate to the campaign, which supports the university, its mission and its students, then please contact Blanch Ross. She can be reached at 323-563-4992, or at blanchross@cdrewu.edu.