M. Roy Wilson/View from the Chair

Continuing the Positive Momentum

After months of anticipation, the site visit team from the Western Association of Schools and Colleges has given us their final report. The documents, received last Thursday, will be posted soon on the university's website.


I believe the report, with its commendations and recommendations, captures our current state of affairs fairly accurately and is generally positive. We remain committed to becoming an extraordinary institution with compliance in all areas. Accordingly, we will make improvements wherever needed to reach that goal. This report will be of great assistance in this regard.

I'd like to thank the site visit team for their work, along with Dr. Diane Harvey, our liaison at the accreditation group, for her continuous support. In particular, I'd like to thank Provost Ronald Carter for chairing the visit and the discussions. He responded to our concerns with thoughtfulness, and always with warmth and wit.

The accreditation group asked us to complete several projects by late May. Here's a quick recap:
A single audit was completed in April. It reflects significant improvements to controls and systems, as reporting and compliance findings have dropped by more than 50%.

A draft strategic plan will be presented at the next Board of

Trustees meeting on May 2.

We will complete it by the end of May.

The Board of Trustees selected David Carlisle, M.D., Ph.D., as a

sole finalist for president and the contract is expected to be signed shortly.
Over the next couple of months, here's what we're expecting to happen. We will send a response to the report to the accreditation agency on May 6.The WASC Commission will review the report as well as our response. Both Dr. Carlisle and I will be present at the commission meeting on June 23rd to provide additional information and answer any questions. We expect to be notified of the commission's decision regarding our accreditation status shortly thereafter.
I believe that the CDU campus community really stepped up in preparing for this site visit. I feel confident that the tremendous effort put forth was appreciated by the site visit team. Further, I remain optimistic that the effort will be rewarded. Let's continue the positive momentum and keep pushing for excellence in everything we do.
M. Roy Wilson, M.D., M.S. is chairman, Board of Trustees.

Preparing for Spring Preview on CDU Campus
Call it a "Spring Preview." The Office of Admissions is planning for aspiring students to visit campus on Sat., May 7, giving them a chance to explore academic programs as well as other resources on campus. Students will be able to:
Learn about academic programs, financial aid, scholarships and the admissions process.

Tour campus

Meet faculty members

Discover student clubs and organizations

Explore student services

Apply for enrollment

"Our objective is to expose prospective students to Charles Drew University's academic degree programs," said Rita Gloria Sawyer, Ph.D., the university's admissions director. "It's important for our community to know that their university is alive and well and that we are preparing for growth with much excitement."
This event is just one of many the admissions counselors, Sara Estrada and Ashanti Fisher, have been planning under guidance from Dr. Sawyer. Ms. Estrada and Ms. Fisher both began in February.

Since then, the trio met with prospective students and parents at more than 30 events, recruiting from high schools and junior colleges looking to enroll in the College of Science and Health. They've traveled as far north as Ventura County. searching for those who are interested in learning health sciences at the university.

So far, more than 600 people have turned in inquiry forms, expressing their interest in learning more about allied health programs. Many are expected to show up for the preview, where they can see the overall campus community.
"This event will give us a chance to showcase the university's academic programs and student support services that are made possible by our distinguished faculty and staff," Dr. Sawyer said.
click for photo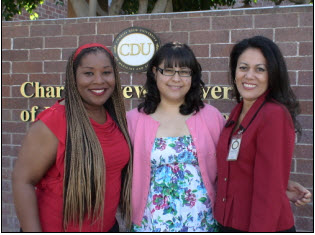 Standing left to right: Ashanti Fisher and Sara Estrada, admission counselors, and Rita Gloria Sawyer, Ph.D., director of admissions.
Coming Together as One University for the Benefit of the Community
Working across departments as one university, volunteers from Charles R. Drew University unified on Saturday to make a difference at a community festival.
Dubbed "Spring Into Health: A Health, Fitness & Family Fun Festival, the university was one of the main backers for the event held at the Martin Luther King Jr. Recreation Center in Los Angeles. People received health screenings for blood pressure and other chronic conditions while their children hunted for Easter eggs. They watched demonstrations on preparing nutritious meals and took home potted vegetables and herbs. They practiced yoga and later competed in dance competitions.

A full schedule of activity brought together student volunteers from the College of Medicine, College of Science and Health, Nursing, Admissions, Library, Facilities, Saturday Science Academy II, as well as Richard Baker, the provost and dean, College of Medicine who spoke during the event, and others. Yelba Castellon, a leading organizer and a third-year medical student, said Saturday that she was pleased with the event. So, too, were people in the crowd.

"It's very nice," said Adala Molina of Los Angeles, who was making her way toward the exit as the festival began to wind down, in tow with her two young children. She held a potted herbal plant and her son walked with a pepper that had sprouted. "My kids loved it," she said. She also appreciated the family having a health screening. Otherwise, she said, they rely on visiting clinics.

Not far from where she stood, Shanna Lewis enjoyed watching the dance competition with her two teenagers. "It's positive fun," she said.

Ms. Lewis said her children learned a lot about fruits and vegetables, as well about how to prepare meals from other cultures they had not yet tried, especially Indian dishes, she said. During the demonstration, she said her children "were asking questions. I was thinking, 'do you really want to know that'? I was surprised. They were asking questions."

The cookbook they received rewarded their interest, Ms. Lewis said. "Now they are interested and want to cook." Of the festival, her main wish is there were more such activities to help keep kids active and out of trouble. She lives within walking distance to the park and sees many youths influenced by gangs. "I really appreciate it. Look at all the different nationalities and everybody got along."

The event was a partnership that included the university, the Los Angeles Department of Recreation and Parks and the North Area Neighborhood Development Council. But the festival would have been impossible to host without generous financial support from Gordon Lee, and his two sons, Robert and Jonathan. "If not for them, we couldn't have done this event," said Daphne Calmes, associate dean, College of Medicine.
Watching the stage as a group of children competed during a dance competition, Zack Fleming, who works in the university's facilities department said: "This was a really nice event for the community," he said, as he nodded his head and smiled. "It was real cool."
click for pictures
News in Brief
Role of Thought Lecture

Dr. Keith Norris, executive vice president for research and health affairs, will deliver on Tues., Apr. 26, the second part of his lecture on the role of thought in health and health disparities. Can the mind stand alone uninfluenced, not in isolation, but unencumbered by conditioned thoughts? The presentation will be held in the Keck Lecture Hall from Noon until 1 p.m.
African Union Envoy Visiting Campus

Amina Salum Ali, the African Union ambassador to the U.S., will be visiting campus for an informal discussion on Tues., May 3 at 2:30 p.m. in the board room of the Cobb Building. Her visit includes a day in Sacramento, followed by two days in Los Angeles. Ambassador Ali speaks on behalf of the African Union and its member states to accelerate socio-economic growth across the continent; to build partnerships between African governments and civil societies; and the private sector. A veteran Tanzanian civil servant and politician, Ambassador Ali was born and raised on the island of Zanzibar and educated in India. She has held various ministerial positions in the Tanzanian government. As the union's first female ambassador, she is committed to promoting women's rights and children's issues.
Library Hours
The Health Sciences Library will offer extended hours until May 6. Open hours will be Mondays through Thursdays from 8 a.m. to 9 p.m.; Fridays from 8 a.m. to 6 p.m. Extended hours for Saturdays and Sundays will be posted.
Good News Radio
"Good News Radio Magazine," a weekly broadcast, inspires people across Southern California. Co-hosted by Nell Forge, Ph.D. and Charles McWells through the university's Division of Community Engagement, their program can be heard on KTYM-AM 1460 or www.ktym.com from 1 p.m. to 2 p.m. on Wednesdays. For more information, call
323-249-5702.
Become a Mission Maker Today
The Mission Maker campaign has raised just over half of its $50,000 goal. If you would like to donate to the campaign, which supports the university, its mission and its students, then please contact Blanch Ross. She can be reached at 323-563-4992, or at blanchross@cdrewu.edu.