CDU Student Wins Coveted National Scholarship

Manuel Campa, a student in the Charles Drew University/UCLA Medical Education program, received a scholarship for $10,000, the American Medical Association Foundation announced.

He was one of 18 student selected nationwide for the Physicians of Tomorrow Scholarship. His selection represents the fourth CDU medical student chosen for this recognition over the past four years, said Daphne Calmes, M.D., associate dean, College of Medicine, who nominated Mr. Campa.

Dr. Calmes said he has distinguished himself in many ways. "I think Manual represents the best that Drew has to offer in a student, and he has many outstanding qualities. he's the perfect Drew student, in that he is very intelligent, warm, compassionate, and he has very high ideals and expectations for himself."

She added, "I hope that he's going to be in the next generation of leaders who takes us to the next level."

The scholarship helps defray debt, which for the typical medical student is nearly $158,000, the organization said. The foundation works to improve health of Americans by supporting quality programs in public health and medical education. (www.amafoundation.org).

"These medical students represent the very best of the next generation of physicians," said Owen Garrick, M.D., MBA, the foundation's president. Of the students, he said, "Their academic achievements, public health initiatives and volunteer activities illustrate their commitment to assume leadership roles in the medical community and improve healthcare in the United States."



CDU Adds a Virtual Bookstore

Reviewing recent student surveys, Al Heard noticed a pattern. Students noted the University lacked a bookstore.

They need wonder no longer.

Mr. Heard, who directs the University's Institutional Effectiveness and Assessment department, set up a virtual bookstore that allows students to buy or sell textbooks. "The main thing is, the student's benefit," he said.

Mr. Heard worked through MBS Direct, a Missouri-based provider of textbooks which partners with K-12 schools, as well as institutions of higher learning. In return, he said, there's little risk, if any, for the University, its students or faculty.

MBS charges nothing to set up the electronic bookstore. The company offers a guaranteed buyback program for books at semester's end, and students can have books shipped overnight.

In addition, the University receives 5% of book sales, which Mr. Heard said the University could turn into a student scholarship, though he added no decision has been made yet.

"This is the new Charles Drew," he said. "We want to do what is best for the students in everything we do as a university."
"Discover CDU" Helps New Students Feel at Ease

Rita Sawyer, Ph.D., hoped to bring together newly-enrolled students in the College of Science and Health and make them feel, well, like family.

"I thought it was great," said Dr. Sawyer, who added that 93 students in all attended the sessions. "We wanted to create a welcoming event for the new students."

For three days last week, new undergraduate and graduate students met professors, toured the campus and heard from the college's dean, Gail Orum, Pharm.D.; the University's provost, Richard S. Baker, M.D.; and new president, David M. Carlisle, M.D., Ph.D. In addition, student leaders and organizations were also available to welcome new members of the CDU family during an organization fair.

Moreover, students learned about services available to them, from financial aid and scholarships to library resources to the Thurgood Marshall grant for first-time college students.

"The students' feedback indicated that they found the session useful," Dr. Sawyer said. "We appreciate all the presenters and everyone who contributed to "Discover CDU" events," she said.

(Photographs below were taken during the session by Laurell Black and Ashanti Fisher.)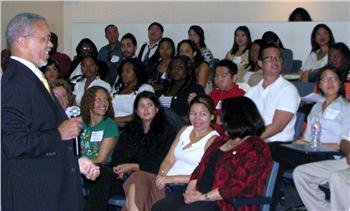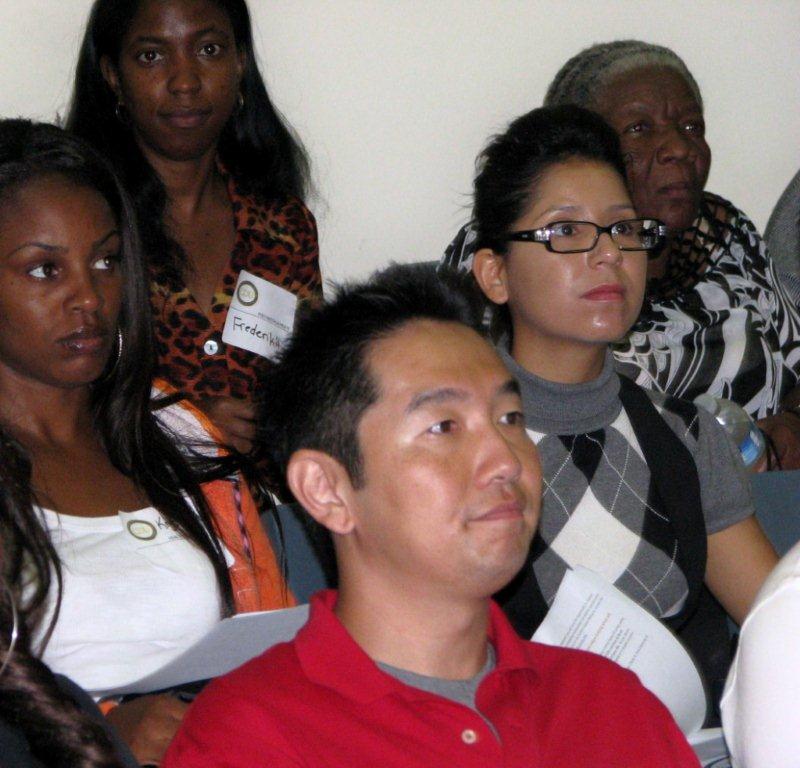 Town Hall Meeting Unveils New Collaborations

Administrators, faculty, staff and students gathered last week at UCLA, Charles R. Drew University, Cedars Sinai Medical Center and Los Angeles Biomedical Research Institute-Harbor-UCLA Medical Center to participate in a videoconference about the new Center for Translational Science Institute.
Dr. Steve Dubinett, the program director and associate vice chancellor at UCLA, and other program leaders, including CDU's Dr. Keith Norris, discussed goals of the translational science program and plans for putting in place elements of the program at all four partner institutions.

Dr. Dubinett focused on the need for truly translational research in Los Angeles, particularly as it relates to health disparities among minority populations. Community engagement is central to the program's mission and Dr. David Martins of CDU has worked closely with the Clinical and Community Research Resources program to address the needs of the diverse communities represented in Los Angeles County.

Dr. Dubinett also spoke about efforts to harmonize institutional research board requirements across institutions, while developing a cross-institutional voucher system to promote sharing core laboratory resources.
The translational science website, which was unveiled during the town hall, contains a wealth of information about the projects and services that are available to CDU through this collaboration. The town hall meeting soon will soon be available online.

-Jessica Escobeda, Ph.D.


News in Brief
Unity Day Planned for Last Saturday in Aug.
In celebration of the University's recent news on accreditation,
the 1st Annual Unity Day has been set for Aug. 27 from 10:30 a.m. to 6 p.m. The event, filled with food, fun and games for children and adults, is designed to bring together the University's staff, faculty, students, alumni, family and friends. Lunch will be served, but feel free to bring a favorite dish to share, or enter the a bake-off competition. The gathering takes place at El Dorado Park, 2760 Studebaker Rd., Long Beach, 90815. (Enter through the park's west side entrance.) If you would like to be a volunteer, please contact bettybennett@cdrewu.edu.
Please make reservations by Aug. 24 by calling 323-563-5827 or by sending an email to cdualumniassociation@cdrewu.edu.

Community Faculty Forum This Week
A community and academic faculty networking forum will be held Fri., Aug. 19 from 3 p.m. to 5 p.m. in the student lounge and lobby of the Cobb Medical Education building. The forum's purpose is to introduce the University's community and academic faculties, allowing them to discover common research interests and to facilitate partnerships and collaborations. During the event, light refreshments will be served. Please contact Melanie Rodriguez for more information by telephone, 323-249-5702, or by email, merodrig@cdrewu.edu.

Urban Public Health Program Evaluation

The Urban Public Health (MPH) Program at Charles R. Drew University of Medicine and Science is being formally evaluated for accreditation by the Council on Education for Public Health (CEPH).

Good News Radio
"Good News Radio Magazine," created by CDU's Division of Community Engagement, can be heard Wednesdays beginning at 1 p.m. on KTYM 1460-AM. Co-hosted by Nell Forge, Ph.D. and Charles McWells through the university's Division of Community Engagement, the program is designed to promote holistic health and research outcomes. The program also can be heard on the internet at www.ktym.com.
Become a Mission Maker Today
The Mission Maker campaign has raised just over half of its $50,000 goal. If you would like to donate to the campaign, which supports the university, its mission and its students, then please contact Blanch Ross. She can be reached at 323-563-4992, or at blanchross@cdrewu.edu.