Leaders With Ties to CDU Named to NIH-Working Group
A study published last week in Science magazine showed that African American scientists were less likely than whites to receive grants from the nation's premier funder of biomedical research.
Dr. M. Roy Wilson

"Even while making statistical adjustments for an apples-to-apples comparison, the NIH-commissioned study still found research grants for black applicants were funded less often than for white scientists by a margin of about 10 percentage points.

"The results of this study are disturbing and disheartening, and we are committed to taking action," said NIH Director Francis Collins, M.D., Ph.D. He added, "This study shows that we still have a long way to go."

In response, the agency put together two panels for gathering expert advice on achieving its diversity goals. M. Roy Wilson, M.D., M.S., the University's chairman, joins an external panel of experts called the Diversity in Biomedical Research Working Group. An internal group has also been created, called the NIH Diversity Task Force.

The distinguished external panel reports to the head of the agency, Dr. Collins. The group is schedule to produce by June 2012 its final recommendations.

Others with previous ties to the University also were involved in the agency's plans.

For instance, Reed Tuckson, M.D., a former president at the University, is the executive vice president and chief of Medical Affairs at UnitedHealth Group. He is a co-chair of the external task force.

Raynard S. Kington, M.D, the former co-director of the Charles R Drew University/RAND Center on Health and Aging, helped put together the study in 2008 while he was deputy director at the agency. Now, he is president of Grinnell College in Iowa.

In an article published in the New York Times, Dr. Kington told the newspaper that he credited agency officials with taking action on the study's results.

Other links:

Washington Post

The Economist

Science Careers.org

Nature.org



Dr. Vadgama Accepts New Role with "Pride and Joy"


Jaydutt Vadgama, Ph.D., a nationally-renowned cancer researcher and leader in cancer-related health disparities, has been named the new associate vice president for Research and Health Affairs.


Keith C. Norris, in announcing the move, described Dr. Vadgama as a "key figure in the growth of research portfolio, publications and extramural funding at CDU."

In addition, Dr. Norris, executive vice president for Research and Health Affairs, said that Dr. Vadgama has provided good counsel on various institutional matters since joining CDU in the early 1990s. Dr. Vagama was the principal investigator for the CDU-UCLA National Institutes of Health/National Cancer Institute Cancer Center, and chief, Division of Cancer Research and Training.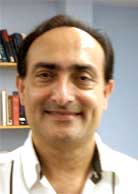 "He is well-respected at the national and international level for his work on cancer research," Dr. Norris said of his colleague. "Furthermore, his nationally recognized cancer research training program has been a key aspect within the lives of many students, many of whom have gone onto graduate and medical degree programs."

Said Dr. Vadgama: "It is an honor and a privilege to work with Dr. Norris, and the senior administration at CDU. I have been at CDU for almost 20 years, and it is with great pride and joy to continue to serve the students, faculty, staff and the community."

Among the roles he juggles, Dr. Vadgama will focus on strengthening clinical, basic and training/research programs, and to integrate them with the University's academic programs. He will work with the academic leadership to integrate research into graduate programs, as well as developing a university research curriculum. Dr. Vadgama also will assist with developing research resources and to maximize research operations.

"I look forward to continued participation in the advancement of excellence in research, education, training and in the health of our communities," Dr. Vadgama said.




Board, Campus Community Celebrate Accreditation

When the Western Association of Schools and Colleges revealed last month the University's full accreditation status, it was a proud, historic moment.

The milestone was achieved through the entire University community--staff, faculty students and Board of Trustees--pulling together. During a luncheon earlier this month that brought together the campus community, the board members were applauded for their effort.

M. Roy Wilson, chairman, Board of Trustees, thanked each member individually, who came to the event for a job well done. He also acknowledged senior leaders for their work in helping the University reach its goals, as well as the entire faculty and staff.

"I never worked at a school where people put their personal agendas aside and did everything they possibly could to achieve a college goal," Dr. Wilson said. "It was a privilege to work with all of you. "




Primary Care Week Brings Together L.A. Universities

The College of Medicine, along with the Keck School of Medicine at USC and the David Geffen School of Medicine at UCLA, will hold a joint conference on primary care.

The consortium has planned the 2nd Annual Primary Care Week for Sept. 13 - 15, bringing together three Los Angeles medical universities to underscore the importance of primary care. In addition, the conference highlights the importance of primary care in health care reform.

The three-day event consists of parallel afternoon speaker panels at the Keck-USC and UCLA/CDU medical campuses. Also, there will be clinic site tours at St. John Well Child and Family Clinic and the Venice Family Clinic. The consortium also will host a shared reception at the California Endowment.

The deadline for making reservations is Oct. 9 as seating is limited. Please contact Shirley Gadiok by telephone at 323-563-9349 or by email at shirleygadiok@cdrewu.edu.

Student Scholarship for College Juniors

Pfizer Inc., a major pharmaceutical company, is offering scholarships for up to $2,548 for students majoring in health sciences.

The Pfizer-UNCF Scholarship Program is designed for college juniors, majoring in allied health, biology, chemistry or nursing, and attaining a grade-point average of 3.0 or greater.

Students also must be enrolled at CDU or another institution that is affiliated with the United Negro College Fund. In addition, applicants must complete a federal financial aid form and demonstrate financial need.

Applicants must complete an online application with a letter of recommendation, essay and current academic transcript by Oct. 14.



News in Brief



WASC Review Session

All faculty, staff and students are invited to attend a forum that reviews the University's accreditation from the Western Association of Schools and Colleges.

CDU leaders will discuss a recent letter that the accrediting agency wrote about the University. Choose from a pair of sessions: one at noon and 4 p.m. on Thurs., Aug. 25 in the Cobb Building's Boardroom 281.




Dr. McNeal will speak at Penn State Univ.


Dr. Gloria J. McNeal has been invited by the Penn State College of Medicine to deliver a keynote address.

Dean McNeal will speak at the University's conference, "Challenges in Critical Care: A Multidisciplinary Approach." The University's 16th Annual edition of the conference will be held Aug. 26 in Hershey, Penn.

Dr. McNeal, the University's founding dean of the Mervyn J. Dymally School of Nursing, will present topics on "High Technology Home Care: From ICU to the At-Home Setting," as well as "Mobile Nurse Managed Clinics: Funding, Implementation and Evaluation."


Unity Day Planned for Last Saturday in Aug.


In celebration of the University's recent 45th Anniversary and other achievements, the 1st Annual Unity Day has been set for Aug. 27 from 10:30 a.m. to 6 p.m.


The event, featuring food, fun and games for children and adults, is designed to bring together the University's staff, faculty, students, alumni, family and friends. Lunch will be served, but feel free to bring a favorite dish to share, or enter the a bake-off competition.

The gathering takes place at El Dorado Park, 2760 Studebaker Rd., Long Beach, 90815. (Enter through the park's west side entrance.) If you would like to be a volunteer, please contact bettybennett@cdrewu.edu. Please make reservations by Aug. 24 by calling 323-563-5827 or by sending an email to cdualumniassociation@cdrewu.edu.


Dr. Jordan Will be Honored at Gala

Wilburt C. Jordan, M.D., MPH, will be among those honored next month at the Art Deco and Jazz Gala, a benefit for the AIDS Research Alliance.

The event, featuring actor LeVar Burton and Grammy-nominated singer Monica Mancini, will be held Oct. 13 at the Cicada Restaurant in downtown Los Angeles.

Dr. Jordan is the medical director of the OASIS Clinic, next to the University on 120th Street. He has been involved with the AIDS epidemic since it was first discovered and, in 1983 reported the first heterosexual case of HIV in Los Angeles County.


The alliance describes itself as the nation's only independent, nonprofit medical research institution dedicated to finding a cure for AIDS and a vaccine to prevent HIV infection. For more information, call Angie Comer of the alliance at 310-358-2040.



Urban Public Health Program Evaluation


The Urban Public Health (MPH) Program at Charles R. Drew University of Medicine and Science is being formally evaluated for accreditation by the Council on Education for Public Health (CEPH).


Good News Radio

"Good News Radio Magazine," created by CDU's Division of Community Engagement, can be heard Wednesdays beginning at 1 p.m. on KTYM 1460-AM.

Co-hosted by Nell Forge, Ph.D. and Charles McWells through the university's Division of Community Engagement, the program is designed to promote holistic health and research outcomes. The program also can be heard on the internet at www.ktym.com.
Become a Mission Maker Today
The Mission Maker campaign has raised just over half of its $50,000 goal. If you would like to donate to the campaign, which supports the university, its mission and its students, then please contact Blanch Ross. She can be reached at 323-563-4992, or at blanchross@cdrewu.edu.