Angolan Gov't Plans to Name Medical School in Dr. Gill's Honor
Gus Gill, M.D., whose former stewardship of the University's Ear, Nose and Throat surgical program turned out dozens of top specialists worldwide over the past three decades, has received another distinction.
The Angolan government plans to name the country's first medical school in his honor. The school plans to open by 2013 at the Universidade da Cidade de Luanda, a new, private university that's located in the country's capital city, said Ismael DaSilva, Ph.D., who heads a foundation for Angolan President Jose Eduardo dos Santos. Dr. DaSilva recently visited Los Angeles to tell Dr. Gill, the University's senior advisor the president, the news in person.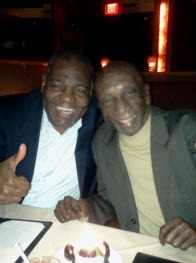 Dr. Ismael DaSilva (left) and
Dr. Gus Gill

"I'm honored that the Angolans have decided to name a facility after me," Dr. Gill said. "Their thoughtfulness in taking such a step, is indeed, humbling to me. This new school aligns with the mission here, and it's another element--not of my legacy, but of this University."

The school will occupy a vital role in Angola's health system. It will be the nation's only facility for educating doctors and for conducting medical research on malaria, tuberculosis and other chronic diseases affecting large swaths of the population. Dr. DaSilva said that academic and financial partnerships will be established in the U.S., Canada, and Brazil for visiting professors and for school funding.

Dr. Gill was a trailblazer in setting up CDU's international medical programs in Africa, Asia, Central and South America and other places. Shortly after Angola declared its political independence, Dr. Gill presented in detail to President dos Santos, and other government officials how the country's system for delivering health care in rural and urban areas could be improved. In turn, the Angolan government found a way to honor Dr. Gill.

"We have a special regard for him," Dr. DaSilva said through a translator.
Guzman Typifies New Medical Education Class at CDU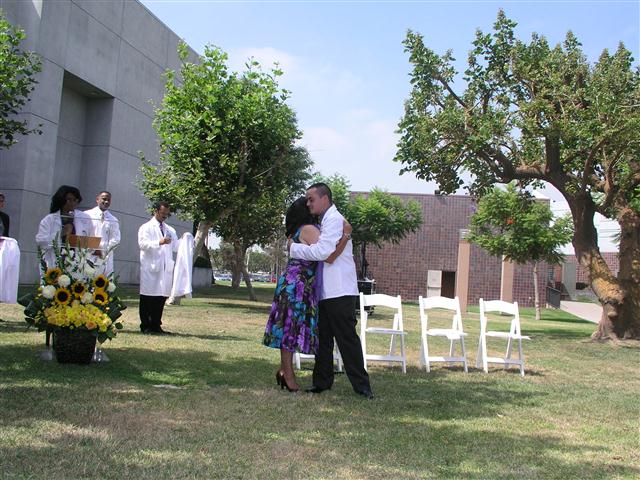 Carlos Guzman gives his mother a hug during a recent white
coat ceremony. (Photo by Maribeth Hernandez)



As one of 28 students admitted into this year's CDU/UCLA Medical Education program, Carlos Guzman is coming back home. Literally.

Mr. Guzman, who graduated from King Drew Magnet High School of Medicine and Science and completed his undergraduate work at UCLA, is returning to familiar grounds-like a growing number of students in this year's class-to finish their medical education.

"It feels like home," Mr. Guzman said, standing with his family after a recent white coat ceremony symbolizing his entry to medical school. He values the sense of closeness he feels and of being in familiar surroundings.

Mr. Guzman spent nearly five years with Dr. Jaydutt Vadgama, who runs a renowned cancer research program. Now, he wants to stay in South Los Angeles not only to hone his skills but to build his career and life in the area once medical school is finished.

His mother, Aura Guzman, said she "feels very thankful of God" for her son's success. "I'm very proud , very happy that he will succeed." She added he enjoys "helping people a lot."

Mr. Guzman finds supportive role models at home. His sister recently graduated in psychology at UC Riverside. And he still draws inspiration from his deceased father, who was a doctor in Guatemala.

"He's already made us proud," said Joseph Herrea, who is Mr. Guzman's uncle, and works with patients suffering from Alzheimer's Disease in East Los Angeles.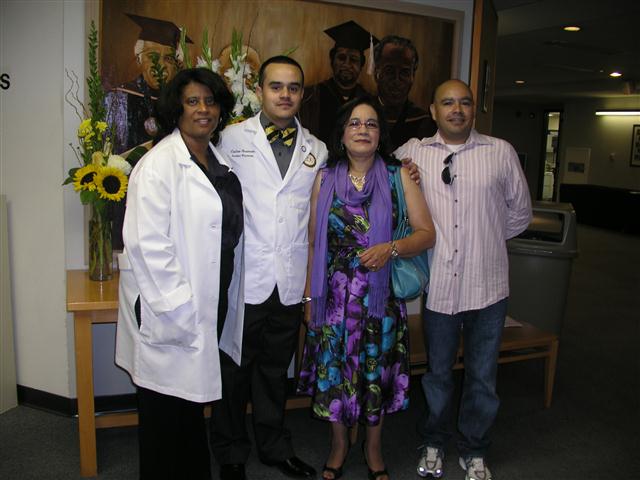 Carlos Guzman pictured second from the left. His mother, Aura Guzman, his mother, and his uncle, Joseph Herrea, posed to his
right. Daphne Calmes, M.D., associate dean, College of Medicine,
stood to his left. (Photo by Maribeth Hernandez)

New Medical School Class by the Numbers
3: Students who taught in the Saturday Science Academy II program, mentoring minorities in grades K through 12 in math and science, were admitted to this year's class.


15: Languages spoken.

Spanish, Indonesian, Vietnamese, Tamil, Korean, Chinese Mandarin, Tagalog, Japanese, French, Amharic, Farsi, Thai, Dutch, Fante, Twi.

24: Ethnicities represented.

Mexican American, Indonesian, Guadalajaran, Otemi, Guatemalan, Japanese, Sri Lankan/Tamil, Chinese, Jewish, African American, German, French, Dutch, Vietnamese, Salvadoran, Ethiopian, Filipino, Persian, Thai, Cuban, Puerto Rican, Korean, Ghanaian, Caucasian.


25: Students speak more than one language.


58% came from economically disadvantaged homes.


63% are males, about 10 percentage points above the national average.


71% graduated from the University of California system.


86% are California residents.

"In the state of California, and in the U.S., Charles Drew University has one of the most diverse medical education programs. Cultural and ethnic diversity among physicians translates into a more compassionate treatment of patients from different backgrounds and cultures. It's one of the primary reasons why our students are at the forefront of providing excellent care to underserved and diverse populations."

--Daphne Calmes, M.D., associate dean, College of Medicine, who added that undergraduate majors ranged in this year's class from bio-engineering to Chicano Studies.
Dr. McNairy of NIH Tours CDU Campus
Sidney A. McNairy, Jr., Ph.D., the director, Division of Research Infrastructure, National Institutes of Health, spent a few hours last week visiting with David M. Carlisle, M.D., Ph.D., and touring the Mervyn M. Dymally School of Nursing.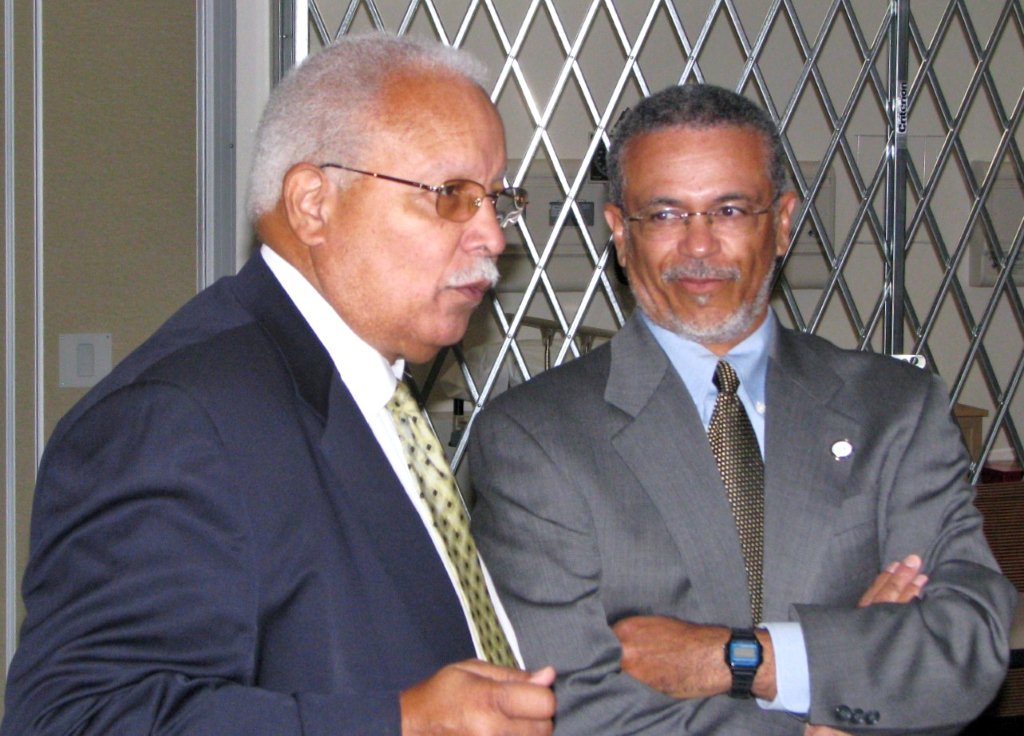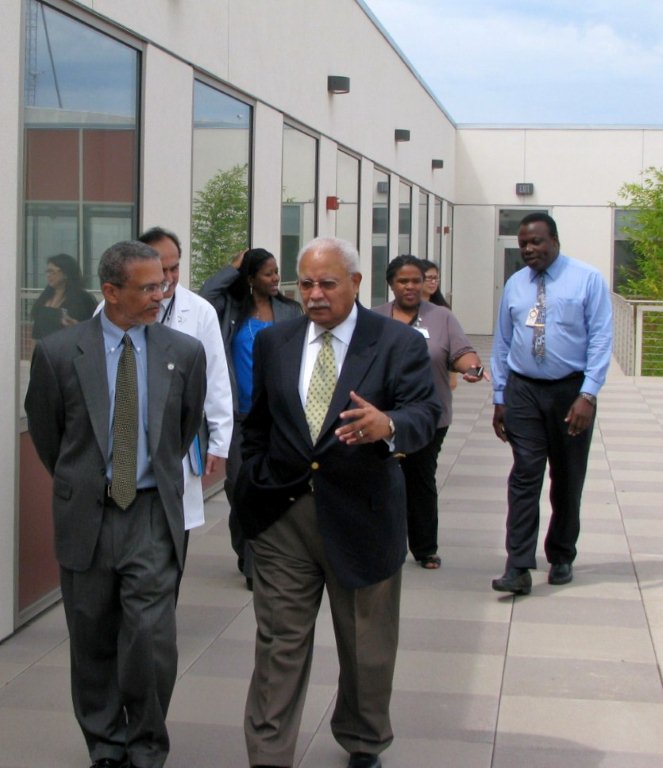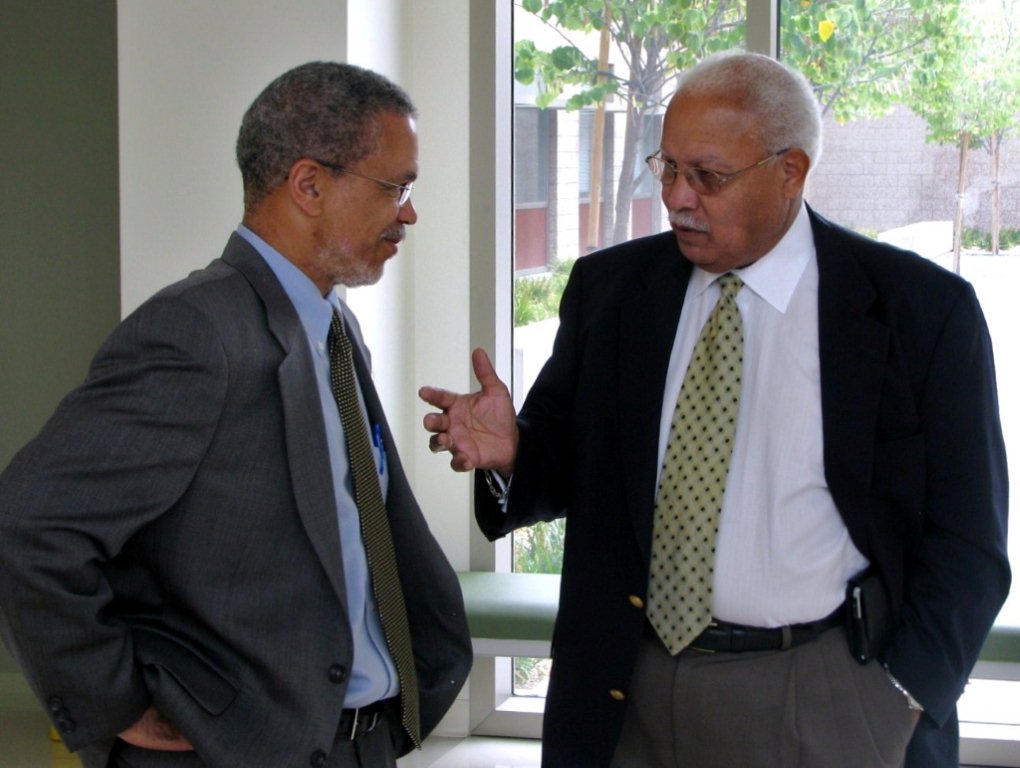 Photos by Laurell L. Black


Outlining the University's Vision Through a Letter from WASC


The University is fully accredited by the Western Association of Schools and Colleges. The commission sent CDU a letter last month that detailed the reaffirmation of the University's accreditation.

During two presentations last week, Dr. David Carlisle, the president, and Dr. Richard Baker, the provost and dean, College of Medicine, shared the letter's details and timetable for the next round of deliverables to WASC. That package will be expected to include a financial report in 2013, a progress report and visit in 2014, as well as an accreditation review in 2018.

Drs. Carlisle and Baker reviewed questions, strategy and work to be completed. Dr. Carlisle presented his vision for the University and both thanked the entire CDU community for their dedication and achievements.
Follow up meeting will be held on progress, plans and next steps soon.

Community and Academic Faculty Forum a Great Success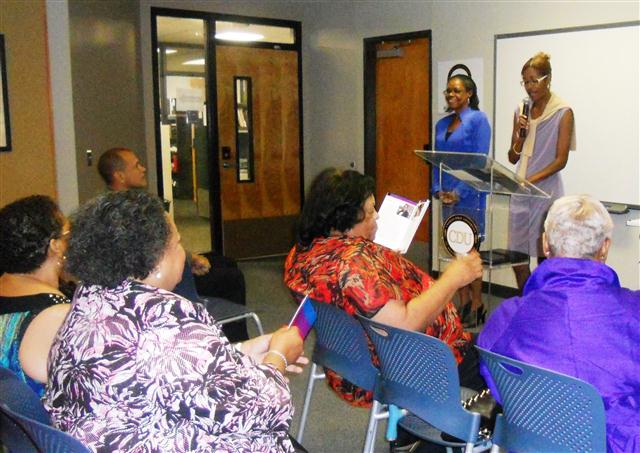 Dr. Nell Forge spoke during the forum to bring together academic and community faculty members. (Photo by Melanie Rodriguez)
The Division of Community Engagement recently held a Community Faculty and Academic Faculty Networking forum. Dr. Keith Norris, M.D., executive vice president of research and health affairs, and Kenneth Wolf, opened the event with remarks highlighting the Community Faculty program and the role that it plays in improving CDU's clinical and basic research.

Dr. Nell Forge, director of Community Engagement for AXIS at CDU, introduced each community faculty member to the audience, highlighting their accomplishments and their expertise in community organization, leadership and health disparities. CDU President, David M. Carlisle, M.D., Ph.D., presented each one with CDU memorabilia.

Afterward, faculty members mingled over hors d'oeuvres during a networking reception with poster presentations. The goal of the event was to encourage discovery of common research interests that could lead to more collaboration between academic and community faculty.

The community faculty program, now two years old, draws those who are local organizers who understand the issues faced by their communities. After completing an academic boot camp, they receive a faculty appointment at the University, and are responsible for advancing a research agenda. This training allows them to work with academic researchers and community members, bridging the gap between the two groups.

They are not traditional academics, yet they possess an expertise crucial to the mission and success of the University. Often, they must describe a research project in simple terms and allay fears of those participating about the research. The community faculty secure a stake in the research enterprise for their community. Their mission is to "create equity and equality in health and wellness by increasing academic and community capacity through a collaborative integration of local expertise." The community faculty is vital to enhancing the translation of research to the community.

These faculty members come from the University's many community partners working to improve health in Los Angeles, including the Los Angeles Urban League; Health African American Families; African American Advocacy Support-Services & Survival Institute; Black Health Community Task Force; Community Health and Research Council; South Los Angeles Health Projects; Building Bridges to Optimum Health; as well as many local churches.

- By Marissa Fessenden

For more information, go to:
http://axis.cdrewu.edu/functions/community-engagement/links.
Community Faculty biographies can be found at:
http://axis.cdrewu.edu/functions/community-engagement/faculty.

An Open Letter to the CDU Community from a Grateful Student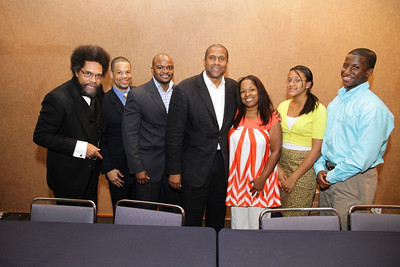 Dr. Cornel West (left) and Tavis Smiley (center) posed recently
with students in the program.

Editor's Note: The writer in her email refers to
CDU's Didra Brown-Taylor, Ph.D., MPH, assistant professor, College of Medicine, and
Keith Norris, M.D., vice president of research and health affairs.


Dear Dr. Carlisle and the Entire CDU community,
I would like to publicly thank distinguished CDU professor Dr. Didra Brown Taylor and Vice President Dr. Keith Norris for their generous support of the Tavis Smiley Foundation Youth Leadership Institute.
On July 26, 2011, over 150 youth from across the United States convened for a five-day conference designed to develop, inspire, and connect young leaders. The theme of the 2011 Institute was "Transforming Youth: Mind, Body, and Spirit," and the youth engaged with social activists, academic experts (including Dr. Brown Taylor), and celebrities while formulating their own plans for making a difference in the world. As a five-year alumni and counselor at the Institute, I can personally attest to the powerful impact that the Institute is having on the lives on young people across this country.

Through the dedication of Dr. Norris and Dr. Brown Taylor, CDU has played an important role in the ability of the Institute to continue to change the world by empowering our youth. The motto of the Institute comes from Dr. Cornel West: "You can't lead the people if you don't love the people. You can't save the people if you won't serve the people."

I am very grateful to Dr. Brown Taylor and Dr. Norris for embodying this motto of leading, loving, saving, and serving.
Respectfully submitted,
Angela Groves
Princeton University, Class of 2012
Tavis Smiley Foundation Youth Leadership Institute, Alumni
More information about the Tavis Smiley Foundation Youth Leadership Institute can be found at www.youthtoleaders.org


News in Brief
Letter Published in L.A. Times


The Los Angeles Times recently published a Letter to the Editor written by Theodore Friedman, M.D., Ph.D.

Dr. Friedman, chairman, Department of Internal Medicine at CDU, responded to an Op-Ed on the benefits of a college education.

Headlined "College: A Smart Choice," the piece
concluded that graduating from college, while expensive to attend, is a worthwhile investment.



Conference On Primary Care Set

A consortium of three Los Angeles medical universities have planned a conference to underscore the importance of primary medical care.

The 2nd Annual Primary Care Week will be held Sept. 13 - 15. rough the 2nd Annual Primary Care Week The College of Medicine, along with the Keck School of Medicine at USC and the David Geffen School at UCLA.

The three-day event consists of parallel afternoon panels at he Keck-USC and UCLA/CDU medical campuses.

There will be clinic site tours at St. John Well Child and Family Clinic and the Venice Family Clinic. The groups also will host a shared reception at the California Endowment.

The deadline for making reservations is Oct. 9. Seating is limited. Please contact Shirley Gadiok by telephone at 323-563-9349, or by email at shirleygadiok@cdrewu.edu.



Dr. Jordan to be Honored at Gala


Wilburt C. Jordan, M.D., MPH, will be among those honored at the Art Deco and Jazz Gala.

The event, a benefit for the AIDS Research Alliance, features actor LeVar Burton and Grammy-nominated singer Monica Mancini. It will be held Oct. 13 at the Cicada Restaurant in downtown Los Angeles.

Dr. Jordan is the medical director of the OASIS Clinic, next to the University on 120th Street. He has been involved with the AIDS epidemic since it was first discovered and, in 1983 reported the first heterosexual case of HIV in Los Angeles County.


The alliance describes itself as the nation's only independent, nonprofit medical research institution dedicated to finding a cure for AIDS and a vaccine to prevent HIV infection. For more information, call Angie Comer of the alliance at 310-358-2040.



White House Internships

The White House Internship Program reflects President Obama's commitment to provide young people with an opportunity to strengthen their understanding of the Executive Office, develop their leadership skills and to actively engage in public service. To apply, go to whitehouse.gov/internships. A completed application includes two essays, three letters of recommendation and a resume. The deadline for next spring is Sept. 11, 2011.



Urban Public Health Program Evaluation


The Urban Public Health (MPH) Program at Charles R. Drew University of Medicine and Science is being formally evaluated for accreditation by the Council on Education for Public Health (CEPH).


Good News Radio

"Good News Radio Magazine," created by CDU's Division of Community Engagement, can be heard Wednesdays beginning at 1 p.m. on KTYM 1460-AM.

Co-hosted by Nell Forge, Ph.D. and Charles McWells through the university's Division of Community Engagement, the program is designed to promote holistic health and research outcomes. The program also can be heard on the internet at www.ktym.com.
Become a Mission Maker Today
The Mission Maker campaign has raised just over half of its $50,000 goal. If you would like to donate to the campaign, which supports the university, its mission and its students, then please contact Blanch Ross. She can be reached at 323-563-4992, or at blanchross@cdrewu.edu.