View From the Chair

Members of the Charles Drew University Board of Trustees held a meet-and–greet with students, faculty and staff after the board meeting this morning. I welcomed everyone and introduced board members present.
Each board member then gave brief remarks about their role and their passion in serving on the CDU board. Earlier today, the board held its monthly meeting and addressed fiscal, operational and accreditation matters. Toward that end, I am happy to announce partial restoration of University of California funding for fiscal year 2011.
Charles Drew University funding from the UC system for fiscal year 2010 had been reduced by over $2 million, compared to fiscal year 2008. As a result of the better than expected state funding for higher education this year, UCLA has indicated that CDU may receive up to $866,000 above last year's funding amount.
Also the closure of the King Drew Medical Center affected the CDU medical student training program, resulting in an additional decrease of UC funding to CDU. Due to the efforts of Provost Richard Baker, the CDU medical student training program has been enhanced. As a result of the re-establishment of core clerkships by CDU, UCLA has indicated they will pay $649,000 to CDU this year. We are expecting these funds to be received this week. These amounts are not included in the current budget. These positive changes will help CDU improve its financial position over the short-term.
However, I caution to not start celebrating. The state funding for higher education is likely to be bleak in the next fiscal year and we must brace ourselves for a potential reduction. We must be very strategic in the use of our resources to continue CDU's forward momentum.

M. Roy Wilson, M.D., M.S.
Chairman
Board of Trustees
CDU Board Meets and Greets CDU Campus Community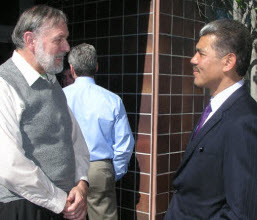 M. Roy Wilson (r), chairman, CDU Board of Trustees
shown with Wayne Taylor, Ph.D., a faculty member.
After holding its monthly meeting, the Board of Trustees at Charles R. Drew University of Medicine and Science stayed to shake hands with staff, students and faculty. Board members came to Keck Lecture Hall, where M. Roy Wilson, M.D., the chairman, introduced those he described as an "all-star" board.
Cornelius Hopper, M.D., the board's vice-chair, said in
in response to a question that years of board experience "prepared me to work with you and meet the challenges" the university faces. Others also cited how years of involvement on other governing boards would serve them well here at Charles Drew University.
One longtime board member, Patrick T. Dowling, said the university continues to battle against financial challenges. Moreover, he said that another crucial test will be coming later this month when the Western Association of Schools and Colleges is scheduled to conduct a site visit. He noted how much people both inside and outside of the institution care for the university.
On accreditation, he said, "I think we're trying to get this straight once and for all this time."
The session was taped and will be available for viewing later this week on www.cdrewu.edu "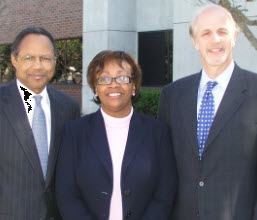 A pair of CDU board members pictured:
Dr. A. Eugene Washington (l) and Dr. Patrick T. Dowling
(r) both of the David Geffen School of Medicine at UCLA.
Also shown is Darlene Parker Kelly, director of
CDU's Health Sciences Library.
After years of heeding the mission at CDU, Dr. Eric Bing will be sorely missed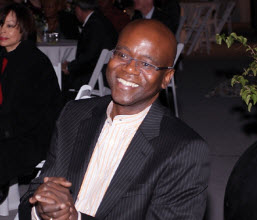 Dr. Eric Bing smiling during his farewell reception.
A large crowd of mentors, colleagues and friends came to wish Eric Bing the best. After nearly two decades at Charles Drew University, Dr. Bing through a previous announcement said he was leaving the university to become director of Global Health at the George W. Bush Institute in Texas.
That decision brought mixed emotions to those crowding into the outdoor atrium at the Life Sciences Research and Nursing Education building. Every speaker described the university's endowed professor of Global Health and HIV fondly. While it's "an honor" for CDU to have Dr. Bing chosen for such a great opportunity, the institution will also miss his dedication, his sacrifice, and his belief in the mission, M. Roy Wilson, the board chairman, told the crowd.
But, Dr. Wilson added that everyone can "take comfort in knowing the university will be a part of Eric and that he will continue to contribute to Drew." He thanked Dr. Bing for his years of service, "and for being a friend who would be missed greatly."
Many believe Dr. Bing was one of the institution's "saviors," playing over the years an instrumental role at the university, said Dr. Samantha Gizerian, president of the Academic Senate. She thanked him for his service to the university. Still, others spoke of how Dr. Bing inspired them through difficult times, using the mantra: "Everything you need is already within you."
When it was his turn to speak, Dr. Bing said he thought the reception was "overwhelming" for him. He joked that he felt as though he were attending his own funeral. "Except this time," he said, "I get to enjoy it."
Echoing the sentiment expressed by Dr. Wilson, he said that whatever he does he will take a piece of the institution with him, and "leave a part of me here as well."
He strolled to his seat as the crowd stood to applaud.
New Nursing Students Preparing for Community Outreach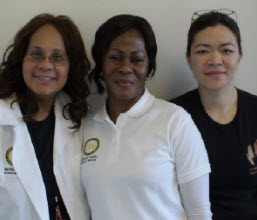 Nursing students pictured left to right: Lativia Stinshoff,
Bertha Nkemere, and Marianne Carlota.
Nursing students are gearing up for a community outreach program that touches the most vulnerable: infants.
The first cohort of nursing students in the Mervyn Dymally School of Nursing have been recruiting newer students to participate. They will be trained as peer educators and conducting pre- and post-test evaluations and talk to students in schools, colleges or wherever an audience of young women can be found. "Hopefully, they can reach out to the community," said Bertha Nkemere, delivering a message around good nutrition and other important habits that raise the odds of giving birth to a healthy baby.
Infant mortality rates for African Americans double those of the general population. But the nurses want to spread the news that many causes of infant mortality are preventable. The Office of Minority Health of the Department of Health and Human Services launched an effort in 2007 to raise awareness of this disparity, with an emphasis on the African American community. The campaign is called, "A Healthy Baby Begins With You."
The nurses will do everything they can to urge young women to heed the message and carry it home, said Lativia Stinshoff, a nursing student. "We're all foot soldiers and invested in this," she said.
News in Brief
Student Government
The Charles Drew Student Government is sponsoring a blood drive on Thurs., Feb. 17 from noon to 6 p.m. The event is held to honor Charles R. Drew, M.D. for his discovery of how to store and transfuse blood. The American Red Cross will have its bus parked in the main lot off East 120th Street. Please email victoriafranklin@cdrewu.edu for more information or to schedule an appointment. All donors will receive a gift certificate from Mimi's Cafe for a free appetizer, as well as tickets to a Los Angeles Galaxy soccer game and Grammy Award tickets. (The tickets do not cover the processing fee.)
Become a Mission Maker Today
The Mission Maker campaign has raised half of its $50,000 goal. If you would like to donate to the campaign, which supports the university, its mission and its students, then please contact Blanch Ross. She can be reached at 323-563-4992, or at blanchross@cdrewu.edu.