View From the Chair

This past Friday, I spent the morning on Capital Hill visiting several of our federal legislators in both the House and Senate. It turned out to be a timely visit as the House had met the evening before and had come up with an overdue 2011 budget that spared most of the federal programs that defines and sustains Charles Drew University of Medicine and Science. Unfortunately, agreement was not reached as most of the newly elected freshman representatives did not believe that the proposed budget represented what they had promised in cuts during the recent election.
As feared, the final 2011 spending bill, which was released Friday night, decimates many of the programs of interest to CDU, including Title VII (health professional), Title III (nursing), and research funding through the National Institute of Health. Although it is unlikely that this budget will pass the Senate, it is nonetheless important to voice our concerns to our House representatives immediately.
On the positive side, President Obama's 2012 budget request spares, to a great extent, the many programs of interest to us. The Diversity Programs (Centers of Excellence, Health Careers Opportunity Program, Scholarships for Disadvantaged Students, Minority Faculty Loan Repayment) of Title VII have received a collective $11 million increase; the Historically Black Graduate Institution program at the Department of Education is level funded ($61.4 million); and NIH would get a $745 million increase from its fiscal 2010 level. However, as you are aware, this is still very early in the 2012 budget process, which is due to take effect Oct. 1. For now, we need to focus on the 2011 appropriation bill and do everything we can to preserve funding for programs that are critically important for our institution.

M. Roy Wilson, M.D., M.S.
Chairman
Board of Trustees
Founder of Black Barbershop Program Attends Super Bowl Party at the White House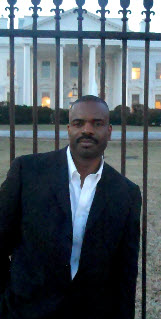 Bill J. Releford at the
White House.
After receiving an invitation to watch the Super Bowl at the White House earlier this month, Bill J. Releford says he is still "levitating" from the experience.
Dr. Releford, an assistant professor at Charles Drew University of Medicine and Science who launched the Black Barbershop Health Outreach Program in 2007, was among 100 guests invited to watch the Super Bowl with President Barack Obama and First Lady Michelle Obama. He felt as though he was walking in air.
Guests watched highlights while spending the bulk of their time networking, Dr. Releford said. Those he chatted with included, activist Rev. Al Sharpton, actress Jennifer Lopez and her husband, Marc Anthony, as well as Valerie Jarrett, senior advisor to President Barack Obama.
"I felt butterflies in my stomach," Dr. Releford said. "It was surreal. I was blown away by the whole experience."
Shortly before halftime, one of Mr. Obama's aides struck up a conversation. Then he asked Dr. Releford to wait until he returned. Soon, President Obama appeared, shaking his hand. As Dr. Releford was being introduced, President Obama interrupted the aide, and as recalled him saying, "I know all about the black barbershop program."
The comment helped validate Dr. Releford's work, knowing how he sacrificed to pull together the program that allowed those getting haircuts in black barbershops to be screened for diabetes, high blood pressure and to learn about prostrate health. The program has spread nationwide. He has been featured on several television networks and profiled in newspapers and magazines. Even better, the program now has been recognized by the president.
As the football game paused for halftime, Dr. Releford still without an appetite, decided to share the news with his dad. He told his father how proud he was to be at 1600 Pennsylvania Avenue, and how gracious the president had been. Later, First Lady Michelle Obama spoke to him in passing, saying she hoped he was enjoying the evening.
The invitation came out of the blue a week earlier when a White House representative called his cell phone, asking him to attend the party. Whatever plans he had for Super Sunday were scuttled. Though he still shakes his head at making the guest list, he has already seen some benefit. The White House will be represented at Dr. Releford's 3rd Annual African American Men's Health and Empowerment Summit on Sat., Feb. 26 at the Los Angeles Convention Center. The event is open to the public and there's no charge.
While focused on grander plans for the barbershop program, Dr. Releford said the excitement he felt from attending the White House party has hardly faded.
"It was, perhaps, the most exciting event in my adult life," Dr. Releford said. "Never before have we had contact with the White House. I was totally floored, and I'm still levitating by the whole experience."
New Report Shows Crime on Campus Remains at Low Level for Third Year in a Row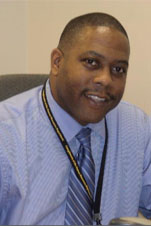 Nathaniel Brown
In 1998, the federal government passed the Jeanne Clery Disclosure of Campus Security Policy and Campus Crime Statistics Act. The law requires colleges and universities receiving federal funding to disclose reported instances of criminal activity on their campus.
The law specifically requires the reporting of violent crimes in addition to burglary, hate crimes, arson, alleged sex offenses (forcible and non-forcible), motor vehicle theft, as well as a summary of arrest and disciplinary referrals for liquor law, drug abuse and weapons violations.
By October 1 of every year, the university must distribute its Annual Campus Security Report. This report is required to provide crime statistics from the previous three years. CDU's Safety and Security Unit is required to maintain a public log of all reported crimes or crimes they are made aware.
In compliance with the above law, the Charles Drew Public Safety and Security unit has produced this report for the Charles Drew University. This information is available at the Campus Information office located inside the Cobb Building. It also is published on the intranet.
If you have any questions, concerns or comments, please contact Nathaniel Brown, manager of the Charles Drew Public Safety and Security unit at (323) 563-4000. He also can be reached via electronic mail at NathanielBrown@cdrewu.edu.

- By Nathaniel Clark, vice president, administration
Students Studying to Become Physician Assistants Get It All Sewn Up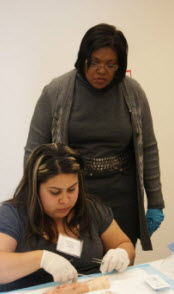 Lesette Witherspoon (standing)
observes the suturing process.
A critical clinical skill that all physician assistants, (PA's) learn is suturing. In preparation for their surgical experiences, the PA students have undergone a series of suturing workshops.

Class '45 at Charles Drew University participated in a four-part simulation training designed specifically to teach suturing, which involves stitching the sides of a wound together to promote healing. In order to successfully complete this training, each student was expected to master the three most commonly used suture techniques: the simple interrupted, vertical mattress and the continuous suture.

During the first step of the series students were proctored by program faculty, alumni and practicing PA's. Each specific stitch was scored objectively by the proctor.

The second element in the series was conducted a week later when a representative of Ethicon Inc. came and presented a lecture on the latest suturing procedures and products. This was followed by an additional hands-on demonstration designed to assess the students' ability to perform the three sutures a second time, (hopefully with some improvement in technique). Once again, the proctors rated the students' suturing skill mastery while introducing a new skill "stapling."

The final part of the series was a "patient and family" simulation activity requiring the students to use the learned techniques in a "simulated" clinical setting. The designated student had to place several simple interrupted sutures while having student actors try to distract them by talking.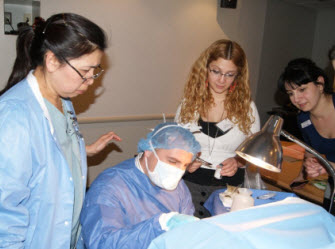 Peregrina Arciaga, M.D. (left)
watches a suturing procedure.
In one scenario, a student had to suture an episiotomy. The patient (a fellow student) was complaining of pain and asking for her baby, while her devoted husband (another classmate) kept asking, "When will you be done?" The goal of the scenarios was to teach students how to successfully complete a procedure with external distractions.
The entire event was conducted in the Cobb Building simulation lab under the direction of Dr. Perigrina Arciaga and her staff. Dr. Arciaga set-up and supervised the simulated emergency room for the "patient and family" experience. In the end, students were a step closer to becoming well-trained Primary Care Physician Assistants.
- By Mary Blanding, CDU admissions coordinator, Physician Assistant
Program.
News in Brief
Medical Sciences Institute
Cynthia Davis

Cynthia Davis, an assistant professor in the Medical Sciences Institute at Charles Drew University, was filmed on campus last week by representatives from Time-Warner cable systems. The film highlights her work with the university's HIV/AIDS Mobile Testing Project, a program serving Los Angeles County that she pioneered more than 20 years ago. The broadcast is scheduled to be aired on the cable system in March during National Women's History Month. In November, Ms. Davis was profiled by the Lifetime Network, the highest-rated women's channel on cable television, for its "Remarkable Woman" series.

RTRN Webinar Series

John Basgen, who directs the Morphometry and Stereology Laboratory at Charles Drew University, is scheduled to present a mini-educational course on the benefits of stereology in biomedical research. Through five one-hour lectures, he will describe the theory and use of stereology to measure biomedical structure. Mr. Basgen has more than 35 years experience in biomedical morphometry laboratories. He has written more than 30 articles and chapters related to measuring of the kidney structure and cited in 70 other articles. To sign up for the program, offered through the RCMI Translational Research Network, send an email to communications@rtrn.net and include in the subject line, "RSVP for Stereology Webinar Series."
Become a Mission Maker Today
The Mission Maker campaign has raised half of its $50,000 goal. If you would like to donate to the campaign, which supports the university, its mission and its students, then please contact Blanch Ross. She can be reached at 323-563-4992, or at blanchross@cdrewu.edu.