View From the Chair



Today is the start of a critical week for CDU. The Western Association of Schools and Colleges (WASC) will be here on February 23-25 for a site visit. We have prepared hard for this visit and we are ready.
As you know, WASC aids institutions in developing and sustaining effective educational programs by emphasizing institutional structures processes and resources.
The purpose of WASC is to assess and improve the teaching process, to apply standards to review and improve educational quality and institutional performance, promote a culture of evidence to improve decision-making, planning and systems of institutional review for continuous improvement, compliance and sustainability.
Over the last 17 months, CDU has worked hard to implement and demonstrate compliance to best practices and standards. We are proud of our accomplishments and mindful of the need for continuous improvements to meet our mission.
WASC will be here for the short time to look at our whole institution. I encourage you to be candid and precise in your discussions as time is very limited. You are encouraged to assist WASC visitors to finding the information resources needed (people, documents, etc.)

M. Roy Wilson, M.D., M.S.
Chairman
Board of Trustees

Survey Shows Dramatic Improvement in Office Culture at CDU
An overwhelming majority of employees at Charles Drew University believe communication in the workplace has become more open, leading to a dramatic improvement in climate, according to a new survey.
The poll found that 93% of staff and faculty felt that communication among employees and managers had changed for the better. In addition, many of those polled said they were pleased with changes made to encourage open communication in the workplace.
The findings represented a sharp turnaround from April 2009, when the university's last bid took place for academic accreditation through the Western Association of Schools and Colleges.
During the site team's last visit, many employees believed a "climate of fear" inhibited communication in the workplace. But in the latest survey, staff and faculty pointed to changes in governance, as well as open communication as the primary reasons for a better working environment.
"We are very different from what we were," said Richard S. Baker, M.D., provost and dean, College of Medicine. "This survey shows that faculty and staff believe the university has made tremendous progress in sweeping away bad policies from the past."
Improvements made include measuring outcomes; making data-driven decisions; using evidence-based outcomes; and comparing the university to national standards. This process has led the university toward better decision making and open management styles, Dr. Baker said.
Employees were polled to measure whether the communication climate at the university had changed. The work already has begun to pay off.
Policies have been revised, and posted on the university's web site. Several forums also have helped foster a greater understanding among employees and management.
In addition, an advisory panel of staff, faculty and students have been meeting weekly, seeking to improve steadily communication campus-wide.
The survey polled 405 staff and faculty members in December for their opinion on the university's office culture. When asked whether a fear of retribution still existed, 93% said that condition no longer existed. Said Dr. Baker, "We have made dramatic changes for the better."
Library Rolls Out New Internet Pages, Adding Content for Students, Faculty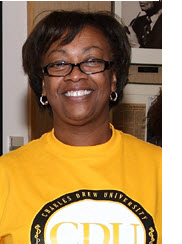 Darlene Parker-Kelly
For nearly two years, Darlene Parker- Kelly has worked to pull together a web pages where students and faculty can find information on their educational program. Finally, she has done it.
The director of the Health Sciences Library and the Library Resource Center said she felt some satisfaction over the one-stop shop of information that is now available on the library's website. The program was unveiled earlier this week.
"It feels good," Mrs. Parker-Kelly said when asked about getting the project online. The idea was fostered by Katherine Russell, who was the library's interim director until Mrs. Parker-Kelly arrived about 17 months ago.
The goal was to create web pages that arranged resources for students and faculty based on university programs. With help from webmaster Ali Roshan, Mrs. Parker-Kelly said she hopes the web pages prove to be "more user-friendly" than previous attempts.
For example, she clicked on tools for those studying radiography. There were tools for research, on links to digital libraries of anatomy, as well as professional associations. Overall, she said 35 licenses for web-based resources were purchased.
Students also can ask for help as needed from the librarians in learning how to use the new web pages. "Librarians must think outside of the box, and bring the content to the user," Mrs. Parker-Kelly said. "If you build it, they may not come. We want to make sure our users know how to use it."
Link to the new web pages- http://library.cdrewu.edu
News in Brief
Women and Girls Health Fair
Charles Drew University is a co-sponsor of the Women and Girls Health Fair. The event, held in recognition of National Women and Girls HIV/AIDS Awareness Day, is scheduled from 9 a.m to 2 p.m. on Sat., March 5 at the university, 1731 E. 120th St., Los Angeles. The primary sponsors are chapters in the Farwest Region of Delta Sigma Theta Sorority, Inc. and the Glodine Kennedy Foundation. Screenings for diseases such as HIV, cholesterol, diabetes, and hypertension will be given. There is no cost to attend. Call Barbara Napper, 714-870-6444, for more information.
Men's Summit on Health Disparities
The Black Barbershop Health Outreach Program will hold the 3rd Annual African-American Men's Health Empowerment Summit & Job Fair at the Los Angeles Convention Center. The event is scheduled for Sat., Feb. 26 from 10 a.m to 6 p.m. Bill J. Releford, the event's founder and an assistant professor at Charles Drew University, draws attention through the event to educate others about health disparities in black men. Seminars, entertainment, as well as, free screenings for diabetes, high blood pressure, cholesterol, HIV and other life-threatening diseases will be offered.
Become a Mission Maker Today
The Mission Maker campaign has raised half of its $50,000 goal. If you would like to donate to the campaign, which supports the university, its mission and its students, then please contact Blanch Ross. She can be reached at 323-563-4992, or at blanchross@cdrewu.edu.