View From the Chair
This week's newsletter was published a day later than usual. The university closed on Monday, as it has done for years, to observe Martin Luther King's birthday. King Day reminds us how civil rights were shaped through a philosophy of nonviolence. The holiday also helps us remember how Dr. King and other great African American leaders dedicated themselves to serving others. That philosophy of service has been ingrained into our mission since the university's founding. It's our way of honoring the past, while shaping the present and future of health care. By following our mission of serving the underserved—with excellence and compassion—the university continues to make its mark. There's every reason to believe the best days are ahead.
Last week, on Monday January 10th, the Board of Trustees had its first meeting of 2011. It was well attended and board members were engaged in discussions of legal, financial, WASC, marketing/communications matters, etc. We continue to look for ways to best prioritize our resources while looking for new funding opportunities to better position the university towards financial sustainability. The California Endowment is working with the CDU team to assist with some of the marketing and communications needs. We march forward into the New Year with diligence, commitment, vision and hope!

M. Roy Wilson, M.D., M.S.
Chairman
Board of Trustees

CDU Cancer Researcher Creates a "Proud Moment for Our Institution" During National Symposium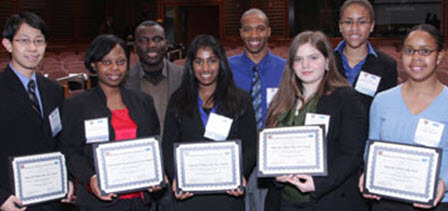 Marianna Sarkissyan of CDU is pictured in the front row, second from the right.
Marianna Sarkissyan, a researcher at Charles R. Drew University of Medicine and Science, recently won third-place for delivering an oral presentation on cancer health disparities at the New England Science Symposium.
"I am extremely proud of Marianna, and my team members who have contributed to this study," said Dr. Jay Vadgama, professor of Medicine, Chief Division of Cancer Research and Training. Dr. Vadgama is the principal investigator of the study, and Marianna's mentor over the last five years. "This is a highly competitive program, in the pool of postdoctoral fellows, medical students, graduate and undergraduate students."
She finished only behind winner Polakit Teekakirikul, M.D., a postdoctoral/research fellow, Harvard Medical School and Sunah Hwang, a clinical fellow at Children's Hospital Boston, division of Newborn Medicine.
Ms. Sarkissyan's award, named after Ruth and William Silen, M.D., recognizes those who deliver outstanding oral presentations or create exceptional scientific posters. The top three winners in each category split $600, with the first-place winner receiving ($300), second ($200) and third ($100) during the annual program held at the Harvard Medical School in Boston.
"Marianna is an outstanding student committed to working in cancer health disparities, and she will pursue a M.D./Ph.D program," Dr. Vadgama said. He added, "This is a proud moment for our institution."
News in Brief
FINANCE
The last installment of a three-part series on CDU's financial sustainability will be held Mon., Jan. 24 from noon to 1:30 p.m. The session will focus on the university's business plan, contingency plan, as well as preview this year's finances. Th meeting will be held in the Cobb Building's board room.
Become a Mission Maker Today
If you would like to donate to the Mission Maker campaign, which supports the university, its mission and its students, then please contact Blanch Ross. She can be reached at 323-563-4992, or at blanchross@cdrewu.edu.