View From the Chair

We have started the process of restructuring and prioritizing our resources to be used in the most effective manner. ECG Management Consultants, Inc. has finished the first phase of analysis and has put forward five recommendations based on their findings. Over the next few months, management will announce changes as we implement systems and new controls to build a functional infrastructure. Additionally, management continues to hold extensive budget meetings to review departmental budgets and identify pockets of potential savings.
Although the WASC report was completed and submitted, there is still much work to be done. As we prepare for the site visit, scheduled from February 23-25th, I encourage everyone's full participation to make the visit a success.
On a different topic, the Board of Trustees will hold a one hour meet-and-greet forum with Students, faculty and staff on February 7th at 11 a.m. A broadcast message with detailed information will be sent out after scheduling arrangements are finalized. Everyone is welcome to attend.

M. Roy Wilson, M.D., M.S.
Chairman
Board of Trustees

Junior White Coat Ceremony Celebrates "Hard Work and Achievement"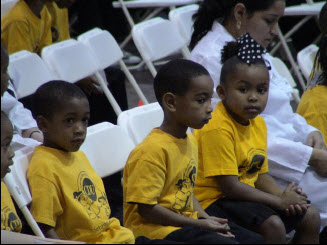 Saturday Science Academy II students.
At the 11th Annual Junior White Coat Ceremony on Jan. 15, more than 215 students from pre-K to 12th grade committed to studying math and health sciences were honored. Enrolled in the Saturday Science Academy II at Charles R. Drew University of Medicine and Science, students were applauded for their academic aspirations.
Paving a path to thriving health care careers, particularly to young people in nearby communities at an early age remains a critically important role for the academy, U.S. Rep. Maxine Waters (D-Los Angeles) said.
"You are preparing white coats of the future," she told hundreds of parents, students, teachers and family members gathered at the King/Drew Medical Magnet High School, located next to the university in the Willowbrook-Watts area.
The ceremony resembled a high school graduation. As their names were called, students who attended three consecutive eight-week sessions in the same calendar year were cloaked in a white lab coat. The coats in this case, similar to those worn by doctors, symbolized the students' accomplishments in the academy.
"We are here to celebrate hard work and achievement," said Eleby R. Washington III, M.D., an orthopedic surgeon who serves as medical director of the Saturday Science program.
Other guests attending the program included: State Sen. Roderick D. Wright (D-Inglewood); Angela Nossett, M.D., chief medical officer, Martin Luther King Multi-Service Ambulatory Care Center; and David Nash, Education and Outreach Liaison for the National Library of Medicine, as well as others from Charles Drew University.
Inspired by the children's presence, many spoke with pride of being there. "This is my favorite white coat ceremony because this one means the most," said Richard S. Baker, provost and dean, College of Medicine at Charles Drew University.
He urged students to remember the coats were not earned by themselves. Said Dr. Baker, "It belongs to the whole family."
Bringing Free Cancer Screenings to the Community and Making a Difference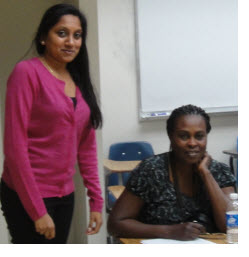 Charles Drew Student Government (CDSG) partnered with Inner Images Mobile Mammography Services and the Breast Cancer Prevention Fund to provided free breast cancer screenings to 40 women from Compton, Wilmington and Watts. Malini Nadadur, a COSH student (pictured standing on the left), recruited women by making presentations to the surrounding community including local churches and the state funded housing projects of Nickerson Gardens and Imperial Courts.
Each woman received a clinical breast examination, a mammogram as well as a prescription for a free cervical screening provided Dr. Arash Lalezary. Furthermore, patients under 40, with a high risk for breast cancer were examined under the generous grant provided by the Breast Cancer Prevention Fund.
Dr. Indubala Vardhan and Claudia Wiggins conducted an information session on the risks of high blood pressure. Each participant received a complementary chair massage provided by Angela Petruso, a COSH Program Administrator, who is a professional healing artist.
Ms. Nadadur and student government officers supplied the participants with a meal, and gift bags. Ms. Nadadur said, "This is the introduction of an ongoing COSH student initiative to engage and serve the local community's health care concerns."
Few Injuries Reported on Campus, But Learning to Fall Gracefully May Help
Michael Perry, pictured on the left.
First, the good news. Over the past 18 months, we had a commendably low accident rate. Only 14 injury or dangerous incidents were reported during this period, an average of less than one per month. The main suggestion to limit injuries may be that when a fall starts, do not try to stop it from happening.
Two of the more serious injuries involved employees who tried to prevent their fall by using an outstretched arm against a wall or a desk. Their injuries were to their outstretched arm, shoulder, neck and back. There may have been injuries if they fell, but those injuries may have been less severe.
A review of the reported incidents, reported at a recent meeting of the CDU Safety Committee, identified an issue that is a CDU strength, but also from a risk standpoint, a drawback. CDU employees are committed to the mission of the university. We know how important that is, to the institution and to each employee's sense of well being. At times, though, it can lead to individuals trying to do things that should be done by others – Facilities should repair a door, for example.
Given the university's recent budget and staffing challenges, our strong commitment to serve the institution can also lead us to attempt doing so much, so quickly, that we become distracted. A number of injuries resulted from an inattention to conditions, or a belief that a chair was where we thought it would be. Let's be sure we take care of ourselves by slowing down and maintaining our safety when doing our jobs. Getting ill or injured due to stress or inattention does no one any good, especially ourselves. Be careful out there.
Questions about CDU's safety efforts can be addressed to the Risk Manager, Michael Perry, who wrote this article, at (323) 563-4995 or michaelperry@cdrewu.edu.
Writings of Dr. Drew Now Available Online
A trove of writings from the late Charles R. Drew, M.D. was added Monday to the Profiles in Science website, according to the National Library of Medicine, and the Moorland-Springarn Research Center at Howard University. (Read the announcement here: http://www.nlm.nih.gov/news/charles_drew.html). Dr. Drew directed the first large-scale blood bank in the U.S., and after his death in 1950, the university was later named in his honor. The website http://profiles.nlm.nih.gov features letters, articles, drafts of reports, and photographs. (Source: CDU Health Sciences Library
School of Nursing
S. Pamela Shiao, associate dean of the School of Nursing, was appointed as a member-at-large to the 2011 board of the Organization of Healthcare Educators. The non-profit group, founded as a local chapter of the American Society for Healthcare Education and Training, provides a forum for professionals to gain a broader perspective on healthcare education issues both locally and nationally.
Health Sciences Library
The Health Sciences Library and the Office of Faculty Development will hold a reception for the opening of the CDU Faculty Development Collection, a wide range of new and classic books and journals to assist instructors in helping students learn more effectively. The event will be held Thurs., Jan. 27 from 4 p.m. to 6 p.m. in the library.
Become a Mission Maker Today
If you would like to donate to the Mission Maker campaign, which supports the university, its mission and its students, then please contact Blanch Ross. She can be reached at 323-563-4992, or at blanchross@cdrewu.edu.