Dr. Carlisle: "This is a Great Day in the History of the University"
Dr. David M. Carlisle, M.D., Ph.D., quickly convened a forum last Tuesday afternoon in front of the Cobb Building. He told students, staff and faculty that the Western Association of Schools and Colleges, an accrediting commission, decided to maintain the University's accreditation. Here is a transcript of Dr. Carlisle's remarks, followed by some frequently asked questions.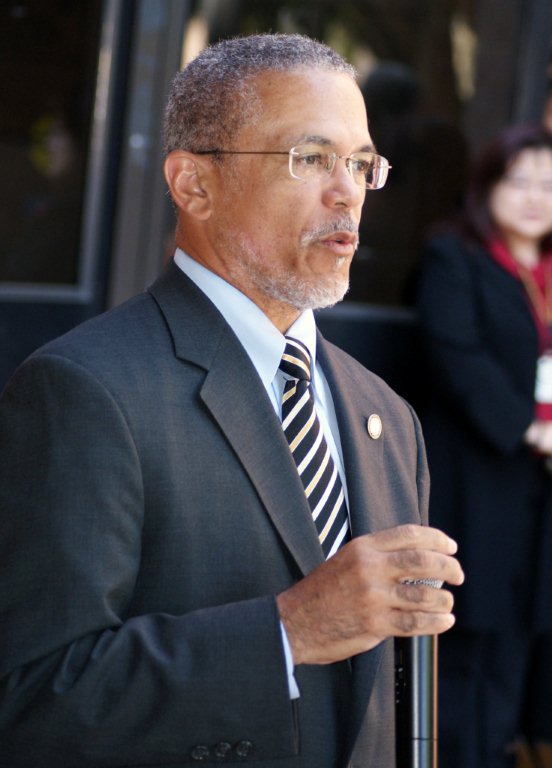 Dr. Carlisle spoke to a forum of students, faculty and staff in front of the Cobb Building on the CDU campus. (Photo by Laurell L. Black)
We had some really tremendous news this morning, and I wanted to make sure that I had a chance to convey it to you personally.
We had a chance to send it out via email today. But given its significance for the University, I just wanted to make sure that everyone did have a chance to receive this information directly, and also to give you a chance to ask questions, if you had questions.
But also to express my great appreciation to all of you for getting us to this point. This really was a University-wide effort that involved everyone at the University—all the staff, all the faculty and all the students. Everyone at Charles R. Drew University deserves credit for the information that I'm sharing with you.
The bottom line is that as you know, the university has been on probationary status from the Western Association of Schools and Colleges. As such, another step down would basically be the essential elimination of the university as an educational institution. We were in very dire straits for the past multiple months because of this.
We had been waiting for this information and today we received news that the Western Association has lifted our probationary status.
Applause
Now, Drew University is fully accredited. You all can say that whenever you're asked.
Applause
To be sure, since we are an educational institution, the detail is something I wanted to share with you. And the detail is rather than lifting us one step above probation, the WASC lifted us two steps above probation.
Applause
If we had only gone up one step above probation, we would still have to list this on our website, notify people and make it public. Because we've gone up on accreditation two steps, we no longer have to list it on our website. So, as far as the public is concerned, Drew University is accredited, bottom line, period.
Applause
Again, I just want to salute the efforts of everyone. The entire university community deserves credit for this tremendous accomplishment. I know that a number of people have been working directly on making this happen.
I just want to express my gratitude to all of those individuals who engaged WASC, worked with the team, prepared documents, submitted reports, met with WASC, and basically did a lot of heavy lifting to get us to where we are today. For all those of you, thank you very much for that effort.
Applause
Furthermore, this is a tremendous accomplishment but it still leaves a lot of work to be done. We are accredited essentially through 2018, but there are intermediate goals and steps that have to be made.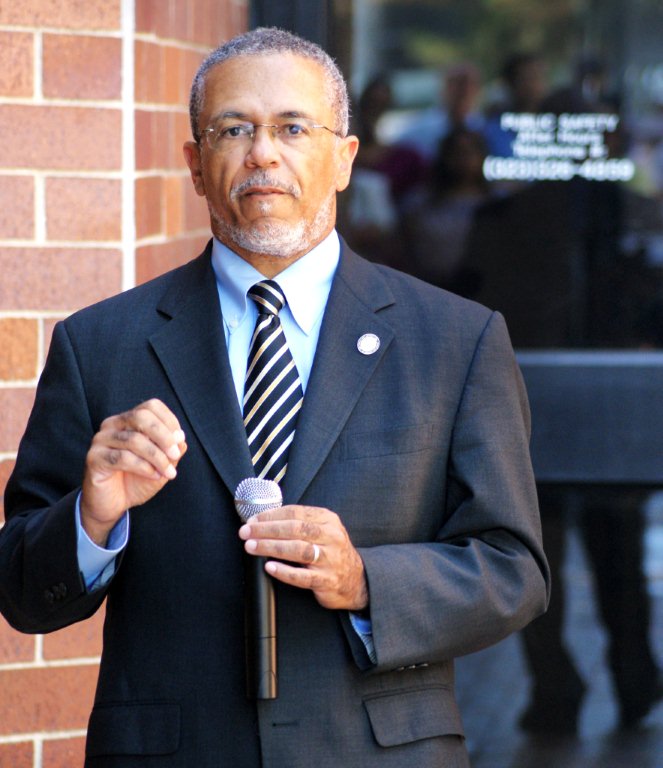 Dr. Carlisle fielded questions from the audience after his remarks. (Photo by Laurell L. Black)


We will be working with WASC during that process. They will be visiting our campus again. We will be preparing reports for them. There are criteria that they want us to meet, targets they want us to hit, information they want us to send.
But the bottom line is, if you look at the WASC report, there are areas of concern they've expressed.
This university addressed all those, each one of those areas of concern head-on. We dealt with them. We eliminated or greatly rectified the issues that were raised by the accrediting commission. We have strengthened the university.
I should say I know that the process was difficult and it was also difficult for us to hear that we were on probation. But it allowed us to basically identify weaknesses and address those weaknesses and correct those weaknesses, and again, make Drew a stronger institution.
Again, I want to express my appreciation to everyone in the Charles R. Drew University community, and to say 'thank you' for getting us to the point where we are so we can move forward as a great educational institution, and as an institution of excellence, which is our target. That's the bottom line.

This is a great day in the history of the University. It's a day we can actually move forward instead of focusing on the immediate current event. So again, thanks for your efforts. Thanks very much.