Dr. Norris Gets National Honor from the National Medical Association

Keith Norris, M.D., FACP received the Meritorious Achievement Award at the 2011 Annual Convention and Scientific Assembly for the National Medical Association.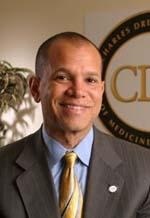 Dr. Keith Norris

"I'm excited and honored," Dr. Norris, the University's executive vice president for research and health affairs, said during an interview before the convention began. "I view it as not only an award for me, but for the university and the community."


In a letter, Gary J. Sheppard, M.D., who chairs the organization's Board of Trustees, wrote of Dr. Norris:


"We believe that when the history of this dynamic period of struggle is written, your name will be deeply etched in its fabric as having inspired and challenged physicians and medical professionals nationwide to address critical issues of health care and medicine.


"Your distinguished career path in medical research and education has been paramount in NMA's shared commitment to promote health and prevent disease, injury, disability and premature death."


The award was presented at the Opening Ceremony and Mazique Symposium on Sat., July 23 at the Walter E. Washington Convention Center in Washington, D.C.


Dr. Norris also was honored at the University's annual reception held Monday evening during the convention.


Memories of Mrs. Mobley

Arrangements for Mrs. Lillian Mobley, whose death last Monday was reported in daily newspapers throughout Southern California and as far west as Chicago, have been completed, her family said.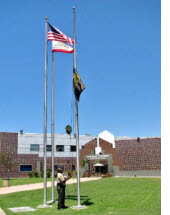 CDU Flag at Half-Mast
(Photo by Laurell Black)

First, a public viewing will be held at the Inglewood Cemetery Mortuary, 3801 W. Manchester Blvd., Inglewood. The viewing is scheduled to occur Thurs., July 28 from 4 p.m. to 8 p.m.

Then, a funeral has been planned for Fri., July 29 at 11 a.m. at Ward A.M.E. Church, 1177 W. 25th St., between Adams Boulevard and Vermont Avenue in Los Angeles. An internment will follow at Inglewood Park Cemetery, 720 E. Florence Ave., in Inglewood.

Condolences can be sent to: The Mobley Family, 1111 W. 51st St., Los Angeles, CA 90037. For further information, please contact Jackie Brown by telephone at 323-563-5963, or by email at jackiebrown@cdrewu.edu.


Dr. Satcher Comes Home to CDU


David Satcher, M.D., Ph.D., the former U.S. Surgeon General, stopped by the University last week to visit primarily with David Carlisle, M.D., Ph.D., the new president, and Keith Norris, M.D., FACP, executive vice president for research and health affairs.
It was Dr. Satcher's first visit to CDU since he gave the University's commencement address last year. For him, it was homecoming. Dr. Satcher worked here as the former head of the Department of Family Medicine and was appointed interim dean in 1977 of what was then known as Charles R. Drew Postgraduate Medical School.
Dr. Satcher, who recently received an honorary degree from Harvard University, also led an effort last year to establish a scholarship fund that honors M. Alfred Haynes, the University's president emeritus. The scholarship topped $100,000 during the first year of fundraising, exceeding expectations, according to University officials.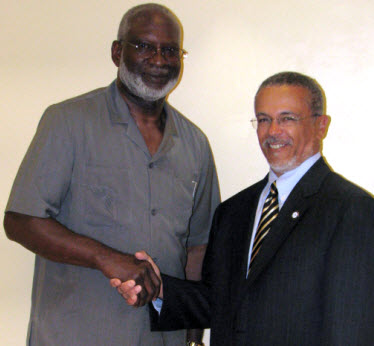 Dr. David Satcher (left), and Dr. David M. Carlisle, president of Charles Drew University. (Photo by Laurell L. Black)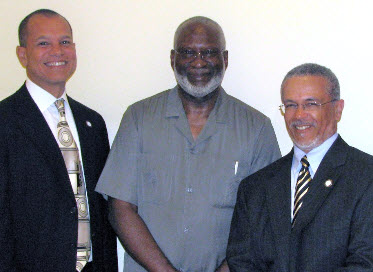 Dr. Keith Norris, the University's executive vice president for research and health affairs,(left), stood next to Dr. David Satcher, and Dr. David M. Carlisle, the University's president (right). (Photo by Laurell L. Black)

Donations Sought for Ransom Family

It is with great sadness to learn of the passing of Mrs. Joy Ransom, the wife of 12 years to Michael Ransom Jr., a CDU staff member. Mrs. Ransom was in a fatal automobile accident on her way to visit family. She leaves behind three small children (ages 10, five and three).

Please join in making a generous contribution to Mr. Ransom. For more information, please contact Cecilia Cooper, 323-357-3604 or ceciliacooper@cdrewu.edu.

- Dr. Mervyn Dymally, director, Urban Health Institute

Looking for High School Students Who Seek a Challenge

The College of Science and Health is accepting applications for the upcoming pre-college enrichment program called College Bound Prep Plus, starting in September. Applications are due Mon., Aug. 1.
The College Bound PREP Plus program is designed to increase the number of underrepresented minorities pursuing careers in Science, Technology, Engineering and Math, the so-called STEM subjects. This program, free to eligible high school students in the 10th, 11th and 12th grades, is funded by the U.S. Department of Education, Minority Science and Engineering Improvement Program (MSEIP) Grant #P120A0069.
If you are interested in learning more about the program, please contact Sasha E. Heard at 323-563-5886 or sashaheard@cdrewu.edu for an information sheet or an application.

Comment on the Urban Public Health Program

The Urban Public Health (MPH) Program at Charles R. Drew University of Medicine and Science is being formally evaluated for accreditation by the Council on Education for Public Health (CEPH).

Based on the preliminary review of our self-study by CEPH, a site visit has been scheduled for October 5th and 6th, 2011. The site-visit team will be meeting with our university administrators, faculty, students, staff, alumni, and community constituents during the visit with us to validate our self-study.
The process for accreditation also includes a notification to our constituents regarding their opportunity to provide written third-party comment to the CEPH offices. If you would like to provide remarks, you have from now until September 4th, 2011. Please send your comments to:
Council on Education for Public Health
800 Eye Street, N.W., Suite 202
Washington, D.C. 2001-3710
The Council on Education for Public Health will make its decision regarding our CEPH accreditation status at the Council's June 2012 meeting. We will be providing you with a summary of the review as soon as we receive written notification. Please contact Sondos Islam, PhD, MPH, MS, chair of the MPH-CEPH Advisory Self-Study Committee and director, Urban Public Health Program, for more information. She can be reached by email at sondosislam@cdrewu.edu.
News in Brief
L.A. Mayor Appoints Franklin

Victoria Franklin, MBA, director of Student Education and Services for the College of Science and Health, was appointed recently by Los Angeles Mayor Antonio R. Villaraigosa as commissioner to the South Los Angeles Planning Commission. "I am honored by this unique opportunity to give back to my community," she said.

Looking Ahead to "Unity Day"

In celebration of the University's good accreditation news, the 1st Annual Unity Day has been set for Aug. 27 from 10:30 a.m. to 6 p.m. The event, filled with food, fun and games for children and adults, is designed to bring together the University's staff, faculty, students, alumni, family and friends. If you would like to be a volunteer, please contact bettybennett@cdrewu.edu. Stay tuned for more details.

An Information Session to Attend
An information session has been planned to describe more about the University's plan to reintroduce the Master of Science in Clinical Research. The program is designed to offer a solid foundation in clinical and translational investigative methodologies, epidemiology, biostatistics, clinical trials, collaborative science, research conduct and ethics, grant writing, publication practices, and a unique understanding of the cultural and ethical issues that impact health care. Attend the session scheduled for Tues., July 26 in the Cobb Building's Board Room from 5 p.m. to 7 p.m. Reserve a spot by sending an email to admissionsinfo@cdrewu.edu or by calling 323-563-4838.

Good News Radio
"Good News Radio Magazine," created by CDU's Division of Community Engagement, can be heard Wednesdays beginning at 1 p.m. on KTYM 1460-AM. Co-hosted by Nell Forge, Ph.D. and Charles McWells through the university's Division of Community Engagement, the program is designed to promote holistic health and research outcomes. The program also can be heard on the internet at www.ktym.com.
Become a Mission Maker Today
The Mission Maker campaign has raised just over half of its $50,000 goal. If you would like to donate to the campaign, which supports the university, its mission and its students, then please contact Blanch Ross. She can be reached at 323-563-4992, or at blanchross@cdrewu.edu.