CDU Shares NIH Grant for Turning Lab Discoveries Into Treatments
Charles R. Drew University of Medicine and Science and other local partners will share an $81.3 million grant from the National Institutes of Health to accelerate scientific discoveries into treatments for patients.

The funds awarded over a five-year period will go to the UCLA Clinical and Translational Science Institute, a team of academic, community and clinical groups spread across Los Angeles. They include: UCLA, Charles Drew University, Cedars-Sinai Medical Center, and the Los Angeles Biomedical Research Institute at Harbor-UCLA Medical Center. patients.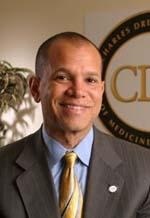 Dr. Keith C. Norris
Aiding in all program areas, including community engagement, Charles Drew University will receive $1.1 million during the first year of the contract.

"
This new grant will not only expand the depth of the partnership between UCLA, Cedars, Harbor-UCLA and CDU, but will help build the capacity of communities to improve health and fundamentally change how researchers work with the community to create new approaches to improving health," said Keith C. Norris, executive vice president of research and health affairs at Charles Drew University.


The partnership examines high rates of preventable deaths in Los Angles County, the nation's most populous and ethnically diverse. Advancing medicine in Los Angeles could create a pathway for the nation, said Dr. A. Eugene Washington, UCLA vice chancellor for health sciences and dean of the David Geffen School of Medicine at UCLA.


The "investment in Los Angeles County will enable UCLA and its partners to more effectively pursue our transformative mission—to improve the health status of Los Angeles in a measurable way and enhance the quality of life for a significant number of our fellow Angelenos," said Dr. Washington, who also serves on the board of trustees at Charles Drew University.


"California, and Los Angeles in particular, has always been a trendsetter," he added. "So as the rest of the U.S. population undergoes dramatic change, the experience and successes of our CTSI programs will offer a model for health improvement nationwide."


The funding comes as part of national effort to expand a federally-funded chain of research centers. Overall, $200 million has been committed to building five new centers, totaling 60 overall.

Along with UCLA, the others were: Pennsylvania State University, Milton S. Hershey Medical Center, Hershey; University of Kansas Medical Center, Kansas City; University of Kentucky, Lexington; University of Minnesota, Twin Cities.


Friedman Weighs in on Weight Loss

Theodore Friedman, M.D. was quoted in a column that ran on Monday in the Los Angeles Times and other Tribune newspapers on obesity.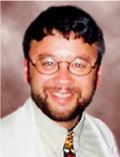 Dr. Friedman

The university's chief of endocrinology was consulted as an expert to help a 498 pound man find relief. Dana Baker, a gospel singer needs weight-loss help. The column described Mr. Baker as someone who "sweats when putting on his shoes, gets short of breath just standing or sitting and says he takes 'eight to 10 painkillers every morning just to function."

The column by Marc Siegel, an associate professor of medicine at New York University, runs in connection with the ABC series, "Extreme Makeover: Weight Loss Edition." The show runs Monday nights at 10 p.m. Contestants qualify for surgical procedures if they lose a certain amount of weight.







Davis Helps Others Learn That HIV Testing is "No Big Deal"
Cynthia Davis spent National HIV Testing Day on Monday the same way she spends many others: checking people for signs of HIV.

Ms. Davis, an assistant professor in the College of Health and Science, had plenty of company as the university, the Magic Johnson Foundation, the AIDS Healthcare Foundation and the Pink Lotus Health Care Center partnered together to encourage more people to get tested for HIV.

They came from the neighborhood, from a nearby women's homeless shelter and from elsewhere in steady numbers. Those getting tested were treated to lunch from Earlez Grille, which catered food from the clinic's parking lot in South Los Angeles.

With her vehicle equipped like a clinic on wheels, Ms. Davis conducted 114 rapid HIV tests on Monday. The event was part of a national effort to help people overcome their fears in getting tested. To underscore the ease and importance of testing, the local partners launched the "No Big Deal" initiative.

Plenty of news media were drawn to the event, including those that primarily appeal to Korean and Spanish speaking audiences. "I've never seen so much media at an HIV testing event in Los Angeles County," said Ms. Davis, who pioneered mobile testing more than 20 years ago.

Despite taking place at the busy intersection of Century Boulevard and Vermont Avenue, Ms. Davis said people did not shy away from learning their about their sexual health. "People weren't afraid to get tested," she said.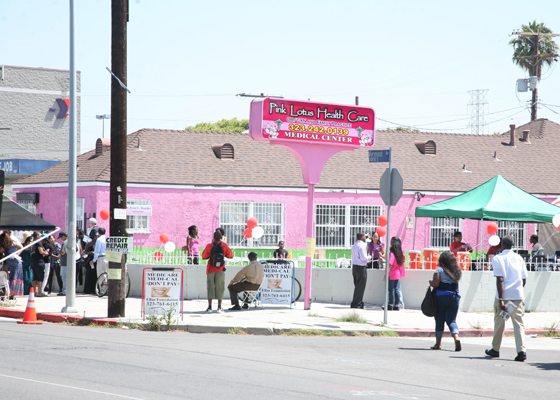 People arrived before noon at the Pink Lotus Health Care Center for National HIV Testing Day.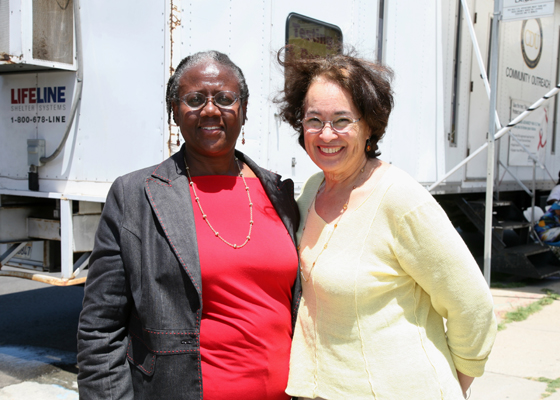 Cynthia Davis of CDU standing outside her mobile testing unit next to Syvia Drew-Ivie, chief of staff for Supervisor Mark Ridley-Thomas, and a daughter of Dr. Charles R. Drew, the university's namesake.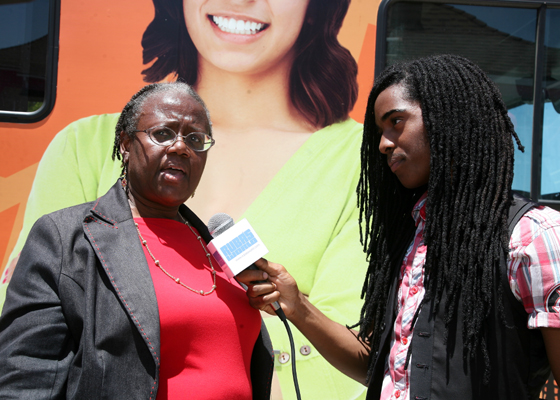 Cynthia Davis being interviewed by a reporter.
News in Brief
Post-WASC Talk

All faculty, staff and students are invited to attend "A Briefing: Post-WASC Visit." Conducted by Richard S. Baker, M.D., provost and dean, College of Medicine, the session will be held Tues., June 28 in Keck Lecture Hall.


Why Women Stop Using Condoms


Nina T. Harawa, MPH, Ph.D. of CDU will conduct a roundtable discussion on: Reasons from the Heart: Why Women Stop Using Condoms." Dr. Harawa will discuss her groundbreaking research on black women who were in relationships with men they learned were bisexual. What does the research tell us about relationships? How should HIV prevention be crafted for women of color? The session has been rescheduled for Wed., June 29 from 5:30 p.m. to 8 p.m. at the Tea House Tea Lounge, 6220 W. 87th St., Los Angeles. The sponsors are CDU's Accelerating Excellence in Translational Science and Black Women for Wellness. Space is limited to 30 people. Please RSVP David Doyen at

daviddoyen@cdrewu.edu.

HIV & Pregnancy

A training session will be held Tues., June 28 on HIV & Pregnancy, as part of an ongoing series through the university's Pacific AIDS Education and Training Center. The program, which is free, begins at 9 a.m. in the boardroom in Cobb 281 on the university's campus, 1731 E. 120th St., Los Angeles. Education credits are available for attending. Training addresses prevention of mother-to-child HIV transmission, preconception counseling, family planning and psychosocial support. Please contract Elissa Bradley for more information at 323-357-3402 or Elissa@HIVtrainingCDU.org.


Faculty Mixer

The CDU Division of Community Engagement will host a networking forum for the community faculty to meet members of the academic faculty. In doing so, the faculty groups can discover common research interests that lead to joint projects. The event will be held July 29 in the Cobb Student Lounge and Lobby from 3 p.m. to 5 p.m. Light refreshments will be served. For more information, please contact Melanie Rodriguez at 323-249-5702 or merodrig@cdrewu.edu.
Become a Mission Maker Today
The Mission Maker campaign has raised just over half of its $50,000 goal. If you would like to donate to the campaign, which supports the university, its mission and its students, then please contact Blanch Ross. She can be reached at 323-563-4992, or at blanchross@cdrewu.edu.