M. Roy Wilson/View from the Chair
A Day of Pride
It was a delight to preside over the commencement ceremony, the 27th in our institution's history. It was terrific to see more than 1,500 people on campus, standing-room only for some, to celebrate our graduates, numbering 129 overall from the Colleges of Medicine and Science and Health.
It was my honor to present the Board of Trustees Medal of Honor to Robert K. Ross, M.D., president and CEO of The California Endowment, B. Kathlyn Mead, executive vice president and chief operating officer of The California Endowment; and to our commencement speaker, Michael V. Drake, M.D., chancellor of the University of California, Irvine, an honorary degree.
While some were still posing for pictures after the pomp and circumstance ended, I am pleased to report the board of trustees met and unanimously passed the strategic plan and 2012 budget.
The new strategic plan has been sent to the Western Association of Schools and Colleges. The document, which completes the university's requirements for accreditation with the agency's deadline, charters our path for growth over the next five years, reflecting a wide range of participation from those both on- and off-campus.
The reality for the foreseeable future is we will be heavily dependent on tuition. Our academic programs will be aligned with our priorities, our academic performance and our market demand. The new budget reflects this reality.
Tuition will become a larger part of the overall budget. Monies from the National Institutes of Health will be set at 4% annually, and there are plans to partially restore retirement benefits, and salaries for those earning under $80,000. I'll have more to say on financial matters and other parts of the strategic plan, in coming weeks.
The board was united on one other issue. Saturday marked the final day for Ngozi Chukwu, the board's student representative who graduated with her classmates. She received a resolution for doing a tremendous job as student representative. We appreciate the earnestness in her approach to handling her duties. We couldn't be prouder of her. In turn, she also presented Ron Edelstein, Ed.D., dean of Academic Affairs, with an award from the students for his diligent work this year.
I'd like to thank everyone involved in putting together our strategic plan, our budget and our commencement ceremonies. We pulled together and made good things happen. Expect more of the same as we accomplish even more in the months ahead.

Dr. Wilson chairs the university's board of trustees.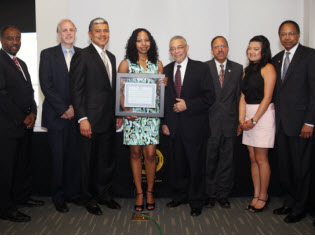 Ending her term as student representative, Ngozi Chukwa was given a resolution for her outstanding service to the board. She's pictured holding her award, with Chairman M. Roy Wilson, M.D., M.S., on her left and accompanied by other board members.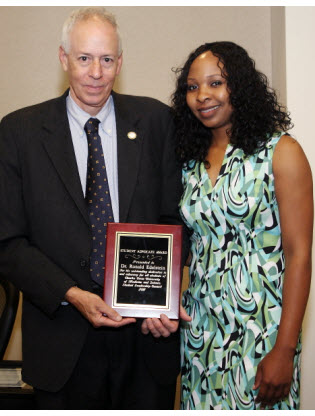 Ron Edelstein, Ed.D., dean of Academic Affairs, was given an award from the students by Ngozi Chukwa, completing her term as student representative on the board.
Commencement Brings Happiness and Advice for Medical Professionals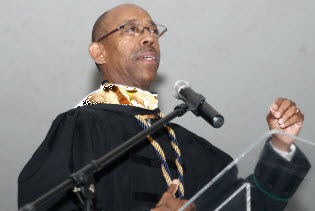 Michael V. Drake, the chancellor of the University of California, Irvine and the keynote commencement speaker last Saturday. He also received an honorary degree.
Instead of reciting a litany of motivational quotes, Michael Drake, M.D. offered a crowd of CDU graduates practical advice for succeeding as medical professionals.
Citing his father 98-year-old father who spent his career as a physician who often made house calls, Dr. Drake tried to impress upon graduates that success lies in observing detail. "Small things make a big difference," he said.
He cited three things that he felt students should heed during their medical internship. First, he urged the graduates to carefully study patient history, especially before an exam.
Second, he told the graduates to know the nurses and make them feel like a part of your team. "Doing this, he said, will foster support from others that will work harder to help you and your patients succeed. "They know more than you do," he said of nurses as the crowd applauded.
Third, he said to ask yourself if during an exam whether "I got my best look." If the answer is no, then conduct another round of tests. Doing so, Dr. Drake, has led him to find "something I missed" during a patient visit.
While Dr. Drake received an honorary degree, Robert K. Ross, M.D., chief executive officer and B. Kathlyn Mead, chief operating officer, both of The California Endowment, were presented with the Board of Trustees Medal of Honor. The award honors those who best exemplify the spirit of the university's mission.
The ceremony elicited stirring emotion as Pastor Troy Campbell, the youth pastor at Full Harvest International Church in Gardena reminded the crowd of how the students have been blessed by graduating to help the underserved, and how the university is a blessing to South Los Angeles.
There was one untraditional moment that turned into a pleasant surprise. A graduating medical student, after walking across the stage to accept his diploma, proposed to his long-time girlfriend in front of the standing-room crowd. (She said yes.)
After the ceremony, those who had worked so hard to accomplish a dream could not hold back their excitement, turning from student to graduate.
Joy Wells stood near the entrance to the Keck Building and was overcome with excitement. When asked about her feelings after the commencement ceremony, the physician assistant graduate said, "A lot of emotion." Transitioning from what she jokingly called a "professional student" to a "professional" made her feel nervous, but excited at the same time.
A few feet away, Rodney Mills stood laughing with his mother, his sister and other loved ones. "It's overwhelming, I can't believe it. I'm happy," he said. Mr. Mills, a CDU employee who graduated from the Health Information Technology program said that graduating has motivated him to continue his education. He said he will pursue further studies, with the goal of teaching math at the university.
Posing with loved ones, Natanel Jourabchi described his thoughts after a set of photographs were snapped. "I feel blessed to be here, fortunate to work and learn here," said Mr. Jourabchi, who graduated Saturday from the College of Medicine. "The professors are some of the most incredibly compassionate people I've met in my life. I feel like it's family here."
(A list of award winners will be published in next week's newsletter, along with more photos.)
Convincing Others to Stop Smoking Could Lead to Rewards from County


The Department of Public Health, Project TRUST, for the County of Los Angeles, is partnering with the Smoking Cessation Leadership Center to award $5,000 to social service agencies across Los Angeles County. This award will be given to agencies that create smoke-free environments and integrate smoking cessation services into existing programs and services.

Successful applicants will also receive technical assistance and training from the leadership center and Project TRUST. The move would hopefully raise awareness of the benefits, as well as to increase understanding of effective smoking cessation strategies. As a pioneer, you will be at the forefront of a systems-wide smoke-free policy change and gain access to key healthcare experts, resources, CEU credits, and other benefits.

Completed application packets and all supporting documents will be accepted until 5 p.m. on Friday, Aug. 5, 2011. The application can be delivered or mailed to:

L.A. County Tobacco Control and Prevention Program
Attention: Dior Hildebrand
3530 Wilshire Blvd., Suite 800
Los Angeles, CA 90010

Click here to download an application at www.publichealth.lacounty.gov/tob.

For further information, contact Dior Hildebrand at dhildebrand@ph.lacounty.gov or 213-351-7813.



News in Brief
Why Women Stop Using Condoms
Cafe Scientifique, a roundtable discussion with Nina T. Harawa, MPH, Ph.D. of CDU, will present: Reasons from the Heart: Why Women Stop Using Condoms." The event will be held Fri., June 24, 2011 from 9 a.m. to 11 a.m. in the Cobb Building's Boardroom 281. The event is sponsored by CDU's Accelerating Excellence in Translational Science and Black Women for Wellness. The session is limited to 30 people, so please RSVP to David Doyen at daviddoyen@cdrewu.edu
New Ad Planned for Nursing School
The School of Nursing has began plans for a new television commercial that will be aimed at recruiting new students. The ad will be broadcast over several networks on the Time-Warner cable system, said Gloria J. McNeal, the founding dean of the Mervyn M. Dymally School of Nursing. A film crew came by last week to start work on the ad. Some footage from the new nursing video that appears on the CDU homepage also is expected to be incorporated into the commercial. No date has been set for airing the ads, but is likely to be later this summer, Dr. McNeal said.
Become a Mission Maker Today
The Mission Maker campaign has raised just over half of its $50,000 goal. If you would like to donate to the campaign, which supports the university, its mission and its students, then please contact Blanch Ross. She can be reached at 323-563-4992, or at blanchross@cdrewu.edu.