View From the Chair
In Japan, the death toll keeps rising. The figure climbed officially today to 8,600, the Japanese media reported. Still, authorities expect the final number—after accounting for every corpse—to exceed the current count by more than double. The tally, then, could approach 20,000.
Even a conservative estimate cannot adequately explain the challenge Japan faces after absorbing a tsunami and a 9.0-magnitude earthquake in rapid order. Seeing life lost on this scale is more than numbing. It's heartbreaking.

This is a time to remember Charles Drew University's relationship with the Japanese. Our cherished association spans decades. Often, the Japanese have sponsored some of our research programs. In the late 1980s, Dr. Gill spent nearly two weeks in Japan, visiting medical schools, talking with deans, developing relationships. One current researcher, Mamdooh H. Ghoneum, Ph.D., completed his doctoral degree at the University of Tokyo.
Honda and its foundation for community programs, were major sponsors of Jazz at Drew and the Saturday Science Academy. The Japanese Chamber of Commerce Foundation covered travel costs for musicians from Japan to perform at the jazz festival. Toyota also contributed in a large way.
Of the Japanese, Dr. Gill said, "They've been good to this university."
In this latest crisis, a number of aid and charitable organizations collect donations for humanitarian aid. The Red Cross, CARE, Salvation Army and other well-known agencies have created paths to giving. Please also consider donating through the Japanese Chamber of Commerce Foundation of Los Angeles. Charles Takeda, the group's president and a friend of the university, recently asked our students, staff, faculty and board members for help.
The foundation's fund drive, held in connection with UNICEF (United Nations Children's Fund), lasts through April. Checks can made payable to the U.S. Fund for UNICEF, along with a written note, Japan Disaster Fund. (A cancelled check provides proof of a donation for tax purposes.)
With the death toll climbing, as it surely will in coming days, let us remember the university's kinship with the Japanese. Let's help them recover, as best we can.
(Please send donations directly to the Japanese Chamber of Commerce Foundation, 244 S. San Pedro St., #504, Los Angeles, CA 90012. Their telephone number is (213) 626-3067 or Fax: (213) 626-3070). The organization has non-profit status as a 501(c)3. The tax identification number: 95-4633602.)

M. Roy Wilson, M.D., M.S.
Chairman
Board of Trustees

Dr. Norris to Explain the Role of Thought in Health and Health Disparities
Borrowing from a speech he gave last summer, Keith C. Norris, M.D. plans on Tues., Mar. 22 to delve into a talk on a lofty subject: "The Role of Thought in Health and Health Disparities."
In Part One, the executive vice president for Research and Health Affairs explores whether "the mind can stand alone, uninfluenced, not in isolation, but unencumbered by conditioned thoughts?"
A frequent presenter in professional and academic settings, the talk reflects his interest in metaphysics, spirituality and holistic health. He has taken online courses as a postdoctoral candidate at the College of Metaphysical Studies and New Age Ministries in Clearwater, Fla. His speech was well received at the National Medical Association Annual Convention and Scientific Assembly in Orlando, Fla.
Among the topics he plans to address, he will describe the different dimensions through which thought influences health; separate the key differences in two main energies of consciousness on health; and recognize how psychological stress affects health and disparities.
The lecture runs from Noon to 1 p.m. in Keck Lecture Hall on campus, 1731 E. 120th St., Los Angeles. There is no cost to attend. To watch online, copy this link:
https://axisconcierge.webex.com/axisconcierge/j.php?ED=149822767&UID=491044872&PW=NYjhIYTRIODQ1&RT=MiM0
Meeting Number: 806 976 931
Meeting Password: norris
Audio conference information: 1-408-600-3600
Access Code: 806 976 931
Harawa Chosen for Humanitarian Honor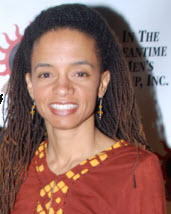 Nina T. Harawa
Nina T. Harawa, an assistant professor and researcher at the Charles Drew University, received recently a humanitarian award and medal of honor from a Los Angeles non-profit group.


In the Meantime Men's Group Inc., a community group that explores the needs of African American men, in particular, among homosexual men of color, bestowed the award to Dr. Harawa.


The presentation was made at the group's 11th Annual Anniversary Celebration and Fundraiser. Themed "Life Beyond Measure," the event was held at the Vintage Hollywood Private Club in Los Angeles.


Dr. Harawa received an award named for the late Kevin Spears. He was an community activist in Los Angeles, who dedicated his life to educating and eliminating HIV/AIDS from the African American community.


The organization described the prize as a way to recognize a person or group that champions a cause or human rights issue in order to help others in a positive way.
News in Brief
Medical Student Thesis

The Medical Student Research Thesis Program , where students present their formal findings on

health care disparities, will be held Wed., Mar. 23, in Keck Lecture Hall. Alcohol Abuse, Emergency Medicine, Health Policy, Internal Medicine and other topics will be explored. The event runs from 8:30 a.m. to 4 p.m. on the Charles Drew University campus, 1731 E. 120th St., Los Angeles.

Research

The First Annual Obesity Research Day, an all-day special event for students, health professionals and researchers, runs Fri., Mar. 25 on-campus in the Keck Lecture Hall , 1731 E. 120th St., Los Angeles. A number of lecturers, including Barry Sears, Ph.D., the keynote speaker who wrote The Zone Diet. The event starts at 8 a.m. and ends at 4 p.m. Breakfast and lunch will be provided with a reservation. Participants will learn: the background on obesity research at CDU; obesity in minority populations; how diet and inflammation relate to obesity; obesity and the risk of cancer. To attend onsite, contact Beverly Jackson (beverlyjackson@cdrewu.edu) or to watch online, contact Dr. Romulo de Castro, Jr. at (romulodecastrojr@cdrewu.edu)

Good News Radio

"Good News Radio Magazine," a weekly broadcast, inspires people across Southern California. Co-hosted by Nell Forge, Ph.D. and Charles McWells through the university's Division of Community Engagement, their program can be heard on KTYM-AM 1460 or www.ktym.com from 1 p.m. to 2 p.m. on Wednesdays. For more information, call

323-249-5702.
Become a Mission Maker Today
The Mission Maker campaign has raised half of its $50,000 goal. If you would like to donate to the campaign, which supports the university, its mission and its students, then please contact Blanch Ross. She can be reached at 323-563-4992, or at blanchross@cdrewu.edu.