View From the Chair

Here's a dose of good news. Endowments at universities have begun gaining back some of the ground lost in the previous years, a recent survey showed. In fiscal year 2010, endowments at 850 colleges and universities representing more than $340 billion in assets, rose 11.9%, according to the Nacubo-Commonfund Study of Endowments.
While that return remains short of pre-recession levels, it's still a clear sign of improvement. In our endowment, we saw positives, too. Our endowment primarily is divided between two pools: the UCLA Endowed Investment Pool and the more conservative UCLA Unendowed Investment Pool.
The endowed option grew last fiscal year at a significantly faster clip, 12% vs. 2.6%. The bottom line improved to $44 million. At a recent meeting, the board voted to move most of our monies into the faster-growing fund.
After recently receiving a $5 million boost from the National Institutes of Health, the endowment looks even better. If current trends continue, we have every reason to believe when the fiscal year ends the outlook will be brighter. Let's hope the economy continues its recovery.
The Strategic Plan
The strategic planning process has begun. The workgroups for the College of Medicine, College of Science and Health, School of Nursing, Research and Administrative have met at least twice.
Clay Tellers of ECG Management Consultants Inc., who's the interim chief operating officer, leads our effort to create a five-year strategic plan. This document, once completed, defines the direction of the university's education and research programs that support the institution's mission, its sustainability.
Putting together the strategic plan, which began earlier this month, will continue at least through April. Then, the Board of Trustees' Strategic Planning sub-committee will review the plan in its current state on Wednesday. A preliminary report will be presented at the next board meeting, only a week from today.
The board will monitor progress and provide overall guidance on priorities. The strategic plan will detail areas of academic growth, as well as ones that the university no longer can support financially. Every program will be viewed through the lens of economic viability and must be consistent with our mission, Mr. Tellers said.
Every group on campus is participating in compiling this document, including faculty, staff and students, administration and the board. Issues under consideration include areas where the university intends to focus.
For instance, what types of educational programs should the university provide? How should we recruit students? What areas are ripe for growth? How should we invest resources that help us achieve our goals?
The university's most recent strategic plan soon expires. This new plan builds on the previous one, outlining more priorities, rationale and initiatives in the business model. When finished, the Board of Trustees will review the plan one last time, blessing with its approval. Then, it will be presented as part of our accreditation process to the Western Association of Schools and Colleges.
Remarks from the Japanese Chamber
In closing, our friends at the Japanese Chamber of Commerce in Los Angeles responded to last week's column. Charles Takeda, the president, said he was "touched" by our willingness to help after a tsunami and major earthquake left a trail of damage along a 400-mile stretch of coastal Japan. News reports today described radiation as possibly seeping into the ocean, and plutonium detected in soil samples taken from the Fukushima reactors site.
"I am very, very, very much thankful for the thoughts and prayers" from Charles Drew University," Mr. Takeda wrote. He said he would pass along that sentiment to the Japanese community, hopefully lifting spirits. After suffering from such destruction, the Japanese people deserve all the help we can spare.
Here, again, is how you can give: (Please send donations directly to the Japanese Chamber of Commerce Foundation, 244 S. San Pedro St., #504, Los Angeles, CA 90012. Their telephone number is (213) 626-3067 or Fax: (213) 626-3070). The organization has non-profit status as a 501(c)3. The tax identification number: 95-4633602.)

M. Roy Wilson, M.D., M.S.
Chairman
Board of Trustees

Laughter, Excitement and Tears at Match Day for Medical Students
Match Day is like March Madness for Medical Students. On this day, the third Thursday of the month, students nationwide learn at the same time where their training continues after medical school.

In the Cobb Building lobby, 18 students in the Charles Drew/UCLA Medical Education Program waited anxiously. They sat with families and loved ones until their names were called. At the podium, they received a sealed envelope.


When the last person's name was called, it was 9 a.m. Time, in other words, to rip open their letters. Between shrieks of excitement, tears of joy and hugs from family, the moment was hard to put into words. It was described by some as the happiest moment of their lives.

"All that work. Now I have a job. I'm very happy. Amen," said Andrew Scott, shortly after receiving word that he was chosen to conduct his residency at UCLA Medical Center in general surgery. He was beaming.

"I'm a Trojan! It's what I wanted," another student said, as she pumped her fist and walked by to hug another student.


As the emotion quieted, the students returned to the podium one-by-one. Many they thanked their families, their classmates and their professors and staff. Maria Berenice Nava, who's headed to Johns Hopkins/Bayview gave an impassioned speech.


She thanked her parents who brought her from Mexico at a young age to Santa Ana and described their struggle to support the family. Her mother cleaned houses and her father, despite having a college education in medicine, flipped burgers at Wendy's.


"That's dedication," she said. "I appreciate that because it gave me the strength everyday to be the person, who I want to be and to contribute back to the community."

She mentioned the underserved population in Baltimore, where Johns Hopkins is located. Ms. Nava said she would do her best to represent the mission while there of the university, as the crowd clapped its approval.

Dr. Daphne Calmes, associate dean, Medical Student Affairs, wiped her eyes as she approached the podium to introduce the next student. Later, she said of the class: "Their excellent matching is a testament to the commitment of the university, ensuring our graduates will succeed at an outstanding level. She added: "The Class of 2011 is an excellent group of young men and women."

Half of this year's class plans to enter primary care and the other half in non-primary care. Only five of the 18 students will head east, as most will remain in Southern California. "As a class, they are so laudable. They're amazing," Dr. Calmes said.


Dr. Richard Baker, the provost and dean, College of Medicine, thanked the parents for raising accomplished sons and daughters.
He also reminded the students that Charles Drew University will be there every step of their medical journey. He said, "I'm really proud of this class. It's done really well."
Photos by Kim Kumpart Photography


Nursing School Awarded State Grant to Fund Programs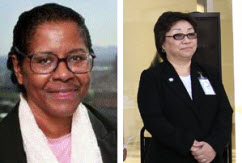 Gloria McNeal S. Pamela Shiao

The Mervin M. Dymally School of Nursing recently received grants totaling $194,000 from the state of California.


The amount totaled a larger sum for the nursing school at Charles R. Drew University of Medicine and Science than for any other graduate nursing

program in the state.

Founding Dean Gloria McNeal and S. Pamela Shiao, associate dean, presented in person an application for the awards. Because of the lengthy application process, "It was not easy money to get," Dr. McNeal said.

The nursing school received $144,000 for the Song-Brown Registered Nurse Capitation funding award. That grant is given for expanding the capacity of registered nurse education programs in California.

In addition, the nursing school received a $50,000 Song-Brown Registered Nurse Special Program award. The award rewards programs for innovation in growing the nursing workforce.

The grants, awarded with a two-year funding cycle, came from the Office of Statewide Health Planning and Development.
That agency solicits proposals for what is known as the Song-Brown grants, a program that promotes diversity in nursing programs.
National Kidney Foundation Names Norris to New Steering Committee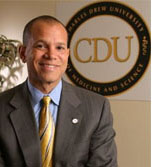 Keith Norris, M.D.

Keith C. Norris has been appointed to a new steering committee for a popular program at the National Kidney Foundation, the organization recently announced.
Dr. Norris, executive vice president of research and health affairs at Charles R. Drew University of Medicine and Science, was one of 15 people invited to join the Kidney Early Evaluation Program.
"This is an exciting opportunity to contribute to the NKF and help advance care for people with kidney disease," Dr. Norris said.
The group described its initiative as the "nation's largest and most successful chronic disease screening program." Nearly a quarter million Americans have been screened through the program for kidney function, the New York-based foundation said.
The effort "has contributed greatly to the advancement of our knowledge concerning chronic kidney disease among Americans," said Peter A. McCullough, M.D., of St. John Providence Health System.
"This program is positioned to expand its reach across the globe and improve the health and awareness of individuals at risk for these common medical problems," said Dr. McCullough, who served for the last decade as a committee member
The new committee members hope to expand the program by testing special populations more often. They also hope to link results from screenings to other national databases, expanding their knowledge.
News in Brief
Visit from the Ghanian Ambassador

H.E. Daniel
Ohene
Agyekum
A reception will be held for His Excellency Daniel Ohene Agyekum, Ghana's Ambassador to the U.S., on Tues., Mar. 29 in the lobby of the Cobb Building. Invited by Gus Gill, M.D., who once directed the university's International Health Institute and now serves as advisor to the president, the Ghana envoy will be making his first trip to the university. He will explore with senior management proposals on health-related projects in the African nation. The event, open to board members and the campus community, starts at 4 p.m. and is scheduled to run until 6 p.m.
PA Student Fundraiser
Charles Drew University Physician Assistants will hold a student fundraiser on Wed., Mar. 30 on the 118th Street lawn behind Keck Lecture Hall from Noon to 1 p.m. For $5, sponsors receive a barbecued hot dog, soda, chips and cookie.
Class of 2011 Fundraiser
The Class of 2011 created a contest called "Gift to the College of Science and Health Opportunity Drawing." Raffle tickets cost $2 each, three for $5, or eight for $10. The grand prize is an Xbox 360. Great runner-up gifts include CDU memorabilia valued at $125 or $70. The drawing will be held Wed., Apr. 13 at 5 p.m. in the Keck building's lobby.
National Public Health Week
Celebrate National Public Health Week with a series of events held next week in the Keck Lecture Hall. On Monday, students in the Masters of Public Health program will be presenting research from 6 p.m. to 8 p.m. A guest speaker, Felix Aguilar, will discuss a topic that will be announced later on Wednesday from 6 p.m. to 8 p.m. On Thursday, the movie, Erin Brockovich, will be shown, beginning at 6 p.m. Afterward, a Q-and-A session will be held.
Good News Radio
"Good News Radio Magazine," a weekly broadcast, inspires people across Southern California. Co-hosted by Nell Forge, Ph.D. and Charles McWells through the university's Division of Community Engagement, their program can be heard on KTYM-AM 1460 or www.ktym.com from 1 p.m. to 2 p.m. on Wednesdays. For more information, call
323-249-5702.
Become a Mission Maker Today
The Mission Maker campaign has raised half of its $50,000 goal. If you would like to donate to the campaign, which supports the university, its mission and its students, then please contact Blanch Ross. She can be reached at 323-563-4992, or at blanchross@cdrewu.edu.