View From the Chair
After representatives from the Western Association of Schools and Colleges left campus a couple of weeks ago, it was time for the campus community to exhale. Shortly after the site visit ended, attention turned to planning the next steps. For many staff and faculty, it was time to get back to work.
Today, I thought I would provide an update on where things stand. The accreditation agency, as you may recall, said they wanted three goals met by late May. The items included:
· A finished single audit. Ronald Lau, Ed.D., MBA, vice president of finance, has been handling this task, working through departments to wrap up the report by the end of March.
· A completed presidential search. The search committee narrowed their focus to five candidates. The group met with two semi-finalists last week, and began interviewing another yesterday. Next week, they plan to meet in person with two others. The committee intends to select no more than three finalists by Apr. 4, when the Board of Trustees' meet again. Shortly afterward, the board will make their selection.
· A board-approved strategic plan. Over the next two months, ECG Management Inc. will facilitate the process for developing a detailed strategic plan for the university. This report, based on firm financial underpinnings, will guide the institution's decision-making for the near-term—actually, for the next three years. This plan will serve as a reference for allocating resources during that period.

Involvement from faculty, staff, students, as well as other supporters is critical. ECG has outlined a process that incorporates a wide range of input. I encourage everyone to be involved in this project, and soon you will hear more about how to do so. We are working to complete the strategic plan by late May.
Preparing for the site visit last month was hard work. Again, I cannot thank staff, faculty and students enough for their effort. Everybody contributed. Still, we must remain diligent to complete the strategic plan—the most difficult of the required tasks—in timely fashion.

M. Roy Wilson, M.D., M.S.
Chairman
Board of Trustees

Taking Another Step to Improve Communications on Campus
Charles Drew University expects this week to roll out a tool designed to help improve communication on campus among employees, managers and students. The move represents one more step in trying to improve communications on campus.

Senior management approved a comment system during a recent meeting. The move represents one more step in trying to improve communications on campus.
The system allows user to send a question to a specific department and receive accurate information--on their terms. Those using the system can choose from four levels of privacy, based on their comfort level: Open, Limited, Private and Anonymous.
For instance, when someone poses a question, they can choose for their answer to be received in their inbox, as well as shared with the campus community on the intranet. Or, they can send a note, without their name attached, and receive a private email.
Department representatives pledge to respond to comments within five business days. Look for a link to the system on the university's website within days. For those without computer access, paper forms will be available soon, along with a box for depositing forms.
If you have questions about the system, please contact Daryl Strickland in the Office of the President at 323-563-4983.
Receiving Recognition from the L.A. County Board of Supervisors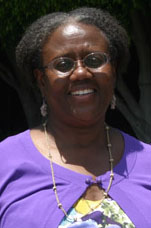 Cynthia Davis
Cynthia Davis was chosen among a group of individuals to receive a resolution on Tues., Mar. 8 from the Los Angeles County Board of Supervisors.


This time, it's for raising awareness of HIV/AIDS between women and girls. And though this is the second time she has been recognized by the board, this one is sweet because of the broader issue. "For me," said Davis, an assistant professor at the university, "it's an important acknowledgement on behalf of the Board of Supervisors of the seriousness of HIV and AIDS in the black community, and the devastating impact it is having on women and girls."

Davis has been conducting HIV testing through her mobile unit--the first of its kind in Los Angeles County--for more than two decades. Several leaders from the Crenshaw Christian Center of Los Angeles also will receive recognized tomorrow by the Board of Supervisors.

They include: Angela Evans, president and CEO of the church; Frederick K. Price, Jr., senior pastor; Robert Bolden, assistant pastor; Hydeia Broadbent, HIV/AIDS advocate. Ms. Davis, who has been developing HIV/AIDS-related programming for the congregation over he past year-and-a-half, will be participating in a National Women's and Girls event Sunday at the church.
News in Brief
HIV/AIDS Awareness Day

"Facing Our Fears: Women and Girls Taking Action in the Fight Against HIV/AIDS" will be held Thurs., Mar. 10 at Charles Drew University.

The event, which will be in the Keck Lecture Hall, will be held to commemorate National Women and Girls HIV/AIDS Awareness Day. The program, sponsored in part by the Urban Public Health Program, College of Science & Health, runs from 3:30 p.m. to 7:30 p.m. on campus, 1731 E. 120th St., Los Angeles. The film, "Why Us? Left Behind and Dying," also will be screened. Call Claudia Corleto for more information at 323-563-5890.

Medical Student Thesis

The Medical Student Research Thesis Program , where students present their formal findings on

health care disparities, will be held Wed., Mar. 23, in Keck Lecture Hall. Alcohol Abuse, Emergency Medicine, Health Policy, Internal Medicine and other topics will be explored. The event runs from 8:30 a.m. to 4 p.m. on the Charles Drew University campus, 1731 E. 120th St., Los Angeles.

Longer Library Hours

The Health Sciences Library opens for extended hours during the first three weeks of March. The remaining times are: Sat., Mar. 12 and 19 from 9 a.m. to 8 p.m.; and Sun., Mar. 13 and Mar. 20 from 1 p.m. to 5 p.m.

Urban Public Health Program Lecture

Dr. Lisa Smith will be speaking on campus about "Rapid Assessment in Los Angeles County Department of Public Health: Data, Surveys, Codebooks (oh my)!" Her speech is part of the Public Health Lecture Series, sponsored by the College of Science and Health, Urban Public Health Program. The event takes place Mon., Mar. 14 from 6 p.m. to 7:30 p.m. in the Keck Lecture Hall on the university's campus, 1731 E. 120th St., Los Angeles.

Good News Radio

"Good News Radio Magazine," a weekly broadcast, inspires people across Southern California. Co-hosted by Nell Forge, Ph.D. and Charles McWells through the university's Division of Community Engagement, their program can be heard on KTYM-AM 1460 or www.ktym.com from 1 p.m. to 2 p.m. on Wednesdays. For more information, call

323-249-5702.
For the Record
A headline in last week's newsletter identified Laurie Richlin, Ph.D.who directs the Office of Faculty Development, as a faculty member. She is a staff member.
Become a Mission Maker Today
The Mission Maker campaign has raised half of its $50,000 goal. If you would like to donate to the campaign, which supports the university, its mission and its students, then please contact Blanch Ross. She can be reached at 323-563-4992, or at blanchross@cdrewu.edu.