M. Roy Wilson/View from the Chair
Steady for a Decade is Good
Sometimes, just standing still can be considered good.
A recent issue of the Chronicle of Higher Education featured an article about how many universities, over the past decade, have spent a larger portion of their budget to gain more federal research dollars but have nonetheless fallen behind in relative rankings. Since federal research funds make up a substantial portion of our budget, I was drawn to this article.
Of the 200 universities with the most federal research funds, 64 had doubled their own spending by 2009 on research. Nearly half, or 31 had dropped in federal rank over that period. The university fell into the "flat" category, finishing 140th in 1999 and 141st in 2009.
In comparison, historically black colleges did not fare well with Clark Atlanta University tumbling 89 spots, Florida A&M University slipping 42, North Carolina A&T University dropping 26, Howard University falling 23, and Morehouse College of Medicine slipping nine places.
What caught my attention, however, is the fact that CDU had federal research expenditures of $3 million in 1999 and $53.1 million in 2009. Of the historically black colleges, only Howard University came close to this amount of federal research expenditures with $30.5 million.
Given the challenges faced by Charles Drew University over this past decade, just keeping our relative place in federal research funding is a major accomplishment. One constant through the years has been Keith C. Norris, M.D., our executive vice president of research and health affairs. Our research programs have flourished under his tremendous leadership.
Let's maintain the momentum. In the years ahead, instead of standing still, you can count on us doing everything possible to measure our progress with forward steps.
Story link:
Some Universities Increased Internal Spending on Research-but Still Fell Behind - Administration - The Chronicle of Higher Education.htm
Gizerian, Head of Academic Senate, Leaving University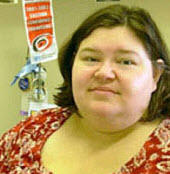 Dr. Samantha Gizerian
The president of the Academic Senate, Samantha Gizerian, Ph.D., has accepted a faculty position with Washington State University.
Dr. Gizerian, an assistant professor in the College of Science and Health, will be the adviser for the neuroscience program. Mohsen Bazargan, Ph.D., who served as vice president, assumes the top elected role in the senate. He's expected to remain as president until the next round of elections, scheduled for early next year.
Dr. Gizerian believes the senate soon will wrap up its two main priorities: completing policies with the university on faculty workload and grievances. "Dr. Bazargan will do an excellent job as president." Of the senate, she said, "I think they're in really good hands."
Starting June 1, Dr. Gizerian will work with undergraduates in veterinary medicine as a clinical assistant professor. "It's certainly an opportunity to do more work with students in an advisory capacity, to focus on student affairs and other things I'm interested in, and to do my research," Dr. Gizerian said.
She has been at the university for more than six years but looks forward to the next chapter in her life. "It's an adventure," she said.
Spring Preview Brings Aspiring Students and Applicants
The first CDU Spring Preview did more than draw close to 100 aspiring students and guests to campus. After a half-day of providing tours, holding information sessions and answering questions, the event caused four people to apply on the spot—all for the College of Science and Health.
What's more, Rita Gloria Sawyer, Ph.D., who directs the Office of Admissions was expecting applications from eight potential students. "At the end of the day, there was a tremendous energy and sense of CDU pride," Dr. Sawyer said. "We are ready to do it again the fall."
Preview participants watched a video of the university's legacy and listened to several speakers. Upon enrolling, the university supports its students, helping them reach the top of their field, said Richard Baker, M.D., provost and dean, College of Medicine during the opening session. "We want to bring you into the family, and make sure you're successful," he said. That's why we're here."
Then, information sessions were held for programs in the College of Science and Health, as well as nursing. Additionally, tables were staffed with students and program directors, allowing those visiting campus to learn more.
"It was good, really informative," Christian Mendez said of the event. Though he applied for admission earlier, he spent the day talking to current students and faculty about entering medicine. What interested him, in particular, was hearing how students support each other in learning, he said. Mr. Mendez hopes to receive his acceptance soon.
Another potential student expressed similar thoughts. Jasmine Benton, who hopes to become a graduate student, enjoyed the "down to earth" staff and volunteers. She also felt her interest in community building would mesh well at the university. "My heart is in the urban community," she said.
Ms. Benton, who lives in San Francisco, came to Los Angeles planning to visit other institutions besides Charles Drew University. "I just crossed those off my list, and I'm going back to San Francisco," she said before leaving.
Back home, she plans to focus on gaining acceptance to the university, and hopes to receive a letter that confirms her enrollment next spring. "I loved it," she said of her visit.
Artaza Takes Top Honors At National Workshop
Dr. Jorge Artaza
Jorge N. Artaza, M.S., Ph.D., received top honors at an annual workshop sponsored by the National Institute of Diabetes and Kidney Disease at the National Institutes of Health.
Dr. Artaza, an assistant professor in the College of Medicine, won an award for best basic science presentation. The prize was handed out during the Ninth Annual Workshop for the Network of Minority Research Investigators held April 21-22 in Bethesda, MD.
Dr. Artaza's research revealed the mechanism by which Vitamin D promotes muscle growth. His research indicates that vitamin D supplementation would help reverse muscle loss under certain conditions, including age, cancer, chronic kidney disease and other forms of skeletal muscle waste.
The findings are critical for minority and disadvantaged populations, who tend to be deficient in Vitamin D. Since the university centers its research on health disparities, recognition from the award was gratifying, Dr. Artaza said.
"It means we are on the right track, that our research is meaningful and that we are doing something that improves the quality of life of patients suffering from muscle wasting associated diseases," he said.
Dr. Artaza plans to translate these findings to the clinical level, working closely at the university with other researchers. They include: David Martins, M.D., an assistant professor of medicine; and Keith Norris, M.D., executive vice president of research and health affairs, who was one of the study's authors.
Other authors from the university who contributed to the study included: Leah A. Garcia B.S.; Monica G. Ferrini MS., Ph.D., an assistant professor in internal medicine; and Keisha K. King B.A., a medical student from the CDU/UCLA Medical Education program.
News in Brief
Graduation Banquets

The Oath and Honors awards banquet for the College of Science and Health will be held Thurs., June 2 for the graduating Class of 2011. Tickets cost $45 each for the event, which begins at 6 p.m. at the Marriott Hotel Marina del Rey, 4100 Admiralty Way. At the same hotel on the same night, the College of Medicine will hold a Graduation Banquet for its Class of 2011 graduates, starting at the same time.


Research Day

The university's Second Annual Translation Research Day will take place Fri., May 20 from 8:30 a.m. to 4:30 p.m. The theme will be Cardiovascular Diseases. The event will be held on campus in the Keck Lecture Hall, 1731 E. 120th St., Los Angeles. For more information, please call Beverly Jackson at 323-357-3618.

Health Expo

A Health and Lifestyle Expo will be held in the Cobb Building lobby on Thurs., May 26 from 11 a.m. to 2 p.m. Health screenings, mini massages, interactive demos and more will be offered.


Role of Thought

A forum will be held on The Role of Thought in Health and Health Disparities, Part Three in Keck Lecture Hall. The session will discuss whether a perception can see the whole nature of an issue, and whether that leads to understanding. The lecture by Keith Norris, M.D., executive vice president for research and health affairs, will be held Tues., May 17, starting at noon.

Graduation Rehearsal

The Academic Senate announced that rehearsal for the 27th Annual Commencement Ceremony will be held Fri., June 3 at 9 a.m. on the lawn in front of 120th Street.

Performance Management

A workshop for supervisors and management on performance management on Tues., May 17 from 1 p.m. to 2 p.m. Please reserve a spot by sending an email to Dr. Toni ELBoushi, director of Human Resources.


Good News Radio

A "Good News Radio Magazine," a weekly broadcast, inspires people across Southern California. Co-hosted by Nell Forge, Ph.D. and Charles McWells through the university's Division of Community Engagement, their program can be heard on KTYM-AM 1460 or www.ktym.com from 1 p.m. to 2 p.m. on Wednesdays. For more information, call 323-249-5702.

Correction

A photo caption in last week's newsletter misidentified Rosie Marie Connor, MPH. She's an instructor in the College of Medicine, Research LSI program.
Become a Mission Maker Today
The Mission Maker campaign has raised just over half of its $50,000 goal. If you would like to donate to the campaign, which supports the university, its mission and its students, then please contact Blanch Ross. She can be reached at 323-563-4992, or at blanchross@cdrewu.edu.