M. Roy Wilson/View from the Chair
Closing Toward Another Goal
The next step in our accreditation process occurs tomorrow. David M. Carlisle, M.D. Ph.D., our new president, and I will meet with two staff executives from the Western Association of Schools and Colleges. It will be a chance to introduce Dr. Carlisle to Teri Cannon, executive vice president, and Diane Harvey, vice president and liaison to university, for an informal discussion. I believe this session serves as another reminder that we're working hard to be compliant in communications, and in all accreditation standards. This will be our only opportunity for a private, face-to-face meeting before the commission meeting on June 22.
The accrediting group gave us three goals to achieve by month's end:
The first two objectives already have been met, leaving only the strategic plan. I'll bring them current on that document tomorrow. A draft version of the plan, which sets on paper a framework for guiding growth at the institution over the next three to five years, is done, save for some finishing touches. The board of trustees is expected to approve the plan on June 4, and the document will be sent to WASC immediately afterward. On that note, I'd like to thank a couple of board members, James Lott, chair of the strategic plan subcommittee, and Cornelius Hopper, M.D., vice-chair of the board of trustees for their leadership in completing this document.
Space Planning
The senior managers approved at its last weekly meeting a new committee. This group will advise the president on all issues related to space. Chaired initially by Edna Yohannes, chief of staff and eventually by Dr. Carlisle's chief operating officer, the group will be composed of Keith Norris, M.D., executive vice president of research and health affairs; Richard Baker, provost and dean, College of Medicine; Gloria McNeal, founding dean, Mervyn M. Dymally School of Nursing and Nathaniel Clark, vice president, Administration, & Risk Management.
With researchers and our School of Nursing stretching their boundaries, along with other departments, it makes sense to prepare strategically for growth. This strategy is consistent with the master plan, and is part of the accreditation standards.
I might also add that having to deal with an anticipated shortage of space brings with it a certain sense of optimism for the future of our university.
Dr. Wilson chairs the university's board of trustees.

A Pair of Profs Win UCLA Awards for Health Research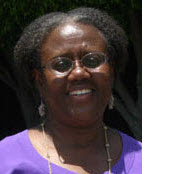 Cynthia Davis
A pair of professors were chosen to receive the Translational Research in Maternal, Child and Adolescent Health awards.
Cynthia Davis, an assistant professor in Urban Public Health, and Nina T. Harawa, a researcher and assistant professor at the university, were among a dozen people chosen for honors by the UCLA Clinical and Translational Science Institute. The awards, which come with a $4,000 prize, recognizes junior investigators who focus on improving maternal, child and adolescent health in Los Angeles county, the nation's largest. The judges attempted to bring together researchers from pediatrics, family medicine, the Schools of Public Health and Engineering, the National Children's Study and UCLA's partner institutions to address collaborations in health research. The awards will be received during a wine and cheese ceremony, scheduled for June 2 from 4 p.m. to 6 p.m. on the Westwood campus. Eugene Washington, M.D., vice chancellor for UCLA Health Sciences and dean of the David Geffen School of Medicine plans to speak during the event. Dr. Washington also is a member of the university's board of trustees.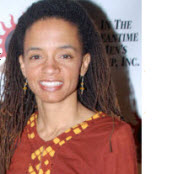 Nina Harawa
CDU: By the Numbers
3-CDU has three community pipeline programs: Saturday Science Academy; Kids Judge! Los Angeles; Drew/NIH STEP-UP Program.
8-Members on the Board of Councilors: Chair-Mark Ridley-Thomas, PhD; Gene Block, PhD; Benjamin K. Chu, MD, MPH; Lloyd Dean, EdD; Mildred Garcia, EdD; C.L. Max Nikias, PhD; Thomas M. Priselac, MPH; Robert K. Ross, MD.
10-Members of the CDU Senior Management: Richard S. Baker, M.D.; Nathaniel A. Clark; Mervyn M. Dymally, Ph.D.; Ronald A. Edelstein, Ed.D.; Toni C. ELBoushi, Ph.D.; Gus Gill, M.D.; Ron Lau, Ed.D., MBA; Gloria J. McNeal, Ph.D; Keith Norris, M.D.; Gail Orum, Pharm.D.
12-Members of the CDU Board of Trustees: Chair-M. Roy Wilson, MD, MS; Vice Chair-Cornelius Hopper, MD; Diana M. Bonta, RN, DrPH; Thuy Nguyen; Patrick T. Dowling, MD, MPH; Vidya Kaushik, MD; Andrew B. Leeka, MBA, MPH; James Lott, MBA; Marvin O'Quinn, MPH; Thomas M. Priselac, MPH; Carmen A. Puliafito, MD; Eugene Washington, MD.
15-Members of the Charter Class of the Drew/UCLA Medical Education Program receive M.D. degrees in June 1985 during the first graduation ceremony.
21-In June 1973, the MEDEX- Physician Assistant Program of the Drew School-the first such training program in California - graduates its first class of 21 students. The Honorable Willie Brown, Assemblyman from San Francisco and co-author of the Song-Brown Act, is keynote speaker.
24- Number of students selected to be a part of the CDU/UCLA medical education program each year …out of 1700 applicants.
27- 27th Annual Commencement Ceremony (June 4, 2011)
45-Cost for tickets to the College of Science and Health (COSH) Oath and Honors banquet on Thurs., June 2, 2011. Tickets cost $45 each.
45-CDU began 45 years ago. In 1966, the Charles Drew University was finally born after the Watts Rebellion in August of 1965.
45-Charles R. Drew, MD's life span was 45 years. He was born June 3, 1904, in Washington, D.C. On April 1, 1950, Dr. Drew died (from injuries acquired in an auto accident) in Burlington, North Carolina.
-
By Laurell Black, a staff member in the College of Science and Health.
News in Brief

Passing:
Henry Williams
Henry Williams, M.D., who chaired the university's first board of directors, passed away. Funeral arrangements were pending.

Graduation Banquets
The Oath and Honors awards banquet for the College of Science and Health will be held Thurs., June 2 for the graduating Class of 2011. Tickets cost $45 each for the event, which begins at 6 p.m. at the Marriott Hotel Marina del Rey, 4100 Admiralty Way. At the same hotel on the same night at the same time, the College of Medicine will hold its graduation banquet for the Class of 2011.

Health Expo
A Health and Lifestyle Expo will be held in the Cobb Building lobby on Thurs., May 26 from 11 a.m. to 2 p.m. Health screenings, mini massages, interactive demos and more will be offered.
Rehearsal for Graduation
The Academic Senate said that rehearsal for the 27th Annual Commencement Ceremony will be held Fri., June 3 at 9 a.m. on the lawn in front of 120th Street.
Good News Radio
A "Good News Radio Magazine," a weekly broadcast, inspires listeners across Southern California. Co-hosted by Nell Forge, Ph.D. and Charles McWells in the university's Division of Community Engagement, their program can be heard on KTYM-AM 1460 or www.ktym.com from 1 p.m. to 2 p.m. on Wednesdays. For more information, call 323-249-5702.
Become a Mission Maker Today
The Mission Maker campaign has raised just over half of its $50,000 goal. If you would like to donate to the campaign, which supports the university, its mission and its students, then please contact Blanch Ross. She can be reached at 323-563-4992, or at blanchross@cdrewu.edu.