M. Roy Wilson/View from the Chair
The Genteel Chairman
It was with a heavy heart that I learned about the passing of Henry S. Williams, M.D. His family held a public celebration of his life this afternoon. Known for his genteel nature and generous spirit, Dr. Williams became an obvious choice as the university's first chair of the board. He also served for a period as an interim president. It was no surprise that he held the top roles at the university.
Dr. Williams was well-regarded for being even tempered, so much so that colleagues cannot ever recall seeing him angry. His gentle manner attracted top talent to the university's board during his tenure, cementing his role in the institution's history.
When not involved with university business, Dr. Williams was found Thursdays competing on the tennis court. He played the sport until his health faltered. He was a devoted family man and husband, married to his wife, Fran, for more than 40 years. He also steeped his son, Bart, in the university's importance. Bart chaired the board until last year. I wish the family my deepest condolences.
His legacy will continue to grow through the Henry S. Williams Scholarship Fund that he wished to establish. The family welcomes sending donations to: Charles Drew University, c/o The Henry S. Williams Scholarship Fund, 1731 E. 120th St., Los Angeles, 90059; Attn: Edna Yohannes.
Graduation Week
I always look forward to graduation week. It's an honor to see another class of graduates enter the next stage of their career, and it's time to renew the optimism that led us to become educators, researchers and medical professionals. Commencement begins at 10 a.m. on Sat., June 4 on the university's grounds.
Our keynote speaker is Michael Drake, chancellor of the University of California at Irvine. He graciously accepted my invitation to speak. If this is your first time hearing him, I think you'll enjoy his remarks. We also will be honoring Robert Ross, CEO, and Kathlyn Mead, chief operating officer of The California Endowment. I hope you can attend Saturday's ceremony.
Also, please keep in mind the banquet ceremonies for the College of Medicine and the College of Science and Health. Both events will be held Thurs., June 2 in separate rooms at the Marriott Hotel Marina del Rey, beginning at 6 p.m. Please attend if your schedule allows. I, along with everyone involved, would greatly appreciate the support.
Dr. Wilson chairs the university's board of trustees.

Students Honored for their Academic Achievements

The Auxiliary to the Charles R. Drew Medical Society recently held its annual scholarship fundraiser, "Rhythms in Bloom," at the Los Angeles Airport Marriott Hotel. This event not only raises funds for minority scholarhips but also helps support next year's awards program.

Auxiliary President, Blanche Ross Smith, warmly welcomed all in attendance. After brunch, the organization's Scholarship Chair announced that more than $30,850 in scholarships would be awarded.

The event honored the late Dr. Melba Merritt Fields, a member of the Society and its Auxilliary. Scholarships were presented to outstanding health professionals in her memory. She was devoted to raising scholarhip funds for students pursuing a career in the health professions.

Charles Drew University Provost and Dean of the College of Medicine, Dr. Richard Baker, thanked the organizations and individuals responsible for providing the students with these scholarships. He was humbled by the generosity of the organizations.

He said, "It renewed his sense of hope in those who care about the students." He also encouraged students to continue working hard in order to close the gap in health disparities that exist in our communities.

The recipients:

· Dr. Melba Merritt Fields Memorial Scholarships, provided by the Auxiliary to the Charles R. Drew Medical Society: CDU Winners- Erica Davenport, Maita Kuvhenguhwa, Saba R'id, Jesse Tweed, Medical Students; and Lauren Senkbeil, Master Public Health.
· Alma Wells Givens Scholarship, sponsored by the Auxiliary to the National Medical Assocation, Inc., is given annually to a CDU medical student. Winners- Saba R'id and Erica Davenport.
· ANMA-Dr. Jesse B. Barber, Jr., United Health Foundation Scholarship, is awarded to a CDU medical student who is committed to working with the underserved. Winner - Shariska Petersen.
· The Auxiliary to the Golden State Medical Association provides scholarships to students chosen by the active Local Auxiliaries in California. State membership dues and fund raising events fund this scholarship. Winner: Ijeoma Chukwu.
· Charles R. Drew Medical Society, a local affiliate of the National Medical Association, provided scholarships to medical students. CDU winners: Jesse Tweed and Erica Davenport.
· Dr. Jeanne Axler, a local physician, selected Jesse Tweed to receive her funded scholarship.
· The Auxiliary to the Charles R. Drew Medical Society partnered with the Council of Black Nurses of Los Angeles, Inc. to provide scholarships to nursing students. The Dr. Francis Fields Memorial Scholarship was awarded to CDU winner: Walter Perez.
Dolores Caffey-Fleming, MS, MPH, is the scholarship chair for the Auxiliary to the Charles R. Drew Medical Society. She also coordinates the STEP-UP program at CDU.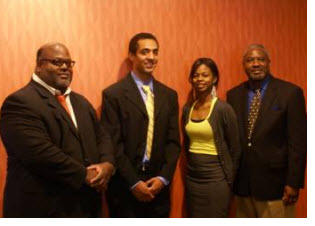 (Standing l-r) Charles R. Drew Medical Society President Dr. William King, CDU medical students Jesse Tweed and Erica Davenport recipients of the Society's scholarships, and Dr. Randy Hawkins, a Society member.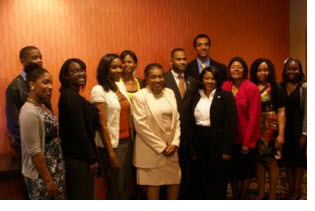 Student scholarship winners from CDU. First row (standing l-r): Lauren Senkbeil,Shariska Petersen, Saba R'id, Auxiliary President Blanche Ross Smith, Dr. Daphne Calmes, Associate Dean, College of Medicine, Dolores Caffey-Fleming, Auxiliary Scholarship Chair, Ijeoma Chukwu and Maita Kuvhenguhwa. Second row: Walter Perez, Erica Davenport, Dr. Richard Baker and Jesse Tweed.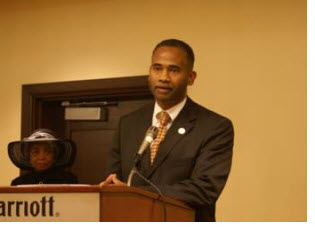 CDU Provost and Dean, Dr. Richard Baker.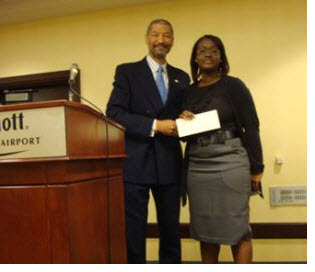 Keith Emmons, regional manager for United Health Plan and a CDU graduate from the surgical residency program, standing next to Shariska Petersen, a medical student.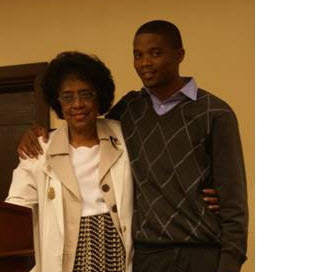 Carrie Brockman, scholarship chair, Council of Black Nurses of Los Angeles, and Walter Perez, a CDU nursing student.

Haynes Endowed Scholarship Fund Exceeds Expectations
The Dr. M. Alfred Haynes Endowed Scholarship Fund was established with an initial target of $50,000. Later, the goal was raised to $100,000.

Now, the fund awarded to those demonstrating excellence in community health leadership, stands at $104,350.

"We're thankful that so many people have chosen to honor Dr. Haynes by donating to this fund," said Edna Yohannes, chief of staff. "Students will look forward to receiving this award."

The first recipient, Shaunda Grisby, a graduate from the College of Medicine, received a $5,000 award at last year's graduation. Another winner will be named Saturday at the 27th Annual Commencement Ceremony.

The scholarship is named after Dr. Haynes, the university's president emeritus. At CDU, he was an early faculty member in the 1970s and became associate dean of what was then known as the Drew Postgraduate Medical School, an institution he later served as dean.
Previously, he was one of the first black faculty members at Johns Hopkins University and contributed to establishing policies there on racial integration. Dr. Haynes was a mentor to David G. Satcher, the former U.S. Surgeon General and former interim dean at CDU in 1977, who along with his wife paved the way in setting up the fund.

The donors include:

Dr. and Mrs. M. Alfred Haynes
Dr. Aaron Haynes
Dr. David Satcher
Dr. Keith Norris
Ms. Carolyn Harris
Ms. Shirley Starke
Mrs. Devra Breslow
Mr. George Harris
Ms. Patricia Pratt
Mrs. Alma Reaves-Woods
Advocates USA
Nestle USA
MetLife
News in Brief



Graduation Banquets

The Oath and Honors awards banquet for the College of Science and Health will be held Thurs., June 2 for the graduating Class of 2011. Tickets cost $45 each for the event, which begins at 6 p.m. at the Marriott Hotel Marina del Rey, 4100 Admiralty Way. At the same hotel on the same night at the same time, the College of Medicine will hold its graduation banquet for the Class of 2011.

Commencement
Rehearsal

A rehearsal for this year's commencement ceremony will be held Fri., June 3 at 9 a.m. on the front lawn in front of 120th Street. For those with an active role in the program, please remember to bring your script. For more information, please call Mohsen Bazargan, Ph.D., president of the Academic Senate, at 323-563-5884.

Cancer Conference

A community-academic dialogue on the Prevention, Treatment and Control of Cancer in Our Community. The event will be Fri., June 3 from 8 a.m. to 3:30 p.m. at the Loker Conference Room at the California Science Center, 700 State Drive, Los Angeles. The event is free and open to the public is sponsored, in part, by a pair of research units at CDU: the Division of Cancer Research and Training at CDU and the Accelerating Excellence in Translational Science Center. For more information, please call 323-292-2002.

A Farewell to Gizerian

Gizerian
A reception was held in the Cobb Building last week for Samantha Gizerian, Ph.D., president of the Academic Senate who left last week for a position at Washington State University. Several dozen colleagues and deans came to wish her well. Richard S. Baker, provost and dean, College of Medicine, said he enjoyed working last year with Dr. Gizerian while serving her leadership role. He described her as a "true advocate for faculty and students."
Learn About the MPH Program

Sawyer
A pair of information sessions will be held for those interested in learning about the graduate program in Public Health, learding to a Master of Public Health degree. The program is designed for working adults who prefer learning in a traditional classroom and who require eveing hours to accomodate their work schedule. The sessions are scheduled for Wed., June 1 from 4 p.m. to 6 p.m., and on Thurs., June 2 from 11 a.m. to 1 p.m. Both will be held in the Library's Cafe, located in the Cobb Building. For more information, please contact Rita Sawyer, PhD., who directs the Office of Admissions at 323-563-4922.
Parking Lot Closure
The parking lot facing 120th Street will be closed from Wed., June 1 through Sun., June 5 in order to set up for commencement. Please park in the lot located on 118th Street.

HIV/AIDS Awareness
Cynthia Davis, MPH, an assistant professor who directs the Mobile HIV program, is scheduled to speak at an event to raise HIV/AIDS awareness and prevention. Called "Rock the Red Pumps," the event will be held Sat., June 11 from 11 a.m to 2 p.m. a the Ontario Senior Center, 225 E. B Street, Ontario, 91762. The tea and luncheon is sponsored by the Pomona Valley Section-National Council of Negro Women Inc.
Become a Mission Maker Today
The Mission Maker campaign has raised just over half of its $50,000 goal. If you would like to donate to the campaign, which supports the university, its mission and its students, then please contact Blanch Ross. She can be reached at 323-563-4992, or at blanchross@cdrewu.edu.