M. Roy Wilson/View from the Chair
Approaching the End of the Academic Year
The end of the academic year approaches—once again
—with sudden urgency. Several people have been involved in plans to send off this year's graduating students with events that should create pleasant memories for them.
Preparations have been shaping up for the 27th Annual Commencement Ceremony. Caps and gowns have been ordered for faculty, and final plans for the day are being set. Graduation will be held this year on June 4, beginning at 10 a.m. on the university grounds. During that same week, other yearly ceremonies also will be held.
Both the College of Science and Health and the College of Medicine will be hosting their award banquets on the same night, Thurs., June 2 at 6 p.m. at the Marriott Hotel Marina del Rey. Please support these events with your attendance, if possible.
Hosting Another African Envoy
We had the good fortune of hosting Amina Salum Ali, the African Union ambassador to the U.S. while she spent several days in California. She is the first woman to hold such lofty rank in the organization.
During a reception in the courtyard of the Life Sciences Research Nursing Education Building, she spoke about the challenges of many African nations.

Afterward, we broke into small group sessions, learning more about how our overseas programs, under the stewardship of Drew Cares International, might collaborate together with governments in African countries. We want to build upon the decades of relationships the university already has established in Africa.

Her visit follows upon a visit from Daniel Ohene Agyekum, Ghana's Ambassador to the U.S. We are continuing talks with the Ghanians. Now, we can add the momentum gained from speaking with Ambassador Ali. I hope, in the near future, we have something to announce about our programs in Africa. Stay tuned.
Strategic Plan
A subcommittee will begin reviewing the strategic plan over the next couple of weeks. The documents will be in final form by the June 4 Board of Trustees meeting. Once approved by the board, the plan will be sent to the Western Association of Schools and Colleges.
While the year has sped by and graudation approaches, let me say this: I want to thank everyone for their extra effort. Having a willingness to roll up our sleeves and do more than expected, we've accomplished a lot this year, with more still to come.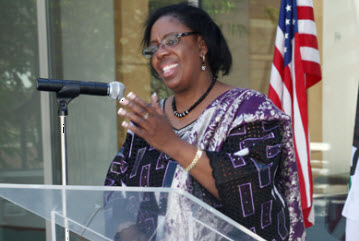 Amina Salum Ali, the African Union Ambassador to the U.S., spoke at a reception held in her honor recently at the Life Sciences Research Nursing Education Building.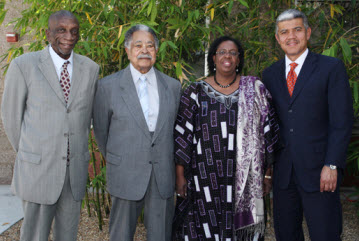 Standing from left to right: Gus Gill, M.D., senior advisor to the President; Mervyn Dymally, Ph.D. director of the Urban Health Institute; Amina Salum Ali, the African Union Ambassador to the U.S.; and M. Roy Wilson, M.D., M.S., chairman, of the university's Board of Trustees.
CDU's Broad Commitment to Serving Underserved People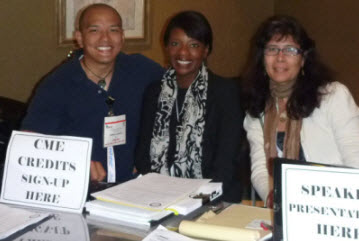 Pictured left to right: Edwin Cabatit, Continuing Medical Education Administrator; Rosie Marie Connor, MPH, a faculty member for the Master in Public Health program; and Ilja Huang, a secretary for the committee.
The Eighth Conference on Kidney Health in Disadvantaged Populations: Disparities in Renal Disease – Moving Towards Solutions, a post congress satellite meeting of the World Congress of Nephrology concluded in April.
The symposium was a Continuing Medical Education sponsored program by Charles R. Drew University of Medicine and Science in conjunction with the International Society of Nephrology Global Outreach Committee for Kidney Health in Disadvantaged Populations.
Keith C. Norris, M.D., executive vice president of research and health affairs at CDU is a core member of the international group, and acted as the conference treasurer.
"This is just one of many examples of CDU's international outreach as well as our commitment to medical underserved and minority communities," Dr. Norris said. CDU has collaborated on medical educational activities with the kidney health group since 2003 for its meetings regarding kidney disease in disadvantaged communities.
Roughly, 200 people from 38 countries attended the event, including nephrologists, pediatricians, general practitioners, fellows, students, and clinicians. There were 172 abstract submissions accepted; 73 of which received complimentary registration supported by a grant from the National Institute of Diabetes and Digestive and Kidney Diseases.
The event was effective in meeting its purpose and was well-received as demonstrated by the enthusiastic responses and the notes of thanks received from conference participants. The Continuing Medical Education office looks forward to continuing its partnership with the group during its next scheduled meeting in Hong Kong in 2013. Participating in these events helps ensure compliance to the accrediting body, the Accreditation Council for Continuing Medical Education.
The mission of the Office of Continuing Medical Education is aligned with the mission of Charles Drew University: "To conduct education, research and clinical services in the context of community engagement to train health professionals who promote wellness, provide care with excellence and compassion, and transform the health of underserved communities."
Story by: Edwin Cabatit, administrator, Office of Continuing Medical Education at CDU.
Saving the Planet on Earth Day with Acts of Green at CDU
After witnessing the worst oil spill in California's history, Gaylord Nelson in 1970 founded Earth Day. Then known as a U.S. senator from Wisconsin, he hoped to help others understand how people affect the planet. It worked. During the first observance of Earth Day, about 20 million Americans worked together to improve the environment.
Forty-one years later, on Fri., Apr. 22nd, a small band of the CDU community celebrated Earth Day by enhancing the campus grounds. Albert Washington, Carmen Saunders, Henry Lew, Sergio Hernandez, Sasha Heard, Eugene Hasson, Lily Fletes and Juan Castillo picked up trash across campus. Michael Jones and Cecilia Cooper gave them tools for collecting debris.
"It was good to see the unified spirit of individuals, at Charles Drew University, working to affect a positive change on our immediate environment," one of the participants said. "I hope this effort will become a 'spark' which ignites the consciousness of those within the CDU family to be more thoughtful and proactive about taking care of our environment and resources, not just for one day but on a regular basis."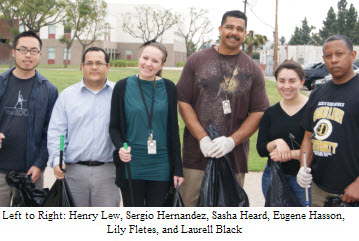 Here are some reflections from those who participated:
Henry Lew, a post-baccalaureate student, who endeavors to become the next Charles Drew Student Government, Student Body President:
Earth Day is a chance to reflect on the planet that gives us everything we need to live. Sometimes we get so consumed with paying attention to the people in our world that we overlook the environment that supports all of us. I'm glad that Charles Drew recognizes the value of Earth Day, because sometimes the under-served is not just a community of people it can also be the environment around them. Earth Day gives us an opportunity to serve that environment to the best of our ability.
Eugene Hasson, director of the Radiography program:
Earth Day means recognizing the Earth is a living thing that must be taken care of. We as living beings should learn to respect the Earth and give thanks for what it has done for us.
Albert Williams, a staff member in the HIV/AIDS Testing & Counseling Program:
Earth Day should be an every day event. This is to re-enforce our stewardship of taking care of our earth environmentally, leading by example both young and old against the deterioration of the environment such as: oil spills, polluting factories, power plants, toxic dumps, raw sewage spills, pesticides, air pollution, trash and etc. If we are good stewards of the earth future generations to come will benefit and become stewards themselves.
Sasha Heard, retention coordinator:
Earth Day is a great opportunity to recognize and honor our connection to earth and nature. There are a variety of creative ways to get involved and do your part on Earth Day and it was great to have an opportunity to participate at Drew.
Lily Fletes, a staff member for the physician assistant program:
Celebrating "Earth Day was a good day to enjoy a moment out of the office. It made me appreciate our environment and how important it is to keep our surroundings clean."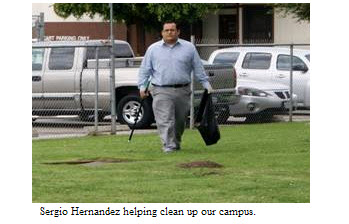 Sergio Hernandez, a staff member for the radiography program:
I personally believe we should do this once a week to better our planet.
Carmen Saunders, faculty member in the Radiography program:
This Earth Day, I did my part as a faculty member for the College of Science and Health. I assisted other members with helping to clean up around the campus. It is important to understand that we must all do our part to protect mother Earth. Even the smallest of gestures makes a big difference.
News in Brief
Lost and Found
The university's Lost and Found file is located at the information booth in the Cobb Building's lobby. If a set of keys, a handbag, a wallet, eyeglasses, or similar item is found, please turn them over to the on-duty safety and security officer for safekeeping.
Officers will return lost articles to those who can describe the article and are willing to sign a receipt. Items will be held at least 90 days. If there are any questions, please contact Nathaniel D. Brown, Safety Manager. He can be reached by telephone at 323-357-3495 or by email at nathanielbrown@cdrewu.edu.
Story by Nathaniel Clark, vice president of Administration & Risk Management

Research Day
The university's Second Annual Translation Research Day will take place Fri., May 20 from 8:30 a.m .to 4:30 p.m. The theme will be Cardiovascular Diseases. The event will be held on campus in the Keck Lecture Hall, 1731 E. 120th St., Los Angeles. For more information, please call Beverly Jackson at 323-357-3618.
Good News Radio


"Good News Radio Magazine," a weekly broadcast, inspires people across Southern California. Co-hosted by Nell Forge, Ph.D. and Charles McWells through the university's Division of Community Engagement, their program can be heard on KTYM-AM 1460 or www.ktym.com from 1 p.m. to 2 p.m. on Wednesdays. For more information, call 323-249-5702.
Become a Mission Maker Today
The Mission Maker campaign has raised just over half of its $50,000 goal. If you would like to donate to the campaign, which supports the university, its mission and its students, then please contact Blanch Ross. She can be reached at 323-563-4992, or at blanchross@cdrewu.edu.