View from the Chair
On Fri., Nov. 12, Kara Odom-Walker from Myers Ventures and I met with Health Resources and Services Administration (HRSA) representatives Kathleen Klink (Division of Medicine and Dentistry), Joan Weiss (Division of Diversity and Interdisciplinary Education), Julie Sochalski (Division of Nursing) and Shivone Laird (Governmental Affairs).
Each

representative discussed key HRSA funding opportunities available, particularly those in:
· Primary care residency support.
· Centers of Excellence (Title VII).
· Health Careers Opportunity Programs.
· Nursing Program support for career ladder programs, building graduate programs, early development grants, and scholarship opportunities.
· Teaching health center funding through the Affordable Care Act.
The teaching health center grants will help to develop new residency training opportunities in community health center settings. This may present a key opportunity for CDU linkages to the currently operating Martin Luther King Multi-Center Ambulatory Care Center. As residency programs are re-established, HRSA may also provide support for training and teaching. Title VII Centers of Excellence and Health Careers Opportunity Programs support diversity in the workforce.
Several opportunities also may be available to the university's new nursing school, including grant support for the career ladder, building graduate nursing programs, early development program support, and scholarship opportunities. We also broached the idea of working with the federal government on a collaborative arrangement similar to Meharry Medical College's with the U.S. Public Health Service.
I will follow up on action items that came out of the meeting and will further explore the opportunities that may be available to us. Stay tuned.

M. Roy Wilson, M.D., M.S.
Chairman
Board of Trustees

Television Tribute to Feature CDU Professor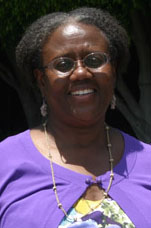 Cynthia Davis
Cynthia Davis, MPH., an assistant professor in the Medical Sciences Institute, was recently selected as a "Remarkable Women" by the Lifetime Television network. Known as one of the best experts on HIV/AIDS in Los Angeles, Ms. Davis will be featured in 15-and 30-second videos that air several times daily between commercial breaks on the network, starting Fri., Nov. 26 through Thurs., Dec. 2. "It's actually for dedicated work in the community," Ms. Davis said of the recognition. "This gives me and the university more visibility." Other women who have been honored include, First Lady Michelle Obama, U.S. Supreme Court Justice Sonia Sotomayor and California's first lady, Maria Shriver. Ms. Davis, who heads the university's HIV Mobile Testing and Outreach Project, launched the first mobile testing van program in the early 1990s in Los Angeles County. She also uses dolls to teach about the deadly disease through her "Dolls of Hope" program. The accolade comes a week before World AIDS Day on Dec. 1. Of the video tribute, she said, "It's a good thing."
In Season of Giving, Become a Mission Maker
With the holiday shopping season officially beginning this weekend, remember the university's Mission Maker campaign as well. The fundraiser, launched last month by the Office of Development, has raised nearly $15,000, or 28% of its $50,000 goal. Edna Yohannes, who heads the effort, said the overall aim is for 100% participation from employees. In showing such support from staff and faculty, the university can demonstrate to other donors how much employees believe in the institution. In turn, the university can ask foundations and private donors for larger donations. The financial goal can be exceeded if each employee gives $10 per pay period. Still, donations of any size will be gladly accepted, Ms. Yohannes said. Please call Blanch Ross at 323-563-4992, or email her at blanchross@cdrewu.edu with a contribution.
News in Brief
Holiday Giving
Project Santa Claus, a 16-year tradition of helping neighborhood families celebrate the holiday season, is accepting toys or cash donations for the program through Nov. 30. The program, which provides gifts for children through age 14, is sponsosed by the UCLA/CDU chapter of the Student National Medical Association. To help, please email Dr. Daphne Calmes, daphnecalmes@cdrewu.edu, or Tosha Fernandez, tfern@cdrewu.edu or drop an unwrapped gift, costing at least $10, in bins located in the Cobb Medical building.
The Charles Drew Student Government is hosting a Holiday Canned Food Drive. Drop off donations until Dec. 10 in the Keck building's lobby. Contact Victoria Franklin, the group's advisor, for more information. She can be reached in her office, Keck 103, by telephone at 323-357-3690, or by email at victoriafranklin@cdrewu.edu.
Campus Security

Nate Brown
Information on registering for the new emergency alert system has been sent to campus email accounts, said Nathaniel Brown, who heads campus security. The same reminder will be included in this week's payroll checks. Mr. Brown urged staff, faculty and students to register their contact information, such as email, text messaging and cell phones, on the Everbridge system's website. Registering for the campus alert network involves no fees and the personal information logged with the company is shared only with the user's consent. In case of an emergency on campus, those registered will receive an urgent alert from Everbridge. For more information, please email nathanielbrown @cdrewu.edu or call 323-357-3495. Better yet, check your email account or open your paycheck and take a moment to get registered.