Fall 2011
Dear Friends of CLA-ACE!
We have been working hard these last few months and have exciting news to update you on:
Dare to Dream: Empowering Aboriginal youth
CLA-ACE launched a national consultative initiative among Canada's Aboriginal leaders, lawyers and law students in the summer of 2011 in order to determine how CLA-ACE and its partners can work with Aboriginal youth, support them in completing high school, and encourage them to consider law and law-related careers. We will be announcing more about this exciting initiative in the coming months.
Student Chapter Program
The school year is underway once again and that means that our Student Chapter Program is back in full gear! Welcome to our new Chapters at the Faculties of Law at the University of Manitoba and the University of Saskatchewan. Our chapters will be learning, thinking, and engaging in activities around this year's theme of "Indigenous Rights and Increasing Access to Justice for Canada's First Nations, Inuit and Métis Peoples." We are very excited to have our Chapter Presidents from across the country join us again in Ottawa for leadership training. Thank you to our longstanding sponsors LexisNexis Canada and The Dominion of Canada General Insurance Company.

Welcome back to Student Interns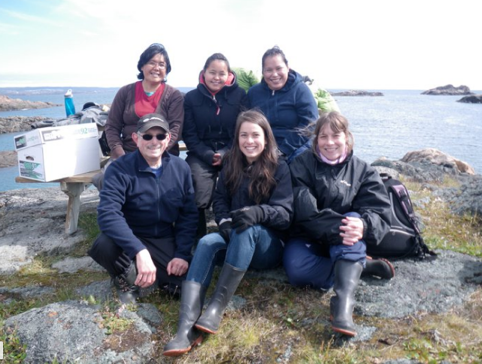 CLA Intern Jeanne Tremblay with some of her co-workers
from Maliiganik Tukisiiniakvik Legal Services
Welcome back to all of the students who participated in internships this summer! Students worked with our amazing partner organizations including the Yukon River Inter-Tribal Watershed Council, the Federation of Women Lawyers in Nairobi, Kenya, and the Law Society of Nunavut. You can read about JoAnne Barnum's experience at Keewatin Legal Services in Rankin Inlet here, Jaimie Tax's summer working with the Asia Foundation in Sri Lanka here, and Stephanie Cox's summer working with the United Nations Development Program in Timor-Leste here. Warmest thanks to all the host organizations that make these opportunities possible for such a great group of law students. Watch out for our exciting 2012 internships which will be posted on our website in December.
Ghana university legal clinic update
Our partnership with the KNUST Faculty of Law in Kumasi, Ghana and the University of Ottawa Faculty of Law to establish a university legal clinic at KNUST is going well. Ebenezer Bediako, a recent graduate of KNUST, spent the summer working at the University of Ottawa Community Legal Clinic where he gained insight into the functioning of a legal clinic. You can read more about his experience here. Thank you to Blake, Cassels & Graydon LLP who have joined as the Pro Bono Sponsor of this project.
Take a look at our new website!
Our website has been revamped and we would love to hear your feedback! Be sure to check out our projects or sign up for regular updates through our mailing list if you have not done so already. Thanks to Amanda at Better Than Chocolate web design for her amazing help with this project.
Thank You for a successful "Rights of Spring" Cocktail Party
Thank you to everyone who joined us at our inaugural "Rights of Spring" Cocktail Party on June 1, 2011 at Globalive's SHAMBA foundation patio in Toronto. Over 200 guests had the chance to listen to Ontario Securities Commission Chair Howard Wetston's keynote speech on promoting the rule of law, followed by food and refreshments. Check out photos here as well as in the Globe and Mail's "Party Photos of the Week." Many thanks to our gold sponsors: Borden Ladner Gervais LLP and Blake, Cassels & Graydon LLP. Thanks also to our silver sponsors: FTI Consulting, Wildeboer Dellelce LLP, Macleod Dixon LLP, the Flat Armadillo Society, and other event sponsors including Chitiz Pathak LLP, the SHAMBA foundation, ZSA Legal Recruitment, Precedent: The new rules of law and style, Oliver & Bonacini, Steam Whistle Brewing, and Legends Estates Winery.
Follow Us
Click here to read our blog
Canadian Lawyers Abroad-Avocats canadiens à l'étranger (CLA-ACE)

CLA-ACE is
a registered charity that depends on the support of friends like you! To donate, go to
www.canadahelps.org
, type in Canadian Lawyers Abroad, and click on "Donate Now."

Please forward this to 5 colleagues or friends who may be interested in our activities.
2011-2012 Student Program Sponsors: