Hot Sheet
A Publication of the Colorado Motor Carriers Association

July 12, 2022
Golf Tournament Results

Thank you to all our players and sponsors of the CMCA Summer Golf Tournament! It was a great day at Arrowhead, if a bit cooler than most expected.

After it was done, the winning team was Jon Petersen-Rush Truck Centers, Paul Moritz-DTI, Chris Brumley-All Coast Logistics and Drew Brumley-All Coast Logistics (pictured above).

Second Place Team: Justin Stephens, Brad Michaels, Donald Ryan & Andrew Douchane

Third Place Team: Brant Gregg, Shaun Hollis, Rob Cummings & Beau Hayes

Men's Closest to the Pin – Rob Cummings

Men's Long Drive – Rory Rochlitz

Closest to the Fairway Prize – Dominic Iacovetta

Women's Long Drive – Angela Leupold

Women's Closest to the Pin – Maggie Nichols

A special thanks to all our sponsors for a wonderful day - View List HERE.

Two Locations in Denver

This seminar is brought to you by KCG, CMCA, and FMCSA and is designed to bring you updates on the Clearinghouse, statistics, and known weaknesses as well as discuss common issues and solutions. Do you need assistance with anything pertaining to the Clearinghouse?

Join this educational seminar which will cover the most up-to-date information about Clearinghouse operations by the FMCSA staff expert! Please bring your questions or send them ahead at registration.

This seminar is

FREE

for all.

Speaker: Gian Marshall, Program Administrator, FMCSA

Morning Session:

9:30 am to 11:30 am: Alison Event Venue

1913 W Mississippi Ave, Denver, CO 80223

Afternoon Session:
2:00 pm to 4:00 pm Adams County Government Center
4430 S Adams County Parkway, Brighton, 80601 (Platte River A and B)
Please park on West side of Complex.


KCG Drug Alcohol Solutions
303-670-2269
khogan@drugalcoholsolutions.com
www.drugalcoholsolutions.com

Annual CMCA Convention
September 29th ~ October 1st
Grand Hyatt Vail ~ Vail, CO

The Colorado Motor Carriers Association will be hosting its 82nd Annual Convention, September 29-October 1st at the Grand Hyatt Vail, a luxury resort situated at the base of Vail Mountain. Discover luxurious Colorado inspired rooms & suites, showcasing warm, mountain-modern décor and striking mountain views. Nestled at the base of Vail Mountain, along the banks of Gore Creek, Grand Hyatt Vail is located in the heart of Vail Valley and within walking distance of Vail Village. Elevate your experience with any of their year-round activities and outdoor recreation along picturesque Gore Creek.

The hotel room block is only for registered convention attendees; otherwise normal room rates apply. The hotel reservation info will be sent in your convention registration confirmation.

Early-bird deadline for hotel room and convention registration is

August 21, 2022

. Any questions, contact patti@cmca.com.


I-70 eastbound daytime closure planned for Wednesday, July 13 in Glenwood Canyon

Closure needed to allow crews to safely remove crashed commercial motor vehicle


STATEWIDE — A closure is planned for eastbound I-70 next Wednesday, July 13 in Glenwood Canyon. The closure will start at 10 a.m. and will last approximately six hours. The length of the closure could change depending on weather and other variables, so CDOT asks that eastbound motorists plan alternate routes for the day. Westbound I-70 will remain open. The eastbound closure is planned to start mid morning to limit impacts on commuter traffic through the canyon.

Removing the commercial motor vehicle will not affect CDOT's ability to continue following the safety protocol for Flash Flood Watches and Warnings for I-70 in Glenwood Canyon.

Motorists should use COtrip.org or CDOT's free COtrip Planner mobile app to plan an alternate route. The northern alternate route on US Highway 40 is recommended for most motorists. The northern alternate route will require approximately 2.5 hours additional travel time to reach your destination, compared to traveling on I-70 through Glenwood Canyon. Eastbound motorists should anticipate construction at exit 205 in Silverthorne when returning to I-70 from Colorado Highway 9. During the closure, motorists will continue to have access to Glenwood Springs and the Roaring Fork Valley.

By traveling on the recommended alternate route, motorists can avoid major delays caused by rough roads and other hazards. CDOT asks motorists to not use US 50 as an alternate route due to heavy construction and traffic impacts between Montrose and Gunnison.

RESCHEDULED

to Jul 23 - Disc Brake Certification

(9am-Noon)

Aug 10 - Annual DOT Inspection Seminar (8am-Noon)

Aug 22-26: NATMI Safety Certification Course (8am-5pm)

Join Us as CMCA hosts the TSA Transportation Security Template and Assessment Review Toolkit (T-START) Workshop on

August 17th

Workshop Overview

The purpose of this workshop is to strengthen prevention, protection, mitigation, response, and recovery capabilities within the Highway Motor Carrier (HMC) industry, school bus, motorcoach and trucking communities by helping companies to develop comprehensive and tailored security plans using a TSA-provided Security Plan template.

The workshop incorporates an industry-specific threat briefing and hands-on instructions on how to use and modify the Security Plan template.

Security Plan Development
TSA designed the Security Plan template to help surface transportation companies and operators develop effective security plans and activities based on industry best practices and requirements.

The template combines emergency preparedness components and activities into a single document, providing companies and operators a foundation to develop tailored, operator-specific security and emergency procedures.

Please note: This workshop requires each participant to have access to a laptop computer with Windows OS and Microsoft Word 2016 (or newer).

Space is filling up fast for this event! Please email kate@cmca.com to RSVP so that you can attend.

As a part of the Infrastructure Investment and Jobs Act (IIJA) signed into law in 2021, the $5 billion National Electric Vehicle Infrastructure (NEVI) Formula Program will provide funding to individual states to develop electric vehicle (EV) fast-charging infrastructure and establish an interconnected network across the United States. Colorado expects to receive approximately $57 million from this program over the next five years to install EV fast charging infrastructure along federally-designated alternative fuel corridors in the state.

While the focus of the NEVI program is on highway-oriented DC fast-charging tied to federally-designated interstates and highways, the program places particular emphasis on projects that support rural charging, disproportionately impacted community charging, and infrastructure that supports commercial freight and goods movement. Other EV charging needs not specifically eligible under the NEVI program will still be addressed in Colorado via existing and new grant programs administered by the Colorado Energy Office and Community Access Enterprise.

To be eligible to receive federal NEVI funds, Colorado must submit a Statewide EV Infrastructure Plan by August 1, 2022 for approval by the federal Joint Office of Energy and Transportation. Public engagement with a broad array of stakeholders is key to developing a robust and equitable plan for Colorado, so your input is critical.

How To Get Involved

If you would like to participate in this effort, please take a moment to fill out this brief survey. The input gathered will be used to inform the priorities for EV fast-charging stations to be funded across Colorado. Once a draft NEVI Plan is developed and shared with the public, CDOT will host a live online public meeting in July 2022 to discuss key elements of the plan. This will be an opportunity for stakeholders to ask questions and provide additional input.

In the meantime, if you represent an organization or community that is interested in requesting a presentation on this topic, please contact us to schedule a meeting.

Lastly, please visit our NEVI webpage to stay informed of future developments and additional stakeholder input opportunities. You can also subscribe to our mailing list to receive updates.

Please let us know if you have any questions and thank you for taking the time to participate in this important statewide conversation!

August 18th ~ Top Golf Thornton

You're invited to take part in this fun and resourceful event.

You are invited!


September 7, 2022, from 9:30am until 7:00 pm

The invite only and elite Sanctuary Golf Course will be hosting a chance of a lifetime to play 18 holes of golf on their expansive beautiful course for an excellent cause: The FBI National Academy Associates (FBI NAA), Rocky Mountain Chapter, Denver 2023 National Conference. Attended by approximately 2,000 elite law enforcement executives from across the nation and the world, alongside industry experts and executives in related fields, the FBI NAA assembles the strongest Law Enforcement leadership network in the world. The conference will bring key decision-makers and executives from hundreds of law enforcement agencies together for concentrated, relevant training and for exposure to advancements in emerging technologies, equipment, and innovative opportunities to improve public safety. We hope you will be able to support this extraordinary effort by golfing in this tournament, or by sponsoring a hole.

The CMC Foundation is providing a preview of its new image graphic on T-shirts. This is a great opportunity for you to recognize your employees, vendors and others and help spread the word. Order early to lock-in availability and price.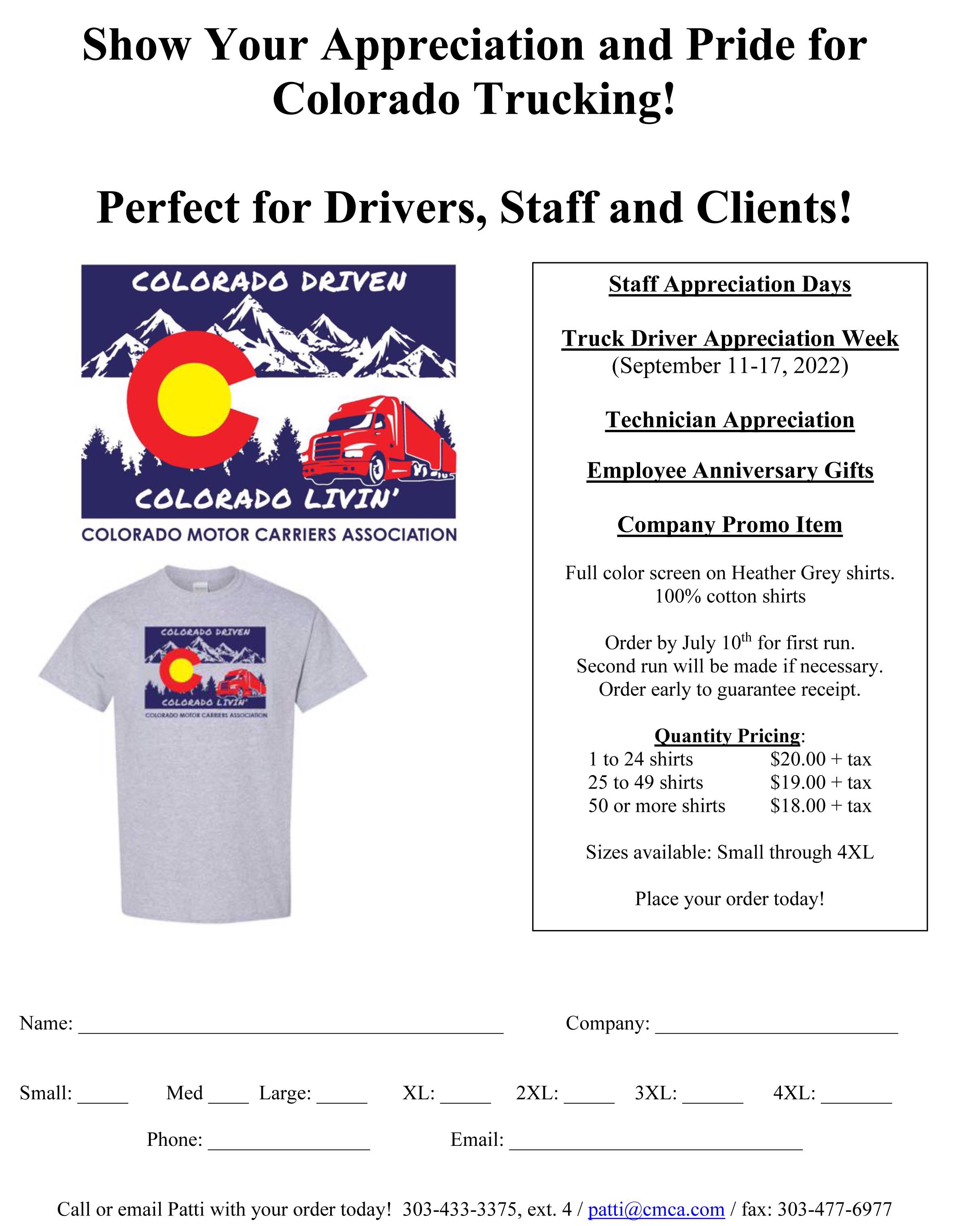 Contact Patti at patti@cmca.com with any questions.
The Voice of Colorado's Trucking Industry
| | |