LCV Curfew Temporarily Waived

CMCA is continuing to seek ways to assist our members during this difficult time, and we heard from several of our members that lifting the LCV curfew would boost productivity. In this time of shelter-in-place, traffic volumes have significantly decreased, and there is a decreased risk associated with mixing LCVs with rush hour traffic.
On Monday, CMCA was part of a special meeting of the Colorado Transportation Commission called to address temporarily suspending the peak hour restrictions related to longer combination vehicles (LCV). The current rule prohibits travel by LCVs during peak time periods (7:00 AM to 9:00 AM) and (4:00 PM to 6:00 PM) for the urban areas of Denver, Colorado Springs, and Pueblo. The Commission acted on suspending the rule as we made the case that the lifting of the restriction was critical for moving products in the most expeditious manner possible at this time of crisis. The Commission also recognized that traffic on our highways has substantially dropped at this time which will allow for the safe travel of these vehicles while also not impeding traffic flow.
The suspension of the rule concerning peak period travel by LCVs became effective as of 3/30/2020 and will remain in place for the next 120 days. Our hope is that this will assist our companies who use LCVs to better meet the unprecedented demands for certain products at this time.
We recommend you place a copy of this letter in your LCVs.
Click here for a copy of the waiver.
CMCA wants to thank CDOT, especially Executive Director Shoshana Lew, Craig Hurst, Manager of the Freight Office and Herman Stockinger for their assistance in this manner.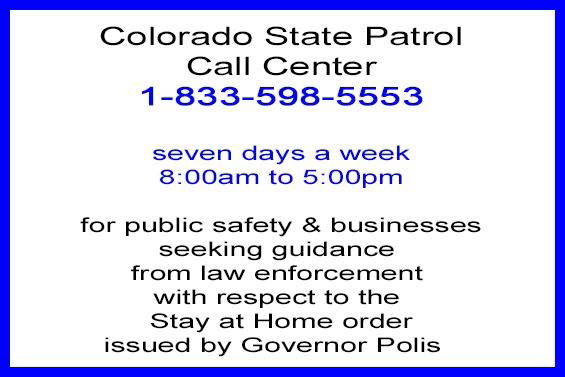 In response to the COVID-19 pandemic sweeping our state, our nation and our world, the Colorado State Patrol has activated a call center to assist offset the large number of phone calls being experienced by dispatch centers, Emergency Operations Centers and others across the public safety spectrum. Many in the public safety and business sectors are seeking guidance from law enforcement with respect to the Public Health Order (PHO) (i.e. "Stay at Home" order) issued by Governor Polis. Our mission is to serve as a force multiplier in helping triage questions from the public from a law enforcement perspective and to assist the public with finding answers.
Those who may find this call center of assistance are:
Public safety dispatch centers
Local emergency operations centers
Members of the trucking industry or other such business sectors
Among many others, a key sector we are trying to serve with this call center is the trucking industry during this emergency. I ask for your assistance in distributing this information your membership so that we can best serve to answer their questions. If you have any questions about the function of this call center, please feel free to contact me directly.

These entities may reach the call center by dialing 1-833-598-5553. The call center is currently operational seven days a week, from 8:00am to 5:00pm.
BEWARE: Another FAKE Email

Federal Motor Carrier Authority Filings

If your UCR is not filed, you could add thousands of dollars in fine to your business.
FILE UCR 2020 NOW


If your UCR is unpaid, this could add thousands of dollars in fines to your business and prevent you from getting permits. If you applied for your authority in the 2019 enrollment period your 2019 UCR is due as well. Penalties can include detainment of you and your vehicle. These penalties could result in fees, court appearances and possible jail time. Some states have fines upward of $5000 dollars for first-time offenders with possible imprisonment. Below are the fines listed by state. With the end of March just days away, do not get caught without your UCR filing for 2020.

Each state imposes a fine, fines and punishment is assessed by the state in which you are present at time of inspection. All states require UCR.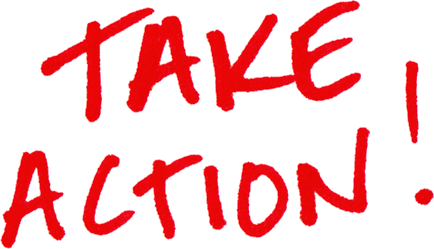 OSHA: COVID-19 is a Recordable Illness
The Occupational Safety and Health Administration released on Monday guidance to help employers prepare their workplaces for an outbreak of COVID-19 — along with a reminder that any incidents of employees contracting the novel coronavirus at work are recordable illnesses, subject to the same rules and failure-to-record fines as other workplace injuries and illnesses. See https://www.osha.gov/SLTC/covid-19/
While OSHA specifically exempts employers from recording incidents of employees contracting common colds and the flu in the workplace, COVID-19 is not exempt, the agency noted on a newly added website providing OSHA guidance for preventing occupational exposure to the rapidly spreading virus.
The guidance, while not a standard or regulation, outlines safety standards that employers whose workers are at high risk of contracting COVID-19 should implement to remain in compliance with the Occupational Safety and Health Act's general duty clause.
The report also advises employers to develop an infectious disease preparedness and response plan, implement basic infection prevention measures and develop policies for the identification and isolation of ill individuals.
CVSA Postpones International Roadcheck

Greenbelt, Maryland (March 25, 2020) – Every year, the Commercial Vehicle Safety Alliance (CVSA) sets inspection and enforcement initiatives, such as International Roadcheck, which is scheduled for May 5-7. However, with public health and safety as its top concern, CVSA has decided to postpone International Roadcheck to later in the year. The Alliance will monitor the status of the coronavirus (COVID-19) pandemic and appropriately select the new dates when it's safe and reasonable to do so. Once the rescheduled dates have been selected, CVSA will notify the commercial motor vehicle enforcement community, the motor carrier industry, the press and the public. Read More...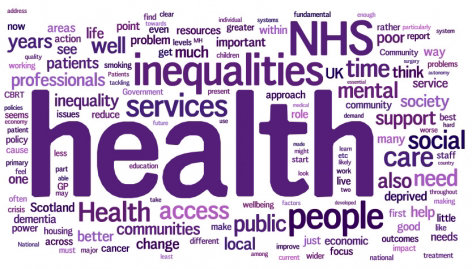 Need Help with Basic Healthcare?
During this time when many clinics and doctor offices are closed, there is an alternative. Telemedicine is a long-established solution in the healthcare delivery system. Some health plans currently offer telemedicine, but if yours does not, there are ways to purchase inexpensive health plans / programs to help you and your employees with basic issues like allergies, ear infections, diabetes and more. Many plans also offer mental health coverage, and in these times of stress, that may be very useful.
This treatment option is most often done over the phone or computer and offers convenient access to care providers for patients. Physicians can diagnose common ailments and prescribe non-narcotic drugs with this process. Studies have shown that telemedicine can effectively reduce the use of urgent care / emergency facilities.
If you are interested in telemedicine programs, CMCA has at least two providers who would be happy to discuss your options:
National Benefits Consultants - #720-488-9892
WorkWell Occupational Medicine - #303.827.3158
Families First Coronavirus Response Act

The Families First Coronavirus Response Act (FFCRA or Act) requires certain employers to provide their employees with paid sick leave and expanded family and medical leave for specified reasons related to COVID-19. These provisions will apply from April 1, 2020 through December 31, 2020. Download Poster Now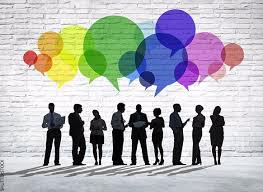 Many meetings, events and classes have been postponed or cancelled...
Visit our Website Calendar for an updated schedule!