Pastor's Message
Celebrating the Resurrection, Taking a New Direction

Greetings members and friends of Community of ChristChurch,
Spring is in the air, the season of Lent is coming to an end, and Holy Week is upon us. Together we have traveled the Lenten journey through the Gospel of Mark and now we continue to follow Jesus as he moves closer to the cross and to the empty tomb of Easter Sunday.
From Jesus' triumphal entry into the city of Jerusalem (Palm Sunday, April 1) Mark guides us through the gathering of disciples in the upper room to celebrate with Jesus the Passover meal (Maundy Thursday, April 5) to the darkened noon sky at Calvary, where Jesus, between two thieves, hangs on a cross (Good Friday, April 6) for preaching an inclusive message of peace and love in the midst of oppression and injustice. But the story doesn't end there! As the women come after the Sabbath to anoint Jesus' body, a young man startles them at the entrance of the tomb and says, "Do not be alarmed; you are looking for Jesus of Nazareth, who was crucified. He has been raised; he is not here." And so we celebrate the promise that sin and death do not have the last word as we shout the words, "Christ is risen! Christ is risen indeed! Alleluia!" I am so thankful to be walking on this Holy Week journey with all of you as together we see God's power to bring light where there was darkness; healing and new life to a world very much in need of such good news! (read more)
Nomination Committee

A New Year of Leadership

As winter rains begin to give way to spring sunshine and our Lenten journey brings us ever closer to the cross and the empty tomb that follows, the journey of Community of ChristChurch also nears the end of its fiscal year and approaches the beginning of a new year of leadership for the church.
Community of ChristChurch's Nominating Team (Brian Quiner, Cindy Kinnie, Tom Roach, Ginny Baynes and Pastor David Eppelsheimer) will soon be receiving nominations from the ChristChurch community to serve as council members beginning June 3, 2012. (read more)
Click here for the nomination form (under Adult Education & Ministry)
Service and Mission
Growing While Serving Others
I look forward to Easter each year with great anticipation. The word that comes to mind is Hope. One definition of Hope I recently came across is to look forward to with desire and reasonable confidence. I am confident that our risen Lord expects on each of us individually to bring hope into the world and to also do this as a community of faith.

Times are tough financially and it seems as though they are getting tougher for many people. Needs continue to rise in our community and ChristChurch continues to respond.
It has always amazed me how motivated people in our church are to serve others. This spirit of unrelenting faith through service is really a hallmark of our community.

The truly amazing thing is how people grow when they've had the opportunity to serve others. There are so many examples of people in our community responding to God's prompting to serve Him through short-term mission work or by simple acts of service. I don't believe this is an accident. As a community we encourage this by continuing to provide opportunities to serve, by teaching our youth the importance of service and by sharing our stories to one another. (read more)
May 6, 2012
Sunday, May 6, is our congregation's Consecration Sunday. I urge you to plan now to attend the two important events: Sunday morning worship and the Celebration Brunch immediately following worship that same day (a catered meal, not a potluck dinner).

This spiritual-growth-oriented process is designed to enrich our biblical understanding of Christian stewardship. Rather than focusing on the need of the church to receive, the experience concentrates on the need of the giver to give for his or her own spiritual development. (read more)
Holy Week
SUNDAY, APRIL 1
Palm Sunday 9 & 10:30 AM


THURSDAY, APRIL 5
7 PM, NURSERY CARE


FRIDAY, APRIL 6
7 PM, NURSERY CARE
EGGSTRAVAGANZA
APRIL 7
Pancake Breakfast 9-10 AM
Egg Hunts- Start at 10 AM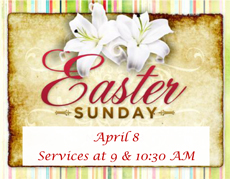 EASTER, APRIL 8
Services at 9 & 10:30 AM


COMMUNITY OF CHRISTCHURCH


5170 NW FIVE OAKS DRIVE
HILLSBORO, OR 97124
503.617.9526
www.comchristchurch.org

EMAIL CONTACTS
Pastor
David Eppelsheimer

pastordavid@comchristchurh.org
Administrator
Pattie Hart
pattie@comchristchurh.org
Student Ministry
Brent Masterson

masterson.brent@gmail.com
Children's Ministry
Joanne Hauseman
jmhauseman@comcast.net