Cranford Publications News

Traditional Music from
Cape Breton, Ireland and Scotland
| | |
| --- | --- |
| Volume #3, Newsletter #1 | 05-2014 |
Cranford Publications

Cape Breton Island, Nova Scotia, Canada

 1 888 860 8073  (FAX or message anytime)

 1 902 929 2391 (9AM-6PM AST)

Cranfordpub.com

 promotes old-style instrumental Cape Breton and Celtic dance music. Notation, sound clips and information are posted online - resources that complement the books and recordings we make available. 

If this email newsletter, delivered 1 to 3 times a year, is too much for your inbox, please feel free to opt out using the unsubscribe link found at the top or bottom of this page.



Introductory Note from the Editor



A Summer concert in Cape Breton - Hilda Chiasson, Howie MacDonald,


Paul Cranford, Sarah Beck, Roger Treat & Yvon LeFort (2 bow-makers)

.

Saturday, May 17 was World Fiddle Day, a global event celebrated annually on the Saturday day closest to May 19. For details regarding WFD go to their website). Last year we honoured the occasion with a book release party for The Cape Breton Scottish Collection.

This year, many of my musical friends gathered in North Sydney for a combination WFD celebration and 60th birthday party for fiddler Larry Parks.  Larry has a rich Northside style... a blend of Irish embellishments, Scottish bowing, Gaelic phrasing and Acadian rhythm.


In his early days Larry was influenced by many older players including Joe Confiant, Johnny Wilmot, Cameron Chisholm, Arthur Muise and Theresa MacLellan. Equally adept at learning by ear or interpreting new music from notation, he has already digested more than a dozen tunes from The Cape Breton Scottish Collection and is passing them on at our weekly Thursday night session.*

Lord Napier of Magdala is one of those tunes which Larry learned. It is an Alexander Walker march which, since not found in his 1866 book, was likely composed in Williamstown, Massachusetts in the US after Walker immigrated to America. Lord Napier was first published in Scotland, in James Shearer's Collection,1893 .

Larry also composes fine tunes. To give you a taste, here is a previously unpublished G minor jig which he composed.


* (Visitors take note - Rollie's Wharf has closed. The Thursday night Northside session is now held at the Emera Center, North Sydney).
Addenda to The Cape Breton Scottish Collection

Whenever I publish, inevitably within a very short time, I come across new sources of historical lore, or tune variations... material which might influence future editions. Much of this information comes to me from customers and friends. Predictably, since the 2013 publication of the Cape Breton Scottish Collection, I have been made aware of some alternate settings which I am passing as addenda -


Bonny Highland Hills - 4th turn by David Greenberg




David Greenberg (co-author of The DunGreen Collection) wrote:

"... I am just loving your new CB Scottish Collection book! It lives, for the time being, on the dining room table, where I wander through it often. I found so many interesting things, and here's one of them... The Bonny Highland Hills (aka New Strathspey Reel)...  I actually recorded this twice, in two different keys. The first time was on Puirt A Baroque's track Flowers of the Forest (from Return of the Wanderer), ... the 2nd with Chris Norman ...

I guess I initially agreed with you about the 4th part being awkward on the fiddle... " (David's explanation here)



Anderson's 1793 Collection

On a different front, the examination of old manuscripts, one compilation I recently examined contains John Anderson's two early collections - rare books first published in the early 1790s. In those books I found a few 'new' settings of tunes which may have indirectly influenced Cape Breton, Irish and Scottish fiddlers.

During Anderson's time (The Golden Era of Scottish Fiddling) there was a beehive of publishing activity. Alternate settings of the same tunes were often found with new titles in different books . This has often caused controversy amongst later historians trying to determine which title or setting is 'correct'.

In the late 19th century John Glen came up with some pretty convincing arguments which cast bad light on the Gows for claiming tunes that weren't their own (see: The Glen Collection, new edition available from Highland Music Trust). The examples below show it could go the other way too...  in other words the Gows' compositions were not always recognized by other publishers.

Although some of his findings may have validity, what Glen seems to have forgotten is that fiddle music is largely passed on aurally.  In Cape Breton it has always been my experience that fiddlers never steal each others tunes in order to claim them as their own.  Instead, because of respect


for the tradition, every sincere composer I have met has always made an effort not to tread on the toes of a previous tune - and when in doubt, asks the opinion of others.

Composers do generally remember their own tunes. For all the Gow books Nathaniel Gow was the arranger and editor. As such I feel confident to assume that the tunes he claimed as his own were actually his.  However, we have to remember that once music enters an aural tradition it can innocently survive and evolve without title or history. It is my belief that composer-publishers like Gow and Anderson carefully credited their own creations. Errors did however, easily occur when naming melodies gleaned from aural sources.



In Nathaniel Gow's case, he could easily have made innocent mistakes publishing contemporary tunes without giving proper credit to the composers.  Popular tunes often circulate as traditional without title or credit.

As well, the origins of tunes in his famous father 's repertoire could easily have been confused.  Niel did not read music and did not live near Nathaniel so no doubt the elder Gow was left out of much of the editing process of compiling books.  After Niel's death, Nathaniel continued to publish for almost 20 more years without anyone to turn to for verification of his fathers repertoire. 

Similarly, in Anderson's books, in addition to this example above  ( When I Parted), which he composed but has long been thought of as traditional, in his collections he also included uncredited tunes which can easily be identified as compositions by the Gows, Marshall, Bowie, Daniel Dow and others.  Simply stated, Anderson, and most every tune book compiler, pick ups some of their repertoire by ear and so, when compared to the composer's originals, some settings are better, others worse. More examples are given on our website both as addenda to The Cape Breton Scottish Collection and as well we provide some scans of selected tunes with odd titles or unusual settings which come from Anderson's books.
New tunes added at cranfordpub.com

Since the last newsletter we have posted 46 tunes including

Addenda to The Cape Breton Scottish Collection.

OrigInal Tunes from Howie MacDonald, Otis Tomas, Brenda Stubbert and Larry Parks

Traditional tunes from Howie MacDonald's Auld School CD

Music from John Anderson's 1st & 2nd Collections

Draft samples from future books.

  Anderson's Collections

In addition to supplying material for my growing Cape Breton Scottish Collection addenda, while studying digital copies of Anderson's books, I also found some other tunes suitable for this 'newsletter'.  As well, at the cranfordpub.com website I have posted more scans from his work.


Starting with Bremner's 1757 collection, most early Scottish fiddle publications often contained tunes strongly influenced by the highland piping tradition. In Anderson's Collections a few tunes demonstrate this connection. The Seaforth Highlanders is obviously a pipe tune arranged for fiddle. Strangely enough this reel wasn't published in later pipe collections. Still, it must have been influential as many of its motifs are found in later well-known strathspeys and reels. The interaction between fiddlers and pipers was obviously alive and well in 18th century Scotland. The same theme runs through my next book, The Cape Breton Highland Collection (release date scheduled for World Fiddle Day 2015).




The 2nd example from Anderson is one called The Small Reel. Like many Cape Breton tunes, it has the feel of a pipe tune but adds twists and modality natural to the fiddle. Many theorize that during the 18th and 19th centuries Scottish fiddlers might have played in a style more akin to our older Cape Breton ear musicians - especially during those bygone days when many musicians played both fiddle and pipes. I have never heard The Small Reel played, nevertheless it's one that could easily appeal to Cape Breton or Scottish players.
Howie MacDonald - Auld School


Back to contemporary Cape Breton, one of the strongest active players is Howie MacDonald. He began at an early age, learning as a child from his mother with lots of later influence from his good friend Jerry Holland, cousin Dougie MacDonald and hero Winston Fitzgerald. Also his multi-year tenure with The Rankin Family playing alongside John Morris Rankin influenced his music in a very positive way.

Howie's family has longevity (his grandmother was the oldest woman in Nova Scotia when she passed away at age 109). His mother, Anne, was a fiddler as were many uncles and cousins.  Her uncle, Howie's great uncle, was "Big Dan Hughie" MacEachern, another fiddler who in 1928 was the first Cape Bretoner ever to record a 78 disc. (Not to be confused with another more distant relative, Dan Hughie MacEachern, the famous composer).



With all that history behind him it's not surprising that his recent 2011 CD was titled "Auld School". With Dave MacIsaac on guitar Howie has chosen mostly older repertoire and in the studio created an intentional old-sounding recording.

One of the tracks includes March to Buddy which was co-written with Brenda Stubbert.  It honours Buddy MacMaster, one of Cape Breton's finest fiddle players

A number of other tunes are posted online.
  Otis Tomas - The Unfathomable Menagerie

After 30 years you'd think one would be aware of the skills a friend possesses. Otis Tomas completely surprised me with his recent production. As if luthier, philosopher, woodsman, composer, fiddler, photographer, great cook and all-around nice guy weren't enough, on The Unfathomable Menagerie his previously hidden abilities as both poet and graphic artist are richly displayed.



Otis titled this 2013 multi-discipline project The Unfathomable Menagerie. Each medley on the recording is complemented by a beautifully produced card; a marvelous print with flip sides including both musical notation for the tunes in the medley and a poem reflecting the title of one of those tunes. Although each 'card' could be framed, the set including the CD, can be stored together on a book shelf where the spine makes it appear to be a thin paperback book.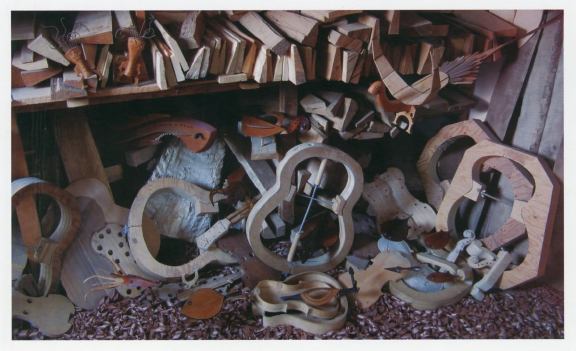 Creatures crawling out of the woodpile

Over the years 'his menagerie' in its physical form, grew in numbers as Otis made various wooden creatures from "... the cast-offs and refuse from years at the luthier's bench: the instruments gone wrong or never completed, the accidents and false trials, the changes of plan — the accumulated detritus of half a lifetime's work." His splendid combination of multiple photographs of these creatures, artfully combined in Photoshop, allowed Otis to create images which both reflect the music and the poetry.

A continuation of his amazing Fiddletree book, once again Otis' creativity is unforgettably presented. The all-original music is played on musical instruments (violins, viola, cello, mandolin, guitar and harp) all made by him out of wood which he cut from that same majestic local maple tree. The musicians are the mostly the same cast of international players featured on the initial Fiddletree book-CD. The repertoire and presentation is however totally different than the first project.


Preview of the Cape Breton Highland Collection




Pipe Major Alexander MacDonald and Wife Mary Belle
with sons John Kitchener and Bernard Angus
(who grew up to be one of the Five MacDonald Fiddlers)


In Cape Breton's earlier years, many Scottish style musicians played both fiddle and highland pipes. It is clear to me that the aural interchange of repertoire between those two instruments helped create the style which today is called Cape Breton fiddling.

'Piper' Alex MacDonald of Margaree/Wycogomagh/Glendale/Detroit would have been one of those musicians. Many of his tunes, such as The Baddeck Gathering, Bras D'Or House, The Black Sporran and Colonel Willie G are standards in the Cape Breton fiddle repertoire. As well, one son, Kitchener MacDonald composed the popular jig Jack's Hall and another, Bernie, was one of the famous recording group The Five MacDonald Fiddlers.

I haven't made my final decision for a cover photo for the new book yet - but the one at right is certainly in the running. Taken c.1920 it shows Alex with his wife and two children. 

I am still searching.  If anyone knows of any historical photos of any of Cape Breton's fiddler- pipers such as Gordon MacQuarrie, Allan MacFarlane, Francis MacDonald, Gordon Cote or any others please contact me.



For now, on our website I have posted a number of  preliminary settings of pipe tunes from the book including examples for most of the common tune types.  All are arranged for the fiddle and include with historical notes. Some have the chords added. Most were originally Scottish.
 

Flexible Bundle Offer - great value! 

Collectively the eight books in the CB Heritage Series now contain over over 2000 tunes. The individual titles retail separately at $19.95 or $24.95. Here however, for those of you looking for a bargain you can buy in bulk - perhaps collectively for a group of musicians, or because you want to complete a personal library.

Our flexible bundle offer gives you a

 

choice of any eight of the following ten Cranford Publications titles offered below - (including multiple copies of the same book) for $100 + postage. If you want more than 8 books that's OK too - still $12.50 each.

The default bundle is the complete CBMH Series (the first 8 in the list below). If you want to substitute just send an email after purchase.

For info on any of the eligible titles, or to buy a book separately, follow any of the links below: 

Or choose

 one or both of the following titles also from Cranford Publications as substitutions:


Move Your Fingers -  The Life and Music of Chris Langan
Conclusion

Months back it had been my to intention to complete The Cape Breton Highland Collection, for the 2014 World Fiddle Day. Usually I work well with deadlines, however, at some point I started multi-tasking, and included revisions to The DunGreen Collection in my agenda. Eventually I realized those are not projects to be rushed, and so, rather than spread myself (and David Greenberg) too thin, I focused on this newsletter and its related website updates.  At present all I feel confident in predicting is that by next WFD, one or the other, or both, of those aforementioned books will be launched.


Slainte,

Paul Cranford
Cape Breton Island
May, 2014

PS - If you have enjoyed this newsletter feel free to forward it to an interested friend