Five Easy Ways To Shoot Funny Pictures 
  

Greetings!

,
Want to Make Your Photography More Interesting? 
Try a Little Humor!
Photography is a serious art form. Right?

Well, not always.

There's no reason why you can't mix good composition with a visual joke.


Here are ways you can include a light-hearted touch to your photos. Not only will you get more entertaining pictures. You'll also have a good story to tell about how you got them.

Tip #1 - Always Be Ready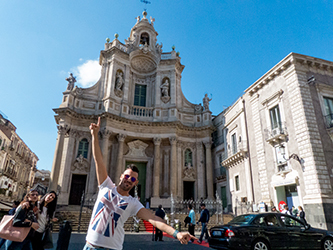 Distortion From A Wide Angle Lens Can Help Humorous Shots

Funny things happen. Take advantage of them.


I was crouching (uncomfortably) to take a dramatic picture of this Sicilian church when a local joker jumped in front of my camera! He thought he was Mr. Cool. Rather than getting angry I invited him to repeat the pose for a picture. He obliged and I got a much better shot. The expressions on the two women on the left were a bonus.



Tip #2 - Look For Odd Similarities





Have you ever noticed that people and their pets often look very much alike?
When I saw this leopard-clad lady and her dog I couldn't resist snapping this street scene.

Tip #3 - Photograph Visual Contradictions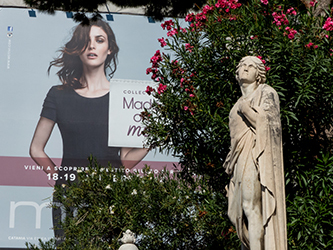 Statue Versus Wall Ad in Catania, Sicily
As an outsider, I found Italy's traditional view of women, as shown by the statue, to be in stark contrast to the extreme sexuality of their advertising
.
Tip #4 - Include Other Artists' Humor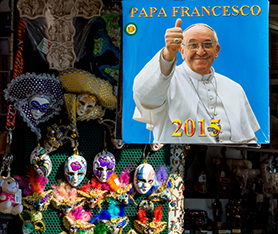 Street Vendor's Stand - Rome
I usually look for pattern, color and over-the-top kitsch in souvenir shops and stands.

This composition allowed me to preface the photo story of my visit to Vatican City in a very entertaining way.



Tip #5 - Set Up Visual Gag Shots

My friend and pro lab customer, Jim Buchanan, does masterful wedding albums. Jim always includes a trademark humorous picture like this one. In the pro world, as in life, the use of tasteful humor wows clients and inspires Jim's superb photographers.


               

_____________________________




What does humor have to do with a photo lab? My technical team and I personally correct each of your images. We get a kick out of good photography and, quite honestly, we enjoy our jobs. You'll find that our joy and love of photography will show on your prints. On this point, I'm not kidding.

                                                          Dale Farkas - CEO & Founder
P.S

.
I'm sure that many of you reading this newsletter have funnier pictures than my examples. If you do...and want your photos published in a future newsletter...please send them as .JPG attachments to
info@dalelabs.com
. Please include your release to use the pictures and the credits you want under the photo(s). If we publish one or more of your photos we will give you a complimentary 20" x 30" enlargement as our way of saying "Thanks."