NEWS BUZZ
Chit Wins Two Enterpreneurship Awards
ECHOtrio Establishes ECHOsi Foundation
EVENTS HUB
ECHOstore joins Social Enterprise Conference

ECHO Design Lab
ECHOteach
Chit Speaks at APEC at CIDA-UN Women Events
THE POWER OF
THREE
Me + Me
You + Me = We
We + Planet = Sustainable Lifestyle
SIMPLE GREEN
STEPS
Buy what you need
Buy ECHOstore
Gift Certificates

Give GIFTS OF HOPE all year round with ECHOstore gift certificates.

Visit our stores at Serendra and The Podium to purchase or ask about our gift certificates. Available in P500 denominations.
Thank You for Donating!

Special thanks to Rupert Sales of Rupert Signs and Signages for, once again, donating 12 bags of used tarpaulins to ECHOstore. We're looking for a community that can recycle the banners into new products.

ECHOstore eView is the quarterly e-mail newsletter of ECHOstore Sustainable Lifestyle.

Jeannie Javelosa
EDITOR

Carla Martinez
LAYOUT

E-mail feedback to jej@echostore.ph.

E-mail product inquiries to kate@echostore.ph.
Serendra
G/F Serendra Piazza
Bonifacio Global City, Taguig
Tel.: 901-3485

Podium
G/F The Podium
Ortigas Center, Mandaluyong
Tel.: 470-2688

with presence in

Makati Shangri-La
Travel Box

Shangri-La's Mactan
Resort & Spa
Private Collection

Shangri-La EDSA
Lobby

Asian Development Bank (ADB) Cooperative
ADB Headquarters
Ortigas Center, Mandaluyong

Le Boutique
Ninoy Aquino International Airport (NAIA) Terminal 3 Departure Area

Certified Calm
3/F Shangri-La Plaza
Ortigas Center, Mandaluyong

Fresh Start Organics
Central City Walk, Robinsons Place, Bacolod, Negros Occidental
Gearing up for 2012

Start the year right by going green, and renew your commitment to live sustainably. Small steps will matter if we do it all together.
ECHOstore's last quarter closed with a hectic pace. We launched new ECHOstore-branded products, which made their way to all the Christmas baskets before they could get to the store shelves. We will have our newest products on the shelves in the first quarter for sure!
Honest Herbs organic teas

Choco Loco cocoa powder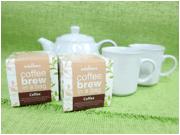 Coffee Brew in a Bag "coffee bags"


Body Basics Head-to-Toe Wash in three sizes, Cocoa Butter, Massage Oil, and Home Basics Odor Buster
Everyone rushed to get their Christmas baskets packed and sent off! Thank you to everyone who supported ECHOstore during the Christmas season.

ECHOmarket

Reena spearheaded the setup of ECHOmarket right next door to ECHOstore Serendra. Fresh, natural, organic farm produce grown by small farmers and community producers are now available every day of the week!

Chit Wins Two Entrepreneurship Awards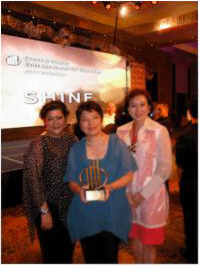 Reena, Chit, and Jeannie at the EOY Philippines 2011 awards banquet

Chit won two awards for ECHOstore! First, she was (for the second time) named as a finalist for the Entrepreneur Year of Philippines 2011 presented by Ernst & Young and SGV Foundation.


Chit at the MVP Bossing Awards Night

Second, Chit was given a special award for social entrepreneurship for ECHOstore and other sustainable businesses by PLDT SME Nation and Go Negosyo's MVP Bossing Awards.

ECHOtrio Establishes ECHOsi Foundation

As a way for the ECHOtrio to organize development projects with communities and other partner groups, Jeannie spearheaded the setting up of the Enabling Communities with Hope and Opportunities through Sustainable Initiatives (ECHOsi) Foundation.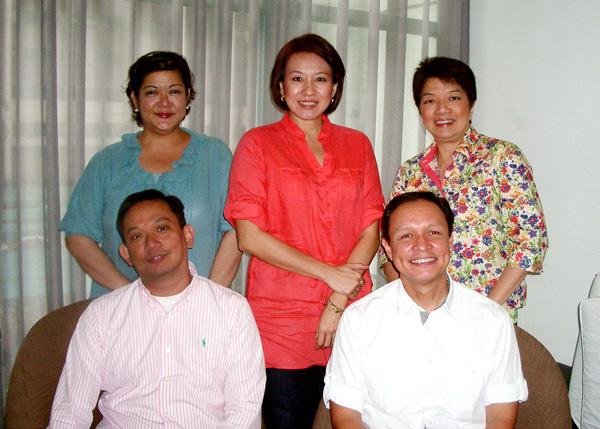 ECHOsi Foundation Board of Directors: (seated, L to R) Chairman Dan Lichauco, Ricky Cruz, (standing, L to R) Reena Francisco, Executive Director Jeannie Javelosa, and Chit Juan

The foundation's three main directions for development are:
Social and cultural enterprise development

Women's economic development

Culture, design, and aesthetics for development
The three programs of ECHO Design Lab, ECHOteach, and ECHOtalk, will now be formally done under ECHOsi Foundation.

The first partnership signed last December 14 was with the Philippine Commission on Women's (PCW's) Great Women Project (GWP) in partnership with the Canadian International Development Agency.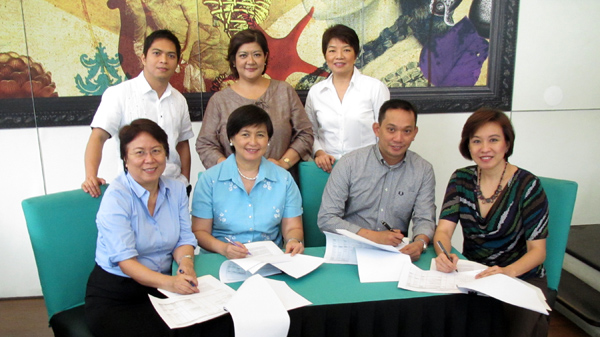 At the MOA signing with PCW to facilitate product development and packaging clinics: (seated, L to R) Project Head Luvy Villanueva, PCW Executive Director Emmeline Verzosa, ECHOsi Chairman Dan Lichauco, and ECHOsi Executive Director Jeannie Javelosa. Standing are (L to R) ECHOsi members of the Board of Directors Atty. Mark Perette, Reena Francisco, and Chit Juan.

To learn more about ECHOsi Foundation, visit the foundation website at www.echosi.org.ph.

ECHOstore joins Social Enterprise Conference

ECHOstore participated in the first Social Enterprise Conference at the InterContinental Manila last October 20 - 21, 2011. The conference was organized by the Peace and Equity Foundation. Chit, as the Conference Head, moderated a number of talks; while Jeannie talked on product design and packaging.
The ECHOtrio with members of Partner and Access Center Consortium, Inc. (PACCI), which runs ECHOVillage Stores around the country.
ECHO Design Lab

Reena and Jeannie held a two-day workshop with more than 40 representatives of communities from the Department of Agrarian Reform's Region IV office. Food and non-food products were critiqued. ECHO Design Lab volunteer Dannie Alvarez joined Reena and Jeannie in facilitating the product design workshop for non-food items.

Maricar Dabao of Viaje Negrense and Chinchin Uy of Fresh Start Organics--
movers of the Negros Organic Farmers Festival--with Jeannie and Chit
Jeannie and Chit were invited to talk at the Negros Organic Festival and Trade Fair in Bacolod last December 19. Chit spoke on "How to Put Up a Coffee Shop," while Jeannie talked about product development.
Chit Speaks at APEC and CIDA-UN Women Events

Chit was also invited to speak as panelist at the Asia-Pacific Economic Cooperation (APEC) Women and the Economy Summit in San Francisco last September 13 - 16, 2011. Together with Trade and Industry Undersecretary Merly Cruz, she also represented the Philippine women's business sector in the high-level policy dialog on women issues among APEC economies.
Chit was invited by CIDA and the United Nations Entity for Gender Equality and the Empowerment of Women (UN Women) to attend the Conference on Women's Economic Empowerment in Ottawa, Canada from October 3 - 5, 2011. Chit was a panelist in the sharing sessions where women leaders from over 33 countries were represented. The conference had UN Women Executive Director Michelle Bachelet as keynote speaker.
Me + Me
For the past 33 years, I have looked in the mirror every morning and asked myself: "If today were the last day of my life, would I want to do what I am about to do today?" And whenever the answer has been "No" for too many days in a row, I know I need to change something.


Steve Jobs
American businessman and inventor

You + Me = We
Be an opener of doors for such as come after thee, and do not try to make the universe a blind alley.

Ralph Waldo Emerson
American essayist, lecturer, and poet

We + Planet = Sustainable Lifestyle
We do not inherit the earth from our ancestors, we borrow it from our children.

Native American proverb
Buy what you need

You can make a difference. By choosing to eliminate some purchases, you can cut down on the waste generated. It's been said that the world today is a throw-away society. When shopping, consider not just the quantity but the quality of what you buy. The cheapest product isn't always the best choice. Are you buying from conscientious companies? Were the products made from sustainable practices? Every purchase is a vote, and you as a consumer wield more power than you may think. Being a good consumer means thinking about the impact of what you buy, both economically and environmentally.


From 360 Ways to Live Green
by Diane Gow McDilda