- F.R.A. GROUP MAGAZINE -
No

5.16
PN 2601645 AEROTERMO RADIALE | RADIAL HEATER 24V
OEM A0028304308



SUITABLE TO: EVOBUS SETRA

PN 2601640 AEROTERMO RADIALE | RADIAL HEATER 24V
OEM A0008356507


SUITABLE TO: MERCEDES INTEGRO-INTOURO/ SETRA S400


PN 2800157 PARABREZZA | WINDSCREEN
OEM D342471
BRAND SAINT GOBAIN

SUITABLE TO: IIA CITYMOOD E6


PN 2700731 MANOPOLA EMERGENZA PORTA | DOOR EMERGENCY HANDLE
OEM EVO A0009977177
BRAND BODE


SUITABLE TO: EVOBUS


PN 2500067 TENDA ELETTRICA PARABREZZA | WS ELECTRIC ROLLER BLIND L.1186 MM OEM A0028104520
SUITABLE TO: S400 HD/HDD-TRAVEGO-S400 UL/GTHD
PN 2500068 TENDA ELETTRICA PARABREZZA | WS ROLLER BLIND L.610 MM
OEM A6328105220
SUITABLE TO: NEW TOURISMO-NEW TRAVEGO
PN 2500069 TENDA ELETTRICA FINESTRA | SIDE ELECTRIC ROLLER BLIND L.695 MM
OEM 36768106046
SUITABLE TO : MAN LION'S COACH-REGIO/NEOAPLN JETLINER
PN 2400084 MOTORINO CHIUSURA CENTRALIZZATA
MOTOR FOR CENTRAL LOCKING
OEM A6297630004
BRAND BODE


SUITABLE TO: SETRA S400/MB TRAVEGO

PN 2601805 PRESSOSTATO | PRESSURE SWITCH
OEM A0008201438
BRAND SPHEROS


SUITABLE TO: EVOBUS

PN 2604911 RULLO TENDICINGHIA | BELT TENSIONER
OEM A6295000668
BRAND LINNIG-KENDRION


SUITABLE TO: EVOBUS S400/MB CITARO/INTEGRO/TRAVEGO

PN WT2710559B FILTRO | FILTER
OEM A0008340668
BRAND SPHEROS


SUITABLE TO: EVOBUS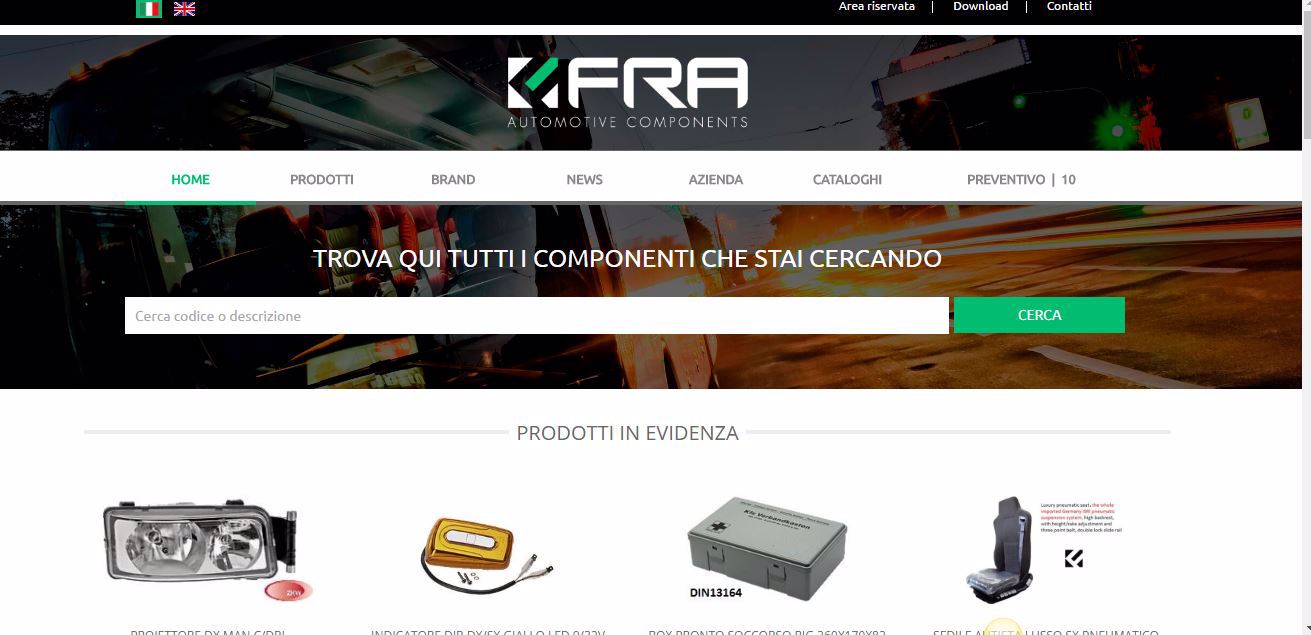 NUOVO SITO WEB_NEW WEB SITE
Dopo diversi mesi di lavorazione siamo ora finalmente online con il nuovo sito web dove sono state inserite tante novità ed altre ancora verranno implementate. La più importante è sicuramente la ricerca dei nostri riferimenti con codici oem o produttore o per categoria merceologica.
Le altre principali novità.....
Area download dei cataloghi di alcuni dei nostri partner
Condividere un articolo attraverso i social o semplicemente inviado una email
Newsletter integrata sul sito
Schede prodotto con informazioni tecniche o aggiuntive
........e non abbiamo ancora finito!!

---------------------------------------------------------------------------------------------


After several months finally we are now online with new web site where you can find many news and much more comings soon.
More important issue is that now you can find F.R.A. code with oem or producer p/n or using product category filter.
Other important news .....
At the download area are published catalogues of our main partner
Sharing item with email or via social
Integrated newsletter with archive
Product data sheet with additional info
........ and we have not finish yet !!
www.fra.it
DISTRIBUTION AGREEMENT F.R.A. &
HAPPICH
Nel mese scorso il gruppo F.R.A. ha siglato un accordo commerciale di distribuzione con una idelle più importanti aziende produttrici di accessori e profili del settore automotive: la Happich. I loro cataloghi sono scaricabili sul nostro nuovo sito nell'area download. La Happich annovera tra la sua clientela giusto per citarne solo alcuni: Evobus, Volvo, Man, Irisbus, Scania, Irizar ,Hymer ecc e produce migliaia di articoli per veicoli speciali e ricreativi,cabine,treni, autobus ed altro ancora.
Since last month F.R.A signed a distribution agreement with one of the most important producer of accessories ,profiles ,acoustic products, lock system etc : Happich.
You can dowload their catalogue directly from our website (download area).
Happich produce and supply the most important brand of the automotive industries such as: Evobus, Volvo, Man, Irisbus, Scania, Irizar ,Hymer etc.
Main markets are: bus and coach, building and mechanical engineering industries, special vehicles producers, cabin and recreational vehicles, etc.
LEGENDA
PN=Codice Articolo_F.R.A. Part Number | OEM =Riferimento costruttore_Original Part Number
I nostri prodotti pur non essendo originali sono perfettamente itercambibili con essi. I riferimenti OEM riportati hanno come unico scopo quello di aiutare l'identificazione dell'articolo.Stated original part numbers OEM are for comparison purpose only