Try my new videochat consulting service
I'm eager to start leading walks and hikes again! In the meantime, here's an alternative during this restricted time. Using either FaceTime for iPhone or Google Duo or Facebook Messenger for all other smartphones, you can take me into your yard or on the trail with you. I'll guide you in identifying and experiencing the plants with all your senses like you do when you're on the trail with me. Email
lanny@herbwalks.com
to learn more.
Buy native plants now from Pan's Garden
Pan's Garden is an independent, Ojai nursery specializing in native and medicinal plants like the white sage shown below. Check their plant availability at
this link
. Then contact Nathan Whitman at
pansgardennursery@gmail.com
or
(
805) 293-1440

to arrange for pickup or delivery.
Mark your calendar for the Ojai Herbal Symposium on November 14-15.
3rd annual Ojai Herbal Symposium
Plans are underway for the annual Ojai Herbal Symposium on November 14-15. this year's theme is "Herbs: The People's Medicine." Needless to say, it's difficult to plan an event right now but it will go on one way or another, either in person or online. So please save the date!
Here is the lineup of expert presenters.

KEYNOTE SPEAKERS:
• Amanda McQuade Crawford (herbalist, author, MFT)
• John Finch (co-founder and director, Self-Heal School of Herbal Studies)
PRESENTERS:
• Jim Adams, PhD (pharmacologist)
• David Bearman, MD (physician and cannabis expert)
• Mela Gaskins Butcher (director, Center for Ayurveda)
• John Hickey, LAc (co-founder, Santa Barbara College of Oriental Medicine)
• Enrique Villaseñor (prickly pear expert)
• Carol Wade, RH (herbalist, director, Earth Island Medicinal Herb Garden)
Summer Solstice Nature Hike on Pine Mountain

PLEASE NOTE: I am hopeful that COVID-19 response guidelines will allow for this event to go on. I will limit participants to 10 for now and we will not do the usual carpool. Both measures are to ensure that we can maintain physical distancing.
Join our annual Summer Solstice Nature Hike on Pine Mountain on Saturday, June 20. We'll visit some of the most spectacular scenery and habitat that Ventura County has to offer just when many late spring wildflowers are blooming up there at an elevation of 7000 feet.

Learn more and sign up at this link.
David Crow's new online course
Some of you will remember David Crow as the keynote speaker at the 2019 Ojai Herbal Symposium. A master herbalist, aromatherapist, and acupuncturist with over 30 years of experience, David is an expert in the Ayurvedic and Chinese medical systems — and one of the world's foremost experts and sought-after speakers in the field of botanical medicine and grassroots healthcare.

Register now at this link for his free one-hour video on antiviral herbs and formulas. You'll receive a downloadable replay that you can watch anytime.
A rare sighting of a lower-elevation Incense-Cedar on Potrero John Creek.
After cancelling the April 19 Earth Week Herb Walk on Potrero John Creek due to coronavirus restrictions, Rondia and I made a point of getting up there to see how things look this year. I'm happy to report that the creek is flowing, plants are flowering, and butterflies are floating. I shot some photos with my iPhone and posted them with labels on facebook.
Here's a link
.
Los Padres ForestWatch annual fundraiser going online
Los Padres ForestWatch is a small but mighty nonprofit organization that works to protect the Los Padres National Forest in Ojai's backyard.
Please join their virtual fundraiser event in late May. Details at this link.
Summer Medicinal Plant Workshop with Jim Adams
PLEASE NOTE: Dr. Adams and I are monitoring the COVID-19 situation to determine if, and under what conditions, this event can be held. In the meantime, we are accepting registrations. Full refunds will be given if it is necessary to cancel the workshop.
Please join me and special guest Professor Emeritus James Adams of USC School of Pharmacy for a Summer Medicinal Plant Workshop on Saturday, June 27, 2020, from 9 a.m. to 3 p.m. This workshop is based on his ground-breaking pharmacological studies on local native plants. Special guest Enrique Villaseñor will share the history and uses of Prickly-Pear cactus ( Opuntia).

Learn more and sign up at this link.
Dr. Adams' book, Healing with Medicinal Plants of the West, is available at this link.
"We're all in it together. Pass it on"
That's the chorus of my song, "Pass It On," from my album, The High Road. The line seems more appropriate than ever during this global pandemic. So I thought I'd dust it off and present it for your consideration. It made its debut in a late 1970s Illusions Theatre production of Robin Hood. I finally recorded it, with an all-star band, for the 2004 album. The song is one of four on the record that feature the late June Pointer of the Pointer Sisters on multi-part background vocals. That's her in the studio with me.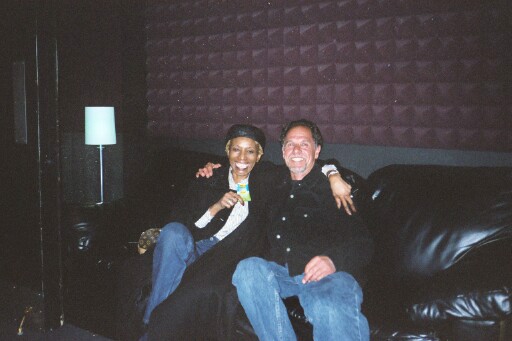 Each of the 12 songs on the album is in a different genre with a unique feel and varied musical personnel under the direction of producer Cody LePow. If you like the album or any of the individual songs and you're able to buy a download, it would be much appreciated in these trying times. Visit this link to learn more, find links to listen to songs, order a physical CD, or purchase download
s.
Discount code below. Order yours today.
Now on sale through May 31
There is no book to compare to Milt McAuley's extensive flora of the plants of Southern California. The plants covered grow far beyond the Santa Monica Mountains. Click on
this link
to learn more and order your copy. Then enter this discount code at checkout:
Spring 2020-20%off

This special offer is available only to readers of this newsletter for the month of May.