June 2022 HerbWalks & OjaiHerbal Newsletter
Please join me this Saturday, June 4, at 11 a.m. at Ojai's one-of-a-kind, world renowned outdoor bookshop, Bart's Books, for a free talk and book signing event. I'll share some of the backstory behind the writing of the book and Bart's will have copies available for purchase and signing. If you already have it and would like yours signed, you're welcome to bring it. In any case, please stop by. I'd love to meet you and share the book with you.
I'm taking my show on the road! Esteemed San Luis Obispo forager, Nan Cole, invited me to be the guest presenter at her outdoor event on Saturday, June 11. Read the article below to learn more and find out how to sign up with Nan. Space is limited.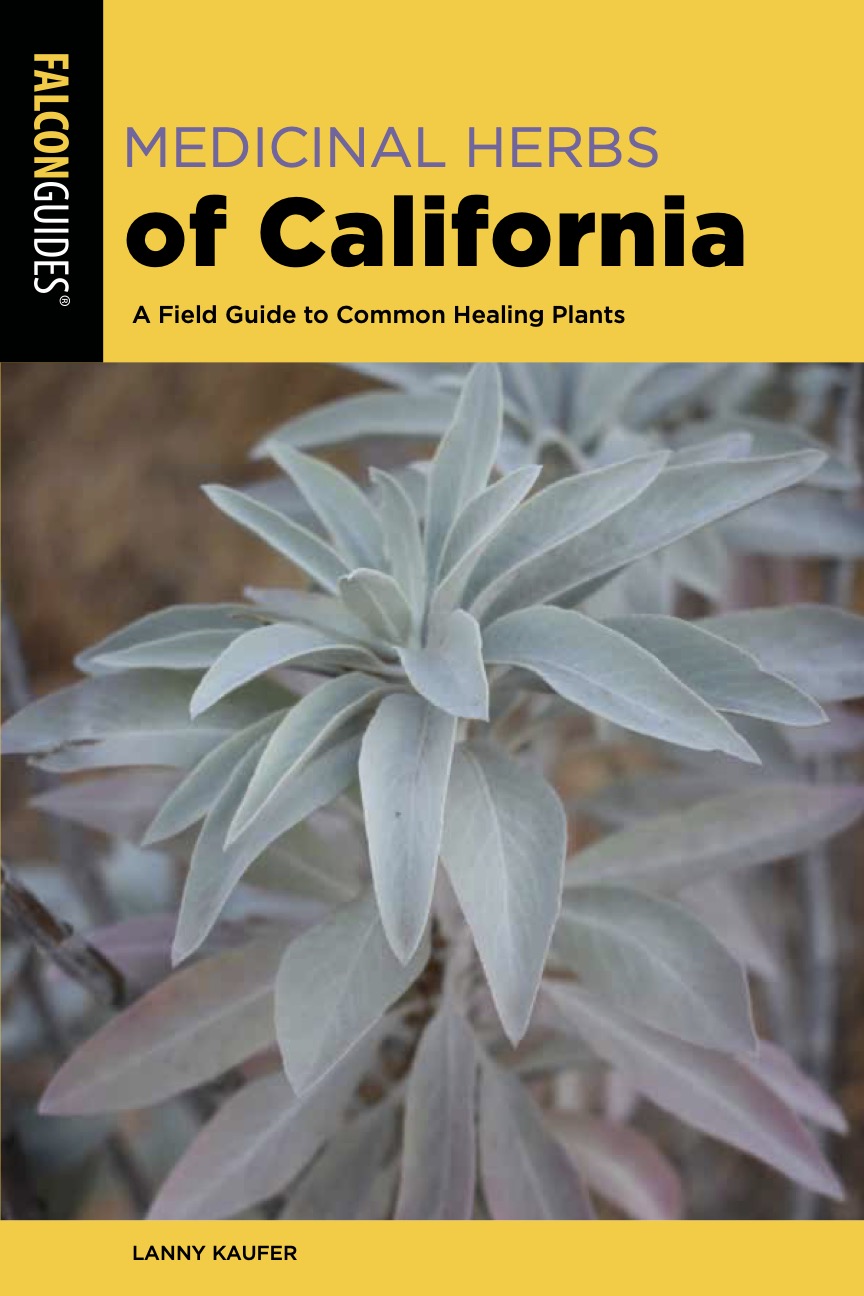 After two months of waiting for paper to make its way through the supply chain, the reprint of my book is back in circulation. If you've already purchased my book, thank you! Remember, local authors and independent outlets appreciate when you buy direct from them in person or at their websites. I always have books with me at my events. And you can order the book on my website by visiting
this link
or clicking on the photo above. (Use the
"Order notes (optional)"
field at checkout to request a simple autograph or a book signed to your name.)
You also can find them in Ojai at Bart's Books, Rainbow Bridge, Farmer & the Cook, Shangri-La Care Cooperative, Sespe Creek Collective, Wheeler Gorge Visitor Center, Poppie's Art & Gifts, Ojai Valley Brewery, and Ojai Valley Museum; in Ventura at Ema's Herbs, Green Thumb Nursery, and Ventura Spirits; in Santa Barbara at Chaucer's Books; in Solvang at The Book Loft; and, hopefully, wherever fine books are sold.

Please see the article below, revised and reprinted from last month's newsletter, about the hyperlinked bibliography I created as a free online supplement to make the sources of information cited in the book easily accessible.
Carrying on our monthly tradition, Rondia and I are leading an evening hike to watch the June Supermoon rise over Black Mountain on Monday, June 13. Read the article below or click on the image above to learn more and sign up. Photo: Joe P. Powers
People! If you can go on only one hike with me this year, consider Pine Mountain, especially if you've never been up there. It feels like worlds away from where most of us live.
Click here
or on the photo by Erika Klohe above to learn more and sign up.
Click on the flyer and adjust size as needed on your device. Photo of Lanny making a Chumash toothbrush by Linda Blue

Medicinal Plant Workshop in San Luis Obispo

San Luis Obispo forager Nan Cole has invited me up for a very special event on Saturday, June 11, from 10 a.m. to 3 p.m. We'll start with a 2-hour medicinal plant walk in the morning, followed by an afternoon plant talk, Q&A session, and hands-on medicinal herb activities with me and Nan from 1:00 to 3:00 p.m.

The afternoon session will include foraged snacks, a wild tea tasting, and an herbal steam inhalation. I will have copies of my field guide, Medicinal Herbs of California, for sale and signing before and after the walk and workshop. The walk will highlight some of the key herbs in the book as we meet the plants on the trail.

Nan recently interviewed me on Instagram Live about the upcoming workshop. Here are links to the first interview on May 5 and the second interview on May 27.

Please visit Nan's Instagram page and DM her to sign up.

I recently made my book's cited sources much more accessible. Read on below. Photo by Michael Kaufer of Rondia and Lanny at a book signing

NEW: A hyperlinked bibliography for Medicinal Herbs of California

Did you know that my field guide, Medicinal Herbs of California, has over 350 citations referencing the sources of information I present? Those citations required 176 bibliography entries for books and online journal articles to back them up.

As you, no doubt, have noticed, URLs are long and there's no convenient way to transfer them from the printed page to a web browser. So I created an online, hyperlinked bibliography for you, my loyal readers. You can find it on my website at this link.

June is the second of 3 months this year to feature a full supermoon, appearing larger than usual due to its close proximity to the Earth. Photo: Joe P. Powers

Supermoon Sunset Nature Hike on Monday, June 13


June will probably be our last full moon hike until the fall because the moon rises so late in July and August. So please join me and Rondia for the June Supermoon Sunset Nature Hike on Monday evening, June 13, from 6:30 to 8:45 p.m.

We'll gradually hike about 1.5 miles to a spectacular vista point, encountering some elevation gain on a well-worn, dirt fire road with uneven footing in places. Along the way we'll stop to meet some valuable edible and medicinal plants.

Visit this link to read more and sign up for the hike.

Celebrate the Summer Solstice on a "sky island" on top of the world


If you've walked or hiked with me this year (or any year), you've probably heard me rave about the special beauty of Pine Mountain. Please join our annual Summer Solstice Nature Hike on the Reyes Peak Trail on Saturday, June 18. We'll visit some of the most spectacular scenery and habitat that Ventura County has to offer at an elevation of 7000 feet(!).

According to Craig Carey, author of Hiking and Backpacking Santa Barbara and Ventura, the Reyes Peak Trail along the northern slope of the peak is "quite simply one of the most beautiful stretches in the southern Los Padres."

Visit this link to read more and sign up.

Click on the USFS logo above or the hyperlink below to visit the newly redesigned Ojai Ranger District webpage for the latest info on trails, campgrounds, closures and more.

PLEASE NOTE: Fire restrictions will be implemented throughout the Forest effective May 27. These restrictions will affect the use of campfires, stoves, smoking materials, and internal combustion engines, and will remain in effect until January 31, 2023.

Are you interested in collecting small amounts of plants in the National Forest for personal use? Contact Forest Botanist Heidi Guenther at heidi.guenther@usda.gov.

'Condor' John Hankins is doing an amazing job editing the Sierra Club's Condor Call. Check it out and consider joining the Santa Barbara - Ventura Chapter.

Photo of the Ojai Meadows Preserve by Ojai Valley Land Conservancy

Wetland Wednesday Herb Walk on June 29 at 5:00 p.m.


Please join me and my wife Rondia for the third in a series of leisurely evening strolls on the historic wetland that is now the Ojai Meadows Preserve on Wednesday, June 29, from 5:00 to 7:00 p.m. We'll identify native plants that have been used for centuries by the Chumash and other Indigenous people of California for shelter, food, medicine, fiber, ceremony and much more.

Gardeners will discover how these plants can be used in home yard and garden landscapes. We'll view first-hand the many benefits of the preservation and restoration of this special piece of land by the Ojai Valley Land Conservancy (OVLC).

Visit this link to read more and sign up.

Screenshot from YouTube video of Kathy Moine, Sales Manager at Green Thumb Nursery, Lake Forest, holding a Tropical Milkweed plant.

Green Thumb demystifies controversy over Tropical vs. Native Milkweed for Monarch Butterflies


Green Thumb Nursery is a small family-owned chain of full service nurseries in 5 Southern California locations, including Ventura. They have a surprisingly good collection of native plants and are committed to customer education. Lake Forest store Sales Manager Kathy Moine has done her homework on the subject of the proper varieties of Milkweed for Monarch Butterflies. To quote the text accompanying her video:

"Unfortunately, there is a lot of incorrect and misguided information circulating around the internet on Tropical Milkweed and Native Milkweed regarding their impacts on the Monarch Butterfly so we wanted to take the time to put together a well-researched fact-based video to help to set the record straight and to provide more clarity on the subject."

Visit this link to watch the entire video.
|