May 2022 HerbWalks & OjaiHerbal Newsletter
Get ready for what may be a once-in-a-lifetime experience! On Sunday, May 15, our monthly Full Moon Sunset Nature Hike coincides with a total lunar eclipse. The next time we'll be able to see one earlier than the middle of the night is August 6, 2036. Click on the image, the Herb Walks Events listing below, or read the article for details and registration.
Rondia and I are continuing our new series of easy evening Herb Walks at the Ojai Meadows Preserve on Wednesday, May 18, from 5:00-7:00 p.m. Click on the image above, the Herb Walks Events listing below, or read the article to learn more and sign up. Photo: Ojai Valley Land Conservancy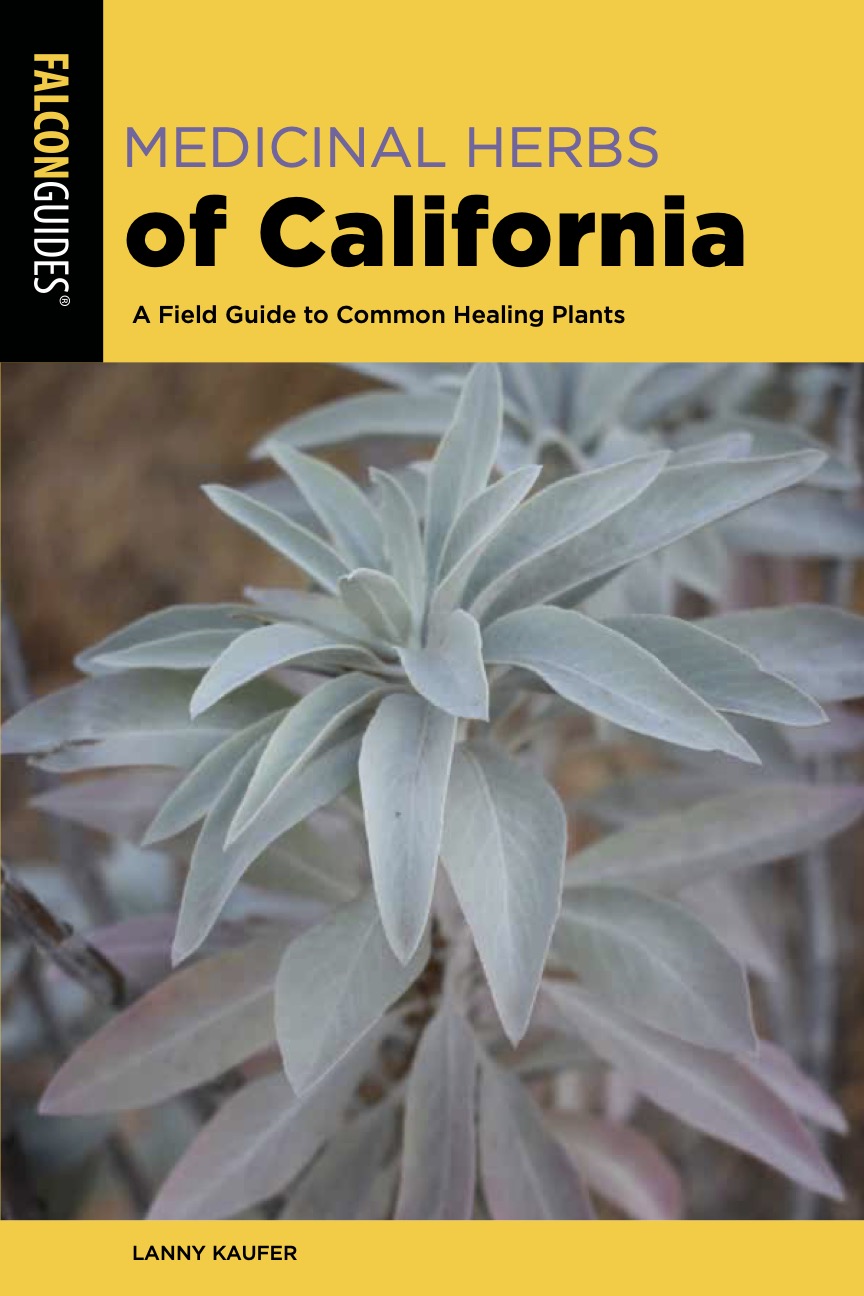 Six weeks after the release of my book, it sold out and the publisher ordered a reprint. Now, after two months (!) of waiting for paper to make its way through the supply chain, the reprints are here. If you've already purchased my book, thank you! Everyone else can order the book online by visiting
this link
or clicking on the photo above. Use the
"Order notes (optional)"
field at checkout to request a simple autograph or a book signed to your name. Remember, local authors and independent outlets appreciate when you buy direct from them in person or at their websites. I always have books with me at my events. You also can find them
in Ojai
at Bart's Books, Rainbow Bridge, Farmer & the Cook, Shangri-La Care Cooperative, Sespe Creek Collective, Wheeler Gorge Visitor Center, Poppy's Art & Gifts, Ojai Valley Brewery, and Ojai Valley Museum;
in Santa Barbara
at Chaucer's Books;
in Solvang
at The Book Loft; and, hopefully, wherever fine books are sold.
And please see the article below about the hyperlinked bibliography I created as a free supplement to make the sources of information cited in the book accessible.
If you think this photo of Potrero John Canyon is beautiful, just wait until you see it in person. We're going back for our annual spring visit on Sunday, May 22, Click on the photo or
this link
to learn more and register.
Purple Sage (Salvia leucophylla) has been spectacular this spring at the Harmon Canyon Preserve. It's definitely in its happy place there. Please join me and a group of like-minded nature lovers on Saturday, May 28, for an Edible & Medicinal Plant Walk. You know the drill now. Click on the photo, the Herb Walks Events listing below, or read the article to get instructions for signing up. Photo: Ventura Land Trust
May 15 is your best chance to see a lunar eclipse at a decent hour of the evening for the next 14 years.

Full Moon Sunset Nature Hike and Total Lunar Eclipse!


Please join me and Rondia for a potential once-in-a-lifetime event: a Full Moon Sunset Nature Hike and Total Lunar Eclipse with complete visibility on Sunday evening, May 15, from 7:00 to 9:30 p.m. The next time a total lunar eclipse will be visible in Ventura County before 1 a.m. or later at night is August 6, 2036.

We'll gradually walk about 1.5 miles on a well-used dirt road with gradual elevation gain to a vista point above the Ojai Valley where we can watch the sunset, moonrise, and total eclipse. By the time the moon rises, it will already be in partial eclipse, reaching maximum total eclipse at 9:11 p.m.

Visit this link to read more and sign up for the hike.

Metric tons of White Sage ( Salvia apiana) are being poached from Southern California's public lands to supply an international demand for smudge sticks. This plant is deeply rooted in the cultures and lifeways of the Indigenous communities of Southern California and northern Baja, the only region where white sage naturally occurs in the world.

On Earth Day, April 22, the California Native Plant Society premiered Saging the World, a short documentary produced by Rose Ramirez, Deborah Small, and CNPS to foster awareness and inspire action for white sage. The screening included a panel discussion with Native advocates from the film.

Please become aware of this situation and find out how you can become part of the solution instead of the problem. Visit this link to learn all about it and sign up for future screenings of the documentary. Thank you!

Photo of the Ojai Meadows Preserve by Ojai Valley Land Conservancy

Wetland Wednesday Herb Walk on May 18 at 5:00 p.m.


The Wetland Wednesday Herb Walk in April was a hit so we're doing it again. Please join me and Rondia for the second outing in this new series on Wednesday, May 18, from 5:00 to 7:00 p.m. The pond and native plants are still looking good and serve as testaments to the vision of the Ojai Valley Land Conservancy, creators and stewards of the Ojai Meadows Preserve.

Visit this link to read more and sign up.

I just made my book much more accessible. Read on below.

NEW: A hyperlinked bibliography for Medicinal Herbs of California

Did you know that my field guide, Medicinal Herbs of California, has over 350 citations referencing the sources of information I present? That number, in turn, required 176 bibliography entries for books and online journal articles. At first, my wonderful publisher, Falcon Guides, balked at adding so many citations and a bibiliography, explaining that field guides are not like academic textbooks. When I replied that I couldn't share the science behind the medicinal properties and conservation status of the herbs without showing where I got the information, they understood and provided the necessary ink and pages.

The problem is that URLs can be long and there's no convenient way to transfer them from the printed page to a web browser. That's why I created an online, hyperlinked bibliography for you, my loyal readers. You can find it on my website at this link.

Potrero John Creek is calling you


Are you ready to immerse yourself in wild nature? Join me Sunday, May 22, for a Nature Hike on Potrero John Creek, deep in the Sespe Wilderness of the Los Padres National Forest. Beginning at 9 a.m., a 20-mile car caravan will take us from Ojai to the trailhead. We'll return to Ojai about 3 p.m.

Starting our hike at an elevation of 3700 feet, we'll meet a diverse group of plants representing the upper Chaparral and Riparian Woodland plant communities of Southern California. This will be an easy-to-moderate hike of about 3 miles round-trip with sections of mild elevation gain and a few short creek crossings.

Visit this link to read more and sign up.

Have you been to Ventura's Harmon Canyon Preserve yet?


In December 2017 the Thomas Fire swept through Harmon Canyon in East Ventura, leaving a barren landscape of ash and black sticks. Now, thanks to the Ventura Land Trust, Harmon Canyon Preserve, established in 2020, is Ventura's first large-scale nature preserve. And it's made a remarkable comeback since the fire.

We'll return there for a 2-hour Edible & Medicinal Plant Walk on Saturday, May 28. We will be on a wide, level, dirt road with virtually no elevation gain, making this walk suitable for physically fit beginning hikers with the proper footwear.

Visit this link or click on the photo above to read more and sign up.

Lanny leading a nature hike in the old-growth White Fir forest on Pine Mountain, within the area slated for a logging project.

UPDATE: Lawsuits Challenge Pine Mountain Logging Project

You may recall a series of articles in these newsletters in 2020 requesting your comments to the U. S. Forest Service about the proposed logging project on Pine Mountain. Last week, on April 27, Santa Barbara's Environmental Defense Fund, on behalf of Keep the Sespe Wild Committee (KSWC), Los Padres ForestWatch (LPFW) and others, filed a lawsuit against the decision by Los Padres National Forest to log up to 15,000 old-growth native conifers from Pine Mountain and Reyes Peak ridge north of Ojai, despite receiving 15,000 comments from the public requesting an environmental review. The City of Ojai and the County of Ventura are filing their own lawsuits.

Click on the USFS logo above to visit the newly redesigned Ojai Ranger District webpage for the latest info on trails, campgrounds, closures and more.

Are you interested in collecting small amounts of plants in the National Forest for personal (non-commercial) use? Contact Forest Botanist Heidi Guenther at heidi.guenther@usda.gov.
|