Photo by Rob Clement
Julie Tumamait-Stenslie returns on  November 16
After 2 years, we'll be graced by her presence once again on an Herb Walk 
Join Lanny and renowned Chumash tribal leader and educator Julie Tumamait-Stenslie for an Herb Walk followed by a Chumash crafts workshop using indigenous materials. Location to be announced soon with more details so please follow our HerbBlog, follow us on Facebook, or watch for an email announcement.
This event will be limited to 25 people on a first-come, first-served basis. The last time Julie joined an Herb Walk, in November of 2011, over 60 people signed up and a second day had to be scheduled to try to accommodate everyone. Since that time she has been very much in demand and extremely busy with a variety of projects including the vital work she does as Tribal Chair of the Barbareño/Ventureño Band of Mission Indians (Chumash).
As this is likely to be a popular event again, we may have to, for the first time ever, ask for pre-payment with registration prior to the event in order to guarantee a space for you. For now, if you're interested in attending, you are encouraged to sign up at this link. As the date gets closer, you will receive an email with instructions for completing registration and payment, if necessary.

 Herb Walks Store     Featured Book
 for October 2013



Think globally and forage locally



Filled with down-to-earth wisdom and hands-on experience of author Christopher Nyerges, who has led wild-food outings and survival hikes for over 40 years, Guide to Wild Foods and Useful Plants details the medicinal and practical uses of 70 common wild plants. A handy A-Z format; keys to leaves, fruits, and seeds; and more than 100 black-and-white photographs and drawings enable readers to identify plants a a glance.

Guide to Wild Foods and Useful Plants is more than a listing of plant types—it teaches how to recognize edible plants and where to find them, their medicinal and nutritional properties, and their growing cycles. It also includes fascinating folklore about plants, personal anecdotes about trips and meals, simple and tasty recipes, and photographs. In addition to common native plants, it includes many so-called "weeds" found in the urban and suburban landscapes.

By purchasing this book from the Herb Walks Store, you are supporting Herb Walks and the HerbWalks.com website. Thank you!


 
Taste of Herbs Flavor Wheel
Click on the image above and you should be able to enlarge and view it in detail

Thanks to Rosalee de la Forêt, who created it, and the Gallagher family at LearningHerbs.com, who made it available as a free download, the world has been blessed with this remarkable new tool for understanding the properties of herbs. Ms. de la Forêt has devised a brilliant way to synthesize the herbal traditions of Western, Ayurvedic and Traditional Chinese Medicine into a wheel based on the Wine Aroma Wheel used by oenologists to identify the tastes and aromas of wines.




   

In addition to most of the common medicinal herbs and culinary herbs and spices, the Wheel includes a number of local Southern California plants that we encounter on Herb Walks such as California Poppy, Willow, Nettle, Elder Flower, and Wormwood ( Artemisia species).
I learned about the "Taste of Herbs Flavor Wheel" from my old friend and teacher Michael Tierra of the East-West School of Planetary Herbology where Rosalee de la Forêt was once a student. Kudos to everyone who contributed to this project. It's a great addition to every herbal student's library.

NOTE: When you download the Wheel from LearningHerbs.com you will be added to their mailing list.



Can you picture yourself on that trail?


Our hike here for the Fall Equinox was so great and a good number of people expressed that they wished they could have made it. So we're scheduling an encore Nature Hike on Sunday, October 27, on the Reyes Peak Trail, starting out on Pine Mountain at elevation 6900 feet.

The outing will start at 10:00 a.m. with a carpool caravan of about 35 miles up Highway 33 from the Maricopa Plaza, (1201 Maricopa Highway, Ojai, CA 93023) to the Reyes Peak trailhead. The last 5.5 miles are on a narrow, winding road (newly paved) and the last half-mile is dirt. Trucks or SUV's are preferred but most passenger cars can also make the drive unless it has rained recently.

The group will start walking into the Sespe Wilderness from the trailhead at about 11:30 a.m., stop for lunch in the forest, and return to the trailhead by 3:00 p.m., arriving back at the Maricopa Plaza by 4:00 p.m. We will hike on a narrow, well-used trail through Jeffrey Pine, Ponderosa Pine, Sugar Pine and White Fir, stopping frequently to identify and discuss native plants, birds and wildlife. There will be some elevation gain and loss as we skirt the north side of Reyes Peak, sometimes across steep hillsides.

You can read more and register at the event page.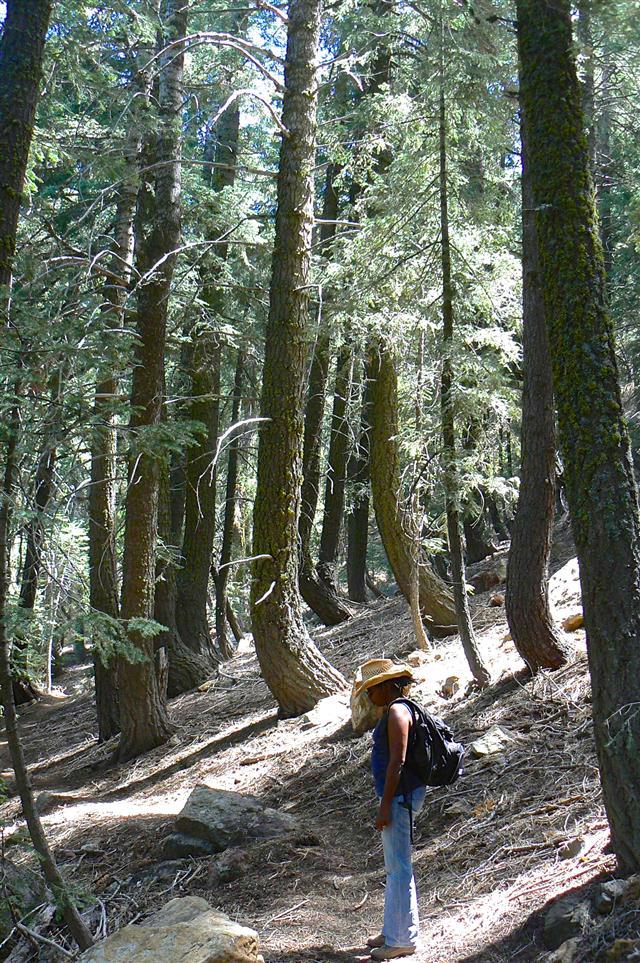 Rondia in the White Fir forest
Photo by Rondia Kaufer




Interview with Dr. Jim Adams





As usual, Dr. Jim "tells it like it is"





Our illustrious special guest over the past two seasons of Herb Walks, Professor Jim Adams of the USC School of Pharmacology, was interviewed on KPFK 90.7 FM on Saturday, October 5. The interview was conducted by Carter Wallace of the Institute of Urban Ecology for his weekly program, Focus on Food.

Hear the entire interview here.