You'll need Time to Wander... There's always something to see in the gardens and orchards, but spring brings an avalanche of color and tasty treats. This is the height of the show in the kitchen garden,
lots of foxglove and colorful spring lettuce, chard and winter kales. The gardens surrounding the parking lot are filled with California poppies. Everybody loves the poppies!
The first of the Louisiana iris are popping flowers, Vermillion Queen begins the show for us. We began collecting these in 2003. Louisiana iris collecting is an obsessive sport, with the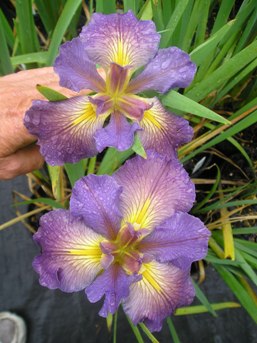 Palmetto Purple

introduction of new varieties every year that can cost up to $200.00 for a single plant, and

given the mind blowing color range on this group of plants you might need a second mortgage on the house before you've gotten your fill. We've taken a large group of the best of our collection and are offering a great deal on them. Buy 5 for $30.00. These collector plants are usually $7.99, so this is a great way to catch the iris collecting bug without breaking the bank.

The orchards that surround the perimeter of the property are beginning to show promise of a good fruiting season. The apples, pear and citrus crop is set and beginning to show size. The persimmons are in full flower and we're harvesting mulberries. Our perfect spring gave us a nice crop of Pakistan mulberries,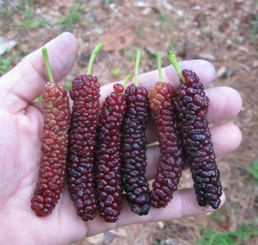 Pakistan Mulberry

these beauties are over four inches long! The flavor of mulberries is fantastic, like a mix of raspberry and blackberry, with no seeds! The trees are fast growers and offer some of the best shade with their large heart-shaped leaves.

The native wildflower project is coming along nicely; we planted pounds of coreopsis, phlox and gaillardia in the winter of 2009 along the highway that fronts the nursery, as well as in two large patches in the orchard. This springs show is amazing! We're smitten with native wild flowers, and are beginning to offer a nice assortment of wildflower starts at the nursery year round, and will have seeds of native species in the fall.

Everything is in full glory and the weather is perfect for a day in the gardens! So load up the kids, dogs, cat's, birds and other loved ones (no snakes, goats, or Georgia thumpers, please!) Come visit, we'd love to see you.