Early Winter Orchard Notes....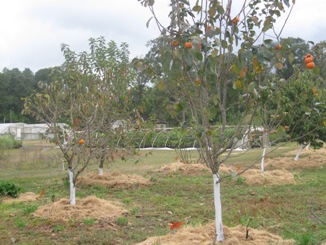 Life gets a little crazy around this time of the year, and I sometimes think we all need to take a little break and go out to hug a tree to get grounded, no pun intended. A daily walk through the garden does wonders for slowing you down and getting you in tune with the natural world around you. I love the fall and winter garden; trees shedding their leaves, bringing food to feed the soil food web. It's the promise of a new beginning. It gets me in the mood for planning the upcoming plant projects and new plantings. This year we'll focus on building better soil in the gardens and orchard. We're learning the art of natural farming, less digging, and no tilling to destroy the soil web, just well timed scatterings of cover crop seeds and using mulch layered with organic fertilizer under the trees to feed the plants. We're getting good success and the plants are thriving.

The nursery is humming along nicely. We've got the new crop of fruit trees up in retail, lots of interesting new varieties this year as well as a great assortment of tried and true reliable fruiters for the deep south. This has been a busy fall mail order season, thanks to all that have made it a good one so far. If you haven't got your order in yet or visited the nursery, do so soon, some of the more intersting fruits are in short supply this year.

PLEASE TAKE NOTE...We'll be taking our usual holiday break this year. The nursery will be open this week Wednesday 21st through Saturday the 24th. We'll close the between the December 25th through January 3rd to give everybody a chance to enjoy the holidays. We'll be back open Wednesday January 4th.

Have a great holiday
Ted, Brandy, Marquetta, Vicki, Mindy, Josh and Rebeca

Workshops....
Coaxing food and beautiful flowers from the earth in this climate can be a challenge, and attending a workshop can help you leap ahead in better ways to do it. We're working on an interesting line up for the upcoming winter and spring season, and have invited some well seasoned gardeners to talk about subjects they're good at. Stay tuned for the mid winter newsletter for the spring workshops, and send us your ideas on subjects that interest you.

Gifts for Gardeners...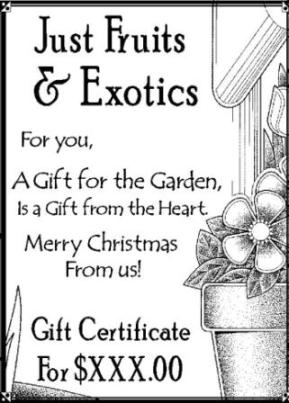 Finding good gifts to give a gardener can be a challenge, especially if the gardener is an old hand at it and seems to have every plant there is out there. We've got a great collection of offbeat fruit trees and unusual ornamentals and we're always good at helping pinpoint the right plant to give someone. If you think they'd enjoy the time picking out their own plants, we've got gift certificates. There is still time to get one in the mail to you, or at the last minute get one emailed or faxed to you.

Visit the Tasting Table..

There is always something to sample on the tasting table in the garden shop. It's the seasonal bounty of fruit from our orchard that we love to share with you. Visiting the tasting table is a great way to learn about what fruits it's possible to grow, and get a taste of different varieties to make a more educated selection for new fruits to plant in your orchard. Here's a sampling of what's on the table this month;

PERSIMMON The season is almost over, but a few of the late ripening varieties like Fire Crystal, Hao River, Tamopan and Fuyu linger on. We'll have dried persimmon throughout the winter.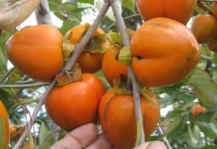 OLIVES We'll have marinated ' Arbiquinia' olives on the table all winter. Taste a winter bounty that's possible from your own trees..

CITRUS Yes, it's finally citrus season again. Satsumas, Tangelos, Navels and more.. It's liquid sunshine.