TRIBAL NOTES
Happy New Year! In spite of a long dry fall, the skies have finally opened up and given us an abundance of winter rains, and with it we're finally getting the cold weather that will insure a good crop of fruit this year. Hooray!. I don't know about you, but I look forward to this time of year, as we'll soon start grafting the new crop, finish harvesting the citrus, and we look forward to seeing old friends/customers who we often don't see but once a year.
The orchard looks great with its newly planted winter cover crop. This year we're exploring poly culture cover crops. We've blended a mix of seven different types of seed; clover, triticale, cereal rye, Essex Rape, purple top turnip, broad leaf mustard, and winter peas. The combination will give us a diverse mix to help build organic matter, suppress those pesky nematodes, and encourage beneficial insects into the orchard. It should be an interesting study.
The nursery is packed with a huge selection of fruit trees this year. Our collection of citrus is over flowing with interesting varieties like
, Australian Finger Lime with long finger like fruit filled with little lime balls inside. Wekiwa Tangelos look like round lemons on the outside but are pearl pink inside and have a spicy almost citrus bubble gum flavor. Brown Select Satsumas ripen two weeks out ahead of Owari and Kimbrough, making it the first citrus we'll pick in the orchard. We did manage to get in a crop of grafted Christmas loquats this year. The fruit is the size of small plums on
Christmas and grafting insures they'll fruit in a couple of years. The olive collection is expanding as more studies are showing a broader range of varieties that do well in our area.
We've got Ascolana and Pendolino now, and in spring the Mission and Arbosana will be ready. The persimmons are starting to sell out, but we still have most of the popular varieties. Don't wait until the last minute to get those or they will be gone.
ATTEND a WORKSHOP


One of my favorite quotes is "a voyage of a thousand miles begins with the first step". If you love to garden, and want to learn to be successful at it then come spend some time with us at one of our winter workshops. We'll help demystify the process of getting food from earth, and teach you some of the tricks of the gardening trade.
We still have a few spots left in the grafting class that will be held this Saturday the 12th, this is a class you must sign up for in advance so if you want to learn how to graft call 926-5644 to register.

PRUNING in the ORCHARD
It's winter again, and the time for pruning fruit trees is at hand. Fruit tree pruning is not as difficult as most people think. Yes, it can be taken to the level of art, but the average backyard orchardist just wants to keep his trees healthy and productive, and low enough to allow for easy picking. If left un-pruned, all fruit trees will bear fruit, but the plants will become too tall to easily harvest, the fruit will be small and of reduced quality, and the trees will develop a habit of alternately bearing heavy crops one year and light crops the next. All of these problems can be overcome with a little training when the plants are young, and an annual pruning to keep them in shape. READ COMPLETE ARTICLE HERE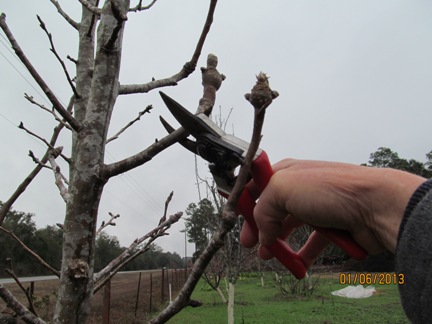 -Some points to remember when pruning fruit trees:

Get your training done early in the trees life. Most fruit trees settle down to bearing good crops by the third year. Major limb removal after this establishment period will delay production.

Remove root-stock suckers. Most fruit trees are grafted; the first 6 to 10 inches of what sticks out of the ground is the root stock. If sprouts are allowed to grow from the root stock, tthey can quickly overtake and destroy the grafted part of your tree.

Clean up the debris that is left from pruning. Burn it, or compost it well away from the orchard, as it can harbor disease and pests that will return to your trees. Also, clean your tools, (shears, pruners, loppers, and saws) between every tree, with a 25% bleach solution or 50% solution of rubbing alcohol.
Finally, be brave. Many gardeners hesitate to prune as much as needed, fearful of harming their trees, vines, and brambles. But under-pruning can be as bad as over-pruning. So study up: read the IFAS guides, attend one of our pruning classes or look for well-maintained plants in your neighborhood and ask the owner for advice. Once armed with information, arm yourself with clean, sharp tools, then get out there and do some pruning

LOCAL VEGGIES RULE!!
We'd like folks to know that we grow our own vegetable plants. You won't find a Bonnie's shipped-in plant around here. Our collection is a mix of University of Florida recommend varieties, and heirloom non-GMO varieties.
We do unusual cell packs like kohlrabi, artichoke and off beat asian greens so you can plant just a few and explore a new taste. Lettuce is a passion of ours so you'll find usually up to 10 varieties on the benches. We trial many varieties in our gardens so we'll have local knowledge on what and when to plant as well how to grow them. We're good at helping you get success
THE JF STRAWBERRIES crop is grown and ready to go.This year's crop includes Sweet Charlie and Camerosa, two super
sweet varieties that grow and fruit reliably in the deep south. 4 inch plants at nursery for $1.49 each. You know you need some....

SAVE IN THE SALE AREA
Make sure you stop off at the sales area on your next visit as there is always some good deals to be found.

This weeks collection includes

CITRUS $19.99 many varieties to choose from....

MYSTERY POMEGRANATES $14.99 These are ones that have lost their name tags, all great varieties just a mystery as to what they are....

50% off selected perennials, cell pack veggies and ornamentals.