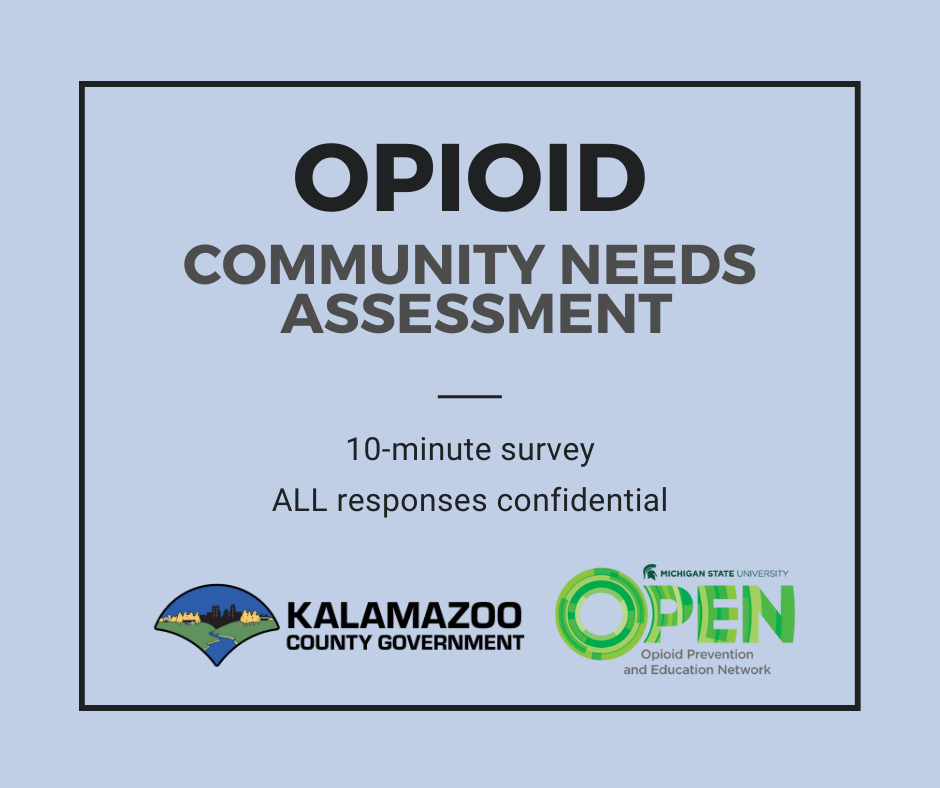 Take the Opioid Community Needs Assessment
survey by Sept. 22
All community members are encouraged to take the Opioid Community Needs Assessment to deepen our understanding of the opioid crisis and empower us to make the best use of National Opioid Settlement funding to save lives, prevent opioid use, and remedy the impacts opioids have on our community.
The confidential 10-minute survey aims to bring together our community members' expertise and lived experiences to identify local strategies, inform new funding opportunities, and strengthen the community's understanding from a variety of perspectives.
If you need an auxiliary aid/service or other accommodation due to a disability to participate in this survey or would like to request the survey in a language other than English or Spanish, contact Kalamazoo County Government's ADA Coordinator at ADA@kalcounty.com or 269-384-8111 as soon as possible. We will try to make every reasonable effort as required by law to accommodate the auxiliary aid/service accommodation or language request, but we cannot guarantee that the request will be fulfilled if not timely submitted.
Board of Commissioners
Board of Commissioners meetings take place every first and third Tuesday of the month at 4 and 7 p.m. Join us at the Kalamazoo County Administration Building at 201 W. Kalamazoo Ave., Kalamazoo, MI 49007. Or attend virtually via Zoom! Now live streaming to Facebook,

YouTube,

and

Twitter

.
Adopt a Pet this Month

More than 60 animals were adopted from the Kalamazoo County Animal Services & Enforcement Department in August. Thank you to all who have adopted! Find your furr-ever friend and adopt a pet from Animal Services.

Learn More

Free Prescription Discount Cards

The Health & Community Services Department will continue to provide prescription discount cards to Kalamazoo County residents for free. Residents can pick up their cards Monday-Friday, 8 a.m. to 5 p.m.

Join KCCC's Climate Justice and Action Plan Advisory Committee

With the Kalamazoo Climate Crisis Coalition, we can create a climate-prepared and just community; please apply to be an Advisory Council member for developing the Climate Action and Climate Justice Plan for Kalamazoo County today!
| | | Kalamazoo Reptile & Exotic Pet Expo |
| --- | --- | --- |

| | | Kalamazoo Gun and Knife Show |
| --- | --- | --- |

| | | Fall Bike Celebration Tour |
| --- | --- | --- |
Are you looking for a career that includes a rewarding team, supportive management, and a chance to really make a difference in the community? Kalamazoo County is a great place to work, with great benefits and a great team.
We're urgently hiring for the following critical positions:
Trial Courtroom Clerk

Processes Court files and records for the Ninth Circuit court accurately and promptly. Works and assists in the courtroom during hearings, trials, and proceedings held virtually. Coordinates efficient processing of cases and courtroom proceedings.

Clinical Services Supervisor

K110 (A)

$68,142.12 - (I) $93,257.58

Supervises a variety of public health clinical functions in the areas of immunization, communicable diseases, and hearing and vision. Manages related public health programs. Conducts disease surveillance. Provides community education. Serves as a preceptor/liaison for medical residents and nursing students.

Operates emergency vehicles and patrols County areas to enforce traffic laws and respond to emergencies or other calls for assistance from the dispatcher. Investigates traffic accidents, domestic disturbances, and reports of criminal activity; conduct surveillance/searches and gather evidence.

Building Maintenance Technician

Maintains the grounds and buildings of county facilities. Maintains, repairs, rebuilds, and services small equipment as needed. Performs groundskeeping work and repairs to maintain the grounds of facilities and buildings. Conducts electrical and HVAC repairs. Prepares infrastructures for painting or remodeling.

Oversees security of court facilities assigned to them. Secures buildings and conducts security inspections of those who enter County or Court property. Intervenes in difficult situations and summons additional law enforcement.

Customer Service Specialist

Provides customer front desk support, including answering phone calls, emails, and inquiries regarding animal-related problems and legal issues. Documents citizen complaints and quarantines, facilitates the sale of dog licenses, and processes animal surrenders and adoptions.
|