THE CORBETT FOUNDATION NEWSLETTER


August-September and October-November 2019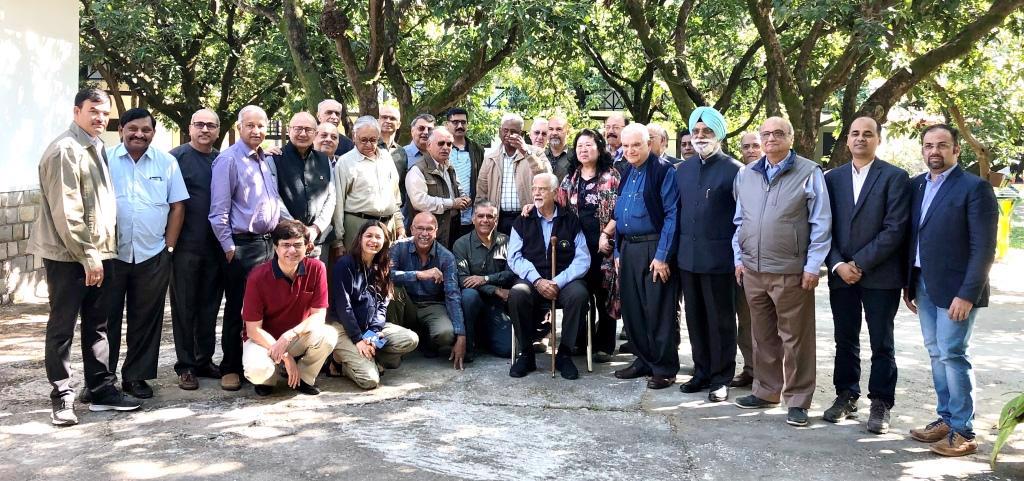 The Corbett Foundation celebrates its 25th Anniversary in Corbett Tiger Reserve
As a part of it's silver jubilee celebrations, The Corbett Foundation invited wildlife scientists, conservationists, retired bureaucrats, serving forest officials, bankers, industrialists, financial experts and its Board of Trustees together for focused discussion and deliberations on topics such as climate change, human-wildlife conflict, conservation of lesser known species and habitats, conservation of critical tiger habitats and corridors, and availability of financial resources for conservation programmes. Experts who shared their views include Dr M K Ranjitsinh (former Director, Wildlife Preservation), Dr K Ullas Karanth (Trustee, Centre for Wildlife Studies), Mr Ravi Singh (Secretary General & CEO, WWF India), Dr Vinod Rishi (former DG Wildlife), Dr AJT Johnsingh (former Dean, WII), Dr Asad Rahmani (former Director, BNHS), Dr Divyabhanusinh Chavda (former President, WWF India), Mr N Sunil Kumar (Head, RBS Foundation), Mr R P Singh (former APCCF Wildlife, M P Forest Department), Mr Ashok Mahindra (Trustee, Hem Chand Mahindra Foundation), Mr Nirmal Ghosh (US Bureau Chief, The Straits Times), Ms Prerna Bindra (conservationist, author and former Member, NBWL) and Mr Bimal Goculdas (CEO, The Dharamsi Morarji Chemical Co Ltd), among other distinguished audience members that included TCF Trustees and Board of Directors of Infinity Resorts. TCF Chairman, Mr Dilip D Khatau, presided over the proceedings.
TCF expresses its deepest gratitude to all the experts for their passion and dedication towards protection of India's natural heritage and a huge thanks to its donors, partners and well wishers for their support.
Mr. Kedar Gore, Director of The Corbett honoured with IUCN CEC Excellence Award
Mr. Kedar Gore, Director of The Corbett Foundation, who has spent over two decades in working for nature conservation and environmental protection, was presented with the IUCN Commission on Education and Communication Excellence Award 2019 for South and Southeast Asia. Mr. Gore was the first person to be honoured with this award instituted by IUCN (International Union for Conservation of Nature) in 2019 from the entire South and Southeast Asia region. The award was presented during the CMS Vatavaran Film Festival in Delhi on November 30, 2019 in the presence of Dr. Vivek Saxena, Country Head of IUCN India, Dr. Erach Bharucha, Director of BVIEER, Dr. N. Bhaskar Rao, Chairman of Centre for Media Studies and Dr. Balakrishna Pisupati, Regional Vice Chair of IUCN CEC.
The Corbett Foundation congratulates Mr. Gore on receiving this prestigious award.
We are short-listed in Best Wildlife Conservation Project categoruy of IRTA 2020





After several rounds and stiff competition, The Corbett Foundation has been nominated for the Best Wildlife Conservation Project category of the Outlook India Responsible Tourism Awards 2020. The winners will be declared on January 17, 2020 at the Responsible Tourism Summit to be held in Delhi.

We thank the Outlook group for this consideration and short-listing.
Predator-proof cattle sheds project launched in Kaziranga
The Corbett Foundation has launched a project titled 'Minimizing livestock depredation by tigers through modification of livestock shed by chain-link fences with community participation in Kaziranga National Park' in

collaboration with Van Tienhoven Foundation, The Netherlands.
We thank Van Tienhoven Foundation for its financial support towards this project that will modify 200 livestock sheds to make these predator-proof, thereby reducing cases of livestock depredation and human-wildlife conflict considerably.
To know more about this project, please click

here

.
Community Grassland Development - a win-win situation for people and wildlife
Agro-pastoral landscapes are often strongholds of birds, insects and other species. The Great Indian Bustard is one such species that survives well in such landscapes. The land of Kutch in Gujarat harbours hundreds of resident and migratory species of birds, and grasslands play an important role in providing excellent habitat to these species. Traditional gauchar (community grazing areas) were protected by local communities to provide grazing areas for domestic livestock. However, due to mismanagement and neglect, most of these areas have been lost to encroachment or engulfed by invasion of Prosopis juliflora, an exotic species. TCF has collaborated with the villagers of Kanakpar in Abdasa taluka of Kutch to revive 40 acres of gauchar to its past glory. With active participation of the villagers, the entire area was cleared of Prosopis and made ready for growing grasses for livestock, and for the benefit of birds and insects. With good rains this year, the grasses have come up well and will be harvested by the villagers for fodder. Hopefully, this project inspires other villages of Kutch to revive their respective gauchar areas, thus becoming a win-win situation for domestic livestock and wildlife, and a fine example of 'coexistence'.

TCF is grateful to Bombay Gow Rakshak Trust for its financial support towards this Gauchar Development Project.
Jungle Jasoos Game reaches over 300 schools in six Tiger Reserves
Jungle Jasoos -

a unique board game developed by The Corbett Foundation

- has reached out to over 300 schools and 6000 students from the six tiger reserves (Kanha, Bandhavgarh, Pench, Panna, Satpuda and Sanjay-Dubri) in Madhya Pradesh. The game helps in easy understanding of the complex conservation issues for the school-going children.

The Corbett Foundation is grateful to Hem Chand Mahindra Foundation for funding the game project and to M. P. Tiger Foundation Society for supporting this project in the state.


IUCN issues The Abu Dhabi Call





The Abu Dhabi Call, issued at the IUCN Species Survival Commission (SSC) Leaders' Meeting, urges governments to take emergency measures to save those species at the highest risk of extinction and tackle key threats that are driving population declines and extinctions. These include the lack of incentives for landowners and managers to retain wild species and natural habitats; poor or abusive practices in agriculture, fisheries, and forestry; wildlife crime; emerging infectious diseases; the disruption of water flow; inadequate management of waste and discharges; invasive alien species; and increasingly, climate change and ocean acidification.

Please read here for more information.
First photographic record of Smooth-coated Otter in Bandhavgarh
The Corbett Foundation is pleased to share a short note published in IUCN Otter Specialist Group about the First photographic record of Smooth-coated Otter ( Lutrogale perspicillata) in Bandhavgarh Tiger Reserve, Madhya Pradesh, India. This species was documented during TCF's buffer zone survey in Bandhavgarh Tiger Reserve of 2016 and 2017. The above-mentioned note can be downloaded

here

.