THE CORBETT FOUNDATION NEWSLETTER


December 2019 - January 2020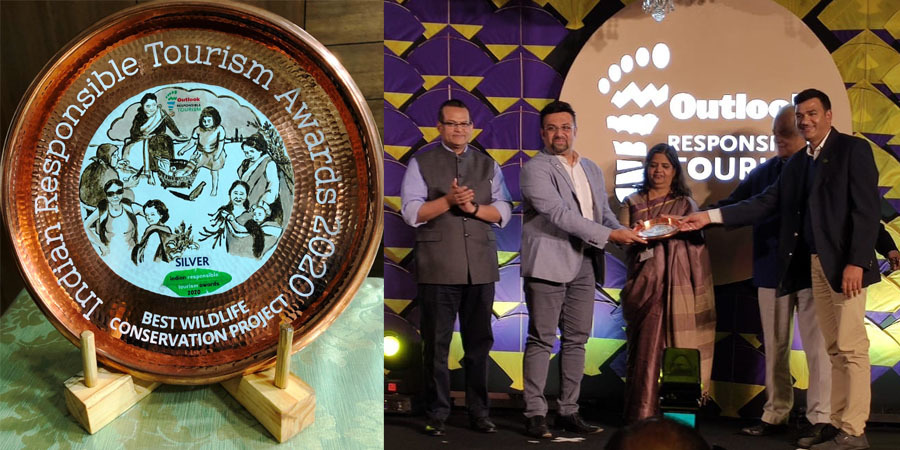 The Corbett Foundation wins Silver Award at the Outlook Responsible Tourism Awards 2020
We are delighted to share that The Corbett Foundation (TCF) received Silver Award in the 'Best Wildlife Conservation Project' category at the Outlook Responsible Tourism Awards 2020 held on 17th January 2020. The award was given based on TCF's landscape level holistic conservation work in Bandhavgarh Sanjay Dubri Corridor in Madhya Pradesh. TCF is privileged to be receiving this award amidst several national and international champions of responsible tourism and conservation fraternity.
The Corbett Foundation thanks the Outlook Group and the Jury for this recognition. We also thank Madhya Pradesh Forest Department whose support has been extremely crucial in project implementation and Jet Privilege Pvt Ltd for financing this project as part of #CSR. We also thank the villagers of the North Shahdol Forest Division without whose support and cooperation implementing this project would have been impossible. And last but not the least, special thanks to TCF's Board of Trustees for the valuable guidance and advice...as always.
Do watch this 1-min film on TCF's award-winnng project below.
Habitat restoration undertaken on 83 hectares in Madhya Pradesh
As a part of 'Preserving What's Precious' project, habitat restoration has been done over 83 hectares of degraded forest land in Bandhavgarh Sanjay Dubri Corridor #BSDC in Madhya Pradesh. Around 42000 saplings of local tree species were planted after the removal of invasive exotic species such as Lantana camara. All these plots have been fenced off to prevent livestock grazing. But locals have been allowed to harvest grass to stall feed their cattle, which is a win-win situation demonstrating a model for coexistence of wildlife conservation and local community!
Thanks to Madhya Pradesh forest department and Jet Privilege Pvt Ltd for the collaboration and support.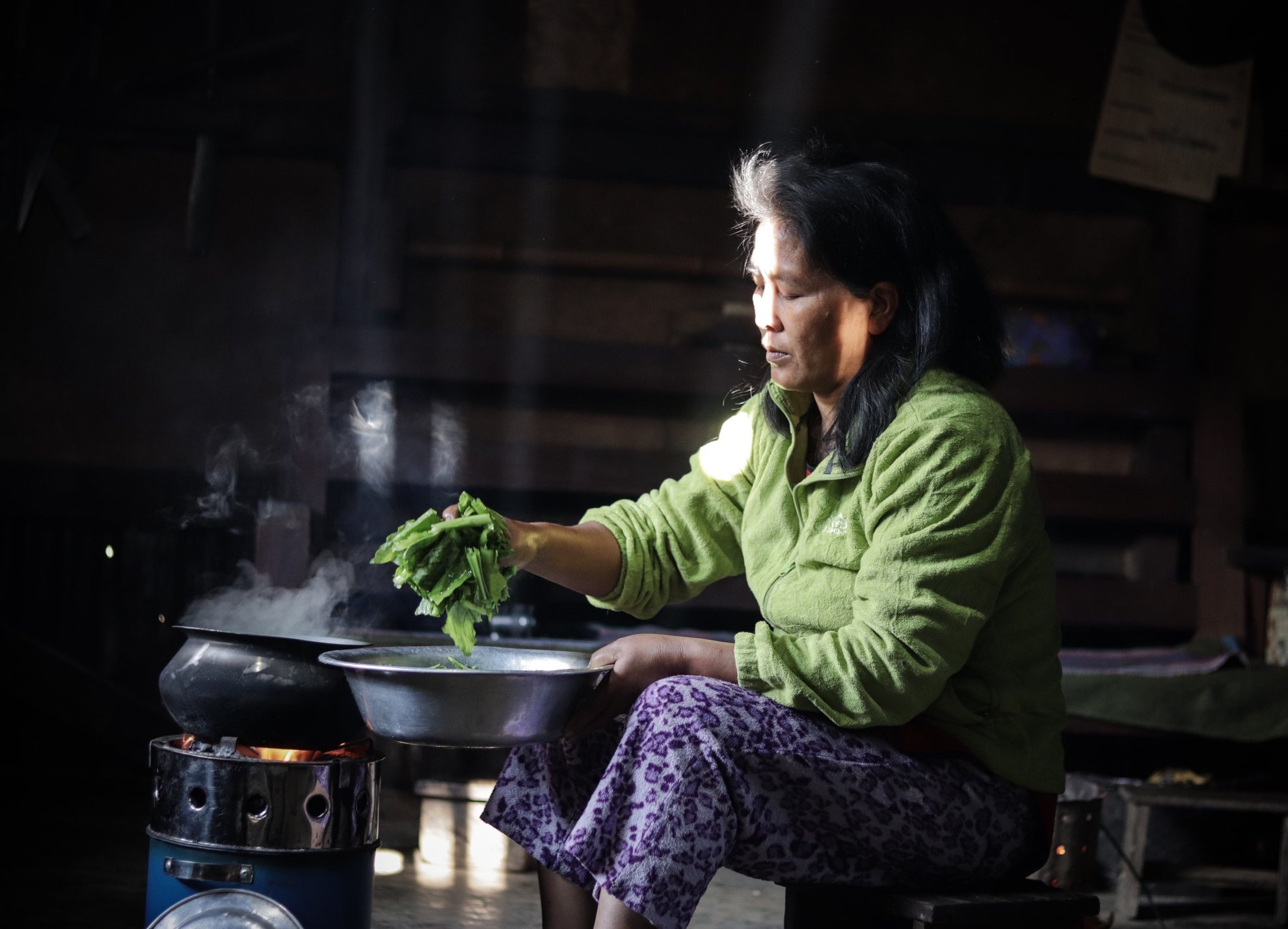 Transition to eco-friendly stoves in Tamenglong
Azuram is a little village in Tamenglong district of Manipur. Traditionally the local community has lived closely with nature for centuries. In recent decades, the extraction of resources has not been as sustainable as in the past and it has led to the degradation of the forest. Like Azuram, there are many other villages. The Corbett Foundation, with kind support from the Axis Bank Foundation, has been undertaking a project titled Systematic Rejuvenation of Indigenous Jungles and Nature (SRIJAN) spreading to villages like Azuram, Dailong and over a dozen. The community is being involved under SRIJAN for active protection of existing forests and regeneration of forests which have been degraded due to jhum cultivation (slash and burn) and overexploitation for fuelwood.
One of the interventions has been encouraging fuel-friendly stoves. This stove saves more than 50% of fuel while cooking. It is smokeless as there is continuous fan motor running. And the combustion of the fuel is almost 100%. This motor is run using minimum power and it can be run by both electric and solar power. The regulator controls the intensity of the flame.
TCF thanks Axis Bank Foundation for supporting this project in one of the remotest corners of the country where it matters the most.
Satpuda Landscape Tiger Partnership
Satpuda Landscape Tiger Partnership (SLTP), a consortium of NGOs working in the Central Indian Landscape of Maharashtra and Madhya Pradesh, had its annual seminar in Panna Tiger Reserve. Two days of intense discussions and deliberations were held on the conservation issues in the landscape. SLTP partners include The Corbett Foundation, Satpuda Foundation, BNHS, TRACT, Nature Conservation Society of Amravati, CAT, BAAVAN and co-funded and facilitated by Born Free Foundation, UK. WildCRU, Oxford University plays an important role of knowledge partner.

To know more about SLTP, please read

here

.
FIrst photographic record of Asiatic wildcat from Bandhavgarh Sanjay Dubri Corridor
Wildlife biologists from The Corbett Foundation and Aligarh Muslim University working in Bandhavgarh Sanjay Dubri Corridor recorded first photographic evidence of Asiatic wildcat Felis lybica ornata from the region. This sighting was reported in CAT NEWS, a publication of the IUCN Species Survival Commission Cat Specialist Group and the same can be read here.
Livestock vaccination programme in Kanha Tiger Reserve
The Corbett Foundation has initiated its annual Livestock Vaccination Programme in all 180-villages of Kanha Tiger Reserve in collaboration with Kanha Tiger Reserve and State Animal Husbandry Department, Madhya Pradesh. This is a massive exercise spread over three months and involving over 50 livestock inspectors and TCF team members, wherein the vaccination teams reach out to every household of these villages vaccinating as many livestock as is possible based on the physical condition. Vaccination is done for the prevention of an outbreak of Foot and Mouth Disease (FMD), Haemorrhagic Septicimia (HS) and Black Quarter (BQ) in domestic animals and its spread to wild herbivores. The vaccines are maintained in a cold chain and meticulous record is maintained of the animals inoculated.
TCF is grateful to Bombay Gow Rakshak Trust and Kanha Tiger Reserve for their continued support towards this programme.
Training Workshop on Waterbird Identification and Future Monitoring


The Corbett Foundation has been monitoring winter migrants in Haripura, Baur and Tumaria reservoirs in Corbett Landscape for more than 15 years. Haripura and Baur reservoirs are located in Terai-Central Forest Division whereas Tumaria reservoir is located in Terai-West Forest Division. Based on the information collected, reports and research papers have been published and submitted to the concerned forest department, Bombay Natural History Society, and other institutions focusing on conservation of wetlands and migratory waterfowls, from time to time.
TCF organised a 2-day workshop for the field staff of Terai-Central Forest Division on identification and census of waterbirds at Haripura and Baur reservoirs on 23-24 January 2020. The trainees were involved in sessions on the identification of waterbirds, threats to waterbirds and wetlands and ecosystem servies of wetlands.
SCIENTIFIC ADVISORS
Dr. AJT Johnsingh and Dr. Asad R. Rahmani
| | |