THE CORBETT FOUNDATION NEWSLETTER, JULY 2019
2967 wild tigers in India


The figure of 2,967 wild tigers in India is quite impressive. A lot of hard work has gone into collecting this data and analysing it. We congratulate every body involved in successfully executing this massive exercise. Kudos to all the front line forest department personnel who have defending the tiger's habitat in India. India has once again proved that if there is any hope for Panthera tigris in the world, it is here!

With this success, India now must ensure that no stone is left unturned to protect tigers from habitat fragmentation due to linear infrastructure, mining, forest fires and encroachment, degradation due to uncontrolled livestock grazing and collection of wood, poaching and hunting, revenge killing by villagers, and genetic isolation. While few states like Madhya Pradesh, Karnataka, Uttarakhand and Maharashtra have done well with tiger numbers, in states such as Bihar, Jharkhand, Andhra Pradesh, Odisha and NE states (apart from Assam) have had dismal results with very few or no tigers. Our real success will be when tiger numbers in these states too show increasing trend.


Are we securing tiger corridors enough?
With a few exceptions, most tiger corridors are in a state of neglect. A comprehensive 'corridor conservation management plan' is the need of the hour to protect tigers that disperse here and to involve local communities in conservation efforts. In 2018, lot of efforts were taken in surveying areas outside tiger reserves as well for tiger presence which is a positive sign. Therefore it is important that we consider all forest areas around tiger reserves as potential tiger habitats and plan the management of these areas accordingly. The capacities of frontline staff and resources provided to them should be enhanced for a better surveillance and protection regime.
India must plan for next

50 years

to ensure safe and secure survival of tigers in India.

It needs to be seen how linear infrastructure is now planned. Road widening or new road projects passing through tiger reserves and tiger habitats are best avoided rather than experimenting with mitigation measures. It should not be misconstrued that linear infrastructure with mitigation measures will not affect tiger conservation. Over ambitious infrastructure projects planned should not override ecological concerns.


India's economic policies and development should be built on strong ecological foundations that ensure safe and secure future to tigers, their prey and forests that are source to numerous rivers that are lifeline to India's people, agriculture and other means of sustenance.
Hon'ble Supreme Court of India petitioned to prevent the

extinction

of Great Indian Bustard



TCF, along with other petitioners including Dr. M. K. Ranjitsinh, has appealed the Hon'ble Supreme Court of India to prevent the extinction of the two important bustard species, the Critically Endangered Great Indian Bustard (GIB) Ardeotis nigriceps and Endangered Lesser Florican Sypheotides indicus. Less than 150 individuals of GIB and possibly less than 700 Lesser Florican survive in the world today. Endemic to the Indian subcontinent, the GIB faces extinction threat due to collision with transmission lines that have come up over critical bustard habitats in Rajasthan, Gujarat and other areas in India. Given the urgency of this matter, the petition seeks to free the critical bustard habitat of power lines by burying the overhead power lines and installing bird-diverters in semi-critical habitats. The petitioners also seek realignment of all future power projects in and around the bustard habitats across India.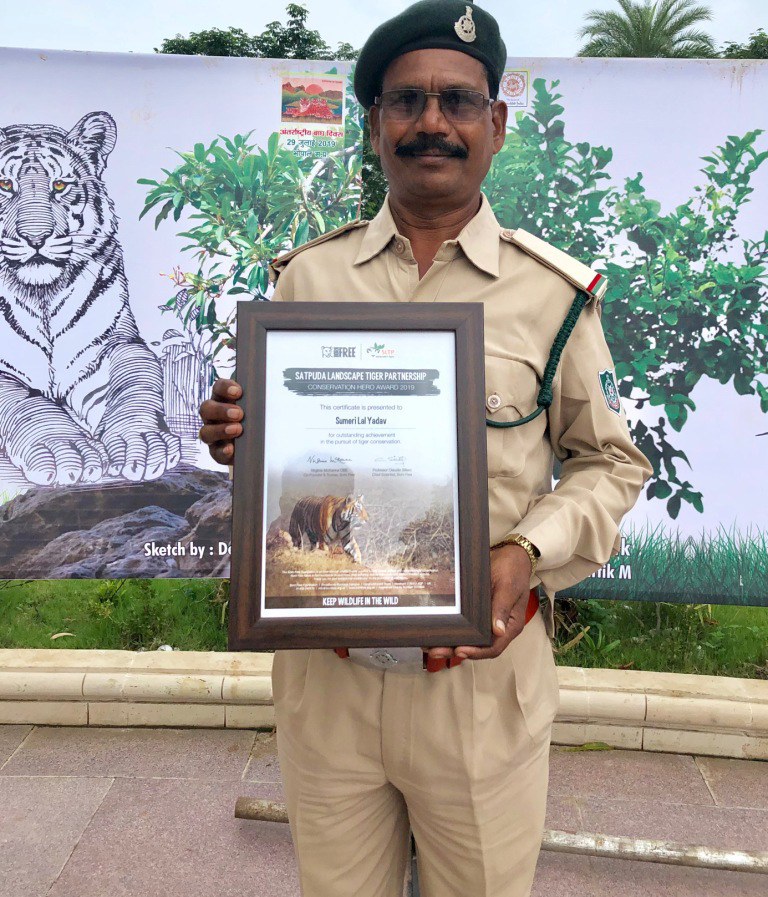 SLTP Conservation Hero Award presented to Sumeri Lal Yadav


On the occasion of International Tiger Day, Shri. Sumeri Lal Yadav, a Deputy Ranger in Bhaisanghat Range of Kanha Tiger Reserve, was honoured with SLTP Conservation Hero Award during the International Tiger Day celebrations held in Bhopal by Madhya Pradesh Forest Department. The award includes a citation and Rs. 25,000 award money.
Satpuda Landscape Tiger Partnership (SLTP), a consortium of few Indian NGOs (including The Corbett Foundation, Satpuda Foundation, BNHS, Conservation Action Trust, TRACT, Nature Conservation Society of Amravati and BAAVAN), international charity Born Free Foundation and WildCRU Oxford University, has been working in the central Indian landscape since past 15 years for the conservation of tigers, its habitat and involving local communities in conservation.
Shri. Sumeri Lal Yadav's work was recognised at this august gathering and he was felicitated by Hon'ble Forest Minister of Madhya Pradesh in presence of senior forest officials, Chief Secretary of the state, NGOs and other stakeholders involved in tiger conservation efforts of the state.
TCF is happy that it's recommendation helped Shri. Yadav get this honour that he truly deserves. We salute his hard work and dedication in protecting wild tigers in Kanha over two decades!
International Tiger Day celebrations by TCF
Corbett

An awareness programme in Government Inter College, Chhoi involving students of various age-groups. A quiz competition was organised where students answered questions related to tiger conservation.

Kanha

TCF enagaged with schools of Government School in Nikkum with story writing, drawing and quiz compettion on the theme of tiger conservation.

Bandhavgarh


TCF team in Bandhavgarh reached out to the students of St. Xavier's School, manpur and Central Academy, Umaria with interactive sessions, debates and poster competions. on tiger conservation.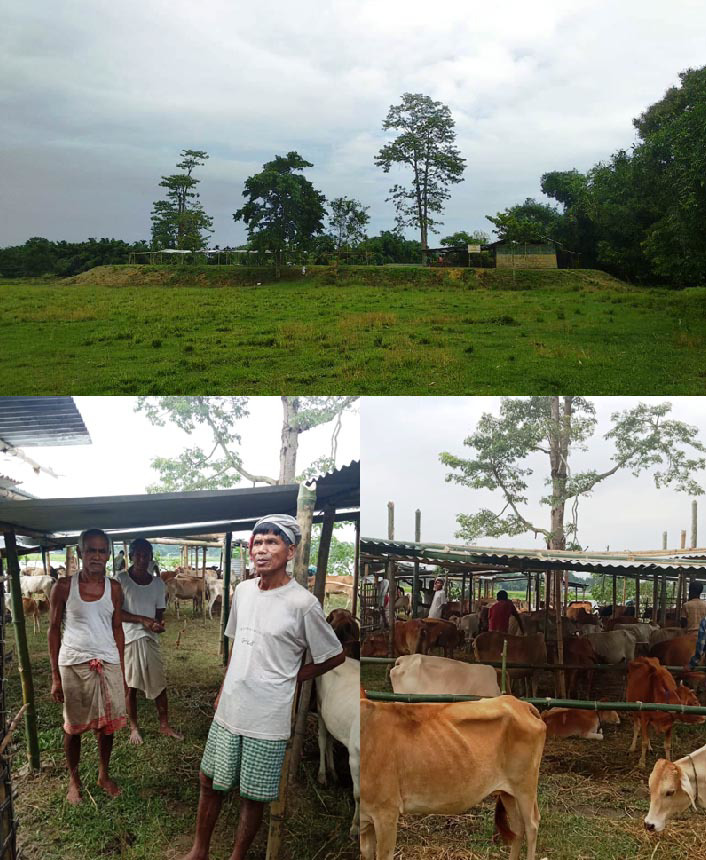 Highlands prove beneficial to people and animals in Kaziranga
Three years ago, TCF built a high land

measuring 90 mt x 40 mt

in Sukkanigaon village for the villagers and their livestock during flood. T

his was the only safe structure above water where villagers could take refuge during floods in July.

Last year, a hand pump and a water trough was added to the high land, which
served as sole source of drinking water for around 56 families with approximately 600 livestock who took shelter on this high land during Kaziranga floods in July.
The construction of another high land at Tamulipathar village adjoining Kaziranga NP for providing support during the flooding season was completed in the month of May 2018. The community members informed TCF that about 300 livestock belonging to 30 families had taken shelter during the floods in this high land for over a week. V

illagers said that as the flooding took place overnight, they had very little time to move their animals and if the high land was not available nearby, many of their animals would have drowned or washed away.



The villagers have thanked The Corbett Foundation for building the high land and Hem Chand Mahindra Foundation for funding it.


The Noah's Ark
Kaziranga National Park authorities have added more than 30 highlands to the existing elevated structures inside the park so that the wild animals could take safe refuge during peak flood seasons. TCF had the opportunity to witness the usefullness of these structures during the flood this year.

Dr. Naveen Pandey, Deputy Director and Veterinary Advisor of TCF in Kaziranga, shares his thoughts in an article titled The Noah's Ark. You may like to read this article

here

.
TCF helps in rescue of wild animals and people during Kaziranga floods

The Corbett Foundation's wildlife rehabilitation project, which channelizes the community's concern for conservation, has helped 63 wild animals during the July 2019 flood. Community-led Wildlife Rehabilitation Project run by TCF under the guidance of veterinarian Dr. Naveen Pandey, is actively led by TCF's wildlife rescuer Manoj Gogoi. TCF's 4WD vehicle exclusively dedicated to the rescue and release of stranded wild animals has helped the timely transfer of wild animals either to safer locations when they were found fit or to CWRC for better care and recovery. The forest department has appreciated TCF's efforts to connect the community with conservation. While TCF's rescue team was engaged in attending to distress calls during the flood, its Conservation Education Project team with the kind support from Hem Chand Mahindra Foundation kept on running from village to village making people aware of consequences of confining wild animals. Capture myopathy is a big concern when deer are confined. The awareness campaign run by TCF seemingly has had a positive impact, reflected in reduced incidents of capture, killing and accidents of wild animals. TCF's team for night patrolling and supporting the forest department in controlling traffic on the NH 37, played a very supportive role. There has been a decline in the number of animals killed on the highway this year, thanks to efforts of Kaziranga Tiger Reserve authorities and collaborative contributions from NGOs working in the Kaziranga landscape.


Waterwheel for village women in Kutch


Role of a woman in the development of her family mostly goes unrecognized. Currently, Kutch is going through a severe drought. Ponds, wells, and streams of most of the villages are dry. The village women are the first ones to put the maximum efforts to collect water for their family. Government is putting many efforts to supply water through tankers. Yet, many villages are badly affected by severe drought. This condition also indicates that we need to focus on landscape-level conservation and have more native trees within the village areas.


Many of these women walk quite a long distance to collect water during the drought. TCF has initiated the Waterwheel Project to support these women by reducing their burden and making their daily lives bit easier.


TCF has designed a unique method for the program. Once the needy beneficiaries are identified, a minimum amount is taken as a deposit. Then along with the water-wheel few saplings of native plant species are given. The beneficiaries have been asked to grow the saplings from the domestic wastewater. If the beneficiary can grow at least 50% of the sapling then the deposit will be returned back after 3-6 months. The water-wheel is a well-designed water drum, having the capacity to carry 45 litres of water. It is very easy to roll, even if fully filled with water. Now, these women will be able to carry 45 litres of water in a single run. More than 100 waterwheels have been distributed in the first phase, TCF is targeting to help more village women in a few months.


We are thankful to The Dharamsi Morarji Chemical Co. Ltd. for the sponsorship of this project. We are also thankful to the Kachchh Forest (West) Division who joined hands with us in the project and provided the saplings of native plant species free of cost.
.
TCF's participation in International Congress for Conservation Biology held in Kuala Lumpur, Malaysia
Dr Naveen Pandey, Deputy Director and Veterinary Advisor, The Corbett Foundation - Kaziranga, delivered a talk on 'socio-economic changes by modifying traditional crop-guarding tools for human-elephant conflict mitigation around Kaziranga National Park, India' at the International Congress for Conservation Biology 2019 being held in Kuala Lumpur, Malaysia.

The Corbett Foundation is grateful to Society for Conservation Biology, the main organiser of this conference, for giving this opportunity to share its community-based conservation work with the world. TCF also thanks Hem Chand Mahindra Foundation for extending financial support towards this project.





TCF has been working for the conservation of Great Indian Bustard in Kutch, Gujarat over a decade. From advocacy to awareness, and from research to community engagement, TCF has worked on all aspects with a holistic approach to conservation. It helped draft a Bustard Recovery Plan for the state of Gujarat, created a video song, raised awareness through its 'grasslands are not wastelands campaign' and its nation-wide campaign to highlight the threats to the existence of GIB in India in collaboration with Sanctuary Nature Foundation and Conservation India.

Mr. Kedar Gore, Director of TCF, presented TCF's communit -based bustard conservation work in Kutch at the ICCB during a poster session.


Dr. Sharad Kumar, Deputy Director, The Corbett Foundation, Central Indian Landscape, delivered a talk on the conservation of vultures in Bandhavgarh Tiger Reserve at the International Congress for Conservation Biology held in Kuala Lumpur, Malaysia. He presented TCF's 4-year work on estimation of resident population of four vulture species of Bandhavgarh, threat assessment, mitigation measures and recommendations for future management of vultures in this landscape.

TCF is grateful to The Rufford Foundation for the financial support towards this project.

Please visit TCF's YouTube channel to view videos of the above talks here.
More than 1,300 conservation and social scientists, and professionals from the conservation community of 87 countries attended the International Congress for Conservation Biology #ICCB2019 held from 21-25 July in Malaysia.
We hereby share the

Kuala Lumpur Declaration: The Species Extinction Crisis is a Crisis of Humanity

that reflects the thoughts shared and conservation science work presented and practiced by all the participants.
Harela celebration in Corbett
Harela festival is celebrated through Kumaon region of Uttarakhand to mark the begining of the sowing cycle. People pray for a good harvest and prosperity on this occasion. To mark this auspicious occasion, TCF and Ramnagar Forest Division (RFD) jointly organised a plantation programme near Amgarhi Village. The Member of Legislative Assembly (MLA), Divisional Forest Officer, RFD, forest department and TCF staff, villagers and school students participated in the event. The plantation is aimed at recharging the catchment area of a nullah flowing across the eastern boundary of the village.

SCIENTIFIC ADVISORS
Dr. AJT Johnsingh and Dr. Asad R. Rahmani
| | |