THE CORBETT FOUNDATION NEWSLETTER


June - August 2020
STOP SLAUGHTERING WILDLIFE - PREVENT THE NEXT PANDEMIC

Wet markets and the wildlife trade have been in the news for decades, but in recent months COVID19 has stimulated the drive to tackle both these linked issues. While Wuhan in China has justifiably been at the centre of global and national attention, here in India too wet markets have flourished over the years, some for the local consumption of wild species and others to feed the international wildlife trade, estimated to be in excess of US$ 20 billion per annum.
#COVID19 has led us to re-evaluate our relationship with nature. Scientists, virologists, and evolutionists suggest that more pathogen spillovers are inevitable, unless we evolve a more sustainable relationship with nature. There is global scientific and medical consensus that the current COVID-19 pandemic originated from wild animals, possibly bats, then 'spilled over' to humans through an intermediate animal host, possibly pangolins, to supply markets across the world including Wuhan, China. The illegal trade in wild species is also devastating forest communities, whose ancient ecosystems are vanishing. The expertise of such victim communities is exploited by wildlife traders who take advantage of communities' survival dependency on the natural resources. The primary victims of this ruthless targeting of wild species and ecosystems are therefore local forest communities. On a global scale this destruction is destabilising Earth's climate. This triggers the migration of host species, with viruses in tow, into human habitation. With little or no immunity against the new threats, pandemics have become almost inevitable, but we can slow and stop them before we reach a tipping point.


The Sanctuary Nature Foundation and The Corbett Foundation have joined hands to address this issue at the local, national and global level with the support from nature lovers across the world. We have teamed up with Ketto, one of the world's most credible and effective online crowdfunding platforms to generate support towards this cause. The 'Stop Slaughtering Wildlife - Prevent the Next Pandemic' campaign aims to work at the grassroots level for community rehabilitation, habitat conservation, advocacy and awareness. The donations raised will be used to support grassroots organisations and individuals who will work with us to build bridges with local communities and create awareness about the impact of close contact with wild species (for the wildlife trade, zoos, pets, etc.). To begin with, we have already identified a village along the foothills of the Karbi-Anglong Hills at the outskirts of Kaziranga Tiger Reserve, Khara village in the Kanha-Pench Corridor in Madhya Pradesh and Dailong village in Tamenglong, Manipur for the first phase of our campaign.

To know more about this campaign, please visit this dedicated campaign page on Sanctuary Nature Foundation website here. For any further queries and to pledge your support, please write to Dr. Naveen Pandey, the campaign in-charge and Deputy Director of TCF at npandey@corbettfoundation.org.
HABITAT RESTORATION IN THE BUFFER ZONE OF KANHA TIGER RESERVE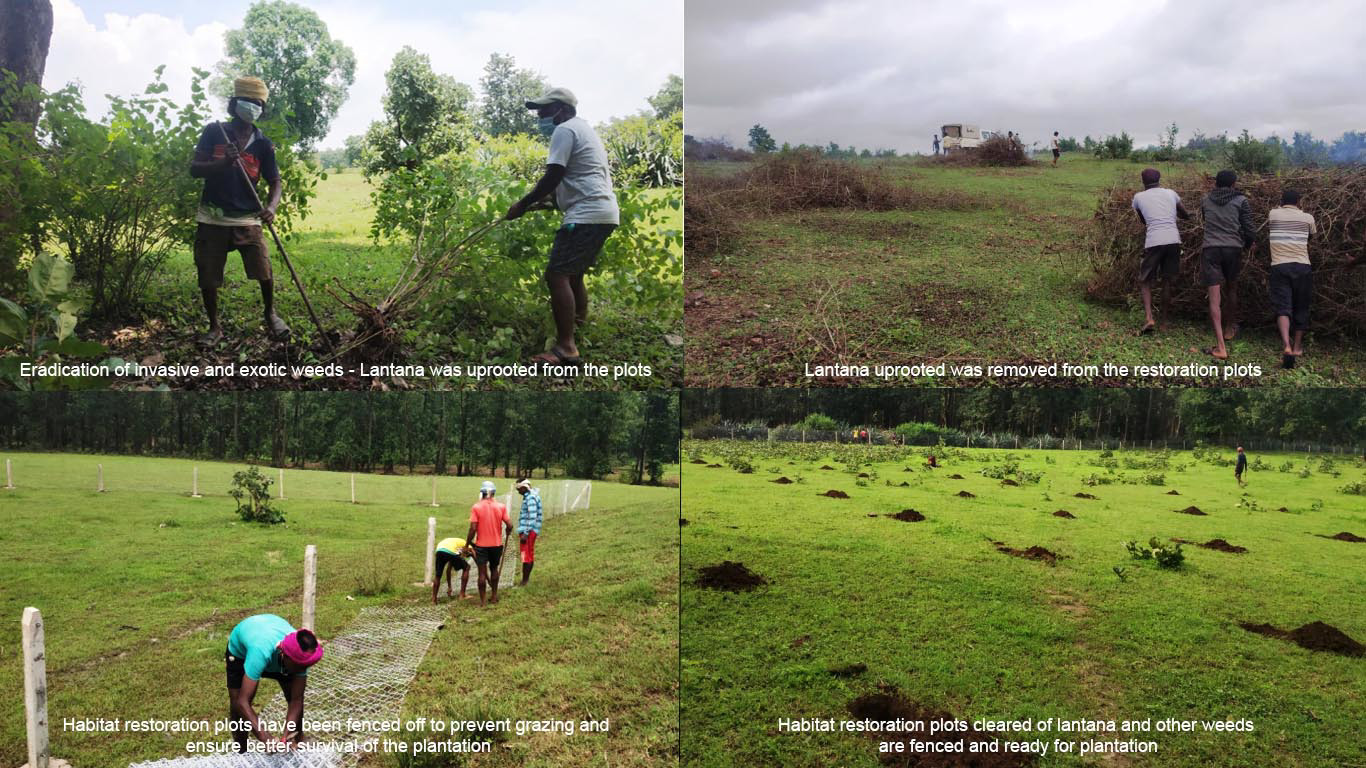 Restoration of degraded forest habitats is a long-term conservation investment that will give us good dividends in terms of climate change mitigation, biodiversity conservation, recharging groundwater, habitat connectivity to tigers and other wildlife and other ecological services.

Most tiger reserves in India today face severe problem of invasion by exotic weeds such as

Lantana camara

. This weed has invaded over 40% of India's tiger habitat in Shivalik Hills, central India and Western Ghats. One of the research study estimates this invasion to be affecting more than 300,000 sq.km of India's forests.



The Corbett Foundation in collaboration with Kanha Tiger Reserve and with the kind support from PwC India Foundation, has initiated yet another project under its 'Healthy Forests, Healthy People' programme in Kanha Tiger Reserve (KTR), Madhya Pradesh. The project includes providing energy-efficient cookstoves to around 900 households in 14 villages and restoring degraded habitat over 14 hectares in Pondi and Saraipatera areas in the buffer zone of KTR. The cookstoves districution has been completed and the work on habitat restoration is on in full swing. TCF, with active participation of local Eco-development Committees, managed to remove around 150,000 shrubs of lantana that covered around 70% of the 14 hectares. The weed was uprooted and totally removed from these plots. The plots have been protected from grazing using chain-linked fencing and pits have been dug to plant saplings of local tree species and bamboo. Villagers will be allowed to harvest grass from these plots to stall-feed their livestock.

TCF is grateful to PwC India Foundation and Kanha Tiger Reserve for their support and partnership.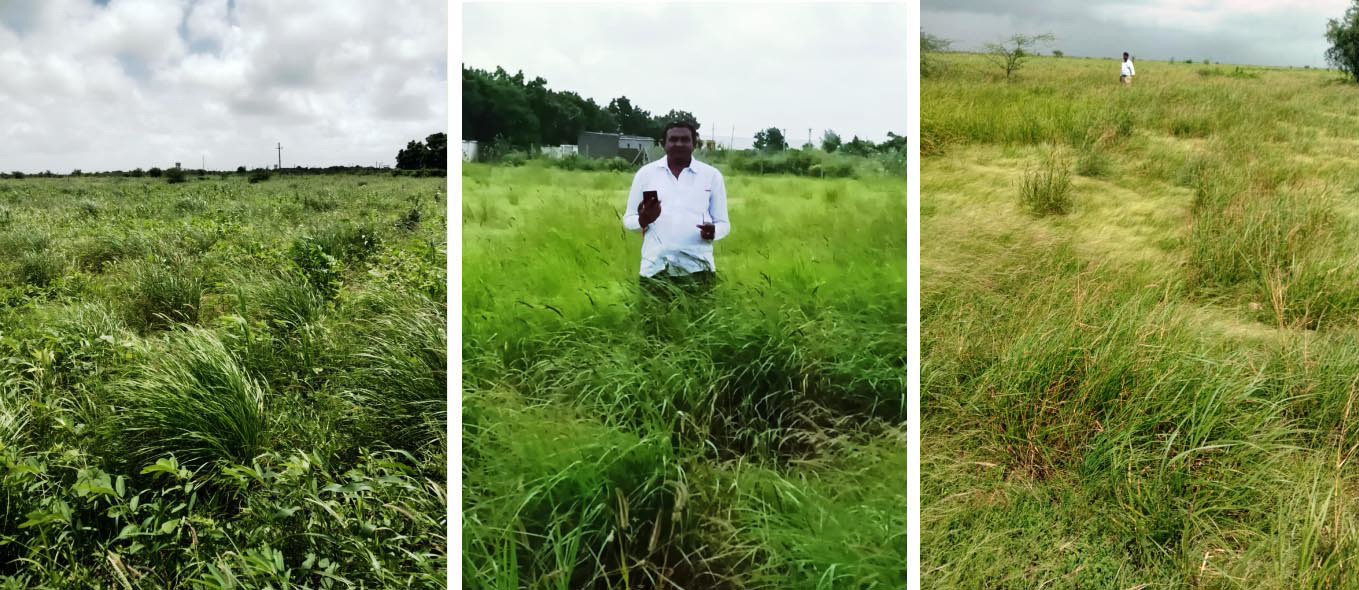 GRASSLAND RESTORATION IN KUTCH - AN EXAMPLE OF COEXISTENCE

The Kutch region in Gujarat is the land of semi-arid grasslands that harbour hundreds of resident and migratory species of birds, reptiles, mammals, insects and the associated flora. A majority of people here practice pastoralism and own thousands of livestock that graze on the available natural grasslands and traditional gauchar (community grazing areas) that have been protected to provide grazing areas for livestock. However, due to mismanagement and neglect, most of these areas have been lost to encroachment or engulfed by the invasion of Prosopis juliflora, an exotic species. Due to the degradation of gauchar areas, the grazing pressure on the few remaining natural grasslands is quite huge. These gauchar areas, if maintained well, have dual advantage of providing the much-needed fodder for livestock and also provide habitat for the grassland-dependent and threatened species such as the Great Indian Bustard and the Lesser Florican.

TCF has collaborated with the villagers of Kanakpar in Abdasa taluka of Kutch district to revive 40 acres of gauchar to its past glory. With active participation of the villagers, the entire area was cleared of Prosopis and made ready for growing grasses for livestock, and for the benefit of birds and insects. With good rains in the years 2019 and 2020, the grasses grew well and were harvested by the villagers for fodder. Local village women collected around 800 kg of grass seeds for future use. This project has inspired other villages of Kutch to revive their respective gauchar areas, thus becoming a win-win situation for domestic livestock and wildlife, and a fine example of 'coexistence'.

TCF is grateful to Bombay Gow Rakshak Trust for its financial support towards this Gauchar Development Project.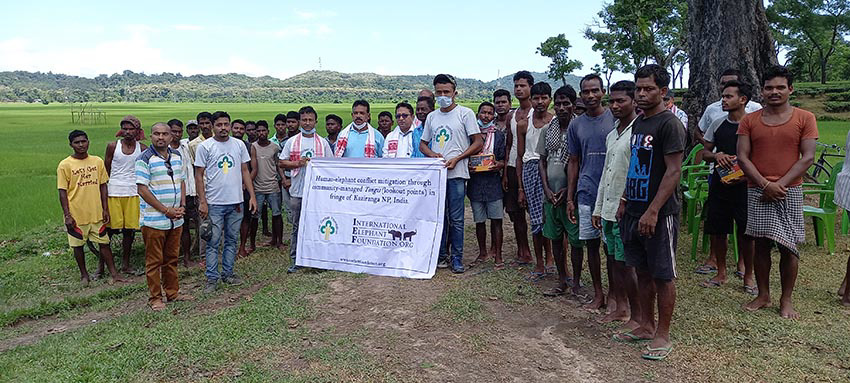 HUMAN-ELEPHANT CONFLICT MITIGATION IN KAZIRANGA
Human-elephant conflict (HEC) is a common phenomenon at an interface where humans and wild elephants live together. Kaziranga Tiger Reserve is one such landscape where incidences of HEC are quite high, which can result in injury or death of people and elephants alike. There is frequent depredation of crops by wild elephants and such damages cause considerable hardship for the people residing along the boundary area of Kaziranga. The local community have been guarding their crops using local appliances stationed at lookout points, locally called tongi, placed in their paddy fields. The Corbett Foundation (TCF), with kind support from Hem Chand Mahindra Foundation, experimented with strategic placement of tongis and equipping the tongis with powerful torchlights. Its efforts have shown substantial success in reducing the crop loss. The core idea is to avoid close contact with elephants and discourage practices which risk the welfare of elephants such as the use of sharp objects, fireballs, etc. Compliance to these norms is a prerequisite for being a beneficiary of this project.


The International Elephant Foundation (IEF), USA found the approach of TCF elephant-friendly and thus have supported TCF to construct 90 lookout points at strategic places along Kaziranga periphery to help vulnerable community members and thereby reduce human-elephant conflict in the villages. Apart from their strategic locations, TCF emphasised on setting up of bigger tongis involving 5-6 different families so that crop guarding could be done in rotation. Thus, each person gets sufficient physical and mental rest during the cropping season. TCF has provided galvanised iron sheets and other raw materials while villagers contributed bamboo and free labour for construction of tongis and also maintain these structures. Each tongi has also been provided with a powerful torchlight meant to drive away the approaching elephants from a safe distance. The community members are free to shift the tongis as per their need in consultation with TCF team for better crop guarding in different seasons. Under this project, funded by IEF, 45 tongis, equipped with powerful torchlight have been constructed so far.


By investing in this fresh batch of 45 tongis along with previously made 122 tongis, TCF is supporting the coexistence of humans and wildlife by guarding of about 1,400 acres of agriculture land belonging to nearly 800 families with a possible yield of approximately 9,000 quintals of grains.

TCF is grateful to International Elephant Foundation and Hem Chand Mahindra Foundation for their support twoards this initiative.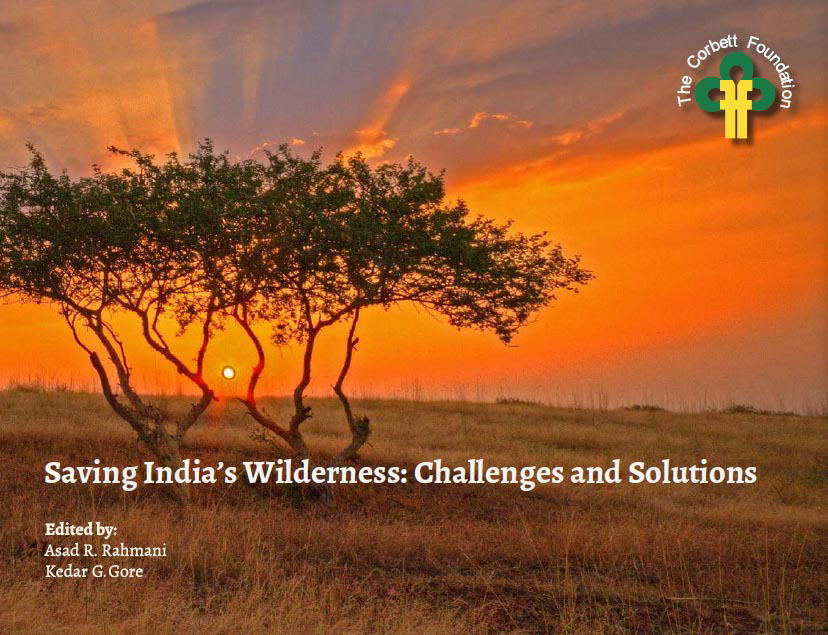 To commemorate the completion of 25 years, The Corbett Foundation presents a coffee-table book titled 'Saving India's Wilderness: Challenges and Solutions' published by The Corbett Foundation and co-sponsored by Hem Chand Mahindra Foundation. This 244-page book carries

articles that highlight the current conservation issues in India with practical solutions and the way ahead. Well-know conservationists, wildlife biologists, researchers and environmentalists such as

Dr. AJT Johnsingh, Dr. Ullas Karanth, Dr. Asad Rahmani, Dr. Deepak

Apte

, Dr. Raghunandan Chundawat, Bittu Sahgal,

Vivek

Menon, Prerna Bindra and others

have shared their rich experiences and knowledge through their crisp articles

. Around 200 photographs of India's threatened wild species and habitats captured by Dhritiman Muhkerjee and other well known photographers adorn this book. The book will be released during the Wildlife Week (first week of October 2020) and will be available for sale thereafter.

To pre-book your order, please write to info@corbettfoundation.org.
ARTICLES IN ROUNDGLASS SUSTAIN
TCF team contributed two articles to RoundGlass Sustain website. One, on tiger conservation titled 'An Inconvinient Truth: Tiger Conservation Beyond Protected Areas' and two, on the annual floods of Kaziranga titled 'A Flood and a Forest: When Brahman's Son Engulfs Kaziranga'.

Please click on the below images to read the above-mentioned articles.
SCIENTIFIC ADVISORS
Dr. AJT Johnsingh and Dr. Asad R. Rahmani
The Corbett Foundation is a charitable trust registered under the Indian Trusts Act, 1882. It is also registered under the Foreign Contribution (Regulation) Act, 1976 under registration number 231650853. The donations to The Corbett Foundation are tax exempt u/s 80G of the Income Tax Act, 1961. The Corbett Foundation is accredited by Credibility Alliance under the Desirable Norms prescribed for Good Governance of Voluntary Organisations.
NITI Aayog ID:
UA/2017/0179126
| | |