THE CORBETT FOUNDATION NEWSLETTER, MAY - JUNE 2019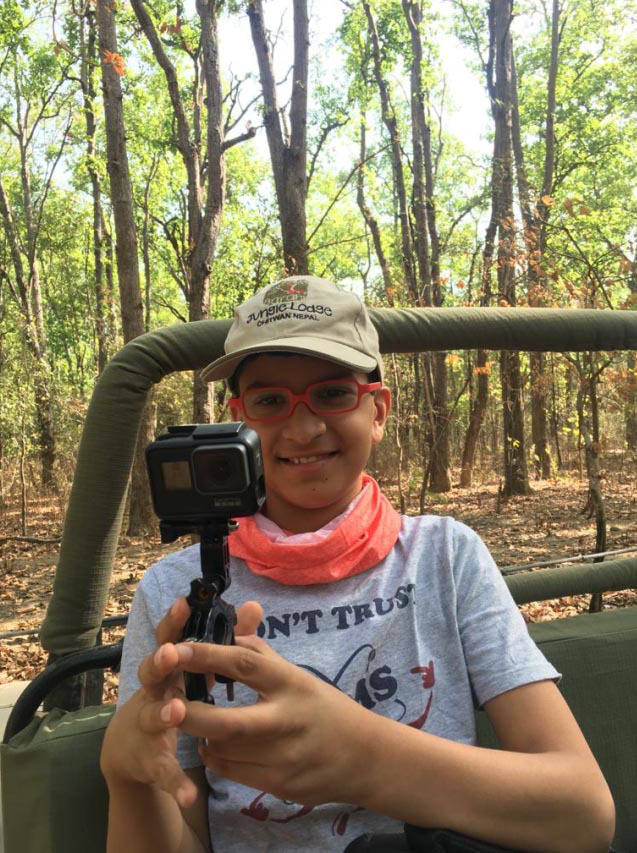 11-year old Ishaan Kumar raises funds for conservation


Ishaan Kumar, who studies in Class V, developed his love for animals at a very young age from reading books about animals, watching Animal Planet and visiting nature parks. At an early age, his interest in wildlife photography sparked on his first safari in Kanha. Ishaan was just 5 years then! With the camera in his hand, he started exploring wilderness areas across the globe. Ishaan has been to the Masai Mara and Lake Nakuru in Kenya, Chitwan National Park in Nepal, and Kanha, Tadoba, Bandhavgarh, Pench and Satpura national parks in India. He wants to go to Kaziranga, Rwanda, Borneo, Botswana and the Amazon.


Ishaan entered the photograph of a Cheetah, that he shot in Maasai Mara, in the Natural History Museum, London's 'Wildlife Photographer of the Year 2019'. This photograph was selected for the final round, from which the awarded images are chosen. "My picture didn't win the award but I am happy that I was one of the finalists", say 11-year old Ishaan with a glint in his eyes! Ishaan didn't stop at that. At this tender age, he wanted to raise money to protect the wild animals that he thouroughly enjoyed watching. Ishaan sold around 15 of his wildlife images and raised INR 25,000 that he has donated to The Corbett Foundation for conservation and welfare of wildlife. We thank this little conservationist profusely for his love and concern for the wildlfe species. We wish him many more successes in his life and of course with his camera in the wilderness!

Cheetah

Image copyright: Ishaan Kumar




African lioness

Image copyright: Ishaan Kumar
World's smallest wild cat seen in Thane FD
TCF's survey in Thane Forest Division near Mumbai, recorded first ever photo capture of a rusty-spotted cat Prionailurus rubiginosus, which is the world's smallest wild cat and an endemic species to the Indian subcontinent. The rusty-spotted cat was seen near Thitabi village nestled along the foothills of the beautiful Sahyadri Hills of the Western Ghats. This cat is listed as Near Threatened in the IUCN Red List and included in Schedule I of Wild Life (Protection) Act, 1972. This sighting has been reported in Cat News, a newsletter of IUCN Species Survival Commission, Cat Specialist Group. Please read the paper

here

.
Cattle Vaccination in Kaziranga and Sanjay Dubri Tiger Reserve
A thin interface exists between domestic animals and wildlife near Protected Areas, thus increasing the chances of communicable diseases such as Foot-and-Mouth Disease, Black Quarter, and Hemorrhagic Septicemia spreading among wildlife species. TCF has been regularly undertaking cattle vaccination programmes every year in collaboration with in PAs of Central India, Corbett Tiger Reserve and Kaziranga National Park. In 2019, TCF continued with the tried and tested model of Landscape Epidemiology in Kaziranga in collaboration Kaziranga National Park and other partner NGOs WWF-India, Aaranyak and WTI.
TCF also conducted cattle vaccination programme in 175 villages of Sanjay Dubri Tiger Reserve and Bagdara Wildlife Sanctuary, Madhya Pradesh in collaboration with Madhya Pradesh Forest Depart and State Animal Husbandry Department.
TCF has been working in Bandhavgarh-Sanjay Dubri Corridor (BSDC), an important landscape connecting Bandhavgarh and Sanjay-Dubri tiger reserves in Madhya Pradesh. Unfortunately, the conservation awareness among the local communities is abysmal. TCF's publication Hamare Van, Hamare Gaon hopes to address this gap by reaching out to as many children as possible through local schools. This publication, which will be given free of cost to schools, has received appreciation and support of the Director, Rajya Shiksha Kendra (School Education Department), Bhopal. TCF is grateful to Jet Privilege Pvt. Ltd. for the support extended for this publication.

To download this publication, click here.




TCF studied the dispersal routes of tigers and other wildlife in 820 sq km buffer zone of Bandhavgarh Tiger Reserve, Madhya Pradesh. This intensive research study included camera trapping, vegetation sampling, scat analysis and prey-predator density estimation using robust scientific methods. The report also contains recommendations and suggestions for the better management of Bandhavgarh Tiger Reserve. The study recorded 29 mammalian species out of the 35 listed species in Bandhavgarh. Asiatic wildcat Felis silvestris ornata and smooth-coated otter Lutrogale perspicillata were recorded for the first time in Bandhavgarh

Tiger Reserve

during this study.

To download this publication, click

here

.

World Environment Day celebrations


The staff of TCF, volunteers of Waste Warriors and the staff of Corbett Tiger Reserve, conducted a clean-up drive near Amdanda at the outskirts of Corbett Tiger Reserve, Uttarakhand. As a result of 2-hour clean-up drive, a total of 52 kg of waste comprising glass bottles, silver foil, plastic bottles, milk packets, rubber, cloth, tetra pack, plastic bags, thermocol, sanitary waste, metal, paper, cardboard, broken glass, etc. were found. In addition, TCF staff also joined another local organisation in organising conservation awareness rally in Ramnagar town.
.
#WED programme in Tamenglong

TCF and Rainforest Club, Tamenglong organised a World Environment Day programme in Tamenglong, Manipur, bringing together the youth of Tamenglong to discuss the environmental issues and to plant trees.




#WED programme in Bandhavgarh

TCF organised a nature trail in the buffer zone of Bandhavgarh Tiger Reserve on the occasion of World Environment Day. This was followed by plantation of local fruiting trees in a local school.
Mahseer research in Kosi River
TCF, WII, WWF-India and Ramanagar Forest Division have completed first phase of the golden mahseer Tor putitora conservation research project in Kosi River. A 30-km stretch of Kosi River, extending between Ramnagar and Kunakhet village, was surveyed and about 23 potential pools, supporting Mahseer round the year, were identified. Taking this initiative forward, individuals of golden mahseer have been radio-tagged and will be monitored by researchers from Wildlife Institute of India. This research will provide vital information on aspects related to ecology, habitat and threats faced by mahseer in Kosi River.




Great Indian Bustard habitat survey in Kutch, Gujarat

TCF was invited as a knowledge partner in the Great Indian Bustard (GIB) habitat survey carried out by Kutch West Division of Gujarat Forest Department. The survey, coordinated by TCF, was carried out in more than 1600 sq km of the area in Abdasa and Mandvi talukas of Kutch district. Looking at the drought condition in the area, it was essential to carry out this work to understand the exact condition of GIB landscape to prepare a management plan for GIB and its associated species. The data collected is being analysed and will be published by the forest department soon.
Students come together for biodiversity conservation


TCF, Kaziranga National Park and Kaziranga Study Circle, JDGS College, Bokakhat jointly organised a series of activities on the International Day For Biological Diversity on May 22nd, aimed at encouraging college students to come forward for the conservation of biodiversity. Students from near by colleges put a photo exhibition of trees. Poems and essays were submitted and recited by college students. Beautiful paintings showcasing threats and challenges of biodiversity were made by the college students
.

Flood preparedness in Kaziranga

TCF staff and Kaziranga National Park authorities conducted several meetings and interactions with the villagers staying around Kaziranga National Park, Assam to increase their flood preparedness. River Brahmaputra, that flows through Kaziranga, floods the entire landscape displacing many villagers and wild animals, causing loss of property and animal life. These interactions inform the villagers about the Do's and Don'ts during the annual floods and how mutual cooperation can help address this problem.
Green Corridor Champions of Corbett
TCF and the Wildlife Trust of India have collaborated on the Green Corridor Champions project.
TCF has been conducting awareness programmes for schools present in the elephant corridors of the landscape. The students are educated on the importance of elephants and their role in biodiversity. The need of elephant corridors was also explained to them through relatable anecdotes and examples.
TCF also organized a mass sensitization programme involving the villagers staying in the three elephant corridors of the Corbett landscape. The programme focused on human-elephant conflict and various methods to mitigate the issues faced by the villagers. The villagers were also made aware about pivotal role of elephant corridors.
Paint the tiger, save the tiger

TCF has collaborated with Madhya Pradesh (MP) Forest Department on its unique state-wide initiatve 'paint the tiger, save the tiger' in Kanha, Balaghat, Rewa and Sidhi. A total of 96 blocks of tiger painting have been distributed across 29 districts of MP. Each block has to be coloured by different animal stamps and creating awareness amongst thousands of people. All 96 blocks of tigers painted by thousands of people will be displayed during the International Tiger Day celebrations to be held on July 29th in Bhopal. The Field Director and Deputy Director of Kanha Tiger Reserve are seen in the adjoining picture interacting with the tourists and appealing them to support this intiative.

| | |