THE CORBETT FOUNDATION NEWSLETTER
Sep-Oct and Nov-Dec 2020
The Corbett Foundation wishes all its donors, supporters and well-wishers a safe, a healthy and an environment-friendly 2021
TCF's New Publication - Saving India's Wilderness: Challenges and Solutions
The Corbett Foundation (TCF) released the coffee-table book Saving India's Wilderness: Challenges and Solutions virtually on

October 7th. The book was released by the doyen of wildlife conservation in India and TCF's Trustee Dr. M. K. Ranjitsinhji in the presence of TCF's Chairman Mr. Dilip D. Khatau, Co-chair Mrs. Rina D. Khatau, other Trustees of TCF, the authors who contributed articles in this book in the presence of few other conservationists, scientists and the well wishers of The Corbett Foundation. This book has been co-sponsored by Hem Chand Mahindra Foundation.
This book is a one-of-its-kind compendium of 25 authored articles by some of the leading conservationists, wildlife biologists, ecologists, veterinarians and other professionals from India and abroad
associated with around 25 conservation organisations and institutions.
The authors include Dr. AJT Johnsingh, Dr. Asad Rahmani, Dr. Ullas Karanth, Dr. Raghu Chundawat, Dr. Renee Borges, Dr. Bivash Pandav, Dr. Deepak Apte, Bittu Sahgal, Vivek Menon, Ravi Singh, Dr. Sanjay Shukla, Ashok Mahindra, Kishor Rithe, Prerna Bindra, Dr. Anish Andheria, Pankaj Sekhsaria, Isaac Kehimkar, Dr. Bibhab Talukdar, Dr. Varad Giri, Dr. Claudio Sillero, Dr. Alice Bacon, Dr. Harendra Singh Bargali, Dr. Naveen Pandey, Devesh Gadhavi and Kedar Gore. This book covers a vast array of topics from the conservation of tigers to robber crabs, hornbills to squirrels,
rain forests
to deserts and wetlands to grasslands.
The book is available for sale on Amazon here.
All sale proceeds of this book will go to TCF's 'conservation fund' and thus help in supporting grassroots conservation work. Your support in buying a copy and sharing this information with your friends and colleagues will be highly appreciated.
THE CORBETT FOUNDATION WINS 'STRATEGIC PARTNERSHIP GRANT 2020'
The Corbett Foundation (TCF) is humbled and honoured to be the recipient of Strategic Partnership Grant 2020 of The HabitatsTrust. We thank THT for believing in our grassroots conservation work in the Great Indian Bustard landscape of Kutch, Gujarat from hundreds of other applications.
On 3rd December 2020, TCF presented its project along with other finalists to an eminent panel of Jury comprising of Dr. MK Ranjitsinh, Mr. Brian Heath, Ms. Bahar Dutt and Ms. Roshni Nadar Malhotra.
We look forward to this collaboration with The Habitats Trust, that has done commendable work in recognising grassroots conservation work of many organisations and provided the much-needed support for the conservation of threatened species and habitats

across India

.
Read here for further information...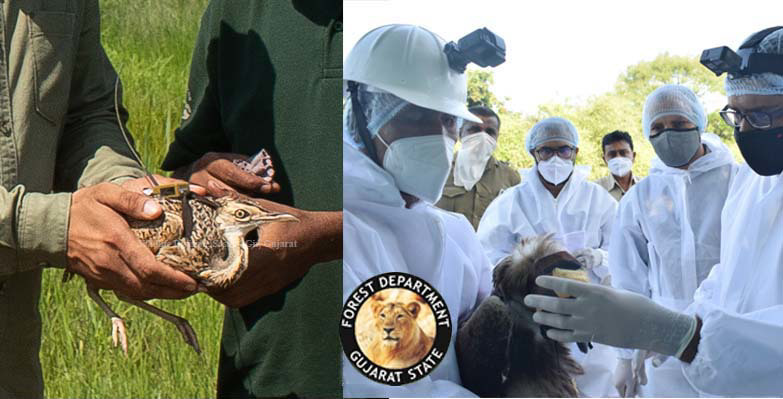 LESSER FLORICAN AND VULTURES TAGGED IN GUJARAT
The Corbett Foundation i
s honoured to be associated with the Wildlife Division, Sasan - Gir, Gujarat Forest Department as a 'technical expert' for tagging projects of lesser florican
Sypheotides indicus
and vultures.
Lesser florican is an endangered bustard species
endemic to India. Two birds - a male and a female - have been fitted with satelite tags in Balckbuck National Park, Velavadar and released back in the wild. This research will give the much-needed and crucial information on the whereabouts of these birds beyond their known breeding grounds in India. This important information will be useful to plan for the conservation of Lesser Florican in India, of which less than 700 exist on this planet.
A total of six resident and critically endangered vultures - w
hite-rumped vulture
Gyps bengalensis
(2)
, Indian vulture Gyps indicus (3) and red-headed vulture Sarcopys calvus (1) -
have been tagged in Sasan and Mahuva regions. Considering the sharp decline in the vulture population and focusing on its conservation, it is important to have in-depth scientific information about its feeding sites, general height at which they fly, preferred roosting and breeding sites.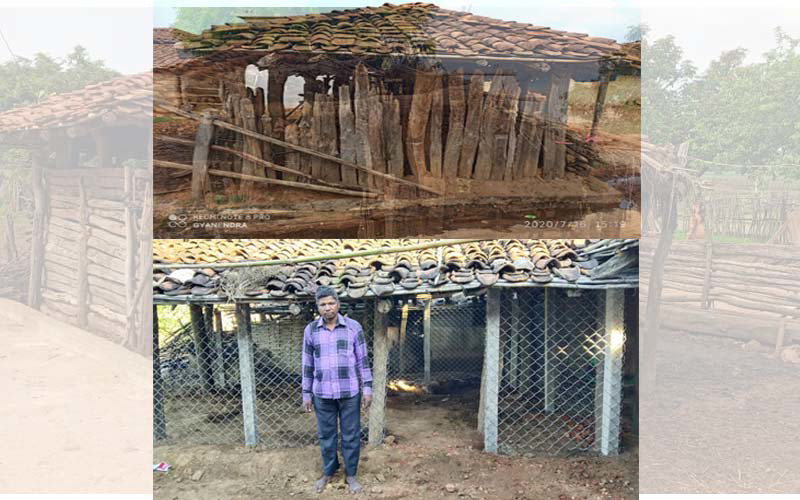 CATTLE SHED MODIFICATION IN BANDHAVGARH TO REDUCE TREE CUTTING
The villagers living in the tiger reserves of central Indian landscape have huge dependency on wood collected from surrounding forests. The wood is collected for various purposes such as building houses, constructing cattle sheds, for selling in markets, as fuelwood for cooking and keeping oneself warm in extreme winters. Dry wood collection is permissible but quite often one can see large trees been cut and used in making fences and cattle sheds as is seen in the adjoining pictures. Important trees such as sal Shorea robusta are also cut for making of cattle sheds.
The Corbett Foundation (TCF)
has been working to provide a sustainable
solution wherein local villagers do not need to cut trees for constructing of cattle sheds. TCF has replaced the cattelsheds made out of wood by chain-link fence in three villages

in Dhamokhar Range of

Bandhavgarh Tigers Reserve (BTR). So far, 55 cattle sheds have been provided with this alternative fencing in Gadawah and Gohadi villages and, as per the assessment done with the help of forest department, around 400 trees of sal, axel wood Anogeissus latifolia, Indian laburnum Cassia fistula, crape myrtle Lagerstroemia parviflora, etc. were used in making of these cattle fences.
Through this intervention we have eliminated the villagers' dependency on large trees
for the making of cattle sheds. This project has been implemented in collaboration with Bandhavgrah Tiger Reserve. The work on the above two villages has been implemented
with the kind support of Big Cat Rescue, USA and the on-going work in village Badwahi is being supported by the Friends of Conservation, UK.

Previously, TCF has completed cattle shed fencing in Badrehal village in Dhamokhar buffer and Chechpur village, Manpur buffer. These villages have been chosen based on their locations which are adjacent to the core zone of BTR.
ARTICLES BY THE CORBETT FOUNDATION TEAM
Please click on the below images to read the above-mentioned articles

written by Mr. Nirmal Ghosh, Mr. Kedar Gore, Dr. Harendra Singh Bargali and Dr. Naveen Pandey. We thank Sanctuary Asia and Saevus magazines for carrying these articles.
27 non-governmental organisations call for further amendment of the Wildlife Protection Law of the People's Republic of China to prohibit commercial exploitation of threatened wild animal species
The Environmental Investigation Agency and other NGOs, including The Corbett Foundation, from India, Vietnam, USA, UK, Canada, South Africa and Germany – sent a letter to lawmakers in China urging them to act to reduce demand for wild animal species threatened with extinction. The open letter contends that by maintaining legal domestic markets for endangered species, Chinese Government policy is acting contrary to the urgent need to reduce demand and is instead legitimising consumption of these and other threatened species.
SCIENTIFIC ADVISORS
Dr. AJT Johnsingh and Dr. Asad R. Rahmani
The Corbett Foundation is a charitable trust registered under the Indian Trusts Act, 1882. It is also registered under the Foreign Contribution (Regulation) Act, 1976 under registration number 231650853. The donations to The Corbett Foundation are tax exempt u/s 80G of the Income Tax Act, 1961. The Corbett Foundation is accredited by Credibility Alliance under the Desirable Norms prescribed for Good Governance of Voluntary Organisations.
NITI Aayog ID:
UA/2017/0179126
| | |