LATEST NEWS
Congratulations!











Dr. Harendra Singh Bargali, Deputy Director, TCF Corbett, has been appointed as a Research Associate in the Conservation Ecology Centre of the Smithsonian Conservation Biology Institute for a period of three years. We, the team at TCF, wish him heartiest congratulations and hope that his association with Smithsonian Institute helps in the protection of wildlife in India. Dr. Bargali is also a Member of the Uttarakhand State Wildlife Advisory Board and a Co-Chair of IUCN / Sloth Bear Expert Team. 
--------------------------------------


Annual

Report 2011-2012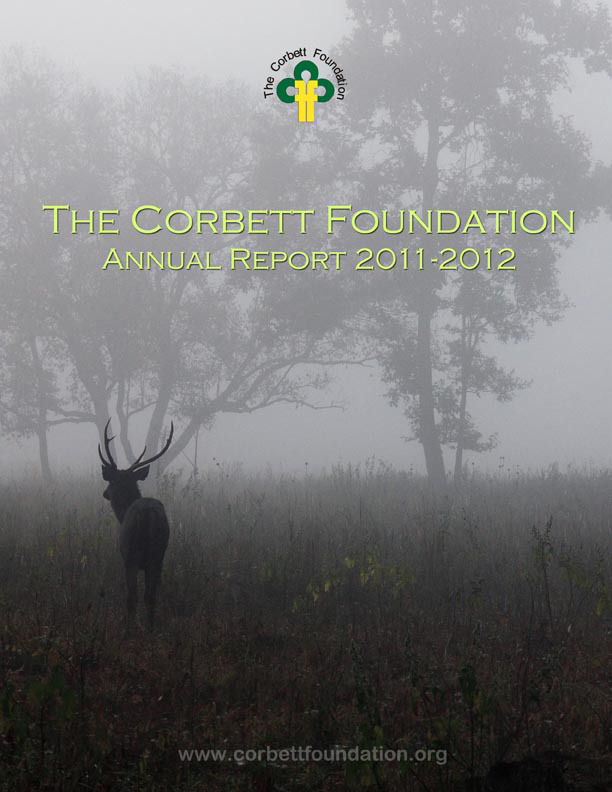 -------------------------------------------
India Bans Shark Finning!
India has banned hunting sharks for only their fins in a move to protect endangered species from indiscriminate hunting for parts wanted abroad.  Read more
-------------------------------------------
E-surveillance to Save Indian Tigers
India plans to start e-surveillance to Assam's Kaziranga Natonal Park, Madhya Pradesh's Ratapani Wildlife Sanctuary and the Ramnagar division surrounding Corbett.  Read more.
-------------------------------------------
Tiger Range Countries Reach Consensus on Conservation
The 13 tiger range countries, including China, Russia and India, have reached a consensus on transboundary
conservatio
n
and combating the illegal wildlife trade.
Read more.
-------------------------------------------


Pench to Have Three Divisions to Ensure Better Control In Protected Areas 



In bid to ensure better administrative control over protected areas (PAs) under Pench Tiger Reserve (PTR), the government on Tuesday finally cleared a proposal to reorganize Pench by creating three divisions - Pandharkawda, Nagpur and Ramtek with the headquarters remaining at Nagpur.  Read more.


----------------------------------

--------------

Indian Naga Tribe Pledges to Protect Falcons

India's Naga Tribespeople have pleged to protect the Amur falcon which was traditionally hunted for meat.  Read more
-------------------------------------------
DONATE ONLINE

The donations to The Corbett Foundation are exempt u/s 80-G of the Income Tax Act, 1961. The Corbett Foundation is registered under the Foreign Contribution (Regulation) Act, 1976 under registration no.231650853. Indian and overseas donors can make use of our safe and secured online payment gateway facility to make your donation

NOW

.
PARTNERS IN CONSERVATION
The Corbett Foundation would like to thank the Axis Bank Foundation, Pirojsha Godrej Foundation, Bombay Gowrakshak Trust, Wildlife Conservation Trust, Rare Species Fund / Preservation Stations, Michael Ackroyd, Harry Robbins, Daryl Arakaki for their generous support towards TCF's activities and programmes.
KIDS CORNER


Online QUIZ
Take an online Quiz and test your knowledge about wildlife and environment.  Get, set, go...



Online PAINTING
Give way to the hidden artist in you...try our online painting application and stand a chance to win a lucky prize! So, start painting

NOW .
Contact us ...

Registered Office:
P.O. Dhikuli, Ramnagar,
Dist. Nainital, Uttarakhand 244715
Administrative Office:
81-88, Atlanta, Nariman Point, Mumbai 400021, INDIA
Tel. No. +91 22 61466417
Fax No. +91 22 61466499

info@corbettfoundation.org   www.corbettfoundation.org

Corbett Office
P.O. Dhikuli, Ramnagar,
Dist. Nainital, Uttarakhand 244715

Kutch Ecological Research Centre
Khatau Makanji Bungalow,
P.O. Tera, Taluka Abdasa, 
Dist. Kutch, Gujarat 370660

Kanha Office
Village Baherakhar, P.O. Nikkum,
Tehsil Birsa, Dist. Balaghat,
Madhya Pradesh 481116

Bandhavgarh Office
Village Bijheria, P.O. Tala, Bandhavgarh, Dist. Umaria,
Madhya Pradesh 484661

Kaziranga Office
Village Bochagaon, Kaziranga,
Dist. Golaghat, Assam 785609

Copyright © 2013 
THE CORBETT FOUNDATION
All rights reserved.
Chief Minister of Gujarat Expresses Government's Committment  to save the Great Indian Bustard


The Chief Minister of Gujarat, Shri. Narendra Modi, expressed the government's commitment to preserve the near-extinct bird Great Indian Bustard (
Ardeotis nigriceps
) in Kutch. This is a very welcome news. The Corbett Foundation is hopeful that Mr. Modi would keep up this promise he has made to the people of Kutch and ensure a fresh lease of life to these magnificent and critically endangered birds of Gujarat.
Though the former range of this bird extended to parts of Pakistan, today a major population survives only in India. An estimated less than 300 individuals are reported to be surviving sporadically in different parts of the country, with
around 30-odd birds found in the Kutch region of Gujarat.



Kutch Ecological Research Center (KERC), a division of The Corbett Foundation, has been actively running the 'Save Indian Bustard' campaign since 2012, when it observed the severe threat of habitat loss to the bird in Abdasa Taluka, Kutch, Gujarat. KERC has been vigorously working in over 80 villages of Abdasa Taluka since the last decade. Projects like the Rural Medical Outreach Programme, Cattle Care and Breed Improvement programme, Grassland Restoration, Rainwater Harvesting Project and Environmental Awareness and Wildlife Conservation programmes have built a solid bond with the local communities. KERC works with villages which are located in the vicinity of Bustard habitat to include them in the Save Indian Bustard campaign. 

Wildlife Tourism Must Be Linked to the Livelihood of the Local Communities - An Interview with Mr. Dilip. D. Khatau, Chairman of The Corbett Foundation 


Tehelka interviewed Mr. Dilip Khatau to discuss his ardent love for all wildlife, his views on sustainable and responsible tourism in India and the ways in which TCF helps to support the local population in and around the tiger reserves it operates in, amongst other topics.
Read the full interview here.


  Steps taken to curb wild animal deaths due to train hits
T
he National Tiger Conservation Authority (NTCA) has asked all the Chief Wildlife Wardens (CWLWs) of tiger range states to take urgent measures for preventing wild animal mortality due to train hits.
The move follows a 10-month-old tiger cub getting killed and another getting seriously injured when a speeding train hit them on April 15th  night near Kelzar on Gondia-Chanda Fort section. The injured one, which suffered leg fractures, is still being treated in city.
"Railway tracks pass through several tiger reserves and areas rich in wildlife. Time and again, there are reports of wildlife mortality including tigers, elephants, deer, wild boars, rhinos and other species due to train hits. This has been reviewed at the level of minister of state for environment and forests and urgent measures are reiterated," says an advisory issued by NTCA member-secretary Rajesh Gopal on August 22nd.
NTCA has suggested several measures. They include identification of sensitive stretches along the railway tracks based on ongoing Phase-IV monitoring of wild animals, deploying personnel for sharing information about presence of wild animals between forest department and the railways on a day-to-day basis, a monthly joint review by senior officials at division level.
This article was originally published in The Times of India, and the entire article can be read here.


A Workshop on Holistic Approach in Farm Animal Medicine.
The Corbett Foundation, in collaboration with the Royal (Dick) School of Veterinary Studies, University of Edinburgh, UK will be organising a 3-day national-level workshop on "Holistic Approach in Farm Animal Medicine" in Mumbai from 02nd to 04th October, 2013, at the YMCA International House.

Topics like Herd Health, Calf Mortality, and Metabolic Diseases amongst others will be discussed in detail by Prof. Neil Sargison, Head of Production Animal, Food Security and Public Health, Royal (Dick) School Of Veterinary Studies, University of Edinburgh, who would be specially in Mumbai to conduct this workshop. Practicing veterinarians and students of vetrinary sciences would be participating in the workshop. For details of this workshop, please click here .



Interested applicants can fill the registration form  here. Limited seats available!




Distribution of Saplings in Government Middle School, Gadhpuri (Bandhavgarh)



To help promote a greener environment and to spread awareness amongst children about how crucial the preservation of our environment is to our existence, The Corbett Foundation - Bandhavgarh distributed plant saplings to the teachers and students of Government Middle School, Gadhpuri. The plan is to inspect the planted saplings after one year and give prizes to the three students whose saplings are maintained the best and in a healthy state of development. 



Through programs like these, TCF hopes to put forth the message that planting and caring for a single tree is something each of us can, and should do. Only when we join hands and work towards preserving nature together can we can gradually progress towards accomplishing that goal. 

FUN FACT OF THE MONTH
Did you know that the lion was India's national animal until 1972?

















In a meeting of the Indian Board of Wildlife in 1972, the Bengal tiger ( Panthera tigris tigris) was adopted as India's national animal in place of the Asiatic lion ( Panthera leo persica) when facts like the worldwide importance of the tiger, the need for its protection, and its geographical distribution in over sixteen states as opposed to the lion's presence in only one state, was taken into consideration.