THANK YOU DONORS!
In recognition of the donors who promptly rose to the ocassion and generously supported our appeal for flood relief measures in Uttarakhand, to whom we offer heartfelt gratitude.
Marsil Exports, Virat Industries, Jamshila Global, Mona Lalwani, Devaki Jariwala, P R Rajkotia, N K Shah, Kalindi Pasta
LATEST NEWS
Cattle Immunisation Programme in Kanha



The Corbett Foundation, in collaboration with the Kanha Tiger Reserve, conducted a Cattle Immunisation Programme in the three ranges of the Buffer Zone of Kanha Tiger Reserve. A total of 19,493 domestic cattle were immunised against Foot and Mouth Disease, Haemorrhagic Septicemia and Black Quarter. The report can be downloaded here.
-------------------------------------------


Annual

Report 2011-2012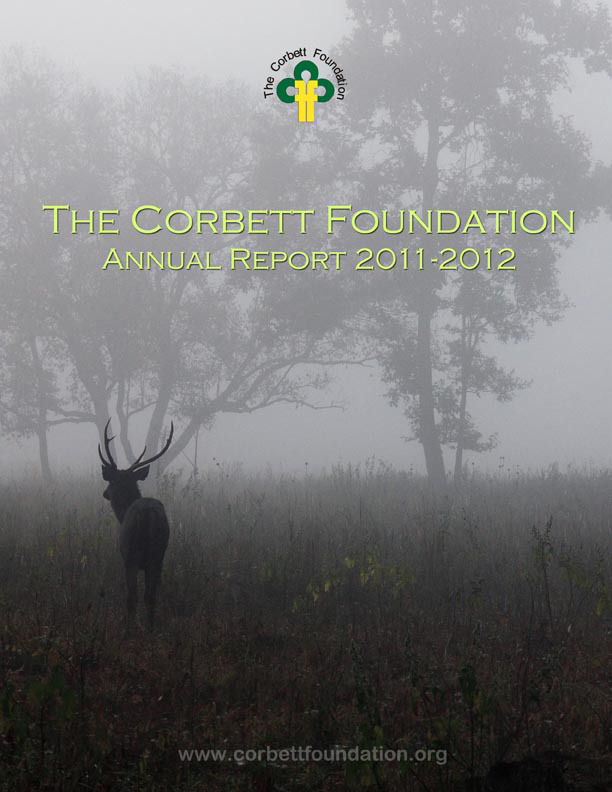 -------------------------------------------


Unregulated Tiger-Tourism a Bane for Corbett Tiger Reserve


In the last one decade, Corbett Tiger Reserve has rapidly transformed into a multi-million 'venture' with the realty investors pumping money to encash the mad rush of tourists, who are in return ready to shelve money to get a glimpse of the big cat, which has apparently become a saleable brand. The question remains whether CTR, named after Jim Corbett, is fulfilling its basic mandate of wildlife conservation and protecting big cats, or whether it has turned into a money minting venture. Read more
-------------------------------------------
Underground Cables to Save Kutch's Flamingoes
The Gujarat Energy Transmission Company Ltd (GETCO) will begin underground cabling work in the Khadir area in Kutch soon after monsoon. This is the same area where over 400 flamingoes were electrocuted by high-tension cables near their breeding grounds.
Read more
-------------------------------------------
The Perils of a Forest Guard
A narrative of a tragic happening in the Corbett Tiger Reserve on July 15th, 2013 by Honorary Wildlife Warden of the Corbett Tiger Reserve, Brijendra Singh. Read more

------------------------------------------------

Pesticides Used to Kill Indian Tigers
Carbofuran, a cheap pesticide used by potato farmers, is being used by poachers to kill tigers. They incorporate it into a recently preyed-on carcass within the tiger's territory, and the tigers are believed to die within an hour of its consumption.

Read more
-------------------------------------------
Three GIB Hunters Nabbed in Srinagar
A team of forest officials on Thursday arrested three members of a poaching gang active in hunting the Great Indian Bustard(GIB) inSrianganagar area. The GIB is on the verge of extinction and is the state bird of Rajasthan.

Read more
-------------------------------------------
Tiger Teeth, Claws and Bear Bile Smuggled as Egg Rolls – Macau
A mainland man was arrested yesterday in the Macau airport for smuggling body parts of endangered animal species into the city, including tiger teeth and claws as well as bear gall bladders, all packaged in aluminum foil and placed inside egg roll containers.
Read more
DONATE ONLINE

The donations to The Corbett Foundation are exempt u/s 80-G of the Income Tax Act, 1961. The Corbett Foundation is registered under the Foreign Contribution (Regulation) Act, 1976 under registration no.231650853. Indian and overseas donors can make use of our safe and secured online payment gateway facility to make your donation

NOW

.
SNAPSHOTS

PUKAAR Project commences in Kaziranga
A one-month long training in Basic Hospitality was given to 20 aspirants from Kaziranga. The training comprises of practical sessions, theory sessions, project work and lectures by guest speakers. Training sessions focus on skills such as spoken english, front office, maintenance, housekeeping, food & beverages (service & production), gardening & landscaping as well as a basic introduction to wildlife conservation.
-------------------------------------------------
Celebrating Jim Corbett's birthday - TCF Corbett

TCF-Corbett, along with students from the Government High School, Tera, Ramnagar and wildlife enthusiasts gathered at Corbett's winter home and now a well-preserved, 'Kaladhungi Museum' to celebrate the 138th birth anniversary of hunter-turned-wildlife-conservationist Jim Corbett on July 25.

The students were educated about the life history of Jim Corbett, including his achievements and experiences by Deputy Director, TCF-Corbett, Dr. H.S Bargali. On this day, a book published by TCF-Corbett on wildlife and environment, named 'Prakriti Sandesh' was also distributed to the wildlife conservationists, forest officers, teachers and the villagers of Chhoti Haldwani present there.
PARTNERS IN CONSERVATION
The Corbett Foundation would like to thank the Axis Bank Foundation, Pirojsha Godrej Foundation, Bombay Gowrakshak Trust, Wildlife Conservation Trust, Rare Species Fund / Preservation Stations, Michael Ackroyd, Harry Robbins, Daryl Arakaki for their generous support towards TCF's activities and programmes.
KIDS CORNER


Online QUIZ
Take an online Quiz and test your knowledge about wildlife and environment. Get, set, go...



Online PAINTING
Give way to the hidden artist in you...try our online painting application and stand a chance to win a lucky prize! So, start painting

NOW .
Contact us ...

Registered Office:
P.O. Dhikuli, Ramnagar,
Dist. Nainital, Uttarakhand 244715
Administrative Office:
81-88, Atlanta, Nariman Point, Mumbai 400021, INDIA
Tel. No. +91 22 61466417
Fax No. +91 22 61466499

info@corbettfoundation.org www.corbettfoundation.org

Corbett Office
P.O. Dhikuli, Ramnagar,
Dist. Nainital, Uttarakhand 244715

Kutch Ecological Research Centre
Khatau Makanji Bungalow,
P.O. Tera, Taluka Abdasa,
Dist. Kutch, Gujarat 370660

Kanha Office
Village Baherakhar, P.O. Nikkum,
Tehsil Birsa, Dist. Balaghat,
Madhya Pradesh 481116

Bandhavgarh Office
Village Bijheria, P.O. Tala, Bandhavgarh, Dist. Umaria,
Madhya Pradesh 484661

Kaziranga Office
Village Bochagaon, Kaziranga,
Dist. Golaghat, Assam 785609

Copyright © 2013
THE CORBETT FOUNDATION
All rights reserved.
AN APPEAL FOR UTTARAKHAND FLOOD RELIEF
FROM THE CHAIRMAN
As you all know, the State of Uttarakhand experienced several days of unseasonal and exceptionally heavy rainfall resulting in devastating flash floods and landslides last month. Many villages located in Uttarkashi, Rishikesh, Joshimath, etc. were badly affected and we have seen television images of houses, buildings, temples, religious idols, all swept away due to the sheer force of the river. The poor villagers, who make a living out of the pilgrims and tourists during this season, lost their only means of making a livelihood and, also sadly, their homes.
Uttarakhand is home to many pilgrimage sites, such as Badrinath, and Kedarnath, apart from being a popular tourist destination. At least 70,000 tourists and pilgrims were caught unaware and were stranded without any access to food, water or dry shelter. The landslides caused massive damage to houses and even medium-rise brick and mortar buildings were not spared. The official number of casualties is more than 10,000 and many thousands of villagers have been rendered homeless.
In the past, many scientists and environmentalists had warned the Government about the serious repercussions of developmental activities, especially the Tehri project undertaken in the ecologically-fragile Himalayas. Mass deforestation, lack of a suitable buffer between the Himalayan rivers such as the Ganga and human settlements on its banks, haphazard construction of new roads, buildings, dams, mining and hydro-electric projects across the State, had exacerbated this destruction.


This month, The Corbett Foundation (TCF) initiated the flood relief measures in some of the villages situated along the banks of River Kosi adjoining Corbett Tiger Reserve. The team from TCF and Infinity Resorts has set up a relief camp at Mohan village and have been providing the residents with food and other essential supplies on a priority basis. A total of 32 families have benefited from this so far. The efforts to provide further relief to the affected villagers will be continued.
I express my deepest gratitude to those who promptly rose to the occasion, and beneficently and generously donated towards this cause. I whole-heartedly thank Marsil Exports, Virat Industries, Jamshila Global, Mona Lalwani, P R Rajkotia, Devaki Jariwala, N K Shah, Kalindi Pasta, and the staff of The Corbett Foundation and Conservation Corporation of India Pvt Ltd, who have donated one-day's worth of their salaries.
DILIP D. KHATAU
CHAIRMAN
THE CORBETT FOUNDATION


"

LEAVE ME ALONE" CAMPAIGN
The Corbett Foundation, in collaboration with Sanctuary Asia and Save the Tiger, embarked upon the 'Leave Me Alone' campaign on the occasion of Global Tiger Day. This campaign aims to spread awareness for tiger conservation, and the Kanha, Bandhavgarh and Corbett divisions of TCF organized several activities for the same:

TCF-Kanha



TCF Kahna launched the Leave Me Alone campaign on July 25th at Kendriya Vidyalaya, Malanjkhand, with a participation from 6th to 10th standard students. The students were informed about the plight of the tiger and activities undertaken by TCF Kanha. A speech based on tiger giving his view of the life under threat, was prepared by a naturalist trainee and presented to the students.


TCF-Bandhavgarh

TCF Bandhavgarh initiated the Leave Me Alone campaign on July 22nd, conducting awareness programmes through the week which included movie screenings and presentations on tiger conservation for the villagers and students, along with poster competitions and nature rallys in schools.


TCF-Corbett


TCF Corbett organized a Teachers workshop on tiger conservation on July 29th, apart from screening movies for students and involving the community in coming up with practical strategies for tiger conservation.

You can help too! Do your bit and sign this petition to save our tigers.


FOR THE ENDANGERED TIGER, GENETICS MAY FINISH WHAT THE RAJ STARTED



The skin and bones of long-dead tigers from the days of the British Raj have helped reveal how the latest threat to the endangered species is their own DNA.




Taking DNA samples from game hunters' trophies in the Natural History Museum and National Museum of Scotland's collections, researchers compared these with samples from modern tigers. They found that genetic diversity among the remaining Indian tigers may be low enough to make the population unviable.
The tiger population has dropped precipitously from around 40,000 in 1850 to fewer than 2,000 today, and as their numbers and habitat have shrunk, so has their choice of mating partners. The findings will come as a blow to the Indian government, whose conservationists believe that several years of rising numbers suggest the species has been saved from extinction.


The study, conducted by Samrat Mondol and Uma Ramakrishnan from the National Centre for Biological Sciences in Bangalore and Professor Michael W. Bruford from Cardiff University, was published in the Proceedings of the Royal Society B yesterday.


Bruford said, "The results were staggering. We found 93% of the DNA genetic variants we measured in the historical tigers are not found in modern tigers. This is a much bigger fall than we expected."

This article was originally published at The Conversation. Read the entire article

here

.
KERC - WORKING WITH NOMADS



Kutch Ecological Research Centre (KERC), a division of TCF in Gujarat, has been participating in a series of veterinary camps conducted in remote villages in Kutch, in collaboration with the State Animal Husbandry Department . The nomadic tribes of Kutch keep migrating with their herd of animals, mostly camels and buffalos. In the latest camps at Mata Na Madh, Piyoni and Kheersara, a total of 1,550 animals were clinically examined and treated for worm loads, trypanosomiasis, manges, various wounds and debilies. KERC also runs mobile veterinary clinics in nearly 120 villages in Nakhatrana and Abdasa taluka in Kutch.
FUN FACT OF THE MONTH
Did you know that camels have three eyelids?

A prime example of adaptation to habitat, camels have three eyelids to protect their delicate eyes during sandstorms.
The first two eyelids are characterized by extremely long lashes - these are used to keep sand from entering the eyes. The third eyelid is transparent and this allows the camel to see and navigate during a sandstorm even when the eyelid is technically closed.

Additionally, this third eyelid blinks in a sideway fashion - similar to windsheild wipers on a car! This helps in clearing any sand in or around the eye.