DONATE ONLINE TO SUPPORT OUR EFFORTS








All donations to The Corbett Foundation are exempt u/s 80-G from the Income Tax Act, 1961. The Corbett Foundation is registered under the Foreign Contribution (Regulation) Act, 1976 under registration 
no. 231650853. 
The Corbett Foundation is an activity partner with:
TCF is a recipient of the TOFT 'Wildlife Tourism Related Community Initiative 2014' and the 
'Vasundhara Mitra Award 2015':
The Corbett Foundation is accredited by Credibility Alliance under 'Desirable Norms' prescribed for the good governance of voluntary organisations in India. The Corbett Foundation is a Member of the Global Tiger Forum, the State Wildlife Advisory Board of Gujarat and the Indian National Committee of the IUCN.
PARTNERS IN
CONSERVATION

TCF would like to thank the AmeriCares India Foundation, Axis Bank Foundation, Bajaj Auto Ltd., Bombay Gowrakshak Trust, Born Free Foundation, Coca-Cola India Foundation, Earthwatch Institute India, EcoCare International Foundation, Exodus Travels Ltd., Friends of Conservation, Gujarat Biodiversity Board, Gujarat Forest Department, Madhya Pradesh Forest Department, Pirojsha Godrej Foundation, Rare Species Fund, Rufford Foundation, Wildlife Conservation Trust and WWF-India among others, for their support towards its activities and programmes. TCF thankfully acknowledges the infrastructure support given by Conservation Corporation of India Pvt. Ltd. 


BOARD OF TRUSTEES

Mr. Dilip Khatau, Chairman
Mrs. Rina Khatau, Co-Chair 
Dr. M. K. Ranjitsinh, Retd. IAS
Mr. B. K. Goswami, Retd. IAS 
Mr. Nirmal Ghosh
Mr. Sam Mistry 
Mr. Sharad Sanghi
Mr. Darius Udwadia
Mr. Akshobh Singh
Mr. P. R. Rajkotia 
Dr. Divyabhanusinh Chavda
Mr. Laxmikumar Goculdas
MISSION STATEMENT


The Corbett Foundation (TCF) consists of a group of dedicated men and women who are committed to the conservation of wildlife and nature, and fulfilling the ambition that human beings and nature must live together in harmony.



PROJECT SAKSHAM

The Corbett Foundation with kind support of Baja Auto Ltd. launched Project Saksham, a medical outreach programme, for tribal and forest-dependent communities at its Corbett and Kanha divisions. From April to June 2015, a total of 5085 patients were treated in camps and OPD. These communities and wildlife commonly share natural
ecosystems, and this often gives rise to conflict situations. The health and wellbeing of local
communities is directly linked to their willingness to participate in wildlife conservation efforts
towards maintaining healthy ecosystems. TCF believes that
only a healthy community can contribute to a healthy environment, and therefore it adopts a multipronged strategy to help create a harmonious co-existence between wildlife and human beings. The Corbett Foundation is grateful to Bajaj Auto Ltd. for its support towards this programme in 2015-16.

JIM CORBETT'S BIRTHDAY CELEBRATION

The Corbett Foundation celebrated the 140th birth anniversary of the legendary hunter-cum-conservationist Jim Corbett in his village Chhoti Haldwani. To celebrate this occasion, TCF distributed 101 Solar Lanterns to the villagers of Chhoti Haldwani as part of its  Akshay Urja, Swastha Jeevan programme.

CONTACT US

Registered Office:
P.O. Dhikuli, Ramnagar,
Dist. Nainital, Uttarakhand 244715
Administrative Office:
81-88, Atlanta, Nariman Point, Mumbai 400021, INDIA
Tel. No. +91 22 61466417
Fax No. +91 22 61466499



info@corbettfoundation.org

 

www.corbettfoundation.org



Copyright © 2015 
THE CORBETT FOUNDATION
All rights reserved.
Join us on
Facebook

TCF CELEBRATES HARELA IN CORBETT
Harela festival is annually celebrated in the Kumaon region of the state of Uttarakhand. The festival is celebrated to welcome the rainy season and the new harvest. The Corbett Foundation actively takes part in the celebrations by distributing saplings to the local communities, which are then planted by them  around their houses, fields and schools. In continuing with the tradition, The Corbett Foundation, on the 17th of July, joined hands with the Ramnagar Forest Division, distributing and planting more than 500 saplings. The planted saplings are monitored for survival success.
The Corbett Foundation's team at Corbett are seen planting a sapling to mark the occasion.
INTERNATIONAL TIGER DAY CELEBRATIONS
IN COLLABORATION WITH SANCTUARY ASIA
The Corbett Foundation celebrated International (Global) Tiger Day across its divisions at Corbett, Kanha, Bandhagvarh and Kaziranga with a series of activities and events including competitions, rallies and games for the youngsters who we believe are the future torch-bearers of tiger conservation in India. The Corbett Foundation organised these activities in collaboration with Sanctuary Asia under the 'Kids for Tigers' programme.
SAVE THE GREAT INDIAN BUSTARD CAMPAIGN
TCF-Kutch, in collaboration with the Gujarat Biodiversity Board, the Kutch (West) Forest Division and with support from EcoCare Foundation, continues campaigning to save the Great Indian Bustard through conservation and awareness programmes. In July, our campaign has reached  over 1100 students through interactive discussions about the GIB, followed by a screening of a film on Abdasa. Specially designed posters for GIB awareness were also distributed. These programmes go a long way in generating awareness about the importance and current status of the GIB among local communites and encourage active participation in GIB conservation. 
WORLD SNAKE DAY EVENTS
TCF-Corbett organised a workshop on the occasion of 'World Snake Day' at Pawalgarh. The programme was inaugurated by Ms. Kahkashan Naseem (IFS), DFO Ramnagar Forest Division. TCF released a poster on 'Snake bite - Prevention and Treatment' for free distribution among the forest staff and local communities. This was followed by interactions with the subject experts. World Snake Day was also observed in TCF's other divisions. 
SOLAR - POWERED PUMPS IN AID OF WILDLIFE
Friends of Conservation and Exodus Travels Ltd. (UK) have supported
TCF-Bandhavgarh in installing 10 solar-powered water pumps in the Kallawah, Khitauli and Pataur ranges of Bandhavgarh Tiger Reserve. The waterholes that dry up under the brutal summer sun will be replenished with the help of these pumps running on solar energy, especially in these areas devoid of electricity. They contribute substantially to providing water to wildlife as well as a few patrol camps in the core zone.
PUKAAR - DEVELOPING SUSTAINABLE LIVELIHOODS
16 men from Bhimlat village situated in the buffer zone of Kanha Tiger Reserve received assistance and training in poultry farming from The Corbett Foundation under its sustainable livelihoods initiative  'PUKAAR', supported by Axis Bank Foundation. They have succesfully sold their first batch of poultry, making a considerable profit. Vocational training in alternative and sustainable livelihoods will gradually reduce community-dependence on forest resources and encourage their involvement in conservation.
TCF

 

DIKSHA - ENLIGHTENING LIVES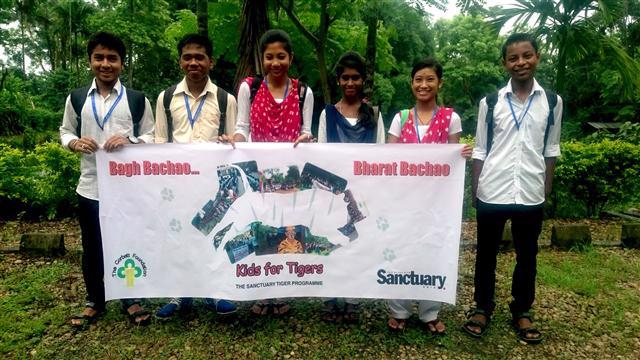 TCF-Diksha is an initiative aimed at providing financial support to underprivileged students living around protected forests with a thirst for academic excellence. Children residing in villages around Kaziranga Tiger Reserve pursue their studies in local schools. Some students, from the villages close to the tiger reserve, successfully finish their schooling and wish to study further. The colleges for these studies are a long distance away from their villages and the finances that local conveyance and tuition fees demand are a great monetary burden on their families who are engaged as casual labourers. The Corbett Foundation has therefore selected 3 boys and 3 girls from villages in Kaziranga that will receive a 2-year scholarship covering admission fees, a monthly stipend for 2 years, career-guidance books and consistent professional consultation and guidance. The selected students along with their parents, school principals, noted academicians and citizens attended a workshop by TCF-Kaziranga on June 19, 2015 and were informed of this provision, much to their gratitude and delight. Two individuals from Mumbai have offered to sponsor one student each for 2 years, and TCF welcomes more of such offers.

Seen here is the first batch of TCF-Diksha Scholars.