DONATE ONLINE TO SUPPORT OUR EFFORTS








All donations to The Corbett Foundation are exempt u/s 80-G from the Income Tax Act, 1961. The Corbett Foundation is registered under the Foreign Contribution (Regulation) Act, 1976 under registration 
no. 231650853. 
The Corbett Foundation is an activity partner with:
TCF is a recipient of the TOFT 'Wildlife Tourism Related Community Initiative 2014' and the 
'Vasundhara Mitra Award 2015':
The Corbett Foundation is accredited by Credibility Alliance under 'Desirable Norms' prescribed for the good governance of voluntary organisations in India. The Corbett Foundation is a Member of the Global Tiger Forum, the State Wildlife Advisory Board of Gujarat and the Indian National Committee of the IUCN.
PARTNERS IN
CONSERVATION

TCF would like to thank the AmeriCares India Foundation, Axis Bank Foundation, Bajaj Auto Ltd., Bombay Gowrakshak Trust, Born Free Foundation, Coca-Cola India Foundation, Earthwatch Institute India, EcoCare International Foundation, Exodus Travels Ltd., Friends of Conservation, Gujarat Biodiversity Board, Gujarat Forest Department, Kirloskar Oil Engines Limited, Madhya Pradesh Forest Department, Pirojsha Godrej Foundation, Rufford Foundation, Wildlife Conservation Trust and WWF-India among others, for their support towards its activities and programmes. TCF thankfully acknowledges the infrastructure support given by Conservation Corporation of India Pvt. Ltd. 


BOARD OF TRUSTEES

Mr. Dilip Khatau, Chairman
Mrs. Rina Khatau, Co-Chair 
Dr. M. K. Ranjitsinh, Retd. IAS
Mr. B. K. Goswami, Retd. IAS 
Mr. Nirmal Ghosh
Mr. Sam Mistry 
Mr. Sharad Sanghi
Mr. Darius Udwadia
Mr. Akshobh Singh
Mr. P. R. Rajkotia 
Dr. Divyabhanusinh Chavda
Mr. Laxmikumar Goculdas
MISSION STATEMENT


The Corbett Foundation (TCF) consists of a group of dedicated men and women who are committed to the conservation of wildlife and nature, and fulfilling the ambition that human beings and nature must live together in harmony.



PROJECT SAKSHAM
The Corbett Foundation with kind support from Baja Auto Ltd. launched Project Saksham, a medical outreach programme, for tribal and forest-dependent communities at its Corbett and Kanha divisions. From April to June 2015, a total of 5085 patients were treated in camps and OPD. These communities and wildlife commonly share natural
ecosystems, and this often gives rise to conflict situations. The health and wellbeing of local
communities is directly linked to their willingness to participate in wildlife conservation efforts
towards maintaining healthy ecosystems. TCF believes that
only a healthy community can contribute to a healthy environment, and therefore it adopts a multipronged strategy to help create a harmonious co-existence between wildlife and human beings. The Corbett Foundation is grateful to Bajaj Auto Ltd. for its support towards this programme in 2015-16.

IUCN AND THE CARNIVOROUS PLANT ASSESSMENT





Carnivorous plants are  beautiful and fascinating, but face serious threats due to over-collection for the horticulture trade, habitat fragmentation and destruction due to agriculture, logging and mining. 80% of the roughly 750 species of carnivorous plants have not yet been assessed for The IUCN Red List. The IUCN has launched an online campaign to raise funds for the assessment of 160,000 carnivorous plant species by 2020. Achieving this goal will cost USD 125,000, and the IUCN aims to raise USD 25,000 by the end of 2015 to kick-start this project with an assessment workshop. Visit 
http://support.iucnredlist.org
to find out more and make a donation.
CONTACT US

Registered Office:
P.O. Dhikuli, Ramnagar,
Dist. Nainital, Uttarakhand 244715
Administrative Office:
81-88, Atlanta, Nariman Point, Mumbai 400021, INDIA
Tel. No. +91 22 61466417
Fax No. +91 22 61466499



info@corbettfoundation.org

 

www.corbettfoundation.org



Copyright © 2015 
THE CORBETT FOUNDATION
All rights reserved.
Join us on
Facebook

TCF IS A "SAVE ASSOCIATE"!
SAVE (Save Asia's Vultures from Extinction), a consortium of reputed organizations such as RSPB, BNHS, WCS, WWF working on the issue of vulture conservation in Asia, has recognized The Corbett Foundation (TCF) as a "SAVE Associate" at the 2nd Vulture Safe Zone Workshop held at Lucknow on 12-13 October 2015. TCF is one of first two organizations to receive this honour and endorsement in recognition of its work on vulture conservation. TCF thanks Chris Bowden of RSPB and Dr. Vibhu Prakash, Deputy Director (Ornithology), BNHS for their support, encouragement and guidance. TCF will continue to work on advocacy, awareness and research on critically endangered vulture species to establish vulture safe zones around its areas of work.
SAVE has made an official announcement regarding this on its website
http://www.save-vultures.org/save_latestnews.html
ENVIRONMENTAL JOURNALIST OF THE YEAR
Mr. Nirmal Ghosh, Trustee of The Corbett Foundation has received the 'Environmental Journalist of the Year' award at the fourth Asian Environmental Journalism Awards. Mr. Nirmal Ghosh is the Indochina Bureau Chief of The Straits Times, and has been with The Straits Times for 21 years. TCF heartily congratulates him on this well-deserved honour!
TCF RECEIVES THE WILDLIFE CONSERVATION AWARD 2015! 
The Corbett Foundation is the proud recipient of the Wildlife Conservation Award 2015, awarded by Corbett Tiger Reserve in recognition of TCF's efforts to reduce human-wildlife conflict and its exemplary work in wildlife conservation in the areas surrounding Corbett National Park. Dr. H.S.Bargali, Deputy Director of TCF Corbett received this award from Shri Ranjit Rawat, the Industrial Advisor to the Chief Minister, Uttarakhand. TCF will continue to strive towards the goal of harmonious living between man and the wild.
WILDLIFE WEEK 2015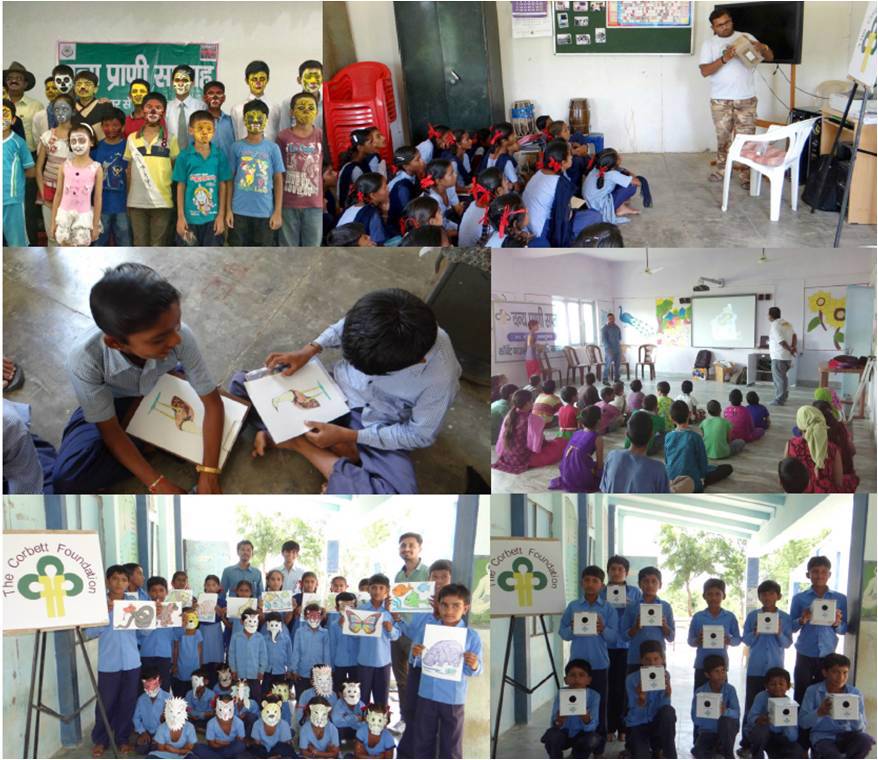 The week, from October 2nd to 8th is celebrated as Wildlife Week. Through celebrating the diverse, amazing and important wildlife species, awareness is raised about conservation and a love and awe for wildlife is cultivated among people. TCF in 2015 celebrated Wildlife Week across its divisions, organizing a host of programmes including wildlife movie-screening for the inhabitants of remote villages and creative and fun-filled competitions for school children. TCF Corbett held a wildlife quiz competition for the students of Government Intermediate College and screened a documentary about Tigers and Elephants, for school students. TCF also organized face-painting competitions and a quiz for young students. TCF Kutch engaged school children in making wild-animal masks, drawing competitions, tattoo-making competitions and distributing sparrow houses. Students of Lakhaniya School in Kutch were also taught to make bird feeders and houses from waste like earthen pots and plastic bottles. The winners of the various competitions were awarded prizes. A movie about birds was screened for children with disabilities at JSR Special School at Ramnagar, Corbett. These programmes saw active participation, filled with enthusiasm, thus achieving the desired goal of raising awareness.
TCF COLLABORATES WITH EARTHWATCH 
TCF and EarthWatch Institute are collaborating on a project in the Corbett Landscape to conserve Tiger and Elephant habitat by bringing together scientists and individuals from all walks of life in a 'Citizen Science' programme. Members of the general community with a passion towards conservation will assist researchers at The Corbett Foundation in assessing the perceptions and needs of the local communities and test strategies to strengthen local support; all this in an effort to minimize the growing man-animal conflict in the Corbett landscape. Visit http://earthwatch.org/expeditions/conserving-tiger-and-elephant-habitat-in-india to know more and sign-up for this opportunity.
CATTLE IMMUNIZATION
TCF Kanha carried out an immunization programme for cattle in Samnapur village in the buffer zone of Kanha Tiger Reserve. The cattle were vaccinated against Foot and Mouth Disease, Black Quarter and Haemorrhagic Septicaemia. It is important to maintain healthy cattle, not just for the sake of the livelihood they provide to the villagers, but also to guard against the transmission and spread of such deadly diseases to wild herbivores that often interact with the fringe-dwelling and forest-grazing cattle.
WORKSHOP FOR NATURE GUIDES
During Wildlife Week, TCF Kanha in association with Kanha Tiger Reserve organized a 5-day workshop for seventeen new nature-guides who will be inducted this current season by Kanha Tiger Reserve for guided safaris and nature trails. Indoor and outdoor sessions on forests, mammals, birds, reptiles and amphibians, and insects and spiders introduced the trainees to Kanha's vast and magnificent biodiveristy.The trainees interacted with the Assistant Director Shri Rajnish Singh, Range Officers, Forest Guards and well known naturalists and hospitality industry specialists from around Kanha. Training locals from forest communities to become Nature-Guides is conservation-oriented as well as a sustainable and alternative means of livelihood generation.
TCF DIKSHA SCHOLARS
TCF Diksha is an intitiative wherein TCF provides financial support to underprivileged students with a desire to pursue academics. Select students from villages close to Kaziranga Tiger Reserve who complete their local schooling and wish to study further are beneficiaries of a 2-year scholarship which includes a monthly stipend for two years, admission fees,career-guidance books and professional consultation and guidance. TCF also organizes lectures and talks every month for the students, educating them about wildlife and inculcating in them the values of conservation.
Seen here: A TCF-Diksha Scholar receives a part of her scholarship